Adventure comes in different levels and in more ways than we can imagine.
Cebu is known for so many good things; food, heritage, people but most of all, nature. But other than the things previously mentioned, Cebu is also home for adventures; and by adventures, I mean diving with the sardines, swimming with whale sharks, jumping off cliffs, trekking, sky diving, and many more.
But these extreme adventures are not for everyone.
Are you one of those who want to try to step into the world of thrilling activities but is still scared to do any risky actions? Maybe you should start one step at a time, from the less scary and more secure.
I am talking about sky biking. Many of us want to take a glimpse of what is happening from the aerial view but we are scared of heights. Sky diving is popular, too, but are you ready for such a big leap?
Zip lining is also a nice activity but the swift movement won't make us appreciate the journey. Sky biking is very similar to ziplining only that you need to carefully cycle your way to the other side to finish the race. There is nothing to worry if you don't know how to bike because this activity is safe with a reliable harness that will support you even if you lose your balance.
If you are interested, please check out our list below of the different spots in Cebu where we can do skydiving.
Danasan Eco-Adventure Park, Danao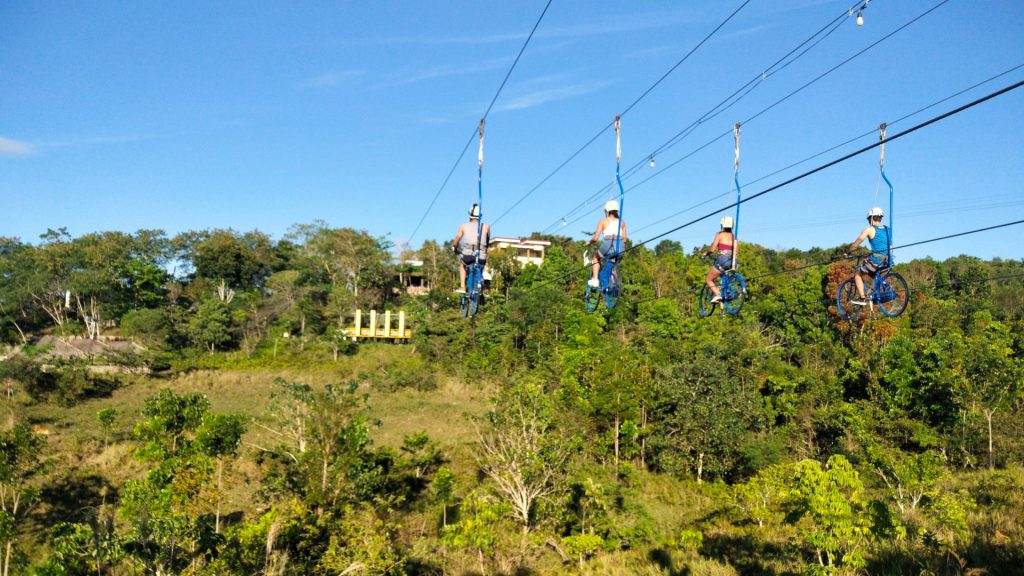 Many of you may already know about the Danasan Eco-Adventure Park as a reliable place to be when it comes to fun adventures. The park is intended for fun activities that would make your adrenaline rush 10 times faster.
Among the different activities that they offer are KTV, speedway, sky-drop, kayaking, zip lining, and rappelling. They do have a lot more but today we will talk about sky biking.
Sky biking is literally biking in the sky through a piece of rope. By doing it, you get to appreciate nature and being up in the sky at your own pace. In Danasan Park, you won't be doing sky biking alone because there will be four participants at the same time since there are four lanes available. This is perfect for when you are too scared to even hop on that bike! Support is everything.
The price for the skybike in Danasan is 250 pesos only, good for 100-meter long cycling.
Take note: sky biking has a weight limit since only a single rope will hold you in the air.
Location
The adventure park is located in Danao City, Cebu. You can take a v-hire from SM City Cebu that will send you directly to Danao City. From the town proper where the driver will drop you off, take a habal-habal that will take you to the park. If you are driving, follow the road to Danao City, in northern Cebu.
To know more information please contact 239 5654 or visit their Facebook page and website.
Baguio de Cebu Eco-Mountain Park Adventure, Balamban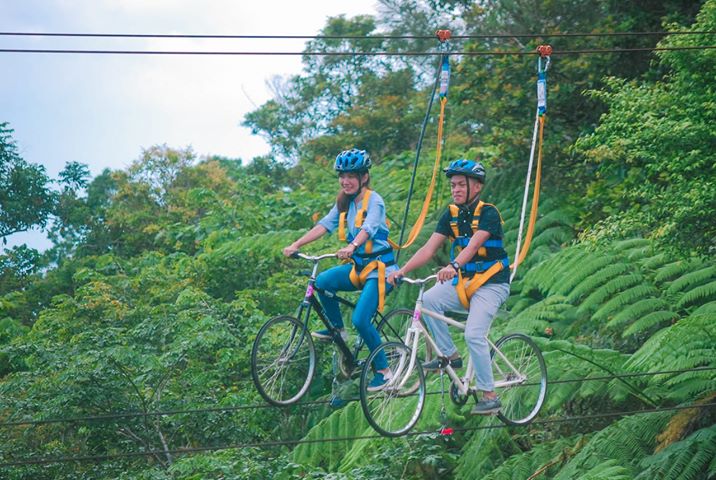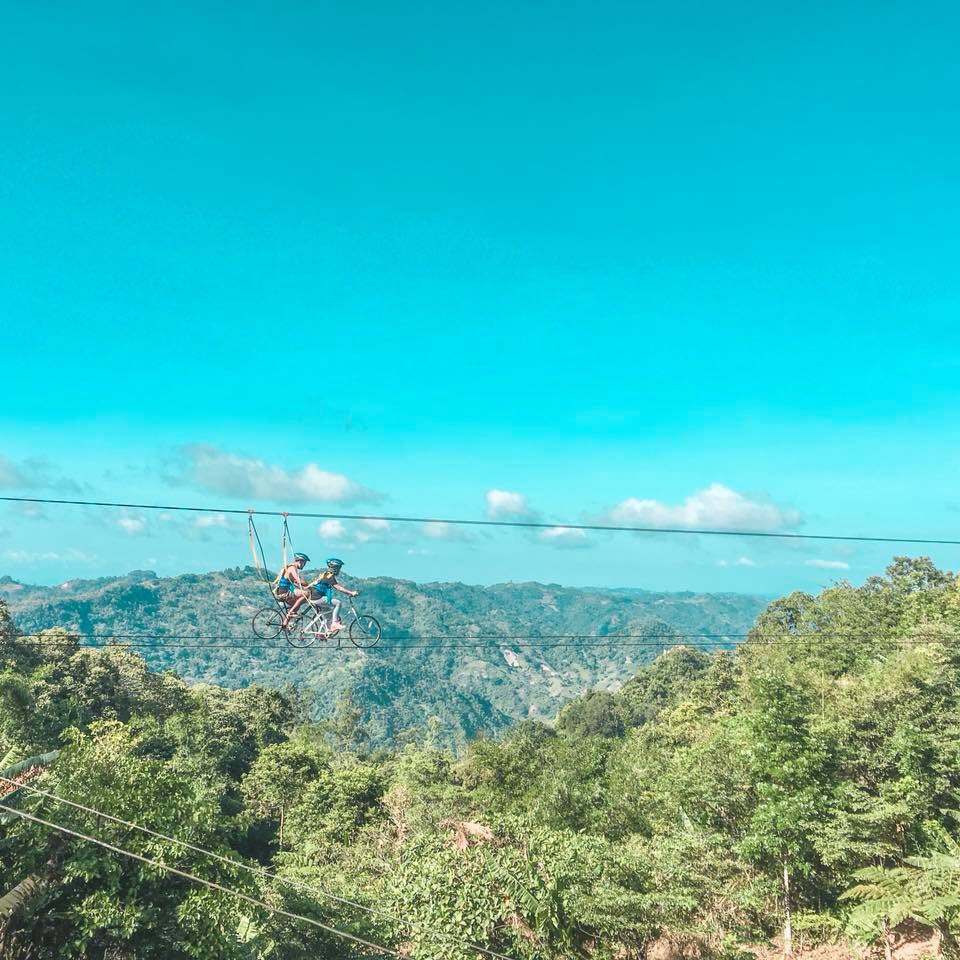 The sky bike in Baguio de Cebu Eco-Mountain Park Adventure was probably the first adventure park to offer sky biking in Cebu. Thankfully, it is not the last establishment to set up this kind of activity. 50 feet from the ground and with approximately 200 meters in length, Baguio de Cebu presents to you an exciting and chilly sky biking experience.
Since the park was named after Baguio City, horseback riding activity is also being offered there. But really to top it off, the freezing cold temperature in Balamban is what will make your biking experience feeling like you are actually in Baguio.
Your experience here will be different from the one in Danasan because in Balamban, you will barely see any all the green trees below because of all the fog– an adventure that you also would not want to miss!
Location
Baguio de Cebu is in Balamban, Cebu, an hour away from JY Square, Lahug. To get there, take a habal-habal from JY Square and get off at the establishment near West 35 Eco Mountain Resort (nearest landmark). There won't be too many habal-habals in Balamban to send you back downtown so it is best that you rent the habal-habal or negotiate and haggle with the driver.
For those who are driving there, follow the road from JY Square through Transcentral Highway until you reach Balamban.
Papa Kit's Marina and Fishing Lagoon, Liloan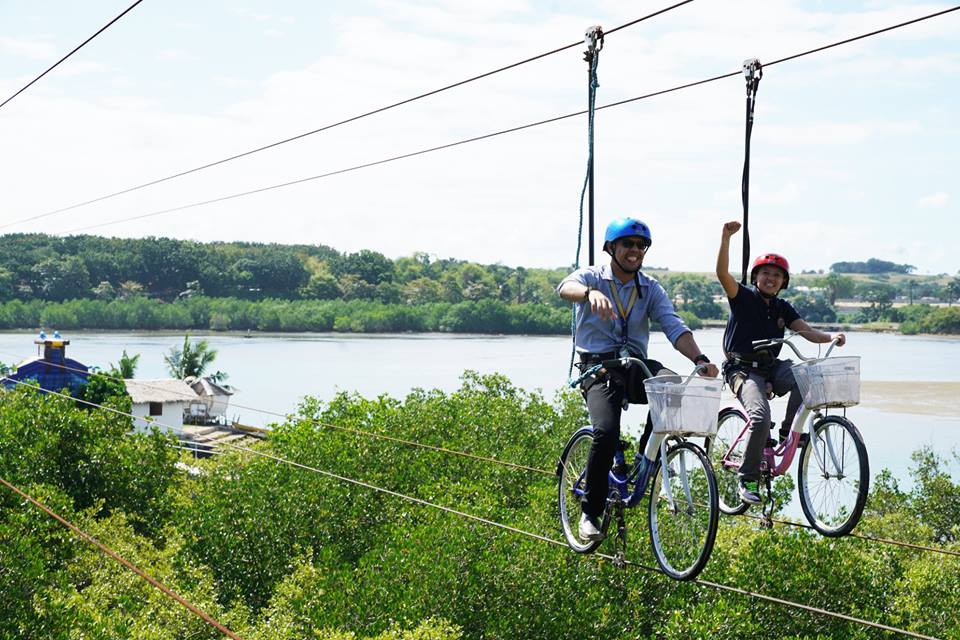 Papa Kit's is more than just a fishing spot, it is also a place for several recreational activities such as wall climbing, stress wall, hanging bridge, jungle obstacle, zip lining, aqua sports, and fishing. Aside from the mentioned, Papa Kit's also has sky biking!
Sky biking is a new sky activity. It is exciting and thrilling, but safe for you to do (as long as the safety procedures and weight limit are being followed).
As mentioned above, Papa Kit's is already an known place for fun things to do. The senior citizens, adults, young adults, and child love it here because of the many activities that you can do here.
Sky biking at Papa Kit's is only 200 pesos and that is already 2-way.
Given all the fun activities that you can do here, you seriously don't have a reason not to book Papa Kit's. Team building activities or a simple family bonding are perfect at Papa Kit's.
Location
Find Papa Kit's in Silot Bay, Liloan. Please reserve at 505-4595 or check out their Facebook page for more information.
Funtastic Eco-Adventure Park, Medellin
Medellin has so many exciting activities in store for us, and among the many, is sky biking. The view is very important for activities like this because who wants to see hard cement when you are up in the sky? No one!
In Funtastic, your view from above is a park– which looks like a wild forest– full of leafy trees and chirping birds.
Each trail is 125 meters long. Your legs will shake at the sight of it, but as you continue to cycle your way to safety, you will feel much more comfortable and joyful to be even up in the sky. Heads up, you will feel a strong urge to try it one more time!
Location
The park is in Brgy. Caputatan, Medelling, northern Cebu. Take a bus from the North Bus Terminal to Medellin, then as per usual, take a habal-habal or tricycle that will take you to the park.
Hidden Valley Wave Pool, Pinamungajan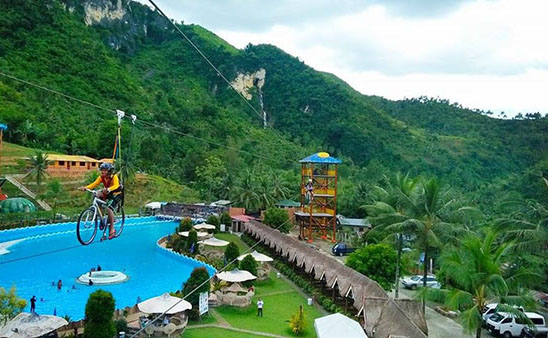 Those that are from the south may not go to the north anymore to experience sky biking because Hidden Valley Wave Pool offers it. The resort is known for creating artificial pool waves that people love, but also for having a zip line and sky bike as alternative adventure options.
Those who are not too adventurous love this activity because it has less risk attached to it, plus, it is very accessible and affordable! Also, the resort is in the mountains– thus, a plus for a better experience.
The view from above is impressive. You get to see with a wider perspective the mountains, the swimming pool, and the entire resort. Both activities (zip line and sky bike) are priced at 200 pesos each. Not bad for a new exciting escapade, right?
To book, please dial (032) 516-2576/ (032) 468-8025/ (0905)776-0538 or send an email at [email protected].
Location
Find this hidden gem in Pinamungajan, Cebu. Drive to the south of Cebu going to Pinamungajan (after Toledo City) through Toledo Manipis Road, then turn left to Hidden Valley Wave Pool.
Have you tried sky biking? Where and how was it? Please let us know if you have suggestions so that we can update this article. You may also send us your photos for feature!