Abaca Boutique Resort is by no means what I have in mind for a quick city getaway back in early 2014. I reckon they were relatively new in the scene back then and I never heard anybody of my real life friends talk about it at all. Nonetheless, given my background in the search engine marketing world, I know a trick or two on how to find the better places to get that well deserved break from it all.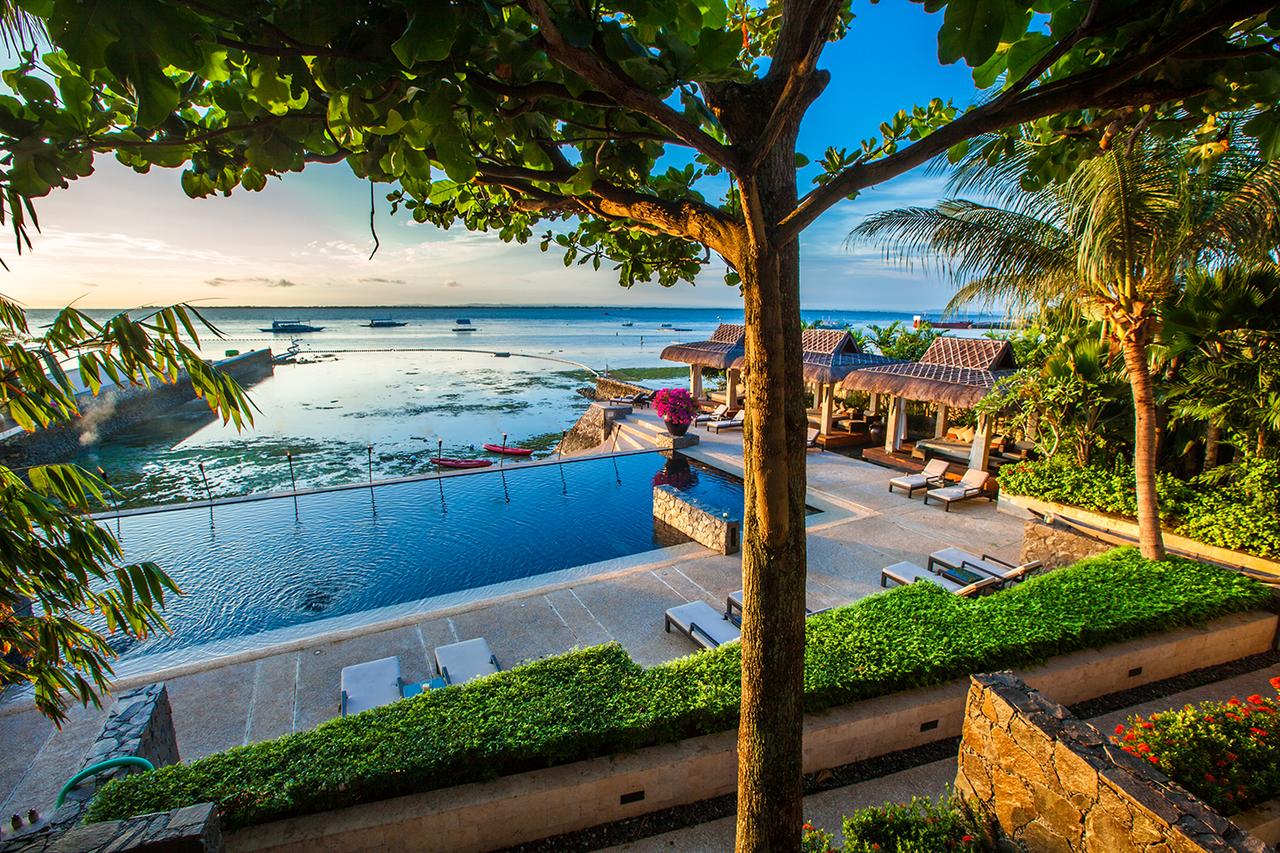 The Backstory
After doing a quick search for "the best resort in mactan", naturally Trip Advisor came up on top. When I visited it, I got to navigate and was surprised to see that Shangri-la isn't on top of the list anymore. Guess who took its place? 🙂
Right! Jason Hyatt's Abaca Boutique Resort!
This naturally got me intrigued enough to check it out more to see if it'll fit my then family of 3, and the pictures did more than enough to tell me it does.
However, given the fact that I know how marketing works, I was still skeptical. I have to be, especially with the rate of their Poolside Oceanfront Suite which will set you back more than PHP 20,000.00 a night with gourmet breakfast (not buffet). I mean back then, this was about double the rate we get at Shangri-la's ocean view rooms and the latter already comes with their renowned breakfast buffet at Tides Restaurant. Plus of course the latter is tried and tested so things weren't really going in favor of this resort during my initial research phase.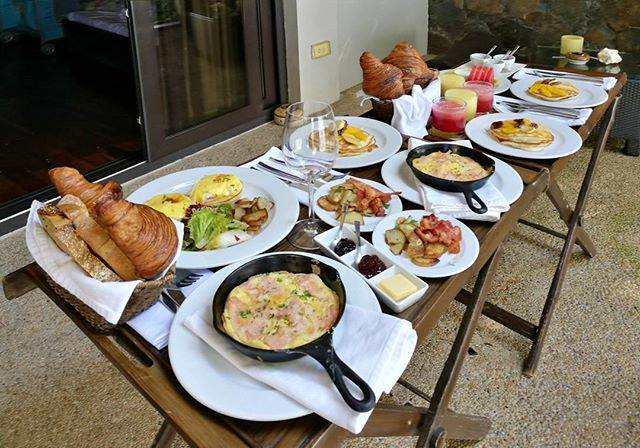 Unfortunately or fortunately, our go-to resort was fully booked already. I never really book in advance as I'm one of them few people that think "planning" for a trip does not equate to relaxation. I go when I go and adjust accordingly while on the trip. 🙂
With Shangri-la out of the picture, I decided to give Crimson Resort Mactan another go to see if they've improved on the things that left me wanting on our 1st stay with them (you can click my review for our 2nd visit to Cimson here). On the call with the reservations guy however, I was quite astonished to be given a direct booking rate that's higher than the published rate on their website! Knowing what I know with how reservations has a commission aspect to it, I just figured this was not the best way to give yourself a raise at all! That experience naturally took Crimson off of our list this time around. And it became a precursor to the final decision.
With all that said, I only had one other resort in mind and for some reason, Plantation Bay didn't really cross my mind at that time or was it because it didn't really leave a lot of impression on me the first time around. Anyhow, so I gave Abaca a call. Naturally I was given the PHP 17.000 price tag for the Poolside Oceanfront Suite but was shocked to finally end with a PHP 12,450++ as you can see below:


After the fiasco I had to go through with the earlier call with Crimson, and of course this was on the last minute so I was most likely tired already, the perceived discounted rate made me feel loved and that's what sealed the deal for me.
First Impressions
The moment we got to the resort, two things stood out right away – exclusive and personalized. It felt like you were in your very own beach house right from the moment they open their always closed (you have to honk the horn or literally knock at their gate to enter), you get a sense that you will be treated like royalty here.
The resort being a boutique, is naturally far smaller than most we've been to. The whole area is probably about 3,000 sq m but, having made the best use of their limited area, didn't really feel like we were in a confined space. This meant however that a staff will always be a call away unlike how it is at Plantation where there are parts you can probably die without anybody knowing it (What did you expect from a "plantation" we laughingly say. This of course can be a good thing or bad depending on the kind of stay you are looking for and the kind of person you are). The staff are able to do this in a non-intrusive way too so there's definitely a good balance of privacy and availability of staff there.
The Poolside Oceanfront Suite
At 75 sq m, this felt more like a villa than a suite especially since it comes with its own patio and the overall design doesn't make you feel like you're part of a resort building with 4-8 suites.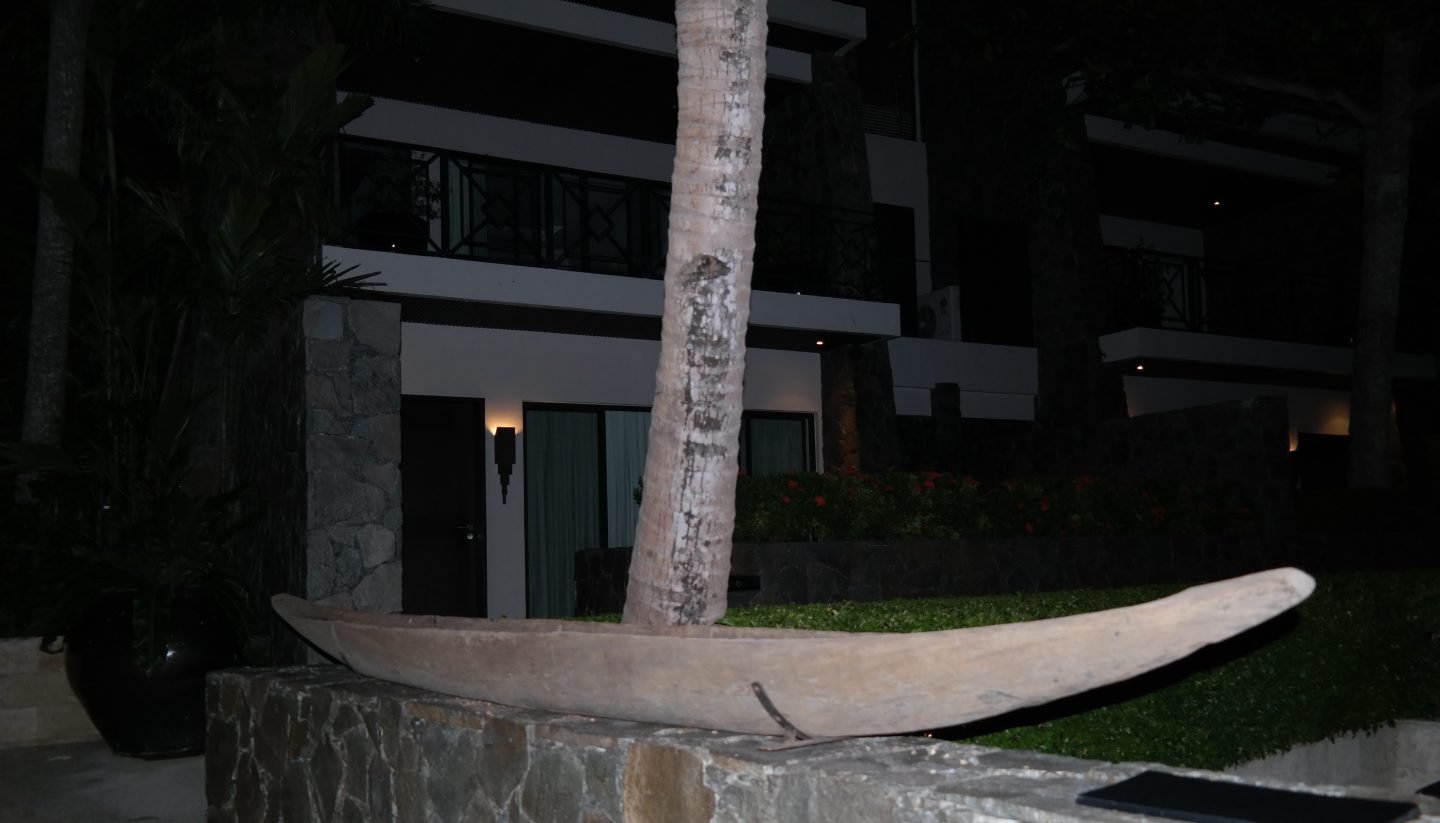 Upon entering the suite, we were greeted with complimentary nibbles that included nuts like almonds and pistachios—something we were quite amazed at and my wife couldn't get over it. The room was the roomiest we've been to at that time (up until our oceanfront stay at Crimson on our 2018 3D2N stay).
This is how it looked like (reference only as I was never the kind that takes pictures even more so back then):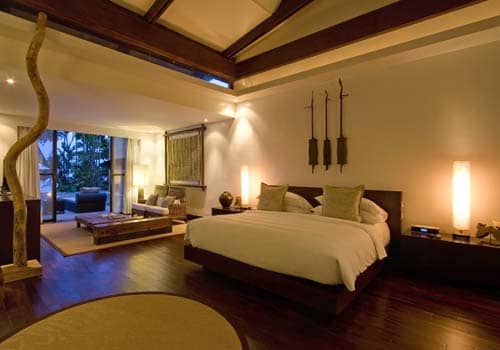 The suite's bathroom is so huge I can say it's about 40% the bedroom/receiving side of the suite. It has his/her oversize sinks and a sunken tub that my then 4 year old son couldn't get enough of. To this day, this bathroom is on top of my wife's list while Crimson's Beach Casita takes mine (I prefer it thanks to the outside view of the private mini garden compared to the walled view here). Here's how it looks: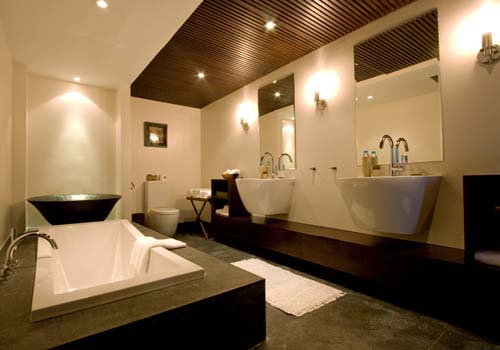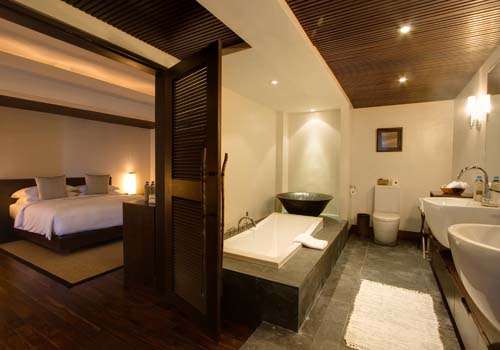 Abaca Restaurant Review
Once settled in, we decided to check out their restaurant. The place probably seats about 30 adults and they are usually fully booked (the restaurant welcomes outsiders and there are plenty of patrons who are staying on other resorts). They describe their cuisine as California-Mediterranean inspired.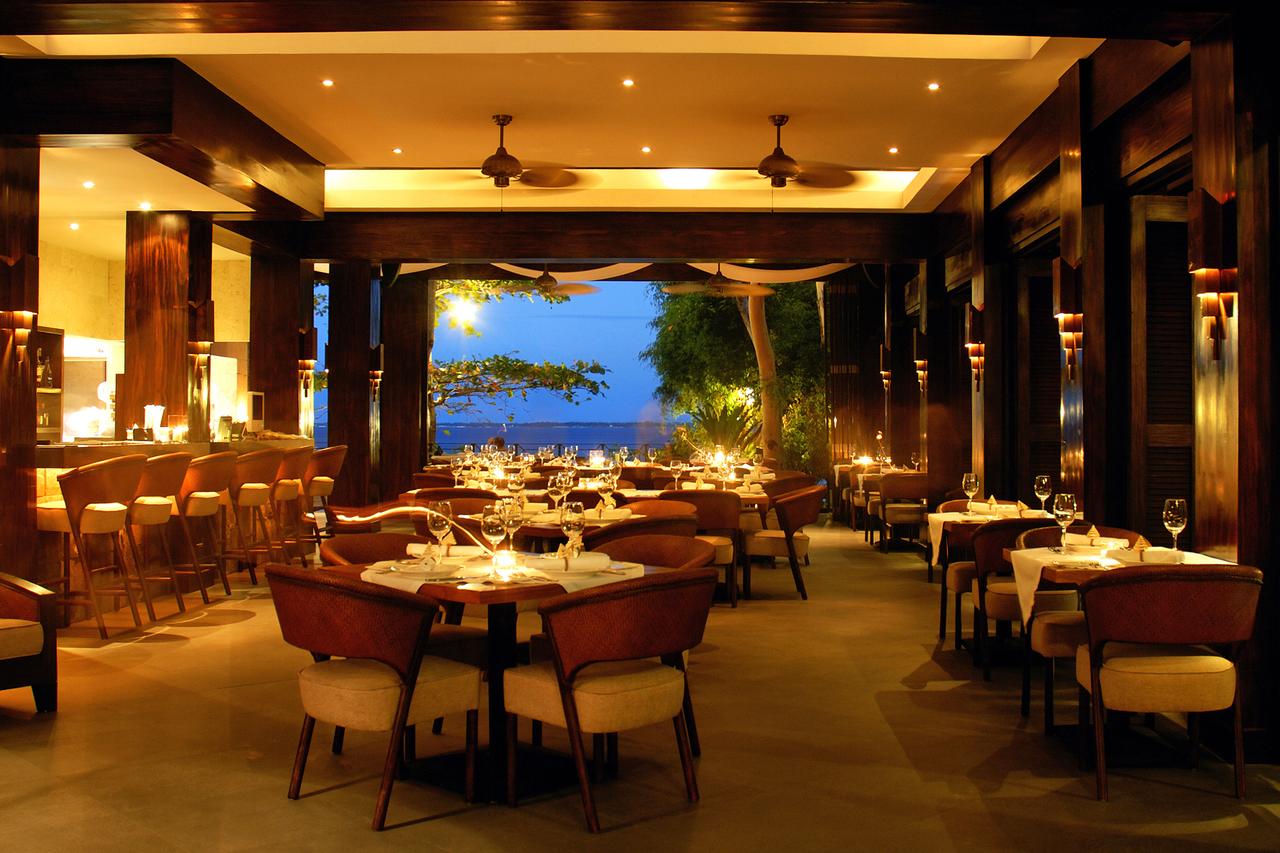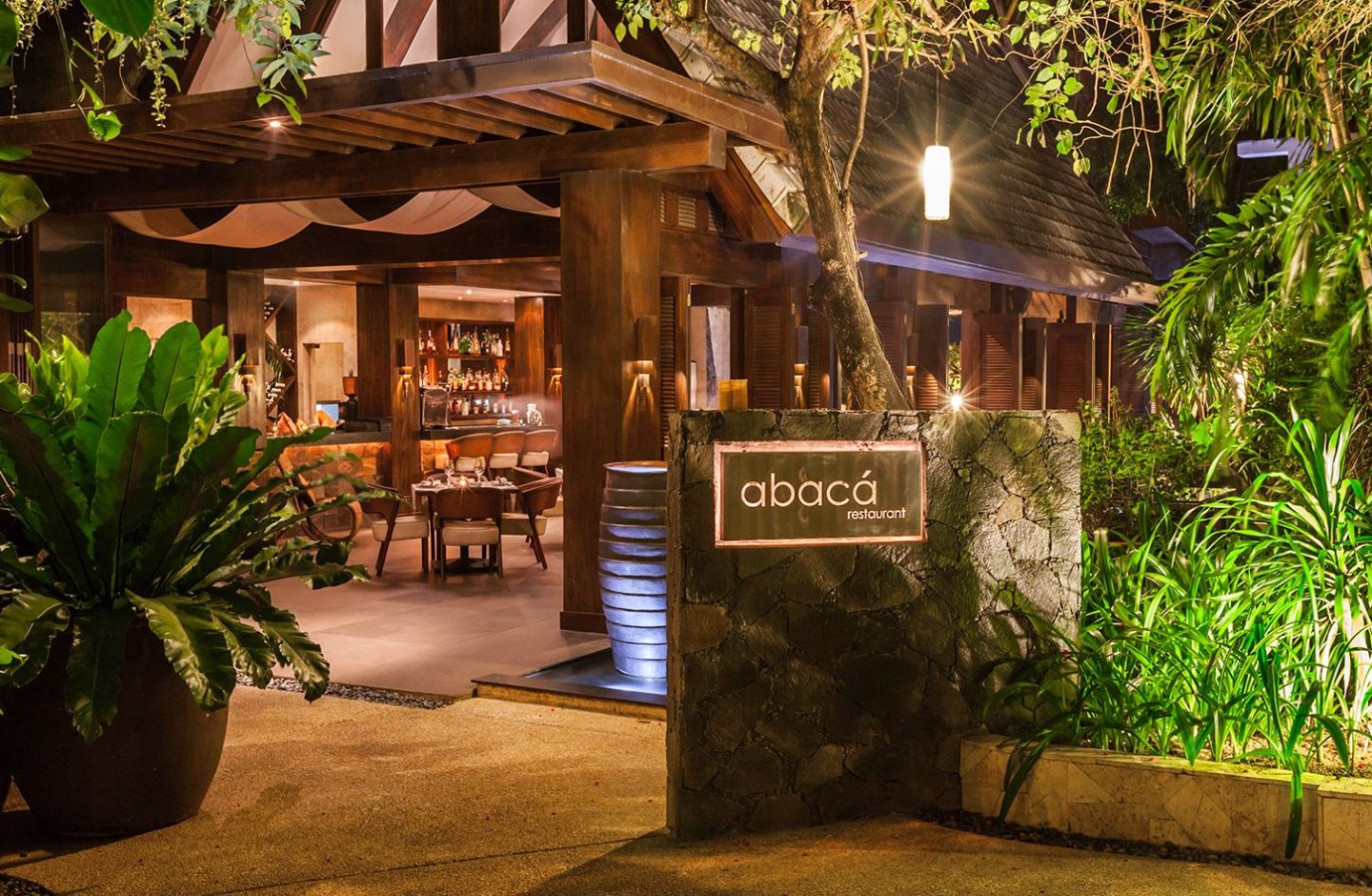 We got to the restaurant earlier than most people so we had it all to ourselves. We took their al fresco table with a commendable view of the ocean. The moment they mentioned having a traditional wood-fed oven, pizza naturally followed. Wifey has this thing with pasta the way I do with fries so she tried one of their offerings.
The pizza we were offered came with fresh leaves (basil or something like that), and it smelled good and tasted even better. Unfortunately, my son and I just couldn't finish it as it was a 12-incher. We asked to have the leftover pizza delivered to our room and then this happened…
Chefly gesture
Chef Justin at that time was in-charge of the restaurant. Given there were just a couple of diners at that time, he was friendly enough to talk to us the whole time asking about the food, our stay and whatnot. He even created an off the menu ceviche-type dish that for me was the most memorable food I ate there. Upon hearing that we couldn't finish our pizza, he actually came and said we didn't have to take them to the room as he will gladly bake a new set for us as he believes pizza is best eaten off the oven.
We were taken aback with this and naturally declined his generous offer. On hindsight however, I do wish we took his offer the next day. LOL
My wife's pasta was good but she said it wasn't something memorable. Probably because pasta is naturally simple and most would taste the same with variances in how cooked the pasta is, how the sauce is made, and the spices. This or she had bigger expectations.
The prices here start at about PHP 400.00/dish. I believe this is quite reasonable, and at par with Shangri-la's with about the same quality if not a notch above for some.
Regardless, I definitely believe the restaurant alone is actually worth visiting by itself especially if you're in the lookout for a nice place to dine and talk with your special someone. It's definitely one fancy restaurant to bring a date but with prices that are reasonable enough.
Of course you have to factor in the travel time to the place as this is quite out of the way. Although this doesn't seem to bother most of their patrons as I brought 3 Australian clients there just this month for dinner but sadly, they were FULL for the night. And that was on a weekday! So if you'll take my word for it and give them a try, best MAKE A RESERVATION as this is one restaurant that is highly sought after.
The Infinity Pool, the Beach
Judging from the pictures alone, Abaca Resort's infinity pool is their main selling point in terms of amenities. No doubt we had a great time there and, even with other guests, the size of it doesn't really leave you wanting.
It should be noted however that the pool's shallowest point is probably at 4 feet so kids should be guarded accordingly. This is especially so since I don't remember them having a lifeguard on duty the entire stay.
Apart from that, the area around the pool is equipped with non-slip tiles and flooring so it's a lot safer than others who don't have these in place.
There are more than enough lounge chairs around the pools although they have a limited number of them covered huts/cottages. I personally would prefer the cottages especially if the sun would become too much for my taste.
If there's one feature I wish the pool had, it would be a heater. I've never experienced a heated pool in Cebu that's why this is what I'd wish for any pool to have. But for some reason, given how beautifully designed the pool here is, I expected it here more.
Given I prefer the beach/saltwater more than the pool, I just had to try theirs. Needless to say, theirs wasn't really the best and if you go back to their marketing, this is quite evident. However, given lower expectations, I can honestly say my son and I enjoyed their beach a lot more than expected. The water was very clean and given we were the only ones there, the swimming area didn't feel small at all although they have the smallest beach area among all the resorts we've been to.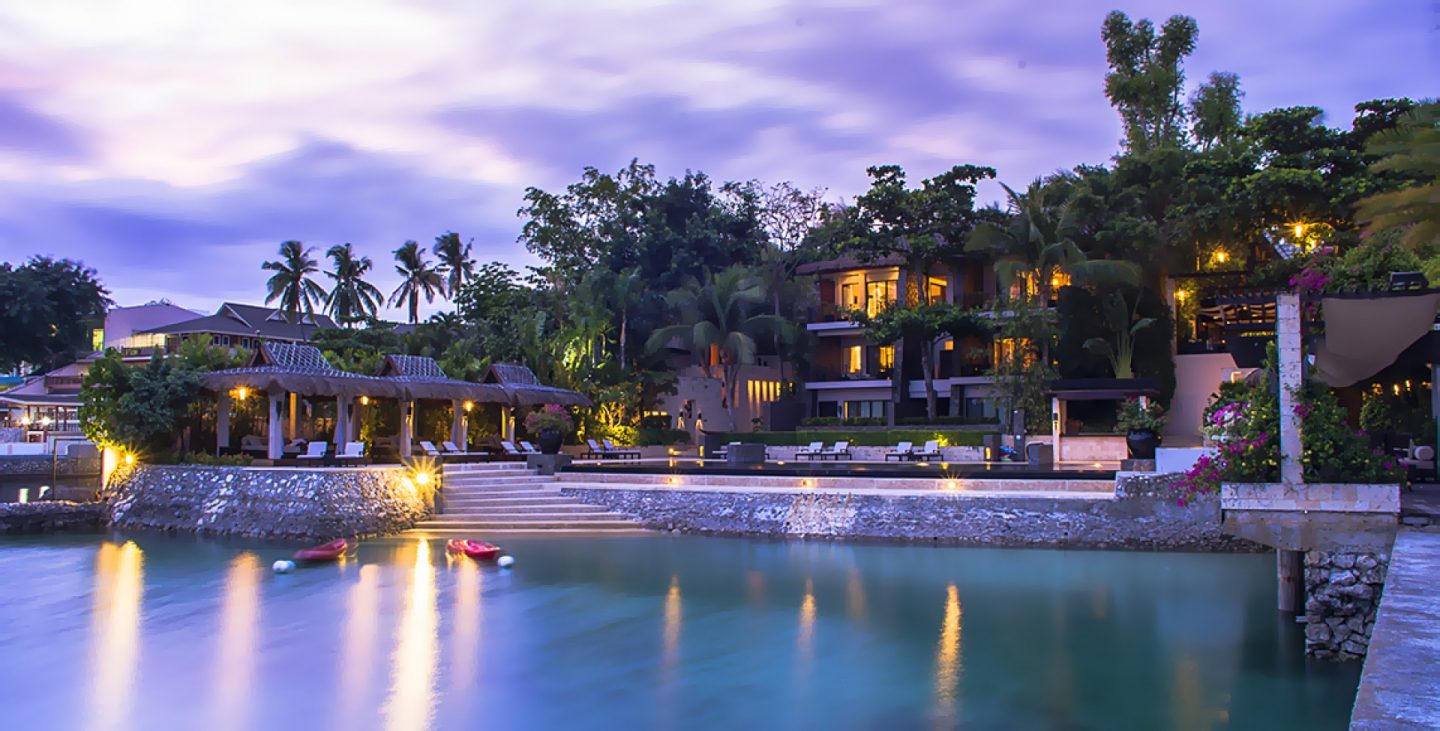 The most memorable part of our beaching here is the complimentary unlimited use of their kayaks. We took them far enough to see what's happening at BE Resort (the resort immediately beside Abaca).
I only wished the sea bed would be more sandy and filled with fishes rather than what it had before which was filled with seaweeds that scares me when I walk on them (I generally think there might be a sea snake or something nasty hiding among the seaweed).
Other Amenities
Although we didn't really get to use these (we never do except during our staycation in Bohol Beach Club in Panglao Bohol where my wife had massage), I feel you should know these exist nonetheless as these might be important to you.
The resort has an exclusive boutique spa. Exclusive meaning only checked in guests can avail of their offering unlike the restaurant which is open to the public. You can have the option to avail of the spa services in the comfort of your rooms or get them on the spa itself which looks amazing as you can see for yourself:
They also have a small but more than capable enough gym like so: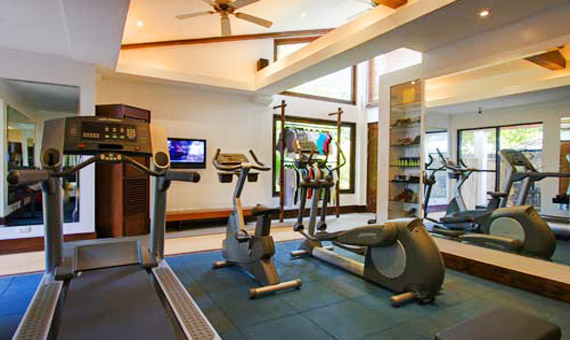 The next amenity and service I'm sure travelers with kids will love! They have a small playroom but more importantly, they offer nanny services to boot! If memory serves me right, this is the only place that actually has a nanny service (if you know any other resort that has this, please don't hesitate to let us know as well on the comments). Here's a snapshot of it:
How to Get There and Contact Details
The easiest way to describe their location is "beside" BE Resort in Punta Engaño, Mactan. The resort's entrance is very conservative so you best drive slow once you pass by the Mactan Shrine as it should be about 1.5 KM from there only.
Take note on the top left is the new Mactan-Mandaue Bridge.
Contact Numbers are: +63 32 495-3461 or
+63 32 236-0311
Email: [email protected]
Overall Impression and Recommendation
This stay was no doubt memorable and worth the money. The suite, the pool, the beach, the food, the exclusive feel, and the topnotch service makes this place constantly on our list of places to consider in Mactan.
Given my growing family prefers snorkeling and the beach overall, a next visit won't be anytime soon though as we'd rather stay in Shangri-la for this very reason alone.
I'd say this place is best suited for honeymooners and lovers who just want a place to unwind privately and exclusively. I doubt I can think of any other resort in Mactan that can beat it in these 2 aspects.
If you don't belong to the above criteria, I would still recommend trying this resort at least once and when you do, please don't hesitate to share your experience in the comments below.
As for Abaca Restaurant, this restaurant is highly recommended for anybody that is into good food that is well prepared and priced reasonably. If only it wasn't too far from where we live in Cebu City, I'm more than certain we'd be there more often. Thankfully, Abaca's Phat Pho and Luncheonette are only a couple of kilometers away from us and serves as part of our go-to restaurants.
PS: Before I forget, during our stay, there was a fiesta of sorts at Olango Island just infront of where we are staying. This translates to bass beats stealing my sleep during the stay but there's nothing anybody can do about it. So if you're particular with noise the way I am, I recommend taking a room that's not directly in front of the beach as you might get as unlucky as I was.
PPS: When we checked out, we had another surprise. One of the staff actually gave us a car wash! That's something new and totally unprecedented 'til this day!