We are on this side of Cebu once again and I am thrilled to write about it. Who doesn't love beaches and sunsets and waterfalls, right? If you have come from miles away just to experience the rawness of Alegria, expect to leave happy and satisfied.
Alegria is found right after Badian, where many springs are found. If you are a beach lover, like me, then there is no reason not to hop on the bus and travel to this municipality. If you like adventures, Alegria is the right place for you.
From the Cebu Bus Terminal, hail a bus to Bato/Barili. The fare for the Ceres bus will cost you 140 pesos but if you are a students (with a student ID as proof) can avail a discount and pay 125 pesos only.
This article is a complete guide to Alegria– where to stay, where to eat and where to experience its fullness. Keep on reading!
Resorts/Hotels
Sun Xi Beach Club
Yes, they are back! After closing its doors to the public last January due to relocation, Sun Xi Beach Club reopens next door! Same beach but different location. They have upgraded their services but they still offer their customers more than the regular swimming experience. Kayaking, canyoneering, snorkeling, and boating are all fun water activities that you can do alone or together with your loved ones.
Their beach is clean, blue and very private. It is really a good place to be.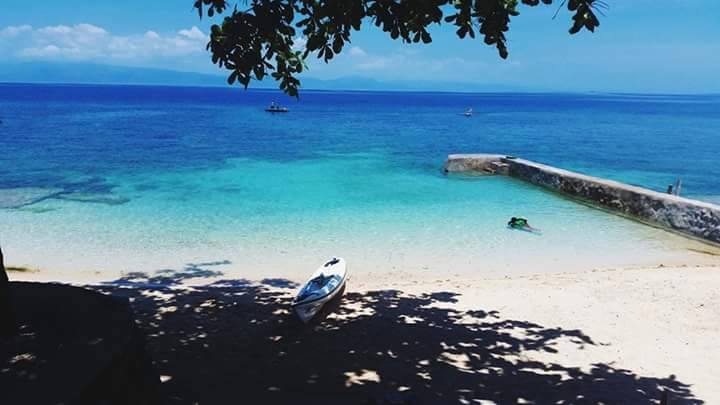 It feels so relaxing to be under the shade, by the beach and just listening to the sound of the waves. This resort is really nice because unlike many resorts, this does not have too many vendors popping out of nowhere and no noisy neighbors. Just pure silence and peace!
This side of the south is where it can be witnessed the sun setting down so beautifully.
The rooms in the new facility that they are building are not ready just yet but don't be sad because they have rooms in the Mountain Retreat. If you want to stay overnight, you will have to be sent to their mountain retreat via free shuttle courtesy of the Sun Xi Beach Club.
But do not be disappointed because the view is more stunning and relaxing.
The retreat house discourages using gadgets and the internet because who needs them when you are up there in the mountains, right? There is so much to appreciate if we can only turn off our mobile phones for a while! However, Wi-Fi is available as per request. If you need it so badly, just let them know but if I were you, I would only use my camera to capture this blessing.
Look at that! The temperature drops at night so if you don't want to freeze to death, bring thick cover-ups!
Their lounge looks very warm and welcoming. The room is spacious and cool, thanks to the gigantic wooden windows. Everything is nice, clean and well-maintained.
The room rates range from 950 pesos for 1 guest, up to 4,250, which can accommodate 5 guests. The rooms include a private bathroom but air condition is not included. Why? Because it is already cold up there! There is natural air condition for all guests courtesy of nature.
Here is a list of their updates rates: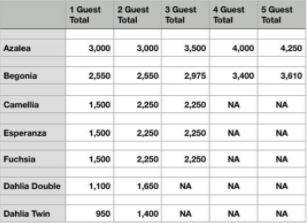 The rates are higher than regular rooms in the area but don't fret because they only have the best for their customers. I believe they priced their rooms well, given all the renovations going on. The quality and the experience that you are about to get is the most important.
How to get there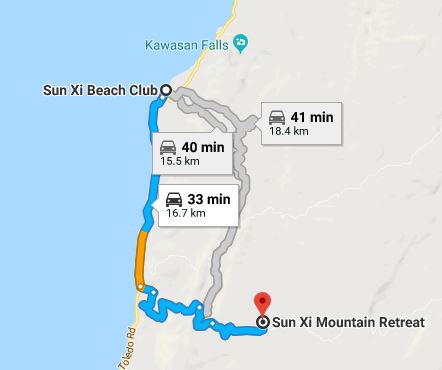 From the Cebu South Bus Terminal, get on a bus that says Bato/Barili. This bus will pass by Alegria. Get off when you reach Bato Malunhaw. From there, walk to the beach resort. For overnight stayers, approach the resort staff to let them know you wish to stay overnight. They will assign a shuttle which will send you to the mountain retreat house for free. I know you can't wait to book a room so give them a call now at +63 5117726.
D Alegre Traveller's Inn
Simple, cheap and safe. D Alegre Traveller's Inn is exactly what a backpacker needs. The inn has a comfortable bed, private bathroom, and air condition. The room is simple and really basic but well-maintained.
I like rooms like this. They want you to breathe and relax while being cornered by wooden walls and floors.
It is a safe place for your things and of course, for you. If you are on a tight budget, I would recommend this place. It is clean and very affordable– who says you can't travel with a little budget?
D Alegre has a beach and I am sure you are not even surprised! It is so near the beach!
Sadly, their beach is rocky. If you wanted a white sand beach, you will get disappointed. However, if you love the water even without the sugary sands, you will love it here. The water is clear and super clear as you can see! The rocks are big, they won't hurt your feet as much as smaller rocks would.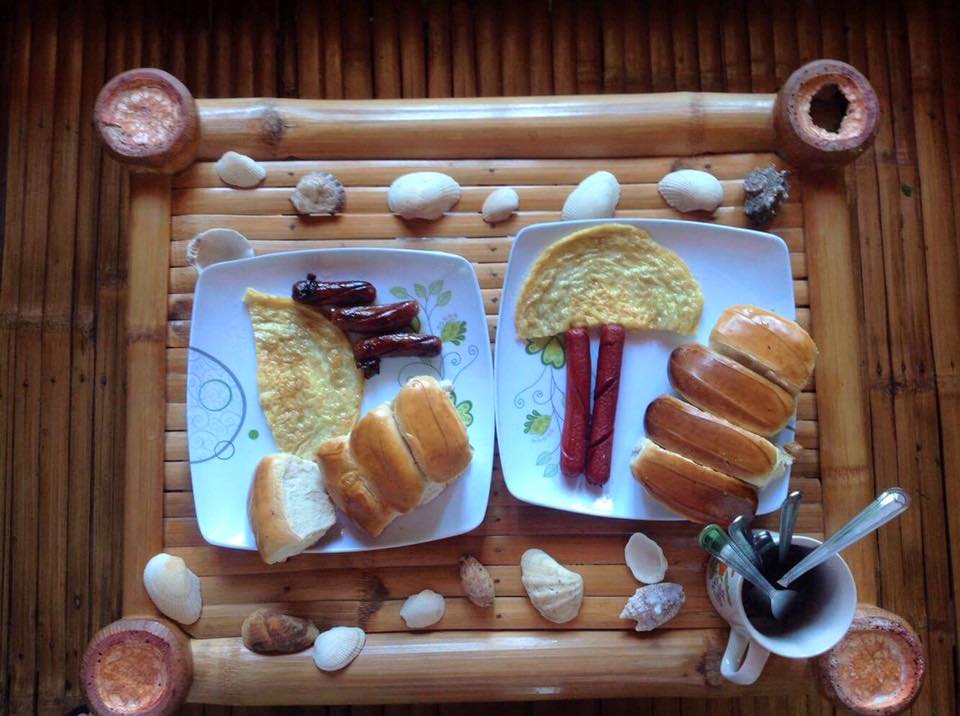 Hungry? Don't worry. The place offers a dining experience as well. You will never feel homesick!
Their room rates start at 650, no air condition, with private bathroom and 1 double bed. If you want to be a little more comfortable, get a room with an A/C for only 900 pesos. This room can accommodate 2 people. They have a family room for 4 and a treat facing the ocean.
Before night time, you will witness the sunset right from your bedroom. This experience will cost you only 1,200 pesos only. I highly recommend this inn.
How to get there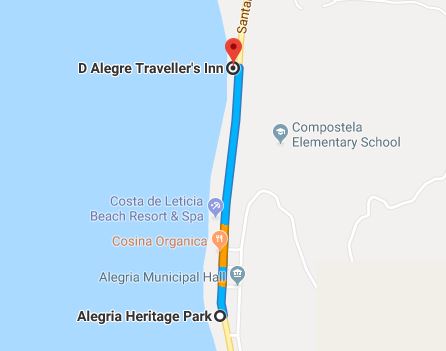 The inn is along the road. Take a bus en route to Bato/Barili and get off at the D Alegre Inn, 2 minutes before the Heritage Park. You will see it right away. The inn is near Kawasan Falls and Oslob when many adventures await you! If you want to be a practical traveler, booking a room in this inn is a smart choice! Call them at 0920 216 8540 for reservations. You may also find them on Facebook.
Lucci Pension House
Another affordable option for those who are on a tight budget is Lucci Pension House. They have a very simple set-up. The house itself looks like a big, native house in the province. It looks regular to me. They also have a pretty visible signage along the road so it won't be hard to find.
They have a nice balcony where you can see the sea from the other part of the road. The house is not very far from the sea, though. Its location is still pretty good if you need a nice room to rest in.
They are a little expensive as compared to the other rooms. This pension house, honestly, will be my last option if all the other choices are already full. However, they do offer free parking and free Wi-Fi. Their non-air conditioned rooms have a private bathroom but the ones that are more expensive with air condition have shared bathrooms. They also have a T.V. but it is only displayed in a common area.
If you are not keen about the rooms, you will love it here because the location is convenient if you want to explore Kawasan Falls, nearby museums, wet market and many more.
The cheapest room is priced at 835 pesos (non-airconditioned), depending on from which booking website you book. For more information, you can call them at 4767026 or 4767416.
How to get there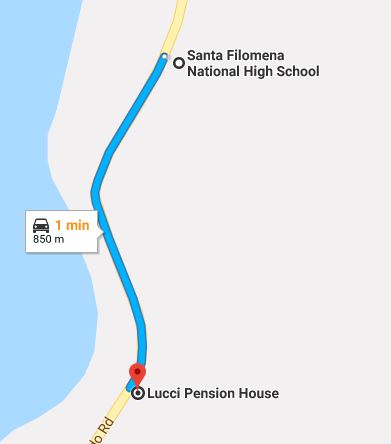 The bus from the South Bus Terminal will take you to the road where the pension house is located. Tell the bus assistant that you will be getting off at the Lucci Pension House so that they can stop the bus. Keep an eye on the nearby establishments so that you won't get lost. The house is at the left side of the road from the bus stop.
Tourist Spots
Alegria is a fairly small municipality with loads of activities to do and places to explore. Coming here would require you hike up to see the waterfalls, and crawl under mesmerizing caves. Alegria is rich in natural resources you don't want to miss! I am scared of waterfalls but I am game to explore Cebu! 
Cancalanog Falls
Cliff diving is a popular option for people who enjoy deep waters and adventure so much. You can do that in Cancalanog Falls.
The water that flows down from the source is not as abundant and strong as Kawasan Falls but rather thin and softer than many other falls. This means Cancalanog Falls isn't scary! The emerald-green colored water is contained by beautifully layered rocks neatly placed in order. My description can't give enough justice to the majestic place so here is a photo.
It is safe, private and really nice!
How to get there
If you took a bus from the South Terminal, get off at Barangay Sangi. There are hundreds of motorcycles out there. Take one that will take you to the falls. The fare is quite expensive, just prepare 150 pesos per head but the price varies, depending on your arrangement.
At the entrance, you will have to take a hike to the registration area. The route is slippery so wearing the right kind of footwear is a must to avoid accidents. The way to the falls is fascinating. The muddy trail is covered with green trees and is surrounded by tweeting birds. The sight on the way is already relaxing, how much more the site itself?
Before you get to the falls, you will be directed to the registration area where you need to register, of course! You also have to pay their entrance fee of 30 pesos for you to enjoy this piece of heaven.
Montpellier Falls
Montpellier Falls is a much higher and much stronger fall as compared to Cancalanog Falls. It is somewhat hidden in a discreet, untouched area where green trees and wild plants live and the water freely flows from feet above.
I may be running out of words to describe nature but this is majestic as well. It seems like nature is boasting of its glory in the most subtle way. I mean, look at that!
The waterfall is very mysterious and private– but public. It is open to all at no charge! That's great news for all water lovers out there who just want to enjoy nature at no cost. But even if the locals charge tourists some fees, this place is worth it!
As mentioned, I may be afraid of waterfalls but this is inviting, who can resist such beauty?
How to get there
Your travel buddy should always be your habal-habal driver. Habal-habal is that motorcycle you can hire to get you to places. You can find them in the town so from the bus, get off at the town and get a habal-habal to take you to Montpellier Falls. You can arrange payment terms if you want to book your driver for the entire trip or just prepare 50 pesos to 100 depending on where you are from.
Canlaob Falls
10 minutes away from the main road lies an extraordinary water world where you can do meditate or just chill in the spring. This place is magnificent! I can't explain how beautiful Canlaob Falls is and I can't believe we have this lying in Cebu for so long and it is not even getting much attention from the world!
This gem is powerful and kind at the same time. The water gushing from the source is so strong that getting near it would really freak me out! Nature placed big, beautiful rocks all over the place making the falls even more marvelous than it already is. However, the falls is safe for kids to enjoy. Just don't let them dip without a life jacket and attention.
There is an area where you can stay in the cold spring to relax while listening to the loud pouring of water in the pool. The scenery is so beautiful that beautiful is an understatement. The small falls is surrounded by a jungle. Everything is green and peaceful. You have to come visit this place!
How to get there
From the town, again, get a habal-habal. Wherever you are going, you can be safer if your starting point is the town proper. From there, get a motorcycle to drive you to Canlaob Falls, which is 10-15 minutes away.
Cambais Falls
I believe that falls have different personalities. This one is a classy, feminine and sexy waterfall. Water comes out from a high point– but not too high. It is like seeing a gorgeous woman in high heels! Cambais falls is not as strong as Canlaob but it can be as fascinating.
The waterfall is surrounded by huge rock formations where local kids enjoy playing. You can dive, jump, swim or simply watch the water drizzle from up above.
How to get there
Cambais is in Valencia, Alegria. From the town, again, hire a motorcycle. Motorcycles are the only means of transportation that can take you to places like this, fast and easy.
Alegria is a small municipality but it packed with so much goodness. The waterfalls in this post are not the only treasures found here. You still have caves, more beaches, and mountains to see. If you look closely, Alegria is an all-in-one town you don't want to miss.