For me, a quick getaway wouldn't be perfect without blue waters and white sand– and a little bit of trivia about Marine Biology. All of these will be experienced in one of the most popular yet budget-friendly destinations in Cebu– Aloguinsan.
Traveling doesn't have to be costly and I truly believe in that. So I came up with a guide to help you explore the deepest parts of Aloguinsan that offer very cheap rates without compromising experience.
Aloguinsan is a municipality in the south of Cebu. If you don't know yet, Aloguinsan is packed with nature's goodness all over. I love the waters but I hate the deep so I hang around the shore most of the time. Are you like me?
Hidden Beach
What keeps me coming back to this place is their beaches, particularly the Hidden Beach. It is clean and really beautiful for the rates. If you are tight on budget, you can bring your own tent and just pay 300 pesos for an overnight stay plus 70 pesos as entrance fee. This option is already very cheap and it gives you the advantage of sleeping under the sky full of stars and listening to beach waves as your lullaby.
In the morning, there is no more dragging your feet to go out of the room because you are already at the beach front!
However, if you feel like being fancy and would want your own privacy, getting a room with a private comfort room is a good option as well. They have a big room with bunk beds good for 6 persons for only 3,500. That's 584 pesos per head with air condition, own bathroom, and free breakfast!
Personally, I would suggest that you just get yourself a tent or a room that is not airconditioned to save some cash. They offer accommodation without breakfast and no aircon for 600 pesos only. That is already good for two with bathroom and privacy. If you are going with someone, make sure to split the bill!
Aloguinsan is a 2-hour ride from the Cebu City. Take a V-Hire form USC Main that's going to Toledo and from there, hail a jeepney to Aloguinsan. Prepare 100 pesos for the V-Hire. You won't get lost, just let the driver know that you want to be dropped off at the Public Market. From the market, hire a motorbike for 30 pesos to take you to the Hidden Beach which will take you less than 10 minutes in total.
That's it. After 2 hours and a 20-minute land trip, you are in the beautiful town of Aloguinsan.
It is best that you travel at night so that you can fully enjoy an entire day at the resort. You can watch the beautiful sunset from there, too. The resort has preserved its natural beauty and is untouched for the most part.
Everything is affordable, the entrance fee is only 50 pesos per head (it changes without prior notice), tables and chairs can be rented for 150 pesos and cottages are only 300. You have many options to choose from for your overnight stay.
Call them for a reservation at 0939 476 9012 or send them a message on their Facebook!
Bojo River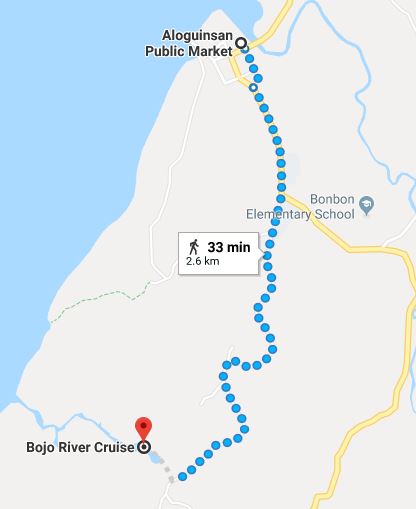 In the next morning, you can move on to explore more of Aloguinsan. Hire a motorcycle to take you to the Bojo River. It is only 15 minutes away from the Hidden Beach.
The Bojo River tour will take you to a different paradise because you will discover a deeper sense of place. It is a clean and well-managed river that can be toured using a small boat. A local fisherman will take you to the cruise and will act as your guide. Once you visit the river, you are not only increasing your learnings, but you are also helping the local community. All for 300 pesos only.
If you want to go there first, hire a motorcycle from the public market to the Bojo River. It 2.6 km from the market.
READ: 5 Reasons To Visit Aloguinsan's Bojo River
Note that the river is well-managed and going there will help so many people in the area. If you want more information about Bojo River, you may visit their Facebook page here or contact them at (032) 469 9042 or 0933 120 9480.
Hermit's Cove
After the short cruise, spend the rest of the day at the Hermit's Cove, which is only 10 minutes away from the river. Take a motorcycle because it's the easiest and fastest way to get around.
Hermit's Cove is 30 minutes away from the Hidden beach but its long shoreline is just as beautiful. Their white sand is really fine, too. The beach is clean and well maintained, and the view from the sea to the green mountains is fascinating.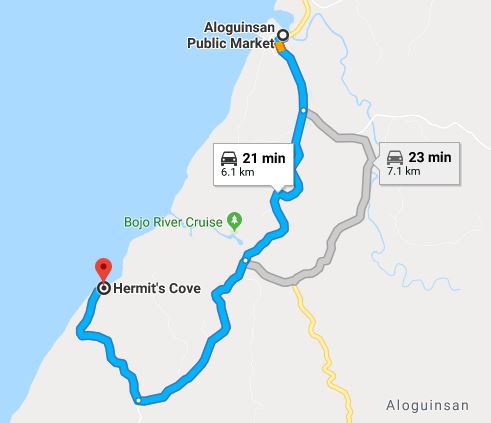 The hidden paradise requires only 50-100 pesos as entrance fee which already includes a table and some chairs. The view is stunning and the sand is perfect. It is kid-friendly which is definitely a good choice for families and friends. It is a really nice place so get your reservation now at 0923 504 2066.
Farmhouse
After your water adventures, you can take a break by visiting the Farmhouse in Aloguinsan. It is just a short distance away from the public market so getting there won't stress you out.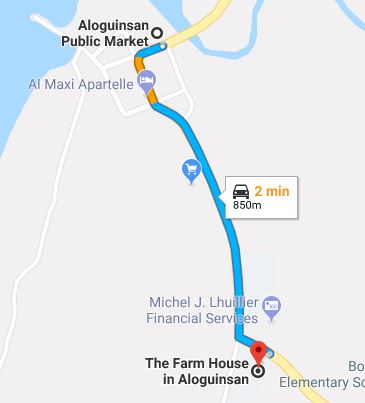 The Farmhouse is a refreshing place to be at because of its greeneries and many other plants and crops growing there. It looks like a happy farm town we get to read in magazines. I am not a garden person but seeing all these natural and organic plants and crops make me want to set up a hammock right under a big, old tree.
They feature local artworks and souvenirs in their small shop and they also built a very chill dining area where they serve local delicacies.
If you look around, you will find farm animals that live organically. Their pigs aren't fat and don't smell as bad as regular farm animals do.
If you want a simple yet relaxing countryside experience, then this place is the place for you.
Lunhaw Farm Resort
Speaking of farms, don't you want to stay in the middle of a peaceful farm where you can luxuriously sleep, dine and relax? Lunhaw Farm resort offers a very calm and undisturbed experience for a really reasonable price.
They have big small villas. If you are coming as a couple then your villa for an overnight stay will cost you 4,000 pesos. I am telling you, the price is very worth it!
Their Couple's Villa Suite package includes one King-sized bed, a refrigerator, a bathtub, air conditioner, outdoor shower and other perks such as soft pillows robes and towels and also some handmade bath essentials.The view from the poolside is the green trees around the area and the blue sky from above. If you have a green thumb, then this is your haven!
If you are coming from the public market, here is your guide:
Before you go, make sure to give them a call to reserve a slot at the resort. Their contact number is 0915 577 8292 or give them a quick chat on their page.
Curbada dela Maria Resort
Before heading home, make sure to indulge in the latest attraction in Aloguinsan. This is the newest Curbada dela Maria Resort. From our starting point, the public market, it will take you about 10 minutes to go up to the mountaintop.
Their pools are very simple but the location itself will take your breath away. It is located at the mountaintop where their resort is surrounded by bigger and greener mountains all around. It is along the National Road so going up there will be a smooth ride.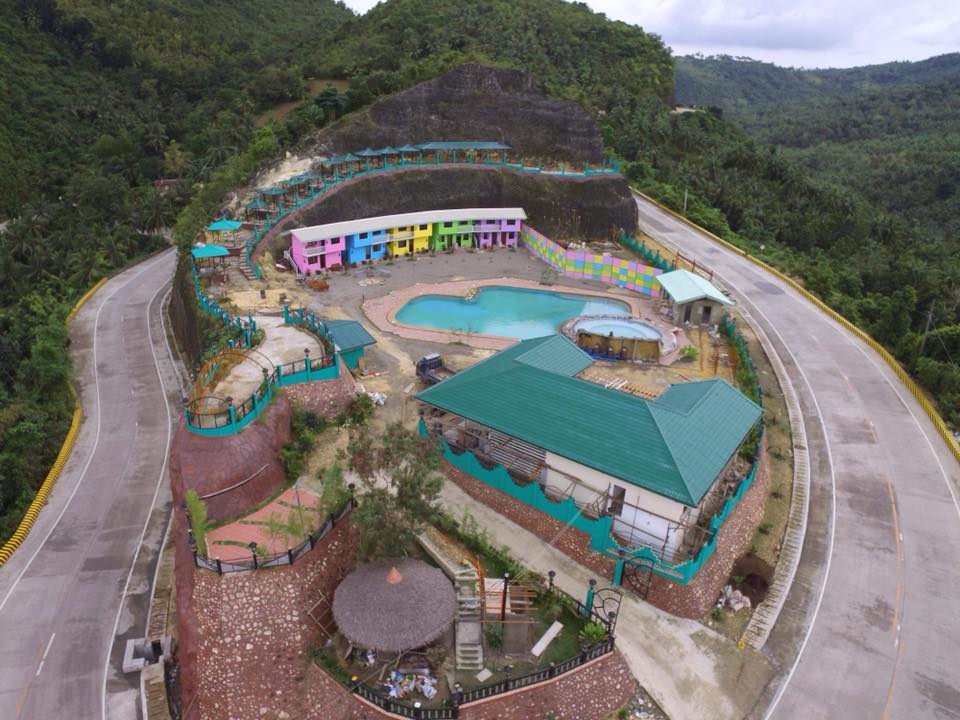 The best thing? Their rates! The entrance fee is 150 pesos for adults while 100 pesos for kids. Couples can enjoy a non-airconditioned room for 1,000 pesos while its airconditioned counterpart is for 1,500 only. And the view?
A beautiful sunset. Stunning.
Book now at 0917 721 6825 or follow them on Facebook to know more about their rates!
Aloguinsan is indeed a top choice for people who want to experience the natural beauty of southern beaches, the tranquility of mountaintops, the calmness of organic farm towns and the richness of the sky's colors when the sun starts to set.
If you are not sure which one to book, why not book them all?