When I hear of the place Argao, all I could think about is torta and my friend who lives there! Argao is a little far from Cebu City so I have a blurry vision of how the place looks like.
Argao is more than just a home for the best torta in the country. The municipality also has so much to offer! This includes waterfalls, caves, beaches and even a castle! All these are found in a small part of the Cebu province.
To go there from Cebu City, take a bus from Cebu South Bus Terminal that says Argao. The fare is below 200 pesos and the trip is approximately 2 hours. Get off at the town proper because this is the best starting point for all your trips around Argao. Before heading anywhere, register first at the Tourism Office. They will help you with all your travel plans, too.
Beach is my first go-to spot when it comes to traveling. Especially this summer, it is important for me to even out my tan before anything else! But, we will skip that for now. There are so much more to explore in Argao and here is my list:
Waterfall
Bugasok Falls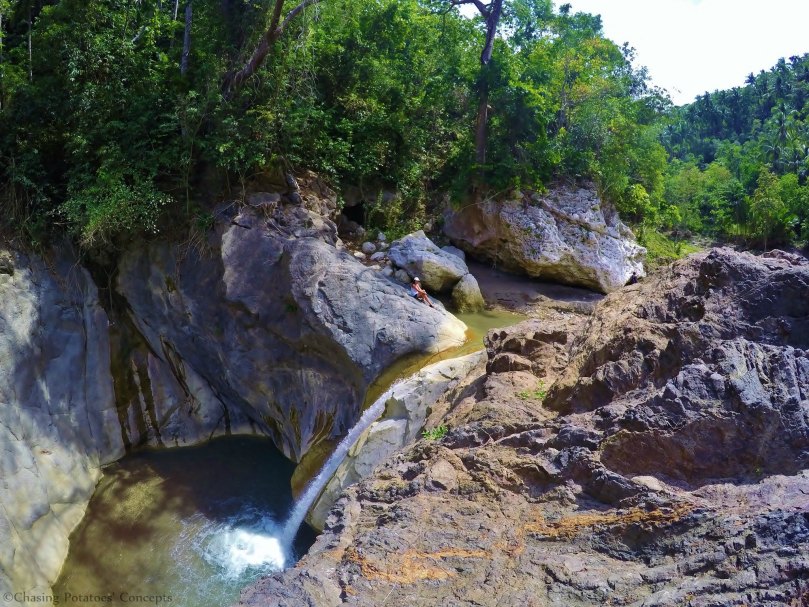 Waterfalls frighten me because they seem to be very mystical, deep, and dangerous. If you should, hire a guide so that someone will oversee you and your group.
Bugasok is a very simple waterfall located in a remote area in Argao. It is not higher than Kawasan, it is a lot shorter actually, and less stronger but the pressure is still strong. The waterfall in the photo does reflect the regular flow of water.
The fall is supported by a strong, beautiful rock formation that suitably embraces the pool of water. Trees and more greeneries engulf the source, where you can jump off to the pool.
It is safe to jump in, but you will need a guide because it would be hard for you to come off from the water and back to the top without a rope.
I am not adventurous so I will skip all the jumping and stuff. I will stick to floating in the farthest part of the waterfall!
How to get there
From the town proper, hail a motorcycle to take you to Bugasok Falls. Getting there will require you to walk through a narrow trail but you can take the motorcycle to go to the destination.
Park
Argao Nature Park
You can't miss coming to the Argao Nature Park, whatever happens. The park is a small manmade forest complete with a mini zoo, and areas for those who like the adrenaline rush. Adventure lovers can enjoy wall climbing, zip lining and boat riding for very cheap rates (below 20 pesos per adventure).
You can spend an entire day here. It is a relaxing treat for the family so you can bond, play and even dine in together in the park. They also offer massages for those who are tired from the day of walking.
Just a reminder, do not leave your trash anywhere. The management is doing its best to keep the place clean but if the visitors themselves care less about the environment, then the park will always look messy. So if you visit, keep in mind to keep your trash to yourself if you can't find a trash bin near you.
How to get there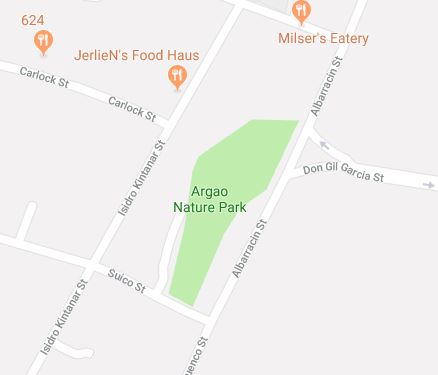 The nature park is in the town. If you have come from Cebu, you can just walk from the drop off point to the park or take a motorcycle if you can't find it yourself. Prepare a little amount as your entrance fee, and other fees for the facilities. For more information, you can contact them at (032) 367-7707.
Mountain
Mt. Lantoy
Mt. Lantoy, just like most mountains in the Philippines, has its own story behind its beauty. But the story is not about love, rather, about a mystical woman who grew cacao trees around her cave. The when heavy rain pours, she slides down with the water which makes her able to sell her cacao. Does it sound mystical to you?
More so, Mt. Lantoy is a tall mountain which is inviting for hikers to follows its trail to enjoy the view from the top.
The greeneries that surround the trail make the mountain really mysterious and beautiful. If you like hiking, this is a good option for you.
How to get there
As advised in the introduction, head on to the Tourism Office first. They will give you guidelines and will connect you to trusted transportation guides. If you wish to go to Mt. Lantoy directly, you can hire a motorcycle from the town.
Castle
Riverstone Castle Resort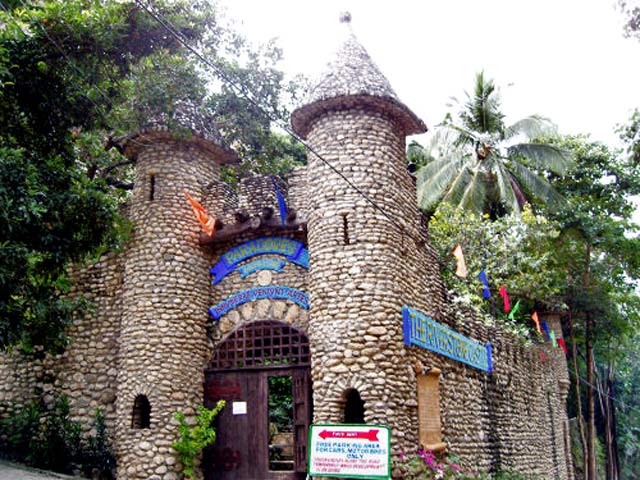 The castle was built in 2002 with native stones from the rivers of Argao. From the outside, you will notice a real-life castle design– with tall, strong walls and gigantic gates. The Riverstone Castle is a resort. Who would have known if not for the name? When you enter the castle, you will immediately feel like an authentic princess being surrounded by strong walls for major protection. It feels so real!
Inside can be found a wine cellar, a restaurant, and a swimming pool. The resort also has wishing wells and chimneys and many more interesting features that will make you feel like you were born from a royal family years ago.
Update: The resort is said to be for sale now but you can still go take take nice photos from the outside.
How to get there
The castle is approximately 7 minutes away from the park by car. If you plan on walking to the destination from the park, it will take you more than 30 minutes. Taking a motorcycle is the best way to go to tour the area.
Cave
Balay Sa Agta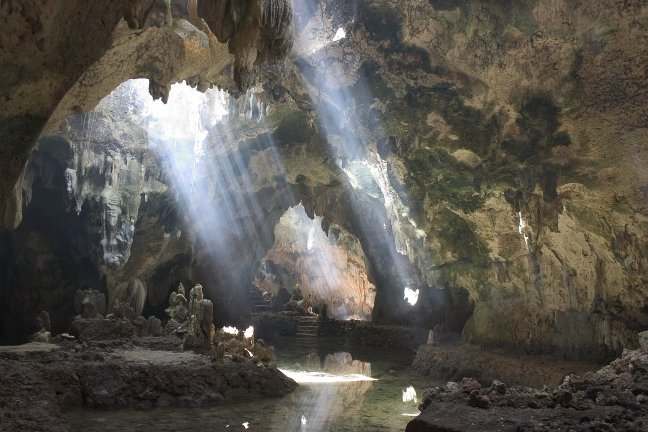 Another popular destination in Argao is Balay Sa Agta Cave. The name literally says "house of the indigenous people". Agta could also mean differently in Bisaya– a mythical creature who lives in huge trees. Anyway, you won't find either in the cave.
As you enter the cave, you will feel uneasy because the cave itself looks like an Agta (the mythical creature). It is big! There are dark parts but there are also big holes at the top so light can pass through.
If you are not afraid, you can enjoy searching the cave for interesting formations. The cave is very picturesque as well so even non-adventurous individuals will like it here!
How to get there
The first step is to go to the Tourism Office (located in the town proper). You have to register there in order for you to be allowed to explore the cave. The trail is slippery so a smart option is to follow rules!
You will have to pay a fee around 600 pesos. This is for the maintenance, guide, and added security. The office will advise you how to reach the cave. They will also provide you with the guide so that your tour will be safe.
There you go! Argao is among the most well-preserved places in Cebu. Explore it while you can and let us know in the comments what you think.