To us, Cebuanos, Lechon is our pride and joy. We boast about it wherever we go because it brings us back to our roots. Being it a symbol of every Filipino's happy celebrations back home, lechon reminds us of that– a happy home; which a lot of our OFW friends miss from working abroad.
Our favorite roasted pig is indeed reminiscent of so many happy memories. It is not just a type of Filipino dish, it is a huge part of our rich culture.
Here in Cebu, there are hundreds of different lechon brands to choose from. Each brand showcases a different approach to the taste, crisp and overall branding, but certainly, not a single one is bad enough to be disregarded.
If you are not up for a trial and error lechon-tasting, why don't you just go straight to Cebu's leading lechon-maker instead?
Ayers Lechon makes the best-tasting lechon in town. They ensure the quality of every bite over the number of sales above everything else; which makes each piece a masterpiece.
In 2015, Ayers was awarded as "The best lechon-maker in Cebu 2015". This recognition immediately brought the brand to a higher level and caught the attention of the masses. Once tried, people never went back to their usual lechon restaurant.
They are popular among the youth for their spicy boneless pork belly which is generously stuffed with various herbs and spices; making the dish very mouthwatering! The not-so-young population can however still enjoy the classic lechon with all the special herbs and spices inside.
Lechon can never be that irresistible without the skin part of the pig. It is what makes lechon what it is, after all! Ayers make it a point to keep the skin well-seasoned and crisp until it reaches the customer's mouth.
That delectable sound of the crispy pork skin will make every bite very enjoyable; you would forget to control your lechon cravings!
As of writing, Ayers Lechon has 7 branches around Cebu City and Lapu Lapu City.
Menu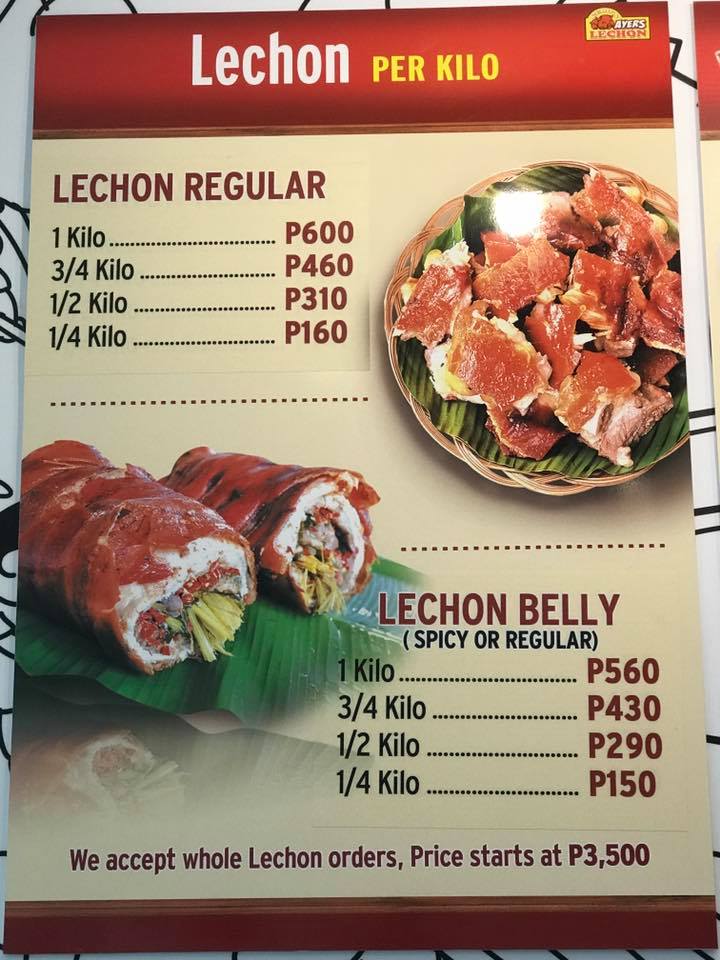 Prices start at 150 pesos for 1/4 kilo of pork belly. For whole lechon orders, prices could start from 3,500 only.
Branches
As mentioned, Ayers Lechon has 7 branches here in Cebu. You can find one of each in Elizabeth Mall, Mango Avenue, SM Seaside, SM Cebu, Mactan Newtown Alfresco and Mactan Domestic Airport.
Don't worry if your city is not mentioned above because they have thought about that already. You can also order from their mobile app which is available in iOS and Android, now, you can enjoy Ayers Lechon from anywhere!
Since lechon is undeniably everyone's favorite pasalubong from Cebu, Ayers has made it easier for you to take home Cebu's pride back to your next destination. It is time to make new memories with your family and friends from wherever you go, with the best-tasting surprise one could ever wish for.
Orders
For orders, contact their office at 231 7615. Their office is located at 777 Banilad, Across Cebu Country Club, Cebu City, across Aboitiz.
Watch our video feature below: