Amazing underwater shot of free diving in Moalboal // by Niccolo Stevens
The best way to observe a fish is to become a fish. ~ Jacques Yves Cousteau
And a great way to become a fish is through scuba diving. A lot of scuba divers both local and international flock to Cebu because we have a beautiful and rich marine life around the island. Whether they want to dive at 10 feet to 330 feet and dive around a wreck or for a hypoxic trimix diver course — there are a lot of dive sites around Mactan and Cebu.
All levels of scuba divers will definitely enjoy diving around the island. I know I've seen a whole lot of Asian and Western tourists try different diving sites all over, and heard many good stories too.
Scuba divers can choose from underwater caverns, shallow shipwrecks, freshwater cave diving, to deep penetration technical wrecks diving. Cebu and the Mactan island are definitely a must to explore and dive.
Local and foreign scuba divers not only come to dive in the caves and wreckage dive sites but they also come for the rich marine biodiversity – which is one of the greatest around the Philippines. Because Mactan and Cebu are right in the center of the Golden Corral's Triangle.
Read: Diving With The School Of Sardines In Moalboal
Here we have made a list of the best diving sites in Mactan Island and around Cebu. As well as in the islands of Camotes, Olango, and Caubian.
Kontiki House Reef
Kontiki House Reef or also known as Kontiki Reef is an ideal site for scuba divers or all levels. It has a good shallow flat area that's just right for beginners at diving. The dive site is excellent for underwater photography, so make sure to take your underwater camera with you on your diving session.

The shallow part of the reef is covered with seagrass and different types of colorful corals. The slope that's steep has this artificial reef – a big piece of metal that sunk down in the 90s and has become a home for ocean life and is covered with lots of corals.

Kontiki Reef is also known for being a good night dive site and regular night dives are done on the site. The slope goes down to 165 feet and gets steeper up to 330 feet. Then it becomes very flat and covered with sandy pebbles with scattered purple anemone and soft corals are found.
Cabilao Island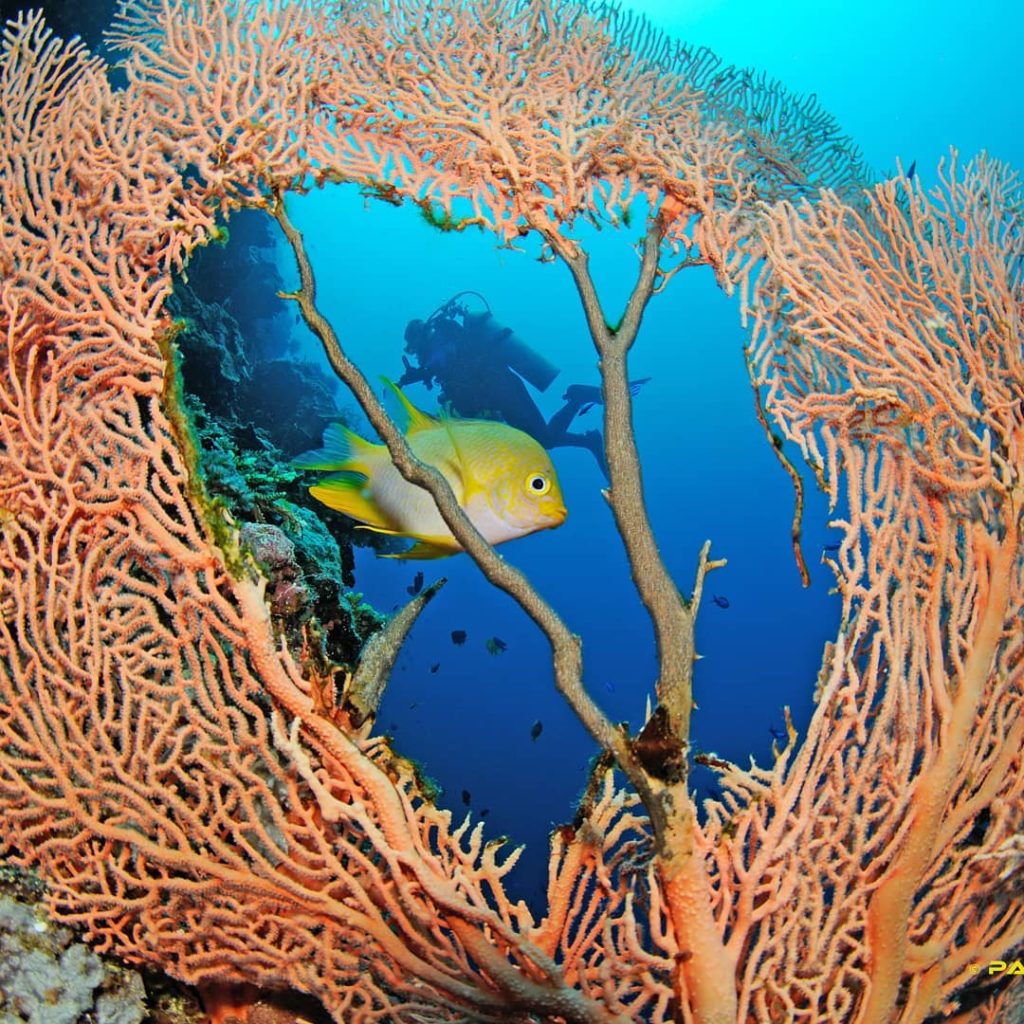 Cabilao Island can be found in the Cebu strait – which is a part of the Bohol province. It's a very chill, relaxed island without any cars, and is known for its beaches, coral reef, scuba diving, a museum, lake, and a lighthouse.

It is only 54 kilometers away/ an hour and 30 minutes of boat ride from Shangri-la Mactan. The island has one of the best diving spots in the Philippines that you need to dive in. Cabilao Island has many different dive sites – and whether you dive on top of the wall or along the wall itself, you will see lots of cool different sorts of soft and hard colored tropical corals. As well as the many fishes shoaling around the different reefs.

Cabilao has a beautiful marine sanctuary that makes it a wonderful place for scuba diving and snorkeling. Diving spots all over the island that's ideal for both beginners and experienced divers – you will find lots of seahorses, stone fishes, stargazers, devil fishes, porcelain crabs, pipefishes, and a lot more. Scuba diving here is possible all year round because the water temperatures in the dive areas of the Visayas vary between 26 and 20 degrees Celsius.
Camotes Islands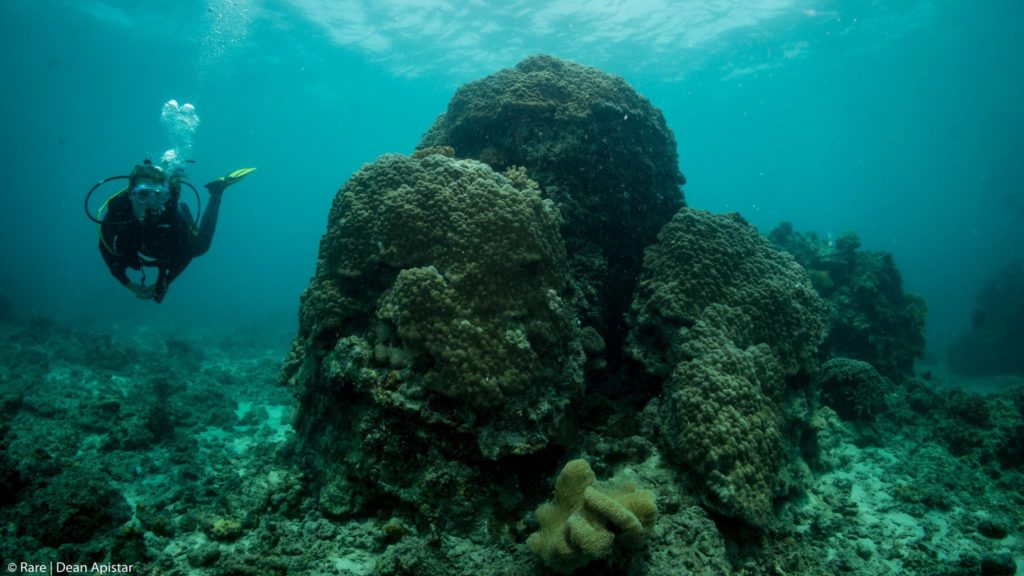 The Camotes Islands is a group of islands in the Camotes Sea, Philippines. It's located east of Cebu and is actually a part of the province. It is a beautiful island filled with natural attractions and a must-visit for those who love all things natural and beautiful.

The names of the four islands composing the Camotes Islands group are San Francisco island, Poro Island, Ponson Island, and Talong Island. The islands are home to an underwater paradise with many beautiful walls covered with different corals and sponges. You will also see lots of different sea fans and big gorgonians, lots of crinoids, and a number of tropical marine species.
The walls and plateaux around Camotes islands can go down to around 280 feet like at the Boholana Princess shipwreck. Many schools of various types of fishes swim around different species of soft and hard corals. And also you will find a rich population of colored sponges and gorgonians.

Oh, watch out for some sharks too as they may be swimming around this abundant marine life. Also, depending on the weather and the season, you may get the chance to see a huge family of about 30 black dolphins! This sounds super exciting! 🙂

It is ideal to use macro photography for your dive here. Underwater photographers will be delighted to take photos of colorful anemones, nudibranch, sponges, leaf fish, shrimps, gobbies, lots of porcelain crabs, and many others.
Danajon Bank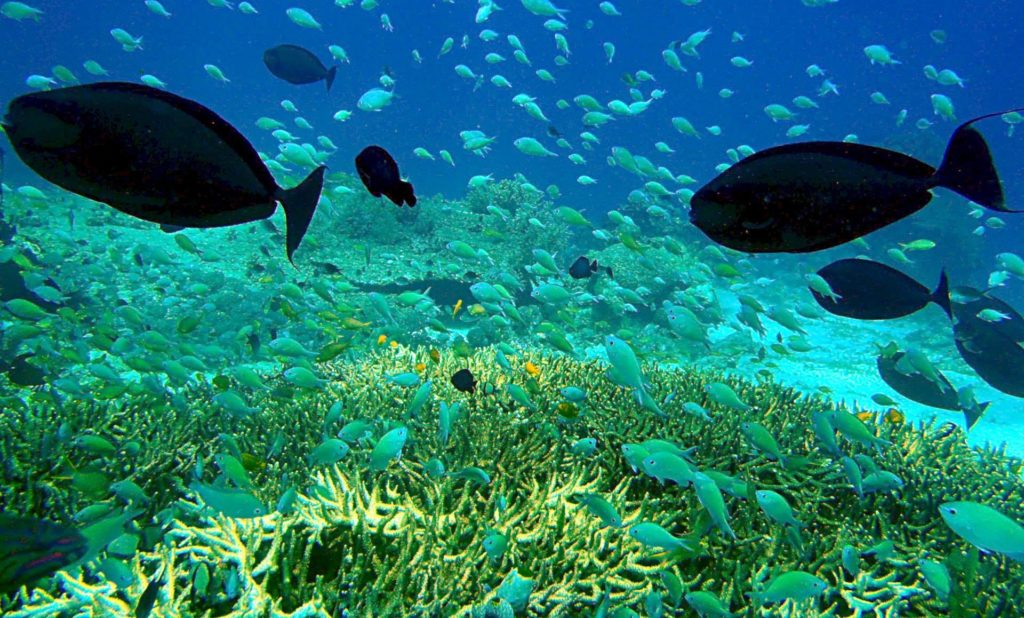 The Danajon Bank double-barrier reef is one of the six double barrier reefs – that is made of a diverse species of corals in the world. It is also known as "the center of marine biodiversity" in the Pacific because a wide range of marine life is huddled up in this area. And not only is this bank a rare geological formation, but it is also considered as one of the richest areas of marine biodiversity anywhere – a place in which you will find almost all Pacific marine life evolving.

The double-barrier reef is composed of numerous coral reefs, seagrasses, and mangroves – which many fishes and other forms of marine life are feeding and that which makes it the biggest marine life's breeding area in the Visayas. I swear I don't know why any diver won't be tempted to see the rich beauty Danajon Bank has underwater.

The double barrier reef area covers more than 271 square kilometers and it is located 20 kilometers from Mactan, Cebu – which makes the trip going there to be a day or half a day only by boat. And depending on the tides, when the current is strong – you can possibly spot big fishes like yellowfin tuna, tiger sharks, and bull sharks around the outskirts of the barrier.

Moreover, between the inner double barrier reefs, divers can also do a mud dive wherein you can encounter endless species of strange seashells, crabs, and all the usual reef fishes on the not so scattered corals.

Hilutungan Island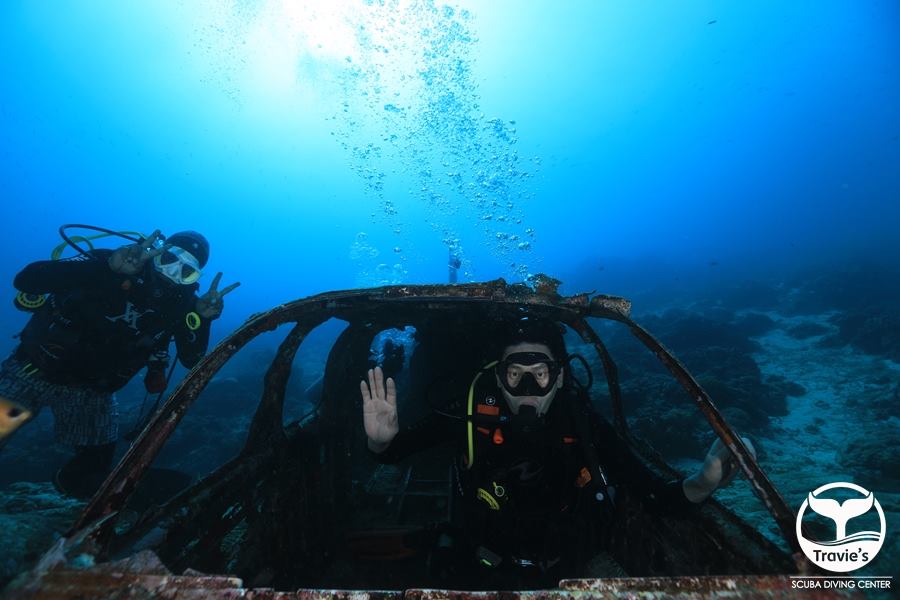 The Hilutungan marine sanctuary dive site is about 11 kilometers from Mactan, Cebu. The dive site offers a vibrant marine life and it's a very nice diving spot for all scuba divers. Hilutungan Island is also popular as an island hopping and tour destination where people just enjoy hanging on their local bangka and do some snorkeling fun around its shallow waters.
Divers however get to meet some sea turtles, lots of schools of parrotfishes, batfishes, drummers, ribbon sweetlips shoaling around, jackfishes, some black and midnight snappers, and a lot more. On top of its rich marine biodiversity, the Hilutungan marine sanctuary is also a great site for those who are taking underwater photography courses for its colorful and vibrant ocean floor.
The Hilutungan dive site is mainly composed of a sloped wall and is not vertical, and can go down to 50 meters or even more. It is well known for the sighting of big schools of fishes as well as sea turtles. It is also well-maintained by the local government, making it a must-see on your travel to Cebu.
Nalusuan Island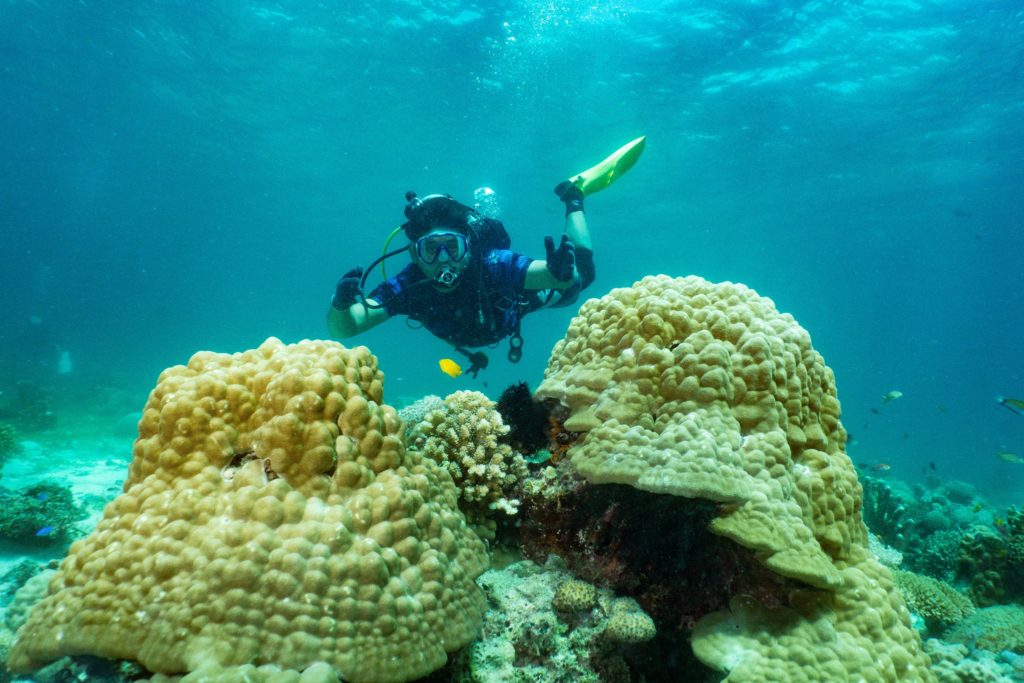 Nalusuan Island is another one of those island-hopping destinations and where people love to go snorkeling in Cebu. The marine protected area offers world-class corals making it a great spot for divers of all skill levels.

The island can be reached by boat from Mactan, travel time is about 20 to 40 minutes. The path here goes down along a sloped wall with sandy parts leading to a seabed filled with soft and hard corals, sponges, and many coralline algae – wherein you will find strange and beautiful critters.

The dive site here is preserved and protected from the fishermen. Nalusuan Island's marine biodiversity is impressive with schooling snappers, trevally, grouper, and barracudas.

Here you can swim among schools of angelfishes, triggerfishes, sweetlips, groupers, and all other natural reef fishes shoaling around the different coral species. Also, look out for stingrays, and passing sea turtles – such an amazing experience for diving and for snorkeling.
Olango Group of Islands
When you hear the word – Olango, immediately you'll think of birds, lots of beautiful birds that come through this island as they migrate. Not only do these islands offer you a chance to see all different types of birds, but it's also blessed with palm-fringed beaches, rugged cliffs, crystal clear waters, and coral reefs. As well as intertidal mudflats which are known habitats of a large variety of marine and avian species.

The group of islands are located right across Mactan Cebu and can be reached by boat in about 15 to 20 minutes. Olango has got some of the deepest wall dives in the Visayas and with the improved management of coral reefs nearby, marine sanctuaries help in providing an abundant coral and fish life.

Because of the deep walls and stronger currents, it may be suitable for advanced divers. Scuba diving is also possible here all year round, especially when you join a marine sanctuary hopping tour in Mactan.

The prominent dive sites in Olango are the Baring Dive Site, Mabini Point, Talima Sanctuary, Santa Rosa, Gilutongan Sanctuary, Nalusuan Sanctuary, and Kansatik among many other dive points.

The Kansantik dive site is well-known for its hazards and its beauty. It is an open water dive with strong currents, strong surge, and limited visibility. The site is suitable for the most experienced divers. It's best tackled in small groups, carrying light equipment and light cameras.

There is a submerged mountain that rises from the depths to within 30 meters of the surface. The dive site offers striking underwater scenery of nice-looking stony corals, soft corals, whip corals, giant sponges, fishes, and other pelagic species.

Capitancillo Island
Capitancillo Island is a small islet right at the northern part of Cebu – in Bogo City. You can reach Bogo by land for 2 to 3 hours and another 20-minute boat ride to the island from the Marangog Cove in Bogo.

The dive site in Capitancillo has a maximum depth of around 50 feed and normal visibility of 20 to 30 meters. The site offers colorful corals, small and large shoals of pelagic species, different kinds of reef fishes, as well as white-tip and grey reef sharks.

The wall of the dive site is covered in large gorgonians, sea fans, hard corals, and soft corals. It is well known for the big fish sighting. Yellowfin tuna are often spotted here, as well as snappers, big groupers, school of jacks, mackerels, and a lot more.

The most notable spot here is the Rendez-vous, a deep lovely wall down to about more than 55 meters or 180 feet. Dive deep down to the different sloped walls at the south – wherein unique underwater fauna and floras are living in.

Malapascua Island 
The gorgeous island of Malapascua – is yet another really popular diving spot in Cebu, and is ideal for beginners. Located at the northernmost tip of Cebu's main island. To get there, you will need to travel by land for 3 to 4 hours from the city to Brgy. Maya in Daanbantayan. And from the port of Daanbantayan, you will get on a boat headed to Malapascua Island for about 45 minutes.

The island is great for divers who are beginner level – there are a lot of dive schools offering tours throughout the town. Malapascua is very famous both locally and internationally because here is where you can go dive and encounter pelagic thresher sharks in Monad Shoal. Dives here are so easy to do and are very rewarding – with its rich marine biodiversity.

There are also a lot more tourist diving sites to see in Malapascua, not just the thresher sharks. Divers can also swim among beautiful untouched coral gardens, reefs, and wrecks, sandy muck dives, wall dives, and night dives.

Also, nearby, you can dive in Gato Island – the site offers an abundant variety of sea creatures like frogfishes, nudibranchs, sea snakes, bobtail squids, black-tip sharks, blue ring octopus, ghost shrimp, and xenon crabs. As well as harlequin shrimps, sea hares, sea stars, and a whole lot more! So be sure to take a good underwater camera for your dive here.
Moalboal
Moalboal – another one of the places in Cebu with the most beautiful beaches and also the underwater is amazing. The town is about two hours away southwest from the city, it is one of the frequently visited diving spots in Cebu as well as in the entire Philippines.

An islet located at the Tañon Strait called the Pescador Island – it is one of the main dive attractions in Moalboal. With deep endless walls that reach a depth of more than 600 meters, abundant marine life, and sublime caverns – it's definitely a must-see on your trip here in the south. It is a protected marine park, home to hammerhead sharks, and the world-famous sardine run.

The variety and the heap of reef fishes here are just amazing and would definitely take your breath away – and that would surely make your dive here very rewarding. A Moalboal tour and dive is something you must add on your Cebu To-Do List. 😉

The underwater dive site here offers an underwater playground for divers. With lots of tunnels, caverns, and swim-throughs that bring you closer to diverse marine life, and you'll be swimming among anemones, corals, lionfishes, and more.

The marine life here is so rich and beautiful. Divers get to encounter white tip reef sharks, barracudas, sardines, and occasional thresher sharks. Moreover, diving isn't the only fun thing to do in Moalboal. Beach lovers also love bumming and laying around Basdako's white beach.
Pawod Cave 
The Pawod Cave, is an underwater cave located in Mactan Cebu, is also known as Pawod Underwater Cave System (PUWCS). Professional cave divers recognize the cave system as one of Lapu-Lapu City's greatest natural resources.

The Pawod Cave system is said to be a dissolution cave – the type of cave made of limestones, and one that's characterized as having sinkholes and underground drainages. Experts believe that the cave was formed over thousands or maybe even millions of years ago.

This underwater cave is located right along Mactan Island's circumferential highway in Barangay Agus. According to locals, there were freshwater springs that flowed into the Agus Cove which is less than 200 meters from the Pawod cave. But then, these springs vanished about 50 years ago.

You will find the spring at the far end of the cave at around 600 feet from the entrance. The average depth is only about 10 to 35 feet, except for the tube leading to the spring – which goes down to 60 feet.

It isn't advisable to dive at the Pawod cave when it's raining, as the visibility becomes null. It's so much better to dive down here when the weather is good – visibility can be good to excellent with a distance of more than 65 feet.

Pawod cave is a solution cave and there is no current, which means the bed of the cave is covered with a thick layer of silt and sediments. So, when diving here – be sure to be very careful with your fins. Do not pull up the sediments as the visibility can get very bad in a matter of seconds.

Marigondon Cave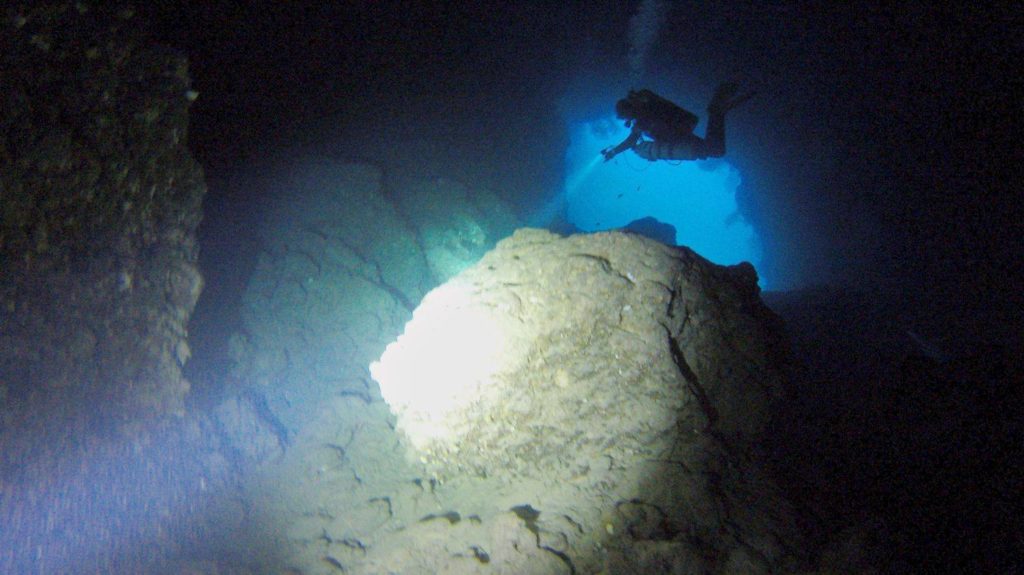 Marigondon Cave is considered to be the most enthralling dive along the coast of Mactan Island, Cebu. You can easily arrange a dive tour through local dive resorts located on the island itself. The cave's underwater entrance is known to be wide and you can take lots of nice photos right in there. The roof of the cave is about 30 meters and the floor is about 40 meters wide.
At the end of the Marigondon Cave, you will find the "Grotto" and you might want to dim your lights – so you could experience the colors of the flashlight fishes living in this part of the cavern. As well as many other sea creatures inhabiting the underwater cave.
Professional and experienced divers advise other divers to be cautious and mindful because the current near the mount of the cave is strong especially during the high tide period. But the water inside the cave is visible and there is no strong current or water movement.
Only advanced divers and those with proper training are allowed to diver here. As well as higher nitrox training, technical drivers, and with experience in night diving are preferred to explore here.
Airplane Wreck at Tambuli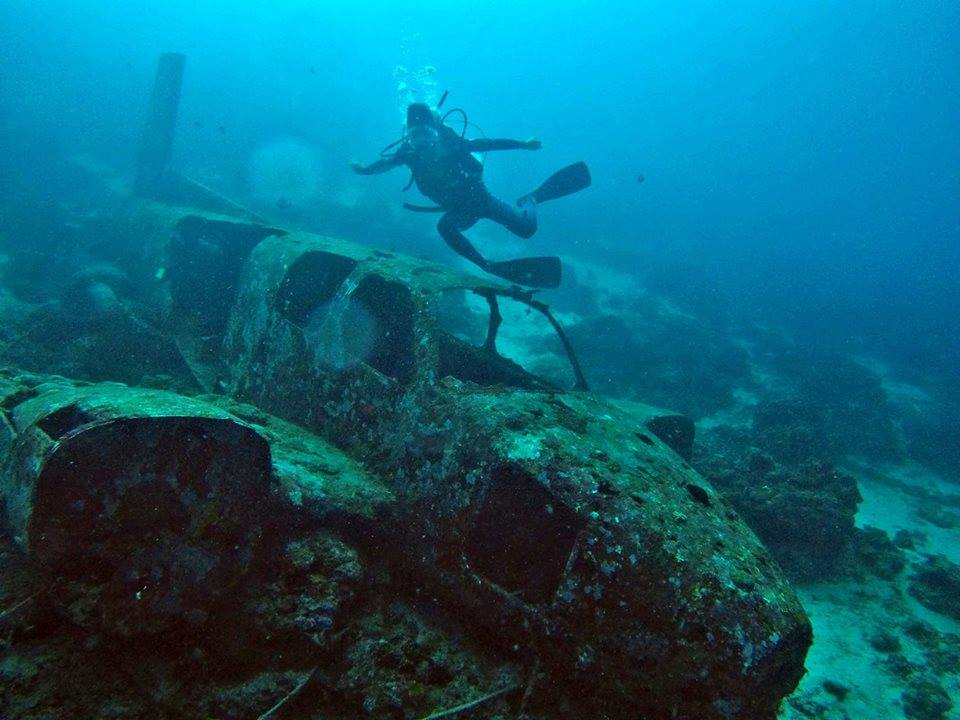 The Tambuli dive site is located along the coast of Mactan, Cebu. It is known for the plane wreck lies beneath the water at 65 feet or 20 meters below. Apparently the plane was sunk for the purpose of it being a dive attraction, and eventually, it became home for a lot of sea creatures.

It is a great dive site for beginners, to let them get to know lots of different types of small fishes. The airplane wreck has actually become a feeding station, so the marine life there is used to divers and will even come up to you to ask for some food.

Here you will also encounter sea cucumbers, sea stars, sea urchins, and nudibranchs. As well as mantis shrimps, ambonian shrimps, yellow-tail barracudas, blue-ribbon eels, dragonfishes, clown fishes, pufferfishes, hermit crabs, and many more.

Information
For more information and inquiries, you may visit – https://www.divescotty.com. I'm sure you will find a dive tour that's suitable for your level. We hope this post will be helpful to you and your friends. Have a fun and safe dive, y'all! 🙂
Also, read here – Cebu's Best Scuba Diving and Snorkeling Tours According To TripAdvisor