One December weekend, thanks to the horrendous traffic situation around SM City Cebu, my son and one of my office staff ended up eating just outside of the mall thanks to Bleachers BBQ.
At first glance, it's rather hard to actually believe this place is a restaurant as the signage is rather discreet especially since there's a huge NICE DAY CARWASH sign on top of it as you can see below:
In fact, we parked on the back of the restaurant itself which is part of the car wash business. We were gladly accommodated on the parking lot too giving me the idea that these businesses probably have the same owners (couldn't verify this hunch).
When I read Texas style slow cooked smoked barbeque somewhere inside the restaurant, thoughts of food shows on cable TV started feeding my mind with those hot, sumptuous and juicy spare ribs and steaks! The kind that that you can see here:
Chef Tom tackles another brisket, Texas style. Instead of trimming out the point and flat and cooking them separate, we cook the full packer brisket and instead of foil we use butcher paper to wrap the brisket to help retain moisture and maintain our color.
However, when our order composed of 2 slow cooked pork ribs, 1 beef brisket, and smoked squid came in about 5 mins from ordering, I know straight away something was off. Just by watching at what came to our table I knew right away my hunch was right – the food was pre-cooked only to be reheated upon ordering. The worst part? All of our dishes was borderline cold!
I don't know about you but when I order 1 dish for nearly PHP 300 pesos anywhere in Cebu, they are naturally served hot, even freshly cooked so this was what I had in mind as well. Not to mention my initial thoughts on how a Texas style barbeque is prepared which results in naturally tender but still juicy spare ribs and briskets. This was just not it to say the least.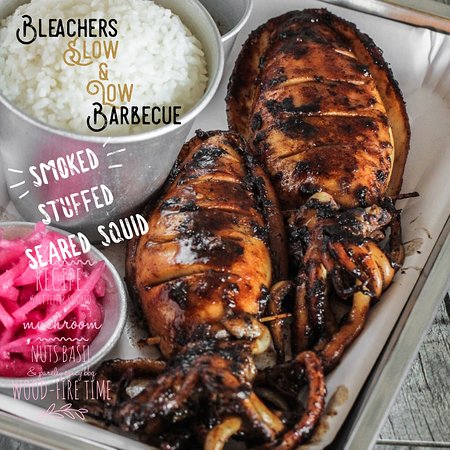 Before writing this review, I had to call them up just to verify my thoughts and just as expected, the food we ordered were indeed pre cooked. The lady attendant that I talked to on the phone just right now told me that the smoked pork ribs and beef brisket gets out of the smoker at about 8-9AM in the morning. They are then stored and reheated when ordered. That means our order has been sitting for about 8 hours? That explains why all 3 dishes we had were dry – no exception. 🙁
I guess you can say that in their defense, it does take a 5 hours to cook the pork spare ribs and 14 hours for the brisket so there's no way to get those fresh off the smoker. However, if these dishes get done about 9AM daily, if they open at the same time then it would make me want to try them again. However, they open at 11AM so that means all the meat have cooled down already and needs reheating and that just doesn't help with the juiciness of it.
Another thing you need to take note of is their rather small seating capacity. They have like 3 tables that can sit 12 indoor and another 3 or so tables outside which is directly beside the road across SM's parking lot.
The best part of their food here I have to say is the spiced gravy. It's something we all loved as it tasted somewhat different.
For the prices, you can check the image below:
As for their location, here's a quick map for you:
Bleachers BB is just across SM City Cebu's Parking Lot where the Nice Day Car Wash is Located
Final  Thoughts
All things considered, I would personally not go back there until I'll be able to get food right off the smoker.
But for others who haven't tried, I guess it's worth trying out at least once just to try what smoked BBQ tastes like. I think you'll love how tender the meats naturally are but given BBQ is a Cebuano favorite, I don't think you'll end up specially happy after dining here.
And as always, I just might have somewhat unconventional standards or taste given the limited # of reviews for this place somewhat says it's to die for when you read them here: https://www.facebook.com/pg/bleachersbarbecueSM/reviews/?ref=page_internal
Except of course for one gal who seemed to feel the way I do as you can see below:
UPDATE: A friend of mine, Jojo, just shared his experience regarding this place as well and here's what he said about it, "Kato man among sampler gi order. Beef, pulled pork, and the squid.
Lami man to, juicy sad siya. Timing sad nga naa ang owner didto. We ate there mga 7pm man gani.
Basin naa silay quality issues. I wanted to go back and eat there gani.
Ang problem lang sa lugar is bahong aso. Smoked sad ka paghuman. Hehehe
Maybe 3-4months ago mi nangaon dinha.
That taken into consideration, maybe things have changed since they've eaten here because I ate here less than a month ago?
UPDATE: Thanks to a couple of friends who said their pork spare ribs and briskets from here were juicy and they had a good experience, I came here for the 2nd time on the 23rd. It was about 9PM and I'm the only one in the restaurant. I ordered the combo meal with spare ribs and brisket and it arrived about 6 mins or so. Guess what? It was again borderline COLD! Both dishes were still dry although there was some part of the spare rib where it was a bit juicy, the chunkier part near the cartilage. The brisket however had no saving grace besides maybe because it's cut quite think? Like 1/5 of an inch thin so given that real estate, there's just not enough room for the juice to stay especially since they've been cooked or is taken out of the smoker about 9AM.
The only time I'll decide to come back is when I'll be able to eat right off the smoker.
If you've eaten here, please also share your thoughts on the comments below as well so others will be guided accordingly.