Modern boodle fights have easily become a Pinoy favorite during parties, random nights out and outings with family and friends, simply because it is easier to prepare and it highlights camaraderie. It is also nice to eat with and talk to people face to face and not be inclined to use the phone while eating!
If you are looking for the best places to offer delicious boodle fights that's worth every penny, here is a list of boodle fight restaurants in Cebu.
Captain A's Seafood Grill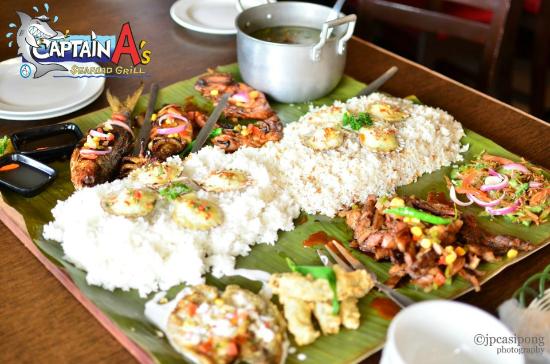 Although the meals are presented in individual banana leaf covered plate, Captain A's still gives us an authentic military experience of eating. Each serving is good for 3-5 people, depending on how hungry you are. Prices start at 600 per plate.
You may contact them for reservations at 236 1693. Captain A's is located at Don Jose Avila Street, Capitol Site, at the back of Cebu Doctors' University Hospital.
Seafood Island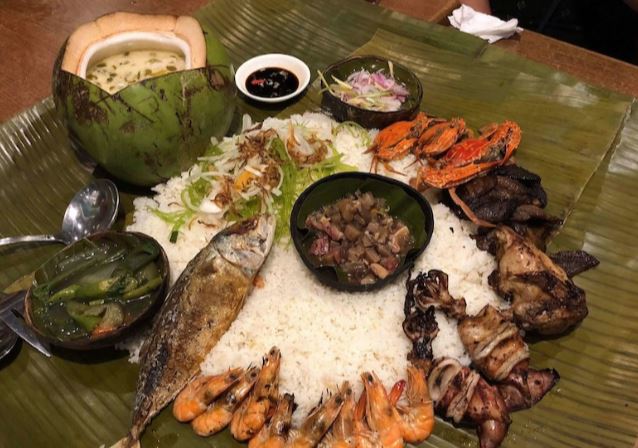 1,598 pesos worth of boodle can be shared by 5-7 people, that's only about 230 pesos per person only. Seafood Island is the perfect boodle place if you love fresh seafood.
They have sets such as Camotes Island, and Mt. Apo and other a la carte food items that you may add.
Seafood Island is available in Ayala Center ((032) 410-6399), SM Seaside (+ 63 9778110933), and Rainforest Park, Cabahug Street ((032) 260-7058).
Palm Grass (Cebu Heritage Hotel)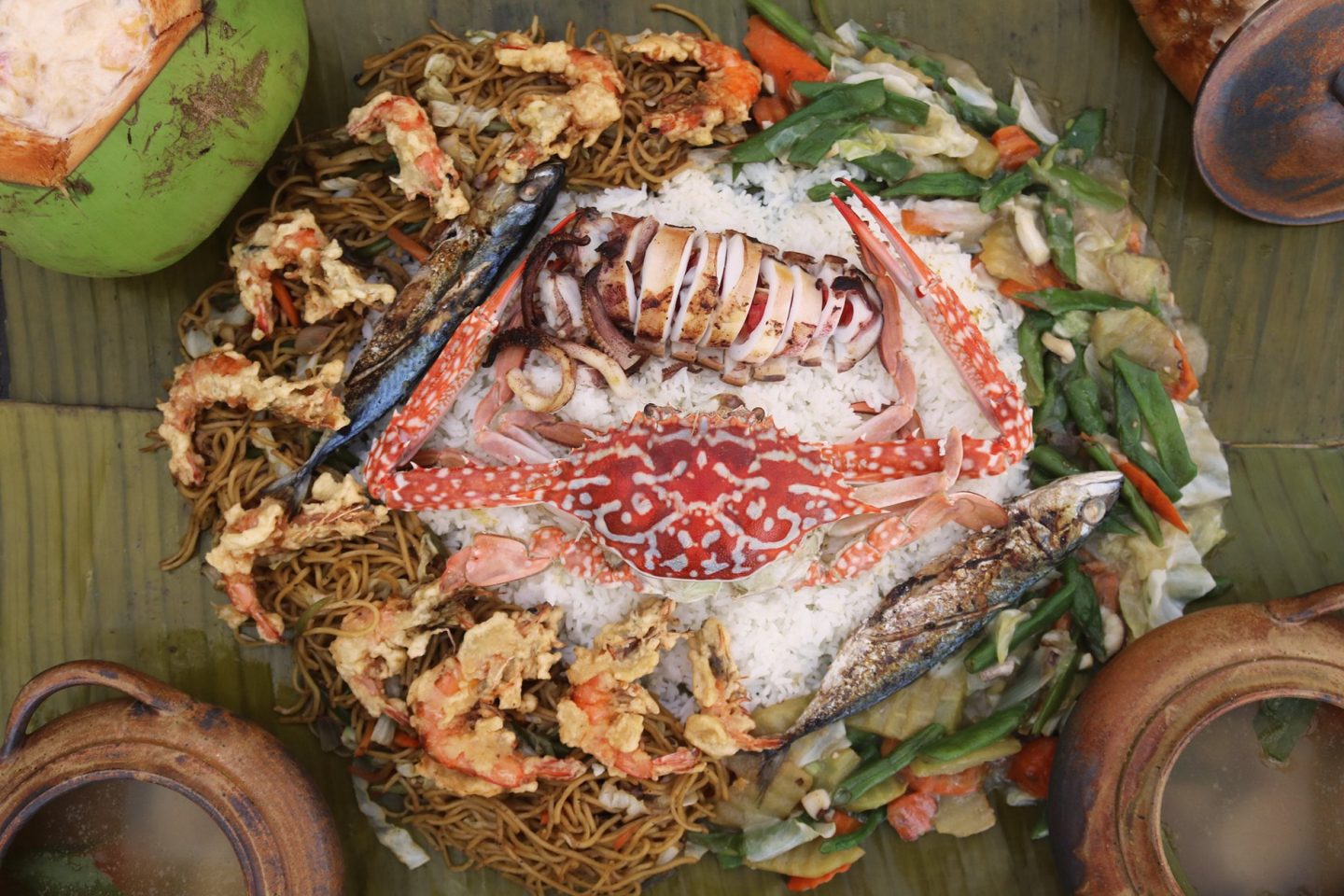 Palm Grass' boodle is a combination of seafood and deep-fried and stir-fried dishes all on top of plain rice.
A set costs 699 pesos for 3 pax, 799 for 4-5 pax, and 999 for 6 pax. For reservations, please reach out at 412 2438. Palm Grass is located at 68 Gen. Junquera St., Kalubihan, Cebu City.
Boodle Fight sa JY Crown Palace
This set of seafood with pancit and some fruits on the side is approximately good for 4-5 people already, only priced at 699 pesos per set.
For reservations, please contact 354 9735, or go directly to their branch at Edison St., Apas, Cebu City.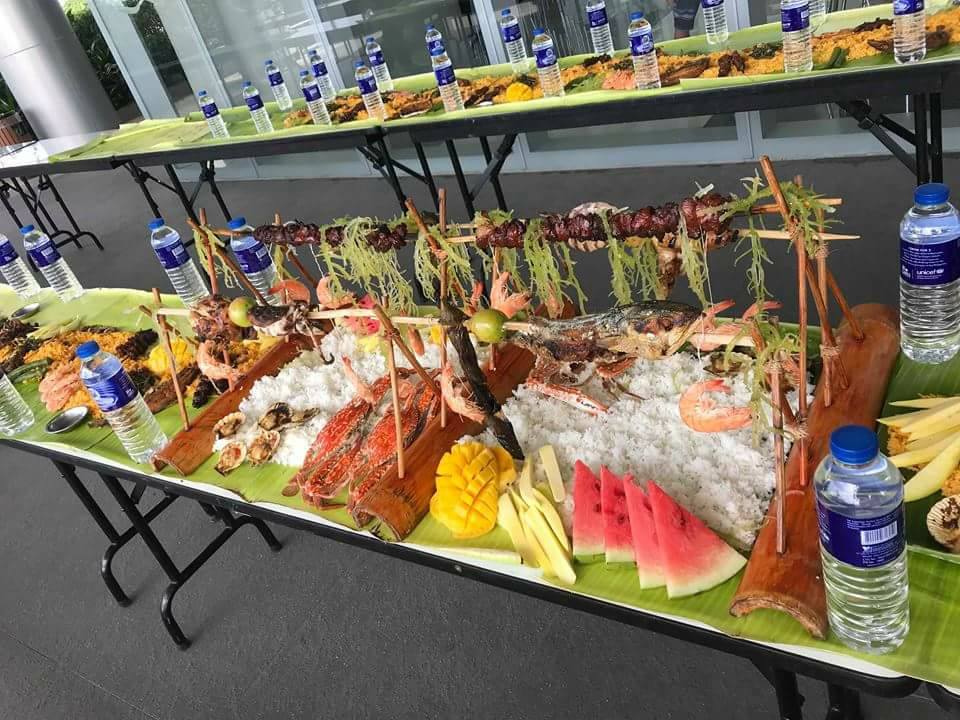 Boodle is not only for large groups because solo takers are also welcome. Here in Blackbeard's, you can get a fine boodle experience for as low as 169 pesos.
The home for Cebu's giant chicharon also serves insanely big sets, perfect for big company lunch outs.
You can find Blackbeard's Seafood Island in Ayala Center (4th floor). Contact them at 410 6399 for more information.
Boodotz Seafood Grill in Pueblo Verde
This set serves a Cebuano favorite, linarang (na bakasi), aside from the classic shrimps, fish, baby crabs, and soup. Price range is 1,299-1499 pesos, good for 5 people.
For more details, please call 0956 278 3231. The location is at The Outlets, Pueblo Verde in Lapu-Lapu City.
The Thray offers a different type of boodle experience because they serve steaks, along with the other boodle staples. The Game of Thrones-themed resto prices their boodle sets from 599 (good for 2) to 1299 (good for 4) pesos.
Their humble restaurant can be found in Grove Bldg. Guadalupe, Cebu City. You may contact them for reservations through 0947 991 8930.