Cebu has it all– busy cities, rich beach life, and luscious mountains. We are blessed to be living in the Queen City of the South; but sometimes, we miss experiencing the best of actually being in Cebu.
Most of us live and work in big cities. Our daily life of waking up early to hustle during long commutes, hurry to work as to not log in late, but going home late because of the unreasonable workload are only a few things that we deal with every single weekday.
Weekends are our time to recharge, and prepare for another week of stress. You should make every weekend count.
Busay Green Canopy
Sleeping in is the ideal weekend scenario and I love that, too. But you know what, going out of your comfort zone to see and try new things is also an activity that creates peace within. Have you ever experienced sleeping in the entire weekend and yet still feel too tired for Monday? You should go out more often to break boring routines!
The color green signifies life, growth, and peace. Since weekends are for resting and nurturing inner peace, why don't you incorporate that with today's featured restaurant?
Busay Green Canopy is exactly where you need to go.
The name sounds calming already, but wait until you get there. The restaurant is in Busay, so it is expected to be surrounded by trees and the cold mountain breeze.
The Busay Green Canopy Restobar is located in such a beautiful location where you can see the beautiful landscapes of Busay, while still hearing the noise of the urban life. At night, you will be transported to a romantic date spot where all you can see are the city lights, joining the bright moon and the twinkling stars as you sip on that glass of whiskey.
You have to look into this restobar if you are searching for a nice date spot, seriously.
Menu
We don't want to pay for the view alone, we also want to enjoy the food. Busay Green Canopy has you covered!
Among the many options are Crispy Pata (420), Garlic Chicken (165), Chicken Paa (105, Chicharon Bulaklak (115), and Adobong Kangkong (95). The price range is reasonable considering the location, view, and vibe.
The menu has a wide variety to cater to the cravings of all customers. They serve vegetables, grilled meat, deep-fried pork, and appetizers. They also have halo-halo to add to the already cold temperature!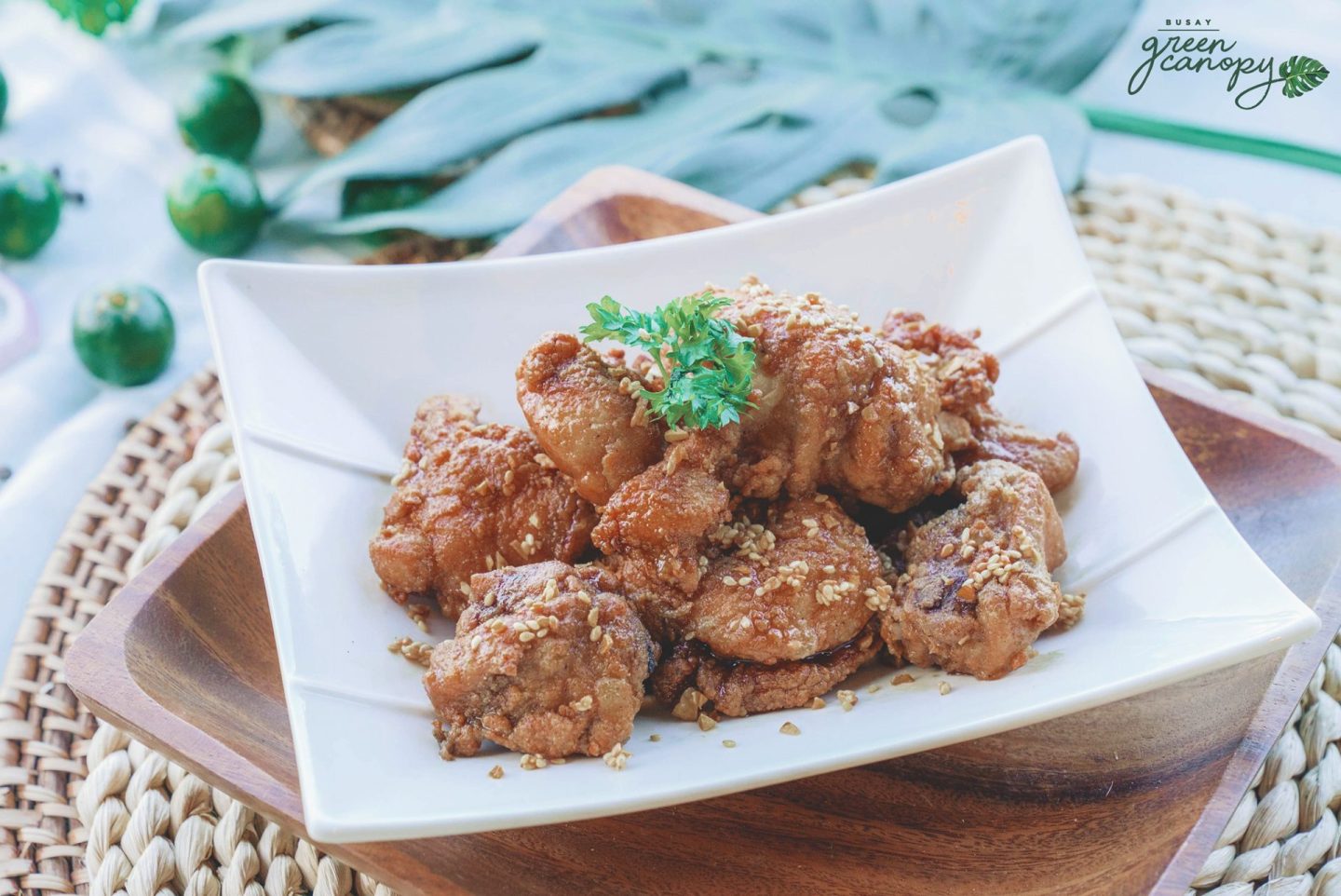 For chill nights, booze is available. As for the beverages, you can have fruit juices and shakes, ice tea, alcoholic drinks, beer, soft drinks, and wine.
I can just imagine having long conversations with my friends over cold wine  (I don't really drink so) Crispy Pata, while gazing up to the stars and down to my humble city. Oh, it's great to be a Cebuana.
Location
Busay Green Canopy is in Busay, so if you are coming from Cebu City, take a turn to SM Cebu. Take a jeepney to Lahug (04L), get off at JY Square. Take a habal-habal going to Busay Green Canopy. If you are driving a private car, simply follow the road to Mountain View Nature's Park.
Now, would you rather sleep in or take that magical habal-habal ride to Cebu's Green Canopy?