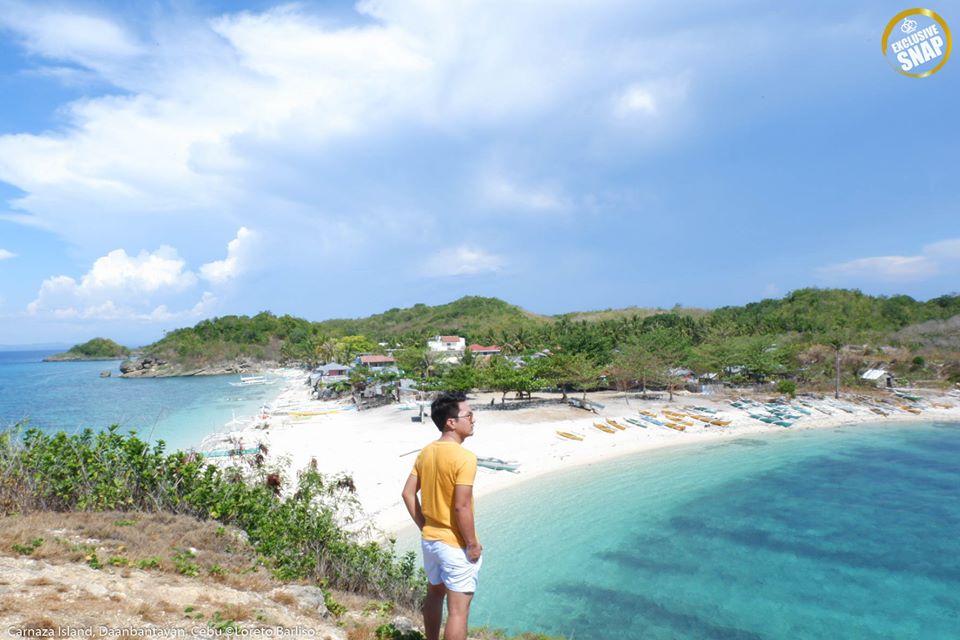 Discover Danbantayan's gorgeous gem, Carnaza Island // Photo submitted by Loreto Dark Barliso
Beach more. Worry less. ~
It's not news how summer in the Philippines can get extremely hot and yet we all get excited about it because it means more time to bum around on the beach. This time of the year is when we all just want to soak up the sun, swim and dip in the waters or just lay around the beach doing nothing. Cebu is ideal for many – both local and foreign travelers alike for when it comes to beach bumming or exploring the ocean under.
We have a whole lot of beautiful, serene white sand beaches all over the island from north to south. And my favorite ones are those that aren't too commercialized and are left untouched by big hotel chains and resorts. One of which unspoiled and stunning white sand beaches are the Carnaza Island in the northern part of Cebu.
Carnaza Island is a small island situated at the topmost of Cebu, it's a bit further north of Malapascua Island. From an aerial view, the beautiful island is shaped like a turtle and that's so cute. The island is partially covered in low mountains and rain forests which are great for trekking. And surrounded by teal waters and fine white sand that's oh so tempting.
The island has a couple of nice places to go to on your visit to the island. These are the Kailina Beach, Airplane Island, Dakit-Dakit Island, Cementeryo Cove, Baliwanan, Daan Barrio Cove, Barrio 1 and 2 Coves, Kambalaki Cove, Gamayng Baybay Cove, Candionesio Cove, Liog-Liog Cove, Skull Cove, and the Carnaza Eco Park Resort.
Places to Visit
Kailina Beach
Kailina Beach is a nice, peaceful beach on the island – located close to Daan Barrio. It's a private beach and has beautiful-calm turquoise waters, with white sand – it's the nicest beach on the island. For those who do not like a crowded beach, like me, Kailina Beach is ideal for you. The name of the beach's caretaker is Kuya Eddie.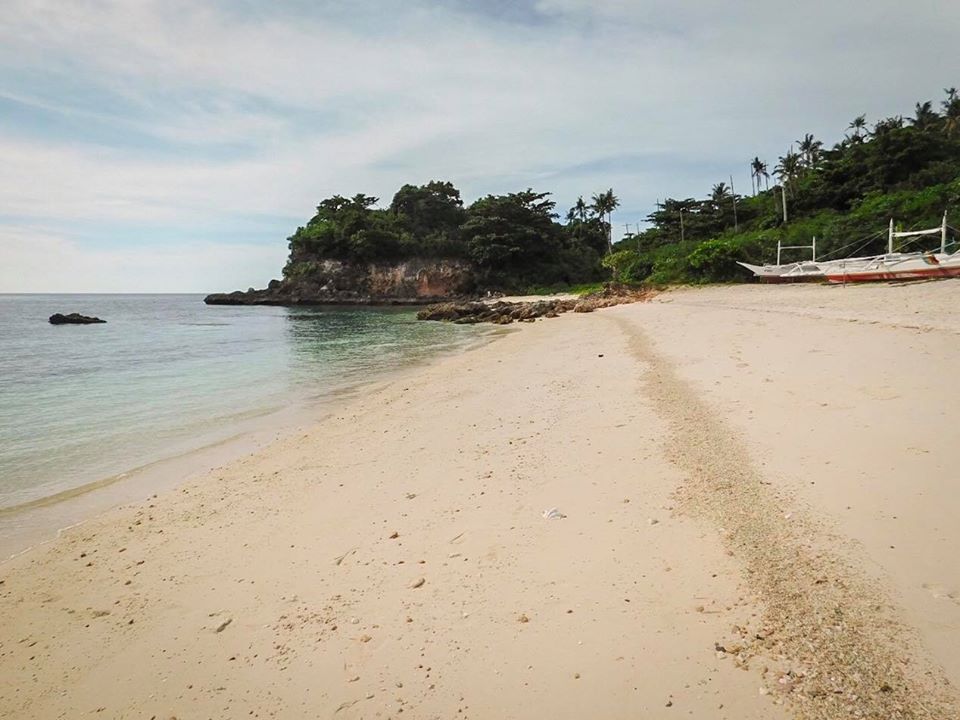 The entrance fee in Kailina Beach is Php 20 per person. And for those who choose to camp here, you'll have to pay Php 150 per person. The beach doesn't have any restroom though, but you can ask Kuya Edie if you could use their toilet. They would also be happy to cook your food for you but be sure to pay them accordingly and thank them.
Airplane Island
This tiny island can be found near the Cementeryo Cove. You'll have to climb up a karst hill to take a good look at the island – which looks like an airplane that landed in the ocean. It actually looks pretty cool, so be sure to check this one out.
Dakit-Dakit Island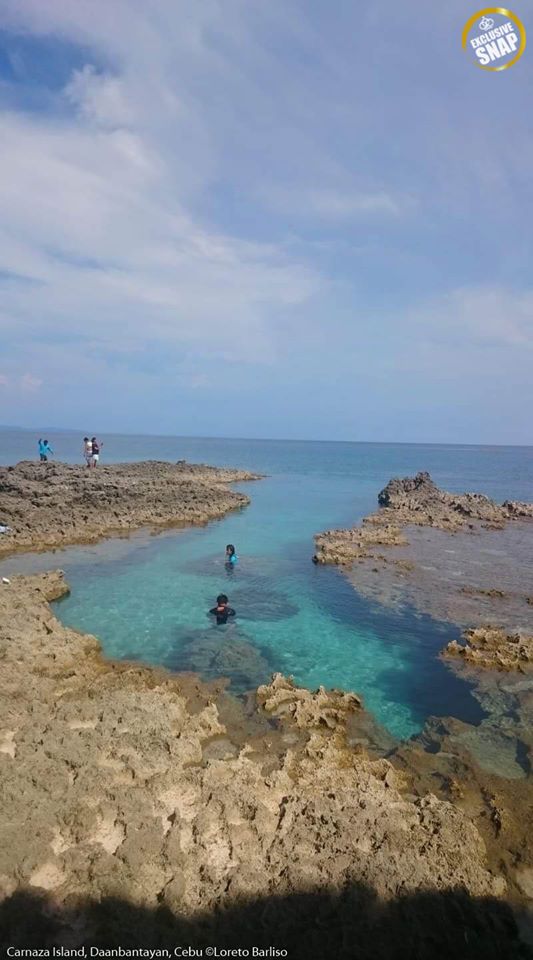 A few minutes of boat ride from Carnaza Island, one can reach Dakit-Dakit Island which is also called the Maria Island. From Carnaza Island, you'll be able to spot the Dakit-Dakit Island because it's right in the southeastern part. It's made of rocks and has this formation, sea snakes are said to be seen on some parts of the island as well. You will be able to spot it on your boat ride going back to the Daanbantayan.
Cementeryo Cove
This cove is located right after Barrio 1 and 2 and serves as the residents' cemetery. Hence the name; also a few minutes of walk to the karst hill, you'd be able to have a good view of the Airplane Island.
Baliwanan
Baliwanan is situated right beside Cementeryo Cove, and close to the Airplane Island. The spot has nice crystal clear waters that are great for swimming and snorkeling. It has a few soluble rocks scattered around and has rich sea life so it's nice to swim and look around under the sea here.
Daan Barrio Cove
Daan Barrio Cove is located right next to Barrio 1 and 2. It's usually where the passenger boats dock off, if not in Barrio 1. There's a smaller stretch of white sand here and is where most people reside. It's not ideal for swimming because of the residents in the area.
Barrio 1 and 2 Cove
The Barrio 1 and 2 Cove is right before you get to the Cementeryo Cove and the place you'll see something that looks like a cave pool from a higher point of view. This cove is where you'll spot most of the residents on the island and is surrounded by coconut trees, with lots of boats on the shoreline. There's also a nice cliff on this cove which is great for those who'd want to do some cliff diving on to the sea.
Kambalaki Cove
The Kambalaki Cove is another one of the quiet and reserved beach areas on the island. There's a short stretch of white sandy beach and lush green trees on the background – which is so relaxing and looks like a nice spot for a picnic.
Gamayng Baybay Cove
Gamayng Baybay when translated to Cebuano, means "small bay" – which is what this cove is. Just a small cove with rock formations that's nice to look at and take photos in.
Candionesio Cove
The Candionesio Cove has a long stretch of nice white sand, clear blue waters and also a couple of houses. The place looks so peaceful and is so dreamy. Wouldn't it be nice to live in a place similar to this? Ahh! Just living simply and enjoying the nice ocean view day by day sounds really nice. The right portion of this cove is said to belong to the Osmeñas, so it's restricted to the public. Some private boats dock off on the public area of this cove.
Liog-Liog Cove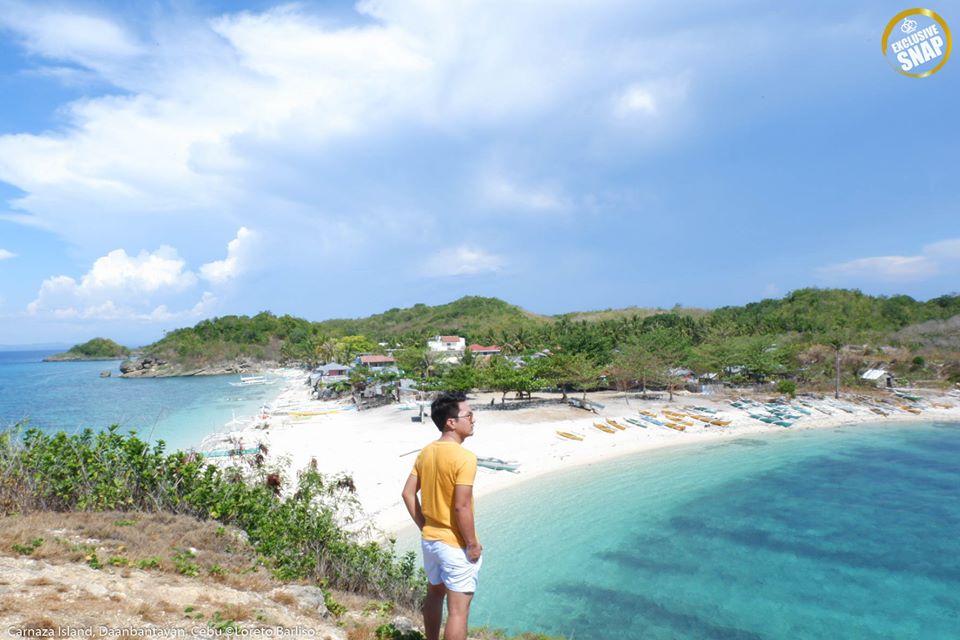 Some people refer to this cove as the Liog-Liog Twin Beach because when you look at it from a higher point of view, you'll see the stunning twin beach. The two beaches are connected by a stretch of sandbar leading to this huge rock. And in this huge rock, you will find more wonders – a small cave and a natural pool. Be sure to wear proper beach footwear to avoid getting cuts from the sharp rock. And also be a confident swimmer if you want to take a swim in the natural pool as it is deep even when it's low tide.
Skull Cove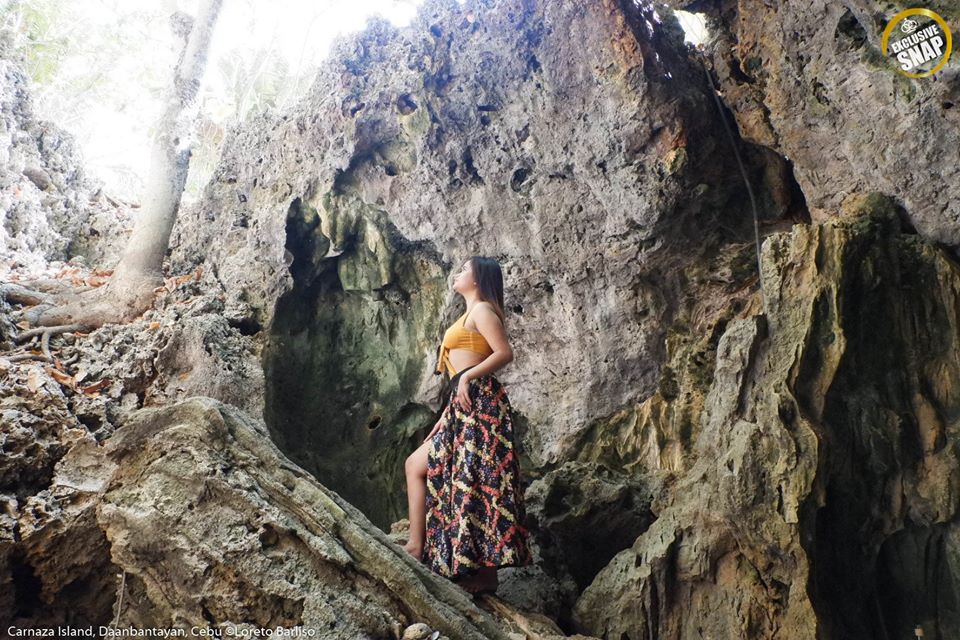 The Skull Cove is amazing in its simplicity, with a nice white sand beach, crystal clear waters and has two caves formed close to each other. One cave has a small pool, while the other one holds human skulls that were said to be found inside the cave. That's probably how the cave got its name. According to the locals, during World War II, the place used to be a meeting place and as a shelter for the Japanese Military Personnel.
Carnaza Eco Park Resort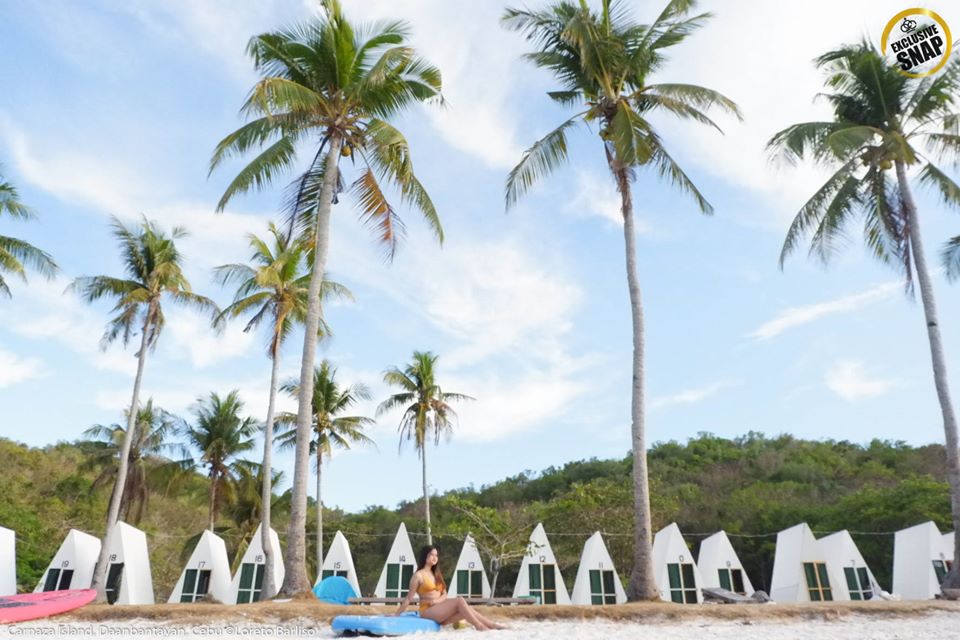 The Carnaza Eco Park Resort is the most common choice for people who want to spend the night on the island. It's formerly known as Kambinaldo, a private beach resort by the Osmeñas. The eco-park resort has stirred up a lot of attention from netizens since they opened to the public. Many travelers are enticed to visit and explore the island, especially with its wooden tents – which look like teepees and make for a nice photo backdrop.
Moreover, there is a nice lagoon just behind the tents and buildings of the resort. That and the nice panoramic view of the ocean, a nice stretch of white sand and oh the gazillion stars you will absolutely be mesmerized with at night.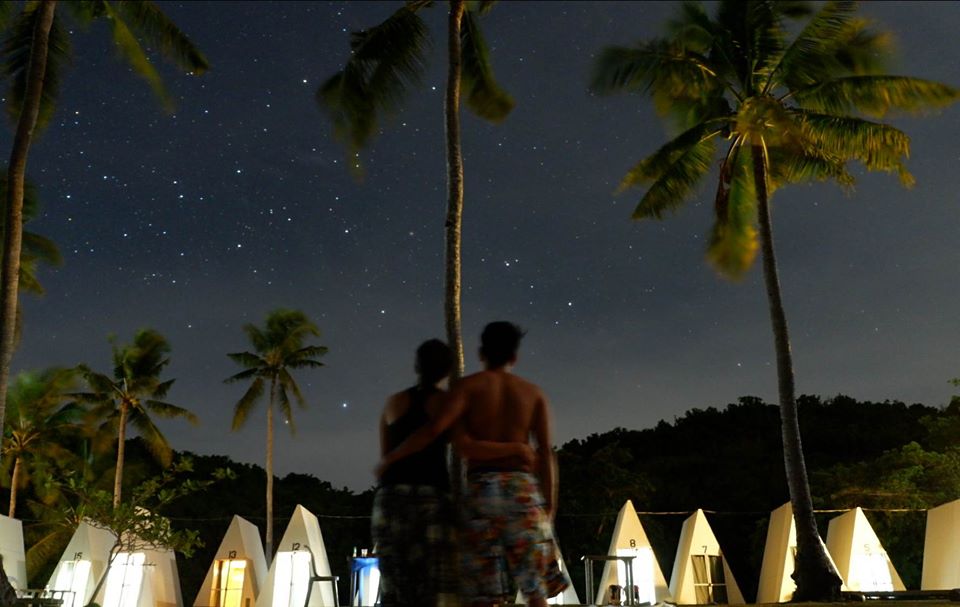 Carnaza Island on a Budget
Php 200 – Bus fare from North Bus Terminal to Tapilon
Php 150 – Bangka fare from Tapilon to Carnaza Island
Php 30 – Motor ride from Carnaza Docking Area to Eco Park Resort
Php 200 – Eco Park's Entrance fee
Php 200 – Wood Tent for one night
Php 20 – Kailina Beach Entrance
Php 30 – Motor ride from Eco Park Resort to Docking Area
Php 150 – Bangka fare from Carnaza Island to Tapilon
Php 200 – Bus fare from Tapilon to North Bus Terminal
Total – Php 1,180 (before meals)
It's best that you explore the island on foot, it's a nice way to appreciate the beauty of the island and be proud of yourselves for reaching one cove to another. The island isn't big so for sure, you will not have a hard time wandering around. It's also nice if you find a local to guide you and tell you about the stories on the island.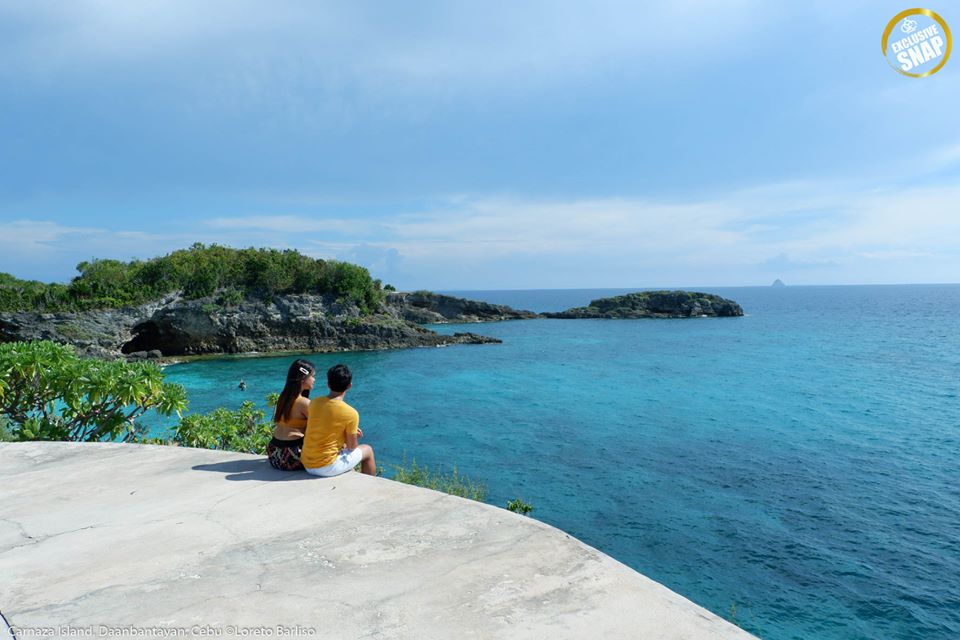 Where to eat
When going on a trip to the island, it's always better to bring your own food with you so you won't have to worry. However, you can also choose to buy fresh fish/ seafood from fishermen and cook them yourselves. That, or ask some residents to cook it for you, be sure to pay them though. 🙂 There are also a few other options for dining on the island.
There is one restaurant in Carnaza Island, it's called Psalms Restaurant. It's located in Daan Barrio and very near Kailina Beach. The food they have at the restaurant are reasonably priced, nothing over Php 200. You can also charge your gadgets when you eat at their restaurant. Apparently, they can also deliver food orders within the island. For order inquiries and deliveries, you may contact them through 0925 485 4616/ 0906 320 3326.
You can also dine at the Carnaza Eco Park. They will be happy to cook your meals for you and your group. They usually charge Php 300 (that's for 2 meals, good for 5 to 6 people), and Php 300 (2 dishes only, good for 10 to 15 people). Rice platter is Php 50 (good for 2 people) and they charge Php 300 for the use of their utensils.
READ: The Beauty of Santa Fe Bantayan's Anika Island Resort
Where to stay
There are a couple of options for those who wish to spend a night or two on the island. These are the following:
Carnaza Eco Park Resort – At the Carnaza Eco Park Resort, there is an entrance fee when you get to the resort. It's Php 150 per person, and the wooden tents can be rented out for Php 200 per night, it's good for 2 people. There's also a Deluxe Room for people who prefer a proper bed, air-conditioning, and their own toilet. You can stay at the Deluxe Room for Php 2,900 a night (good for 2 people).

For those who are on a budget, and prefer to sleep inside their own tents. You can do so at the resort, you can pitch your tent and just pay Php 100 a night.
For inquiries and more information, visit their Facebook page – Carnaza Eco Park or call them through 0999 860 9761.
Psalms Restaurant and Rental Rooms – also known as Comendadors Rental Rooms and is located near Kailina Beach. Rates start at Php 300 per person, per night. There are 5 bedrooms for rent – 11 beds total and 3 shared bathrooms. The place has electricity 24/7 and water. There's also free Wi-Fi but it's not available at all times. For inquiries and more information, visit their Facebook page – Carnaza Island Psalms Restaurant and Rental Rooms or call them through 0925 485 4616/ 0906 320 3326.
Gwenda Room Rental – located near Barrio 1 and just right beside the basketball court. Room Rates are at Php 300 per person. Look for Kuya Eddie (he's also the caretaker in Kailina Beach). The contact number is 0999 506 4974.
READ: Rainbow Feels At Jelly's Haven Resort In Bantayan
Things to note/ Other helpful tips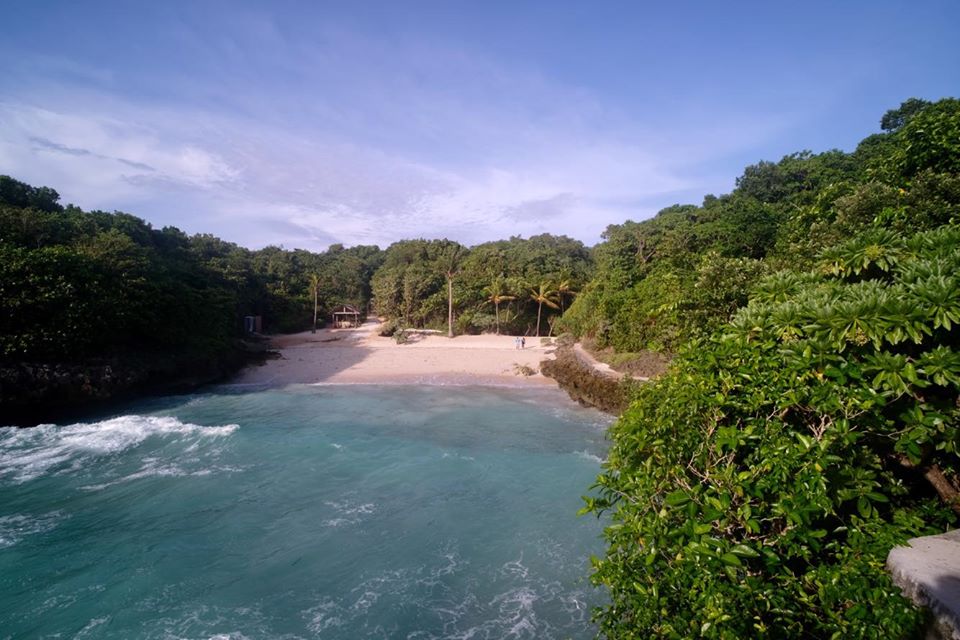 For those who camp at the Kailina Beach, you may ask to use Kuya Eddie's restroom. You may also use the restroom and shower at the Psalms Restaurant for Php 25. They also rent out tents, pillows, and blankets.
There are eateries and BBQ for sale near the Kailina Beach and the Barrio proper.
There is a deep well near the Kailina Beach where you can get water to wash up.
For those looking to hire habal-habal or take the motorcycle ride, the fare is Php 20 per person. You can also ask for a tour around the island for only Php 300, that's for 3 hours and already for 2 people.
You may also rent a boat ride to Dakit-Dakit Island, La Manok Island and the other sites of Carnaza Island for Php 1,500 to Php 3,000. The price depends on how big your group is.
For those who want to cook for your own group, you can get fresh fish from Barrio 1 and they're very affordable.
The spots with amazing sunsets are at the Skull Cove and Kailina Beach. The spots a splendid sunrise in the mornings, come to Carnaza Eco Park or Liog-Liog Cove.
The signal on the island isn't that good and is intermittent.
More importantly, be mindful of the surroundings. Do not litter, and dispose of your trash properly. If possible, take all your trash back with you and dump them at the Daanbantayan Proper. This is to ensure that all your garbage will be disposed of correctly and not just be dumped in or around the island.
Lastly, all prices are subject to change without prior notice.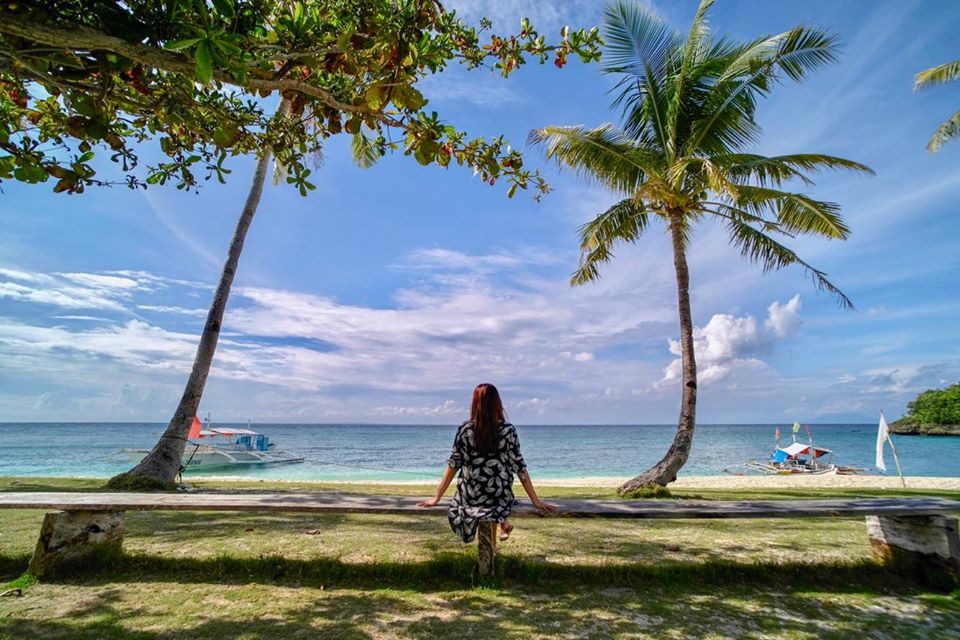 How to get there
Carnaza Island is a part of the Daanbantayan municipality of Cebu.
Go to Cebu North Bus Terminal and get on a bus bound for Maya. Tell the driver or conductor to drop you off at the Tapilon Proper. The travel time estimate is from 4 to 5 hours.
When you get to the Tapilon Proper, head on to the pantalan/ port. You may walk all the way there or get on a pedicab/ trisikad.
Then at the pantalan, get on a boat that will take you to Carnaza Island. The boat trip will take an hour or two, depending on the waves.