How do you like your summer vacations to be? Can you imagine being along the beach, basking in the sun? Do you like it crazy, fun and full of adventure or would you rather take a break from all activities aside from relaxing in a cozy bed alone or with your family? Whatever you like, Catmon is the perfect place for you.
Catmon is in the list of sleepy towns in Cebu but if you look closely, you will discover some wonders you can't find anywhere else. It has high peaks, waterfalls, springs and very precious resorts and resthouses that are worth the hours on the road.
If you are wondering what to do when you are in the area, find out some interesting activities and places you might want to check out the next time you come to Catmon.
Esoy Hot Spring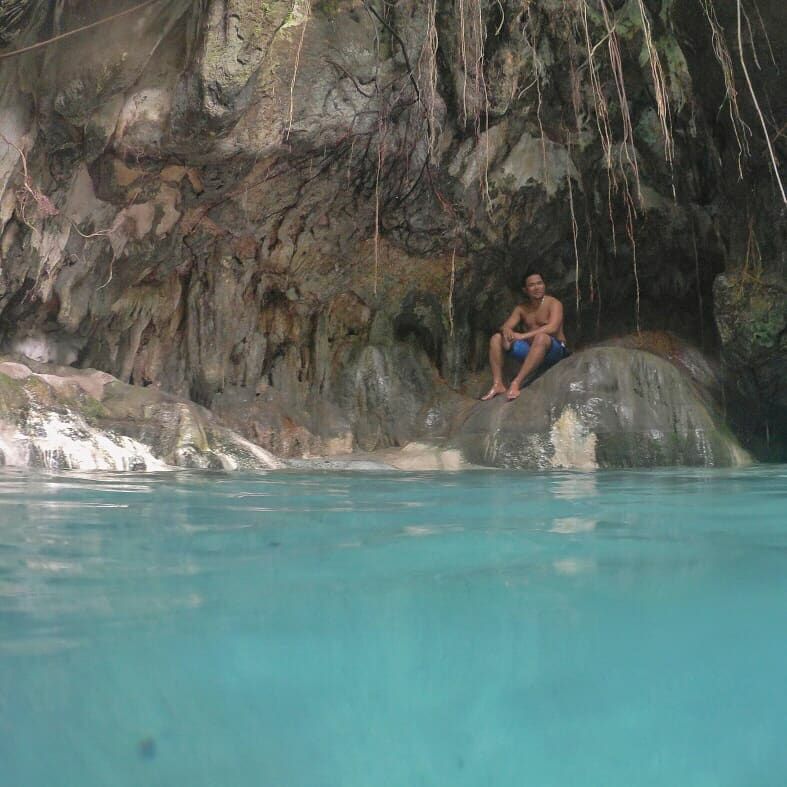 Can you imagine yourself swimming in a hot pool of water under the scorching heat of the sun? Seems like it doesn't match our summer expectations, right?
Hot springs may not always be the top choice for people who wish to enjoy cold water during high temperatures, but they are to be considered. Why? Because hot water is very beneficial to the body and soul– even if it is way too hot already.
Hot springs naturally relieve body stresses, pains, and more. The water has healing properties that keep tourists and locals alike, coming back. It also helps with the blood circulation with the help of the minerals in there. People with sleep problems come here to relax as it helps improve their sleep.
Though it is very inviting, hot springs are not for everyone. People who are pregnant, elderly or those who have some heart ailments may have to consult their doctors first before soaking in some hot water.
But if you are looking for a nice spot in the north where you can spend time releasing your stress in a non-violent way, then I suggest taking a trip to Esoy Hot Spring. It does all good things to your body because of its natural healing properties. The water is very clean, too.
It is, though, made by a business owner names "Esoy", who discovered hot water coming out from his property so you won't get to enjoy it without paying a fee. He discovered hot water coming out from his land and and so created a small pool.
It is located at a private resort so you will have to book and pay an entrance fee of around 100-300 pesos.
How to get there
From the main town of Catmon, hire a motorcycle to take you to the spring. The fare could range from 25-40, depending on the driver's asking fee and the travel time would be 10-15 minutes only.
Ka-Tinggo Falls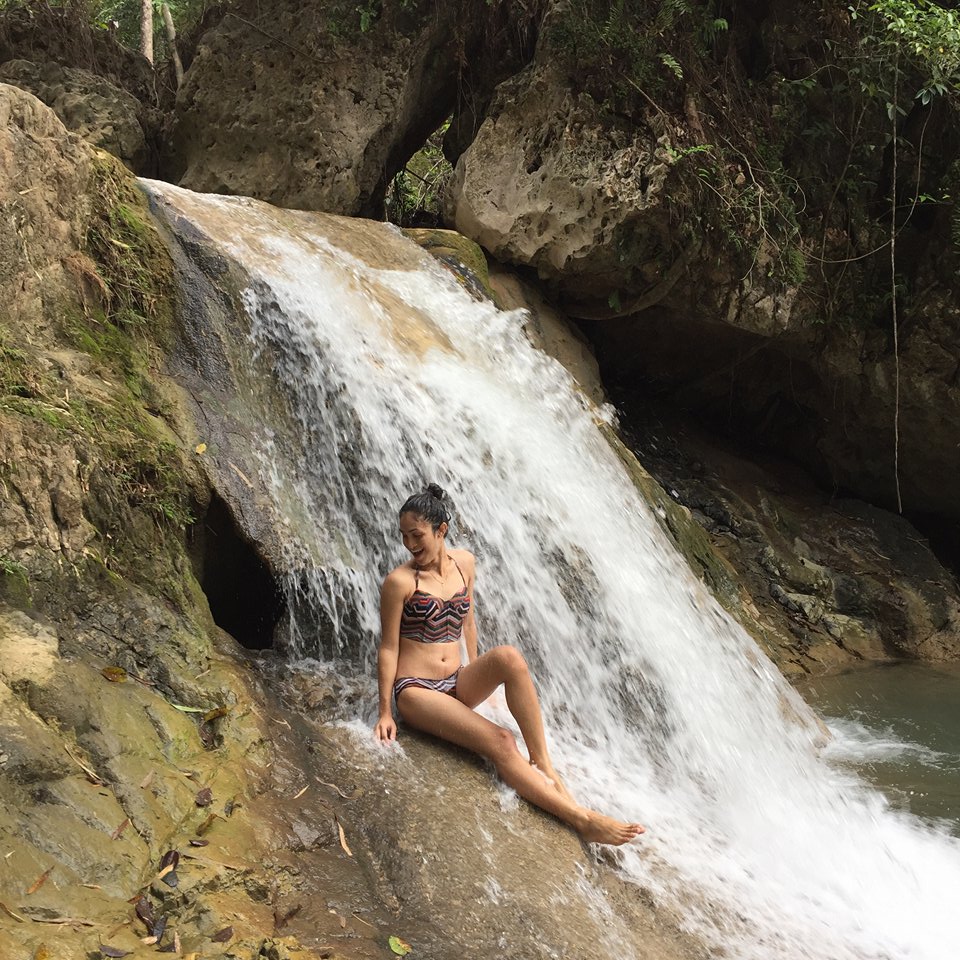 Since you are already in the area, might as well take on an adventure in a nearby waterfall. Some people go to Esoy only to use it as a starting point in trekking to Ka-Tinggo because a few steps away from Esoy Hot Spring is Ka-Tinggo Falls, a hideout for the adventurous individuals who love trekking, cliff jumping, swimming in the deep– 150ft. deep, and stuff like that.
Catmon could be just another sleepy town for some, but for adrenaline junkies, it is not. From Esoy, you will have to walk and surpass literal obstacles such as slippery rocks, rocky paths, and literally more rocks along the way.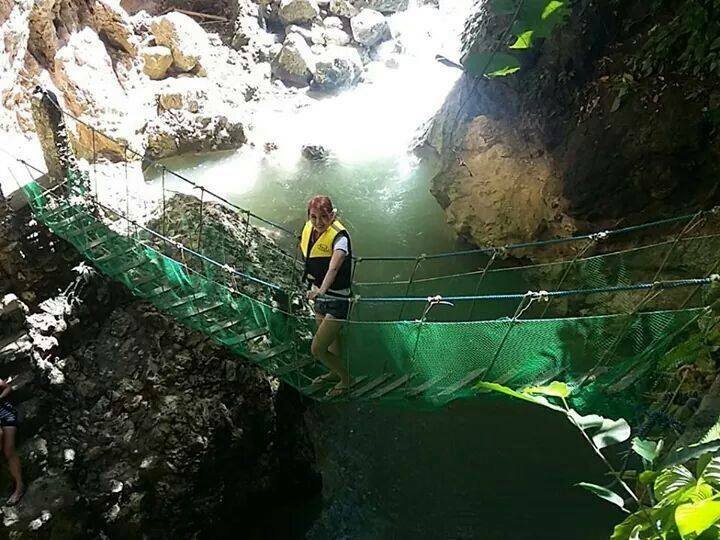 And oh, you will have to go through a hanging bridge that hangs over a 20 ft. deep water. You will be provided with life jackets though so there is nothing to worry if you are scared. I'd be trembling! Some fondly call Ka-Tinggo as Esoy Falls because it is near the spring, but these two are different.
The trek lasts for around 10-15 minutes, depending on your pace, but usually, 15 is enough. You will be tempted to take photos in between steps, just make sure that your camera is waterproof or is fully protected just in case it gets wet, or worse, it dives into the deep all by itself.
If you are like me, you would enjoy the trekking part but not the jumping off the cliff nor the fish feeding. Swimming is very exciting though because the water is really deep but you have life jackets on and no one will judge you for wearing one. In fact, it is required.
If you want to experience all of these, make sure to get a guide who would escort you to the waterfall adventure and would also get you out safely.
How to get there
From Esoy Hot Springs, take a 15-minute trek to the waterfall, don't believe the image from Google Maps above. You will have to encounter watery and slippery rocks and a hanging bridge along the way but after that, it's just the waterfall and 150ft. deep water and you.
Huna Huna Cliff Resort
Fancy vacations mean booking prestigious hotels and allowing them to drain our wallets, do you agree? I don't! Because sometimes, the fanciest of things are the simplest– but they make you feel something.
If you have come a long way to get to Catmon, you deserve to unwind and de-stress yourself. There is nothing more relaxing than staying in a beach resort that has cozy yet windy rooms with the perfect view of the ocean.
It literally is a cliff, there is no shoreline, no sandy dreams in this part of the province. Beaches here are usually rocky and high but clean and safe. If you don't plan on staying here overnight, you can still books rooms for 3 hours for only 800 pesos. Exceeding hours require 100 pesos per hour. Day use doesn't have to be very inconvenient!
How to get there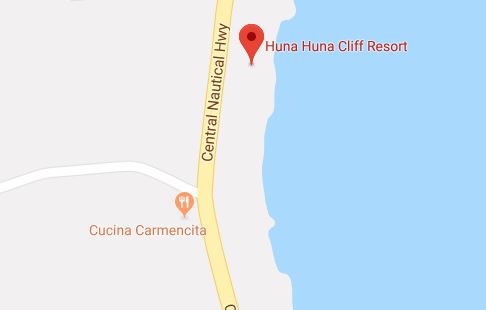 Huna Huna Cliff Resort is along the main road where all vehicles, including buses, pass by. From the city, expect the resort to be on the right side of the road, before the terminal. A landmark is a restaurant named Cucina Carmencita, found at the opposite side.
For inquiries, please call them at 0917 371 9741 or go to their website at www.hunahuna.com.
Turtle's Point Rest House
Family vacations or barkada weekend getaways are more private if you rent a rest house for the group. Since it's private, you can do whatever you want (minus illegal stuff) because the house is yours for 6,000 pesos. The place can host family events, birthday celebrations, team building activities, recollection, and many more.
Like many beaches in the area, the rest house does not include a sandy beach but a rocky one. They have created a stairway from the water to the resort for easier access.
The rest house is small and pretty basic but the rooms are spacious, with multiple mattresses so groups won't have to worry about sleeping on the cold floor. They also have a nice hammock and comfortable cottages which adds up to the relaxing view of the beach.
The entire place is very peaceful. It does not have luxurious features but your basic needs will be covered.
By renting the place means you can bring food bought from the outside so parties are very welcome and you won't worry about being charged thousands for that crispy lechon you are bringing.
The owner sometimes brings the rate down to 5,000 depending on the season. The parking area is also readily available good for 3 vehicles.
How to get there
A few meters away from Huna Huna Resort Turtle's Point Resort. It is also found along the road at the right side, where the beach is. It is right before Kalubian Beach.
Agua Villa Resort
If you are looking for a bigger resort with many features, you would love it here. I would personally not travel to Catmon just to swim in the swimming pool because who does that? Swimming pools are all over Cebu, so why travel far?
But I can give you one good reason, or maybe more.
Agua Villa Resort is an exclusive vacation house for people who desire a quiet and peaceful place to rest. It has more than everything you need and want: a big swimming pool facing the sea, fully functional kitchen with refrigerator and counters, and open space dining are for large groups good for parties, billiards, comfortable beds good for 10-15 people, and the most attractive perk, a jacuzzi in the pool.
All of this for a very reasonable price of 10,500 per night with a fully furnished 2-story house, 2 living rooms, 3 big bedrooms with many beds, 2 dining areas, and a nice kitchen with a warm chandelier on the ceiling.
However, the beach in this area is still the same rocky shore yet clean and safe for swimming. It's still a good deal, what do you say?
How to get there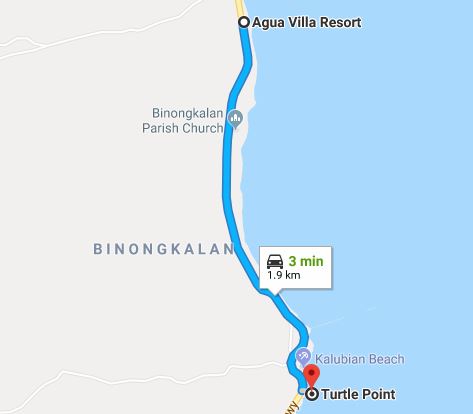 Almost 2 kilometers away from Turtle's Point is where Agua Villa Resort is. Tell your bus driver that you are going to Agua Villa and he'll drop you off the gate. It is along the main road so you will find it easily. Contact them through Facebook or call them at 0932 630 3892 for inquiries and reservations.
Imelda Aroma Waterpark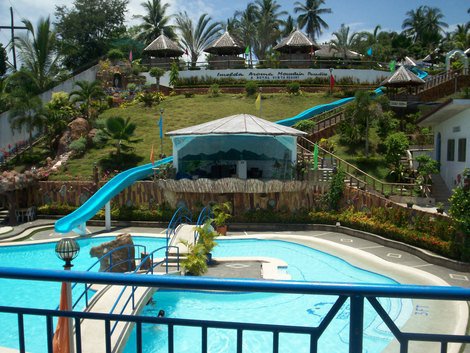 Water gives different levels of serenity which I love and it differs per area. If it is in a secluded area, the more serene and meaningful it becomes. During summer, many people rush to the mountains to counter the heat of the city mixed with pollution but if you come to Imelda Aroma Waterpark, you would forget it's summer.
It is a very safe place for the mind, soul, and body because you get to breathe in clean, fresh air filtered by the green leaves that you are surrounded by.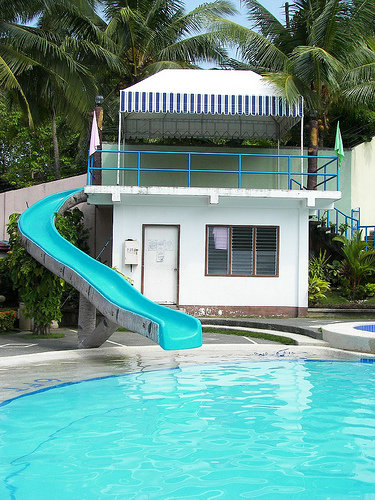 In Imelda Aroma Waterpark, you can make use of their huge pools. They have a pool specifically for kids which is only about 2 ft. in depth. They also have one for the adventurous adults which is 6ft. deep, plus a slide they can enjoy.
The resort, overall, is fun, clean and well-maintained. It is perfect for families who wish to spend a day off from the city life and of course, for the other groups of people who want to play in the water for team building purposes or simply as bonding activities for friends.
How to get there
The waterpark is located on the left side of the road if you come from the city. Given that you have already strolled around the are prior to coming here, better start from the town then hire a motorcycle to take you there. Should you wish to contact them, please call at 430-9441.
Recuerdo Beach Resort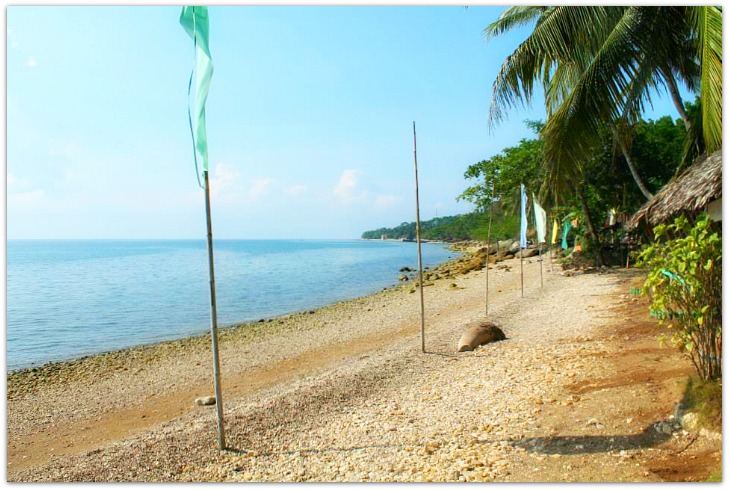 Back to the beaches. Beaches are the most sought-after destinations when summer breaks hit the calendars and when the heat from the sun begins to intensify. Truth be told, beaches are more accessible than mountain resorts and they are always being looked forward to, a lot.
Going for a dip should not be expensive because after all, nobody really owns a beach. Budget-friendly resorts like Recuerdo Beach Resort offer very affordable entrance fees for maintenance and provide cheap cottages for rent.
To tell you honestly, there is nothing extravagant about the resort. It is a regular beach spot with fine rocks and clear water. It is close to being a super public beach because it is along the main road. Its simplicity makes it a very nice place to stay during spontaneous trips to the north or if you simply want to swim during any time of the day. The resort also offers a package should you want to host your wedding there! You may contact them at 32-430-9033 if you want to inquire.
How to get there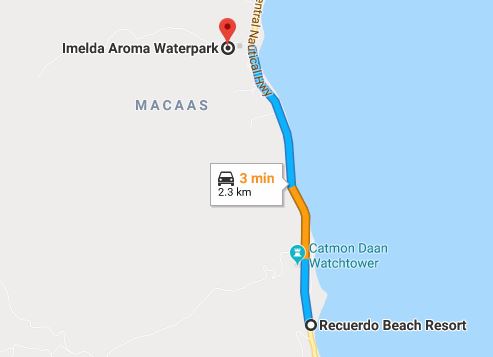 You can easily sport Recuerdo Beach Resort because the bus will pass by the place since it is along the main road.
There, the top picks when in Catmon. The little town has nothing fancy to offer, but your stay there will surely give you inner peace, something you could rarely find under bright city lights.