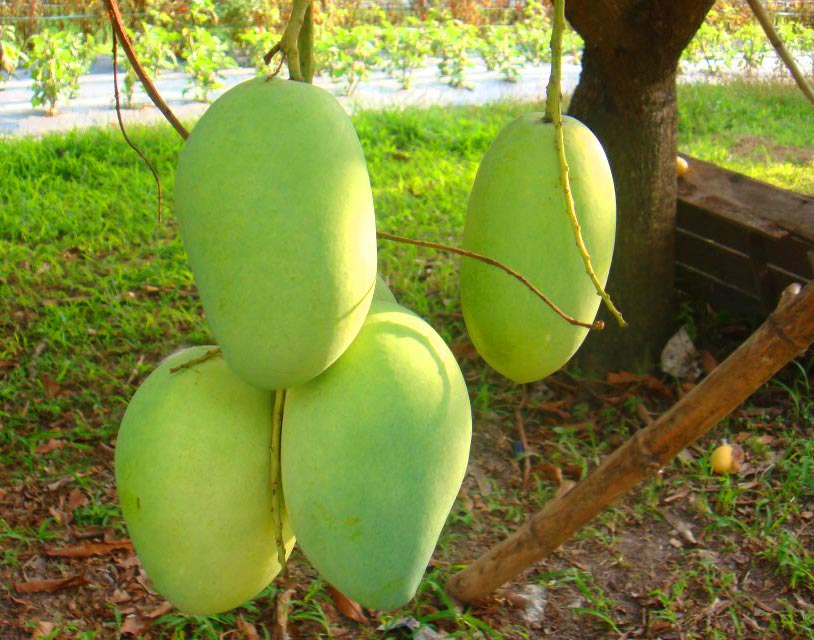 Cebu mangoes are sweet, fleshy and juicy. They are great eaten raw and on its own, but they may be used in desserts, drinks and processed as dried mangoes, mango nectar and mango juice. Cebu is so famous for its dried mango and processed mango-based products, which are exported to numerous countries around the world.
Cebuano locals love the fruit, but so do other Filipinos and foreigners including several Miss Universe candidates who visited Cebu in December 2016. Mango is therefore not just a national fruit representing our country and a national favorite, but it's a world favorite, too!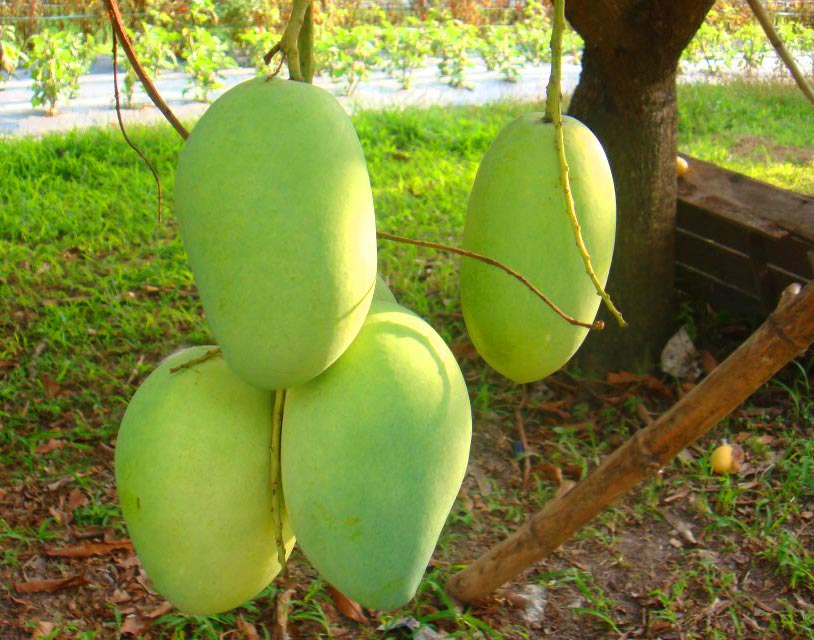 Amid the mango varieties found in the Philippines, the Philippine Carabao Mango is the more popularly grown and cultivated in Cebu, sold as ripe or unripe, and eaten raw, cooked or processed. It is relative large in size with smooth, yellow skin when ripe and very flavorful and sweet – offering a rather pure kind of mango taste without hints of apple or other fruit flavors. The Philippine Carabao Mango tastes so great it was recognized in 1995 by the Guinness Book of World Records as the sweetest in the world. Other great varieties has since been researched and cultivated, but our very own Philippine Carabao Mango will forever be highly favored.
Cebu Mangoes or Guadalupe Mangoes?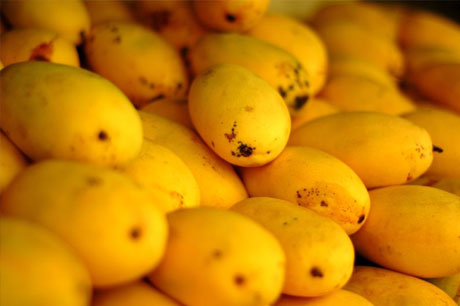 When you say Cebu mangoes, what you really mean to say is Guadalupe mangoes. But Guadalupe isn't the only place in Cebu where sweet mangoes are heavily farmed. In fact, Barangay Kalunasan, once-part of Guadalupe, will celebrate its sixth Mangga Festival (Pista sa Manga sa Kalunasan) in May 2017 as a tribute to the fruit that gave its people livelihood and sense of pride. Another source of Cebu mangoes are Busay and Bonbon in central Cebu City, as well as provincial towns of Dalaguete, Toledo, Barili, and San Remegio.
Green or Ripe, We Love Cebu Mangoes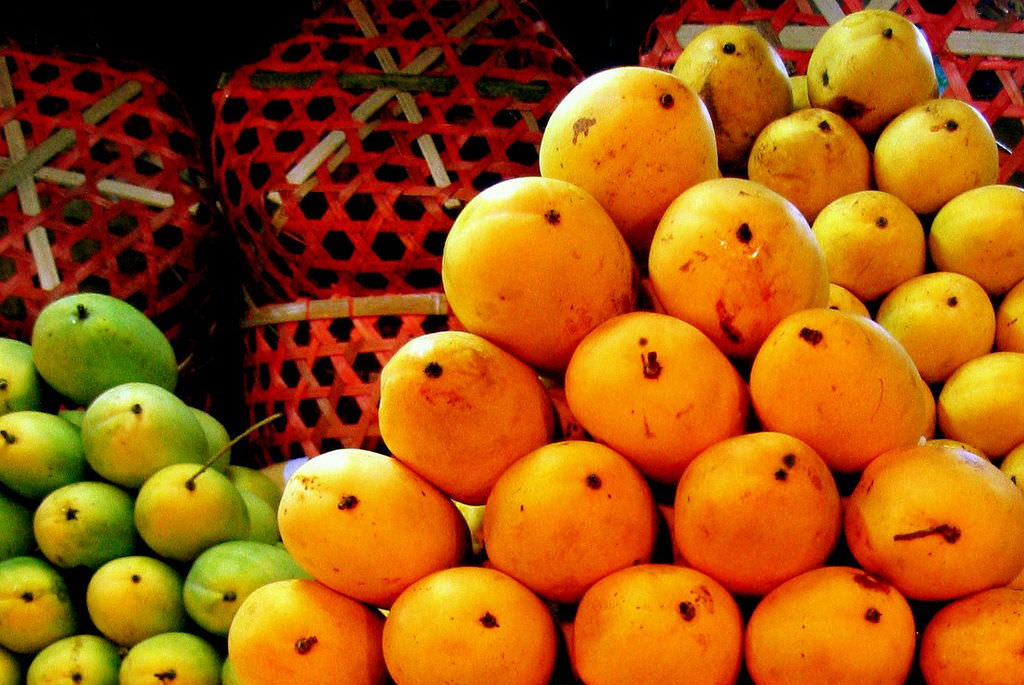 The Philippine Carabao Mango is not to be confused with the elongated green variety also known as carabao mango by locals. The latter is fibrous and less sweet when ripe. It's mainly sold along the streets as green mango often peeled, sliced, and paired with salt, vinegar or bagoong (fermented shrimp/fish). The green carabao mango is not as sour as unripe Philippine Carabao Mango, and both are widely available for those with a penchant for mouth-watering sour mango taste.
Cebu Mangoes vs Guimaras Mangoes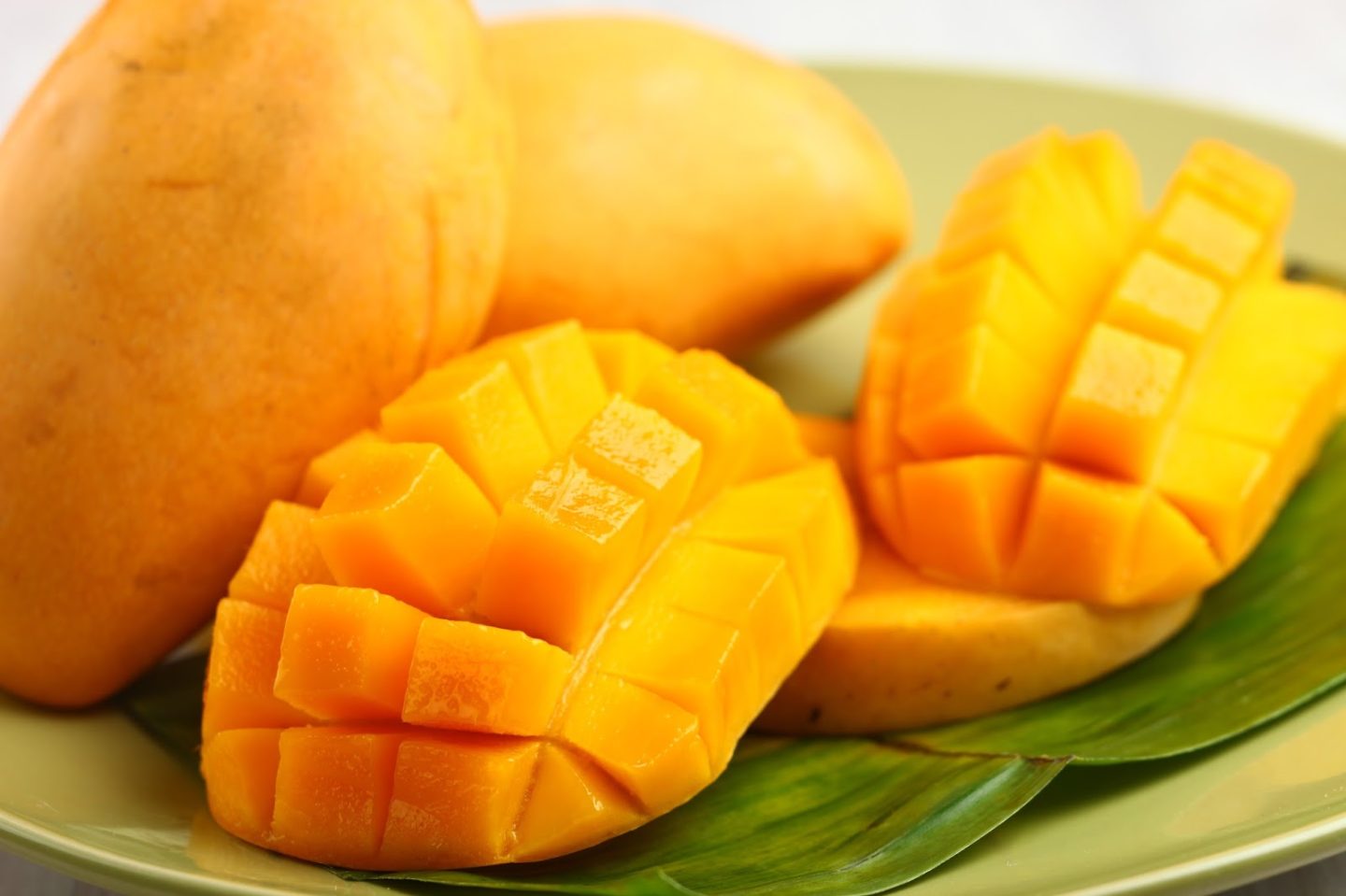 The Philppine Carabao Mango is not endemic to Cebu, but is also grown in Guimaras, Ilocos and Zambales.  In fact, the Carabao Mango we grow in Cebu may not be as pure and as unadulterated as those in Guimaras, where importation of mangoes is strongly prohibited. Guimaras wants to make sure that it remains the Philippine paradise of world-class mangoes, and so it doesn't allow anyone to dilute the variety it cultivates in the province.
Cebu Dried Mangoes and More
If anyone wants to taste Philippine Carabao Mango in its purest, most sweetest form, go to Guimaras. But for dried mangoes and other processed mango products, Cebu is the place to go. Cebu is home to popular exporters of dried mango brands including 7D, Guadalupe, Cebu Delights, Profoods (Philippine Brand, Cebu Brand, etc.), R&M, Sweet Earth, and M Lhuillier.
Vermedes, Inc. is the company behind R & M Preserves started marketing dried mangoes in 1970, and became the pioneer brand of dried mangoes in the country. It began exporting its products worldwide in 1977, and continues until now in the manufacture and distribution of dried mango slices, dried mango chips, choco manga, maringo (tamarind+mango), and other preserves.
7D Mangoes are a brand of dried mango products 7D Food International, Inc. Established in 1972, the company utilized the oversupply of mangoes in Cebu in the 70s and began supplying other provinces as well as other countries like Australia and Japan. It was only in 1978 when FPD Food started making and exporting dried mangoes. Two years later, it also exported mango puree, and later mango nectar, tamarind mango, and other mango-based products.
Guadalupe brand of dried mangoes is manufactured and marketed by Camiluz Enterprises, Inc. It banks on the popularity of Guadalupe, a hilly barangay in Cebu City, where some of the best-tasting mangoes are cultivated and grown.  Aside from plain dried mango slices, Guadalupe brand also carries chocolate coated mango preserves in milk chocolate and dark chocolate.
M Lhuillier may be known for its pawnshops and financial services, but it's also vested in other businesses including the exportation of mango-based products under the brand Cebu Delights and Joanna. It's common to see packs of dried mangoes bearing sold inside its pawnshops.
Profoods International Corp. is the mother company of several brands of mango-based products, particularly dried mango slices, dried mango candies, mango jam and canned mango juice. It is widely known for its products under the Philippine Brand, Cebu Brand and Profoods.
Sweet Earth is another brand of high quality dried mangoes marketed by Cebu Grace Food Products. Their dried mangoes are chewy, fiber-free and sweet. Meanwhile, Island Souvenirs and Island Stays are also into the food business, marketing dried mangoes under the brand 7107 Islands. According to Cebu Byahero, this brand of dried mangoes is sweet, chewy and tender.
There are of course other brands, manufacturers and exporters of mango-based products, specifically those that utilize Cebu-grown mangoes. Arguably, Cebu may not have the sweetest and best ripe Philippine Carabao Mangoes (because this title belongs to Guimaras), but it does make up with its export-quality mango preserves and mango-based products. But really, when you ask someone for sweet Philippine-grown mango, they'll point you to Cebu.
To spark a friendly discussion, we'd like to know which brand of dried mangoes you prefer best? You may point to a brand not mentioned here. Do you think Cebu mangoes are inferior to Guimaras mangoes because we aren't against mango importation?