The biggest oceanarium facility is undoubtedly one of the most anticipated attractions to have opened in Cebu this year. Although I personally didn't share the many viral posts about it given there were no concrete details as to how it really operates, I honestly was still curious about it no doubt.

A few weeks after it opened its doors for its soft opening, both of my kids had to go there as part of their "school activities" and an adult companion had to be with them as per rules of the facility (below 12 years old need an adult companion). Skeptical but hopeful, I had to tag along.
First Impression
The moment you step inside, you will immediately be greeted with fish tanks filled with not just an assortment of fishes, but also reptiles as you can see below: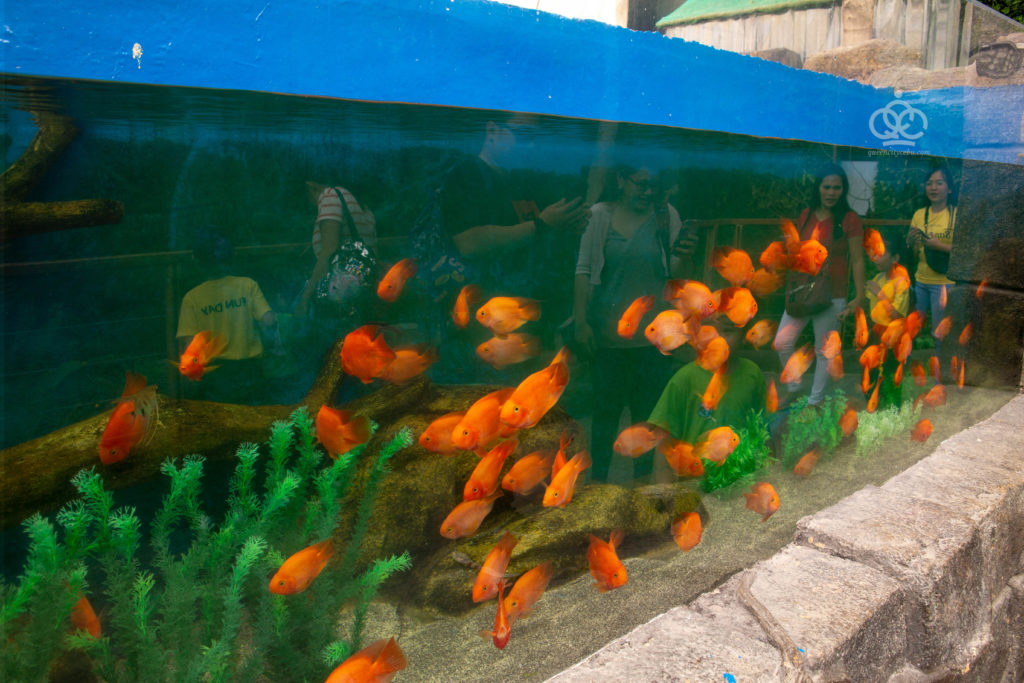 You will also notice straight away the "wildlife" ambient sound along with the natural sounds of the birds that are inside this part of the facility.
Just as fast, you will realize that this place is actually just another enclosure facility for wildlife… I was already quite disappointed but still, hopeful that there would be at least a silver lining for this place. I kept going along with everyone else in the tour…
Bird Feeding
The bird feeding section is where you can experience parrots feeding on your hands and even staying on your head/shoulders. This is actually something new for me and no doubt a lot of the kids had fun. Even the birds themselves seem to be having fun as well as you can see below: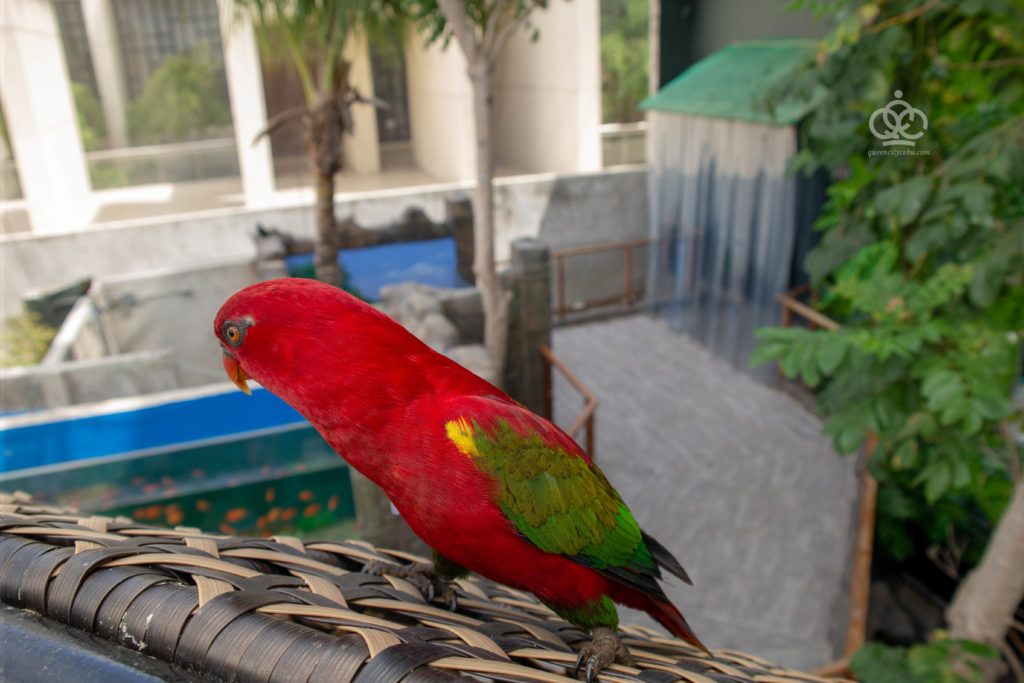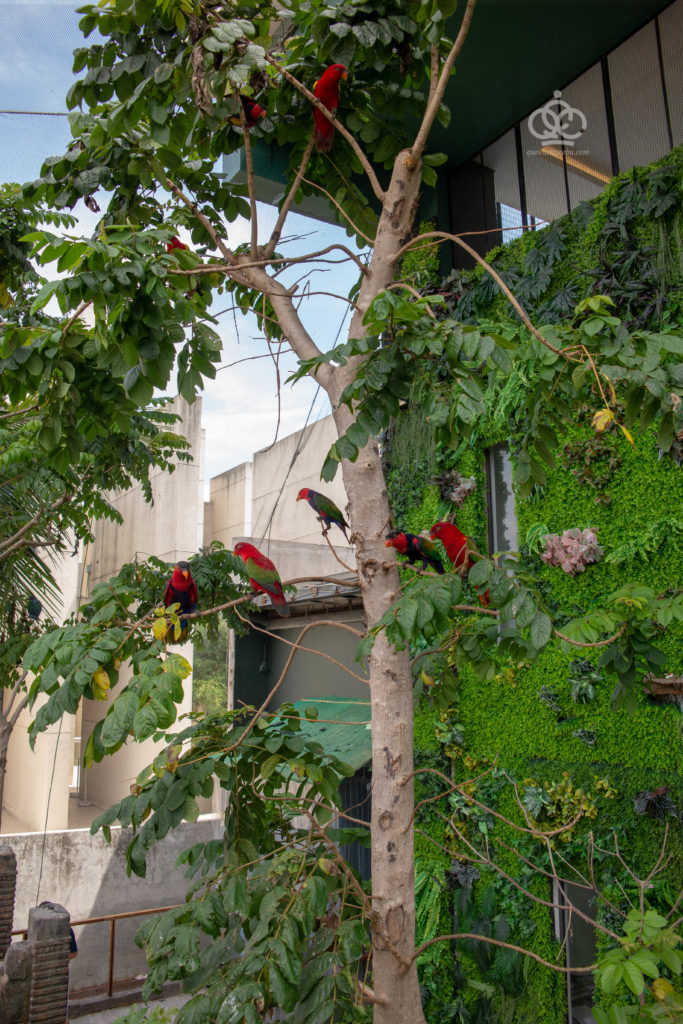 The next section is there "dark room" where more aquariums can be found. An array of sea life can be seen here along with seemingly real corrals that turned out to be artificial (thankfully) according to one male staff that I asked.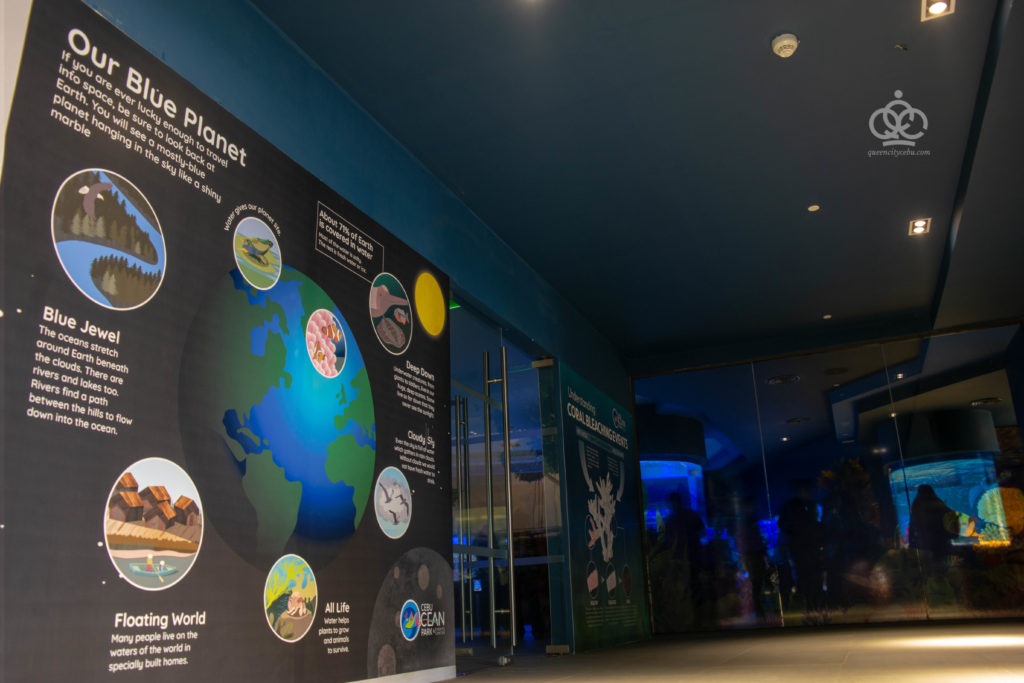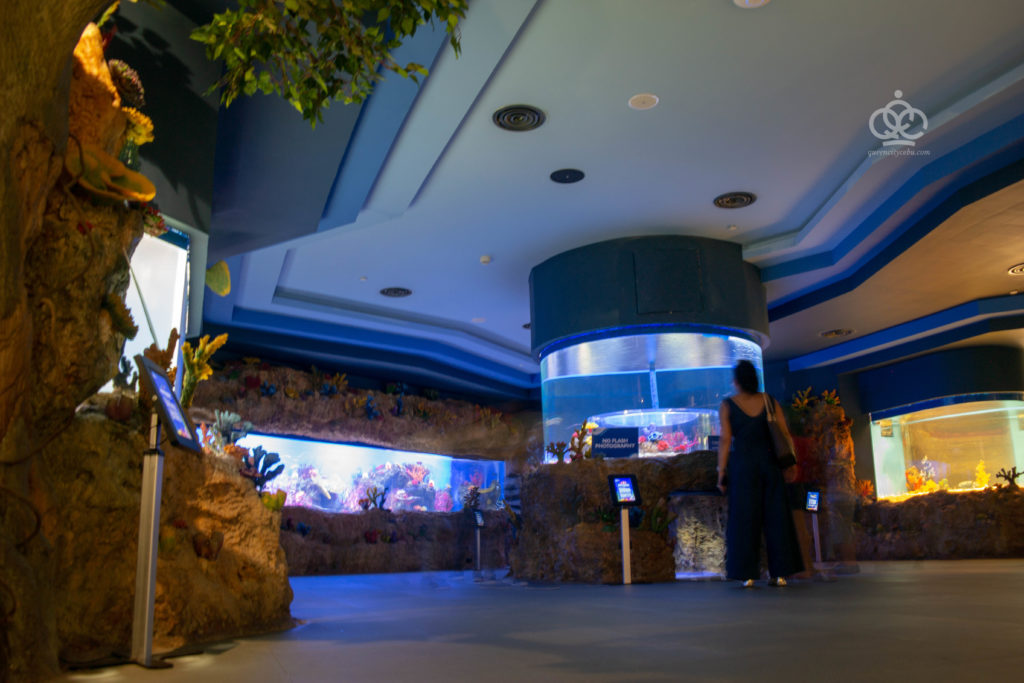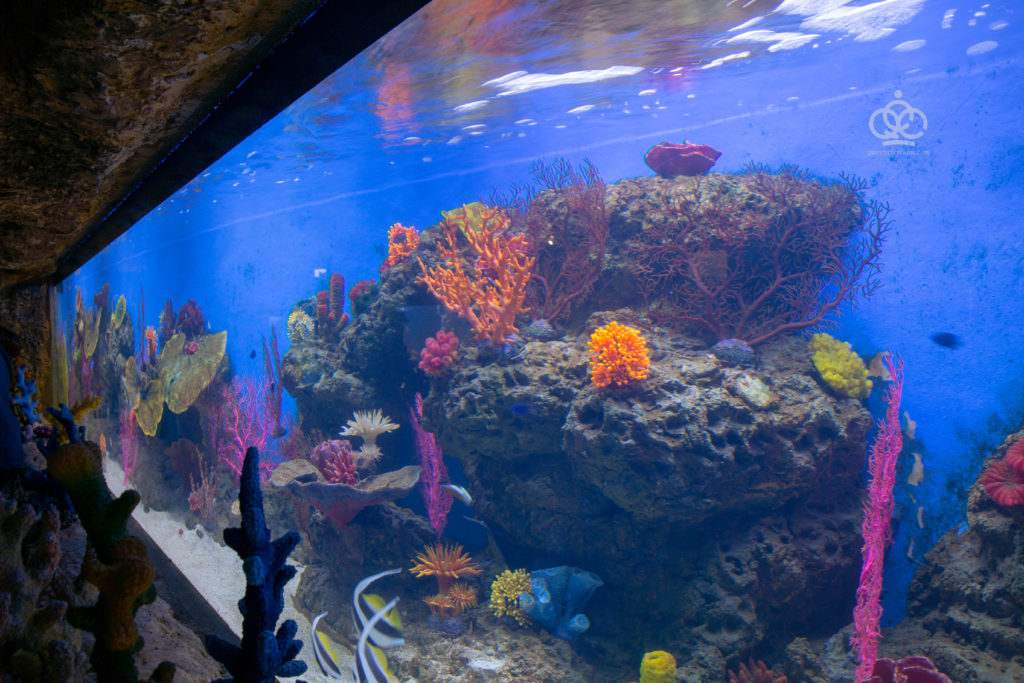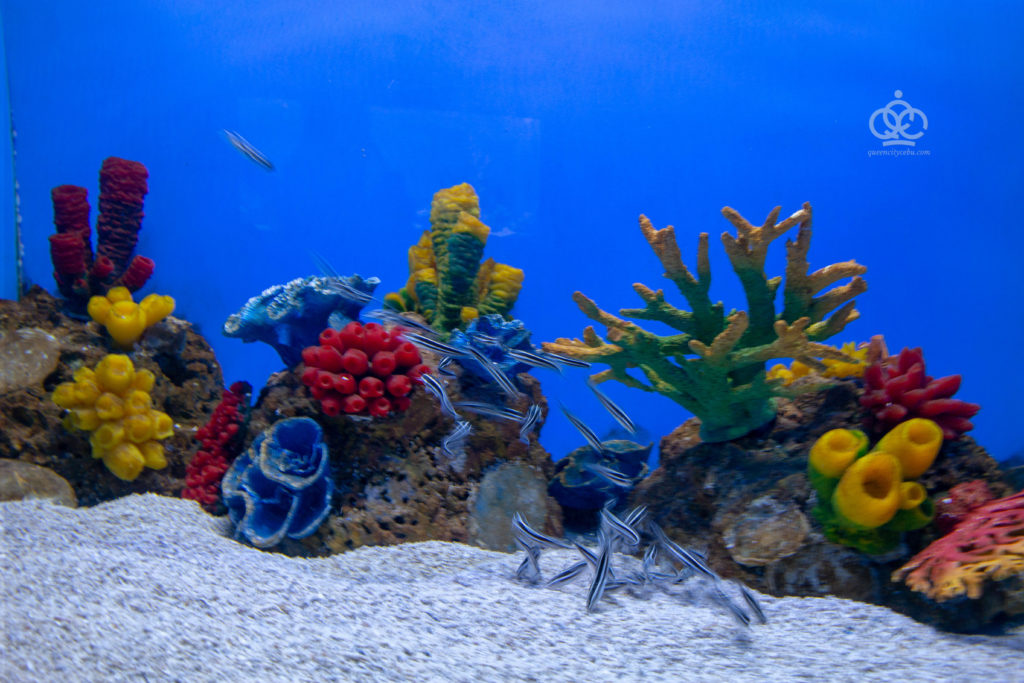 Stingray Feeding Section
Next part is the open pool area where you can see stingrays along with other marine life. This is the first time I saw a stingray up close and to be honest, they looked really adorable and when they were being fed mussels, they actually looked like puppies! This is the biggest surprise for me as I had no idea about stingrays at all and this is where I can say, I ACTUALLY HAD FUN.

I couldn't resist however so I had to ask the staff feeding them the question, "What's keeping you from being the next Steve Erwin"? He then goes to answer, "We cut their stingers for safety"…

On top of the pool where the stingray feeding happens is a section called "Crocodile Cage". The name alone is enough reason why I didn't have to go there.
The Oceanarium & Snacks Area
Moving on, you'll see the main snacks area where the fish spa is located as well. You can also find the entrance to what I would consider the facility's ultimate attraction, the oceanarium. And this I believe is for good reason as it makes you feel like you are really under the sea wearing a bubble that allows you to breathe normally. The pictures below should better describe this for you: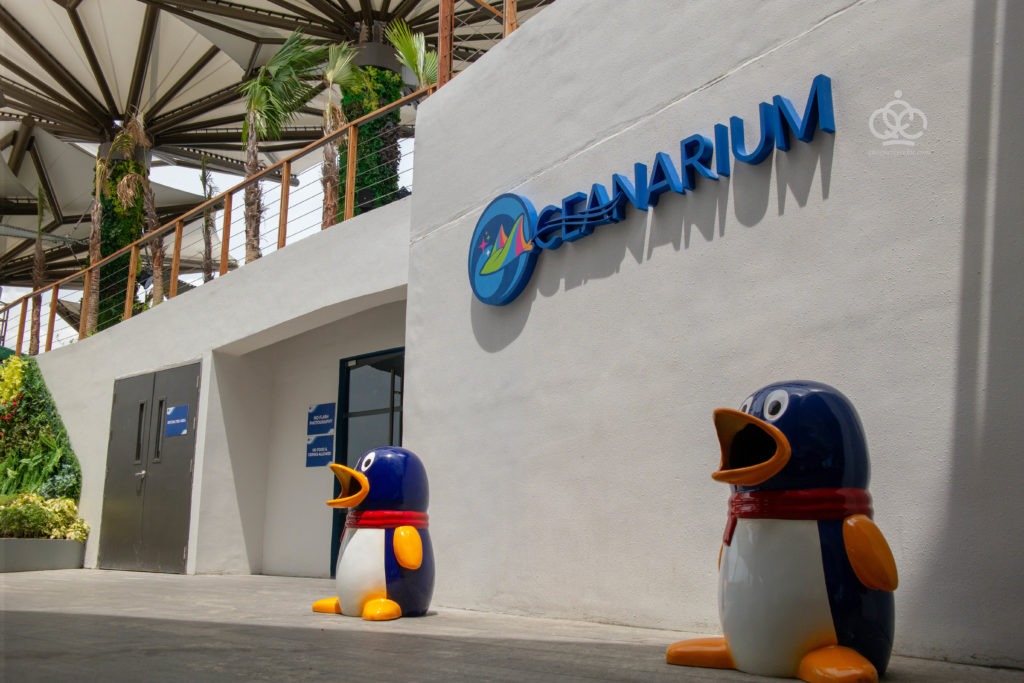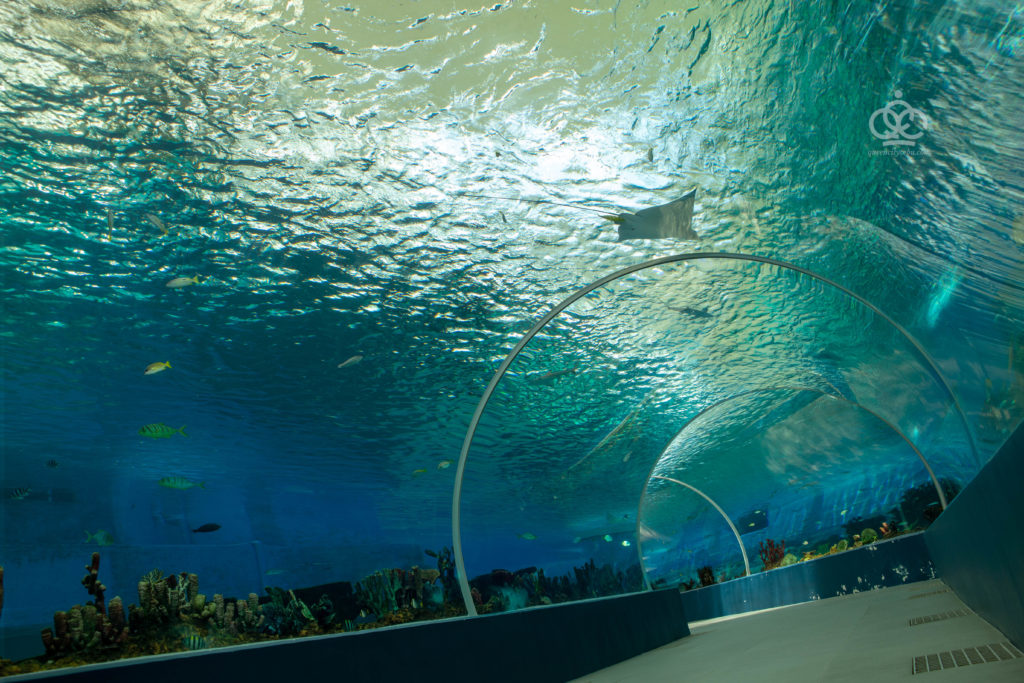 The Cebu Oceanworld Bird Show
At about 11:00 in the morning, our tour was already on their seats ready for the bird show. Here you will be introduced to 2-3 kinds of birds (Macaus) including where they came from which just makes it even sadder. I can just imagine my kids taken away from our home only to entertain other creatures from who knows where.

The best part about the show is how they tried to teach the audience to dispose of garbage properly. When this happened, I was actually hoping they would disclose that the place is a science or rehabilitation facility for the wildlife that they have there but unfortunately, nothing of the sort.

They did mention during the bird show that they are a "rescue facility". I'm not sure what are the technicalities of being that but I for one don't think an animal should be "rescued" 15,000 miles away from its natural habitat. I just can't help imagining my kids would be "rescued" this way if something unfortunate happens to wifey and I.
The Way to the Exit
The route to the exit is glaringly set-up so everyone would have to pass by the facility's restaurant and souvenir shop. You will find this out for yourself if you must go there.

On the way to the exit, somehow I managed to come across their "theater" room where the said 200 kg, 20 year old groupers can be seen. This area is what I would consider the 2nd best part of the entire place as I didn't know groupers can become bigger than humans as they are a local favorite making them one of the most expensive varieties of fish to actually eat.

My daughter even cried here after seeing the pack of groupers behind her.
Cebu Oceanpark in Summary
All that said, I naturally ended the day sweaty (most parts of the place are not air conditioned, open areas so it can get really hot), and more importantly, with mixed emotions. I honestly am not sure if the place should be patronized as that might result in even more enclosures like this.

Although I will never come back here just like how I'm never going back to that enclosure facility in Carmen as well, I do understand that this place has a market. I mean, who on Earth can afford to go through a PADI open water course along with every other expense to go see stingrays in their natural habitat? That said, if I will have guests, I will be forced to take them here since it is something many out of towners will naturally want to experience.

The best case scenario I see for this place would be to leave a lasting impression on its visitors about the creatures that are enclosed here. If say 10% of the total visitors here end up being fascinated and falling in love with the creatures, they just might end up being more environmental conscious thinking their beloved friends of the sea will suffer if they wouldn't be careful.