After officially portraying Valorant's Agent Neon, Cebuana cosplayer Charess is back once again to accomplish one of her dream photoshoots: to cosplay Cirilla Fiona Elen Riannon of CD Projekt Red's The Witcher 3: Wild Hunt.
Like many children at heart, Charess has long dreamt of bringing to life the character of one of her favorite games, The Witcher 3. Under the creative direction of Jeffrey Capilitan, such a dream was turned into reality with the help of talented individuals who poured their hearts into the photo shoot to achieve stunning results that would truly make The Witcher's main protagonist, Geralt of Rivia, proud.
Shot in Tanay, Rizal, the team was composed of creative hair and makeup artist Satomi Kim of Satomi Makeup and Arts Production, Lorienel Gerebise Agawin (wardrobe), AC Hernandez (Zerael sword and belt), Shocross Neko (gloves and accessories), and co-creatives namely John Vincent Sanido of JVS FOTO, Pandotato Johno, Francis Louie Casapangra, JP Walew, and Al Sy, as assisted by Omar Ramos.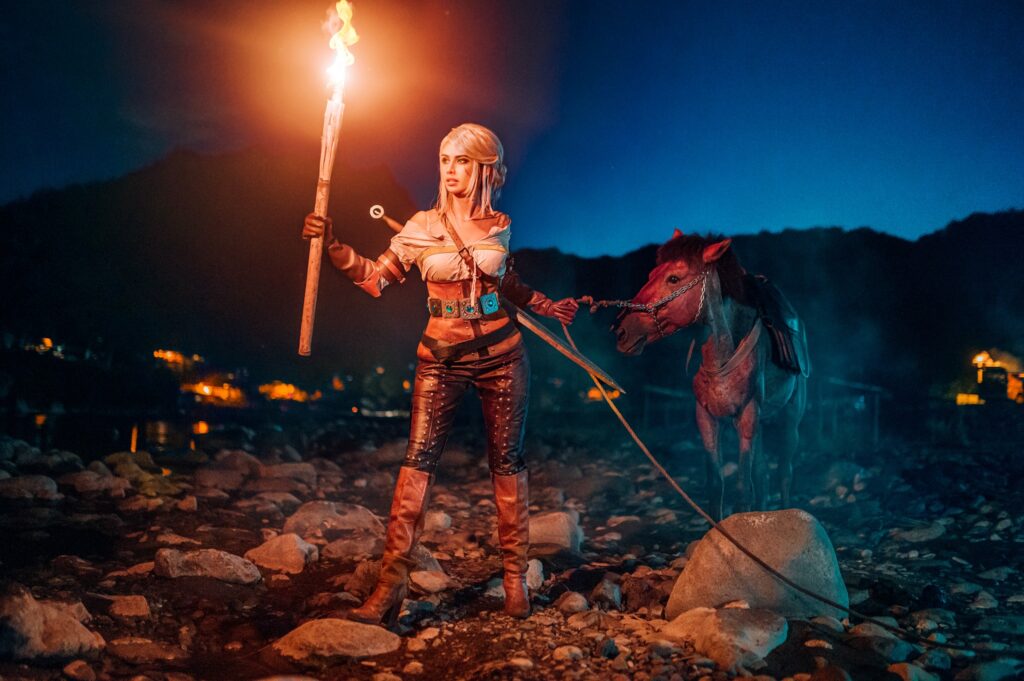 A Quick Look at The Witcher: Wild Hunt
First published in 2015, The Witcher 3: Wild Hunt is an action role-playing video game that has been developed by Polish game developer, CD Projekt Red—a sequel to the hit 2011 game, The Witcher 2: Assassins of Kings. This is the third installment of The Witcher video game series that is being played in an open world, coming from a third-person POV.
Among the many genre-defining RPG, The Witcher 3: Wild Hunt has been recognized to have the most record of Game of the Year awards – that's for five whole years! In 2014, it bagged the Most Anticipated Game Award and in 2015, it got the Best Role-Playing Game Award. The game also garnered several nominations for BAFTA, BTVA, Canadian Videogame Awards, Empire Awards UK (2016), Fun and Serious Game Festival (2015), and NAVGTR Awards.
The Witcher 3: Wild Hunt follows the story of Geralt of Rivia, a monster slayer who is known for hiring as a Witcher. The game brings players into the fictional world based on Slavic mythology and immerses the characters brought to life as the main character goes in search of his adopted daughter, who has been on the run from the otherworldly Wild Hunt.
Popularly known as Ciri, Cirilla Fiona Elen Riannon, is one of the main characters of the series, alongside Geralt of Rivia and Yennefer.
With such an iconic background, it is no wonder why Charess fell in love with the game and the character that she has successfully portrayed. Her Ciri cosplay has been received well by her followers and gamers alike. Many are now excited to see who else she will be cosplaying and how she will give justice to the characters portrayed.
Have you played The Witcher 3: Wild Hunt as well? How did you find the game?

Follow Charess on Facebook here – https://www.facebook.com/kittykatchii95
More photos of the session here – https://www.facebook.com/jeffreycapilitanphotography05/posts/pfbid0DEXg4RbWxC7bEQaQ5ppLwFv1dHrapX9UxN2HHWJpFfzcq8Jqye4jrBLFVNyxazspl