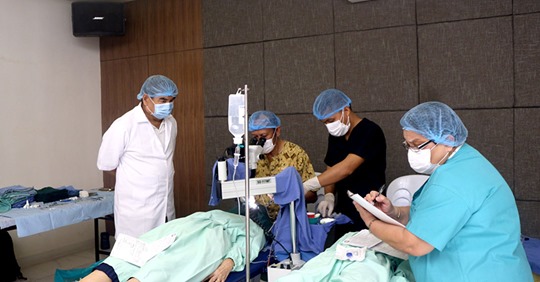 Eye problems? No need to worry because Cebuanos can now avail the free eye screening, cataract and pterygium operations at the Basilica Minore del Sto. Niño de Cebu from January 27 to February 1. This activity is made possible through the efforts of the Rotary Club of Metro Cebu in partnership with the PLDT Employees Credit Cooperative, Inc. and Basilica Minore del Sto. Niño de Cebu.
This medical mission focusing on cataract and pterygium surgery will be held at the Basilica Minore del Sto. Niño and those who would like to take this opportunity to have their eyes checked may visit the Basilica Medical Clinic for pre-registration.
This free cataract and pterygium surgery project is one of the activities spearheaded by the Rotary Club of Metro Cebu – an international humanitarion group that has rendered great service to the Cebuanos for 42 years through their medical missions to the poor who can't finance their own medical needs and relief operations to calamity-affected areas. This is medical mission has been put into realization through the collaborative efforts of the BMSN Medical team.
Aside from this medical mission, the club also runs a feeding program to the poor students of Don Carlos Gothong Memorial High School in Cebu City three times a week. Through their Operation Restore Hope Medical Mission, they were also able to successfully operate more than 3,000 children who were born with cleft lips and palates.
So what are you waiting for? If you are in need or if you know someone who badly needs this eye screening and cataract and pterygium surgery, feel free to inform them about this activity!
Like this article? Please share your thoughts below!