It is OFFICIAL: Cebu's first ever winter experience will begin this November 11, 2018 (Sunday)! This could be your first white Christmas experience ever!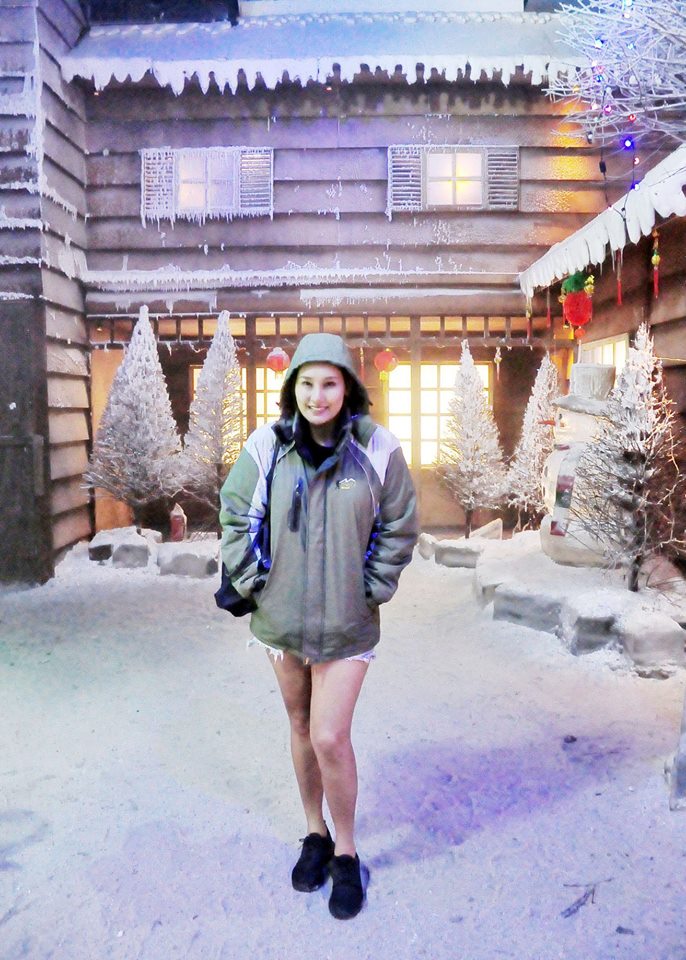 From the tremendous heat that we are exposed to, how can we say no to a whole new world of snowy fun, just 30 minutes away from Cebu City?
Snow World is a game-changer. This new attraction will definitely bring the Cebuanos together and bond under falling snow! The recreation of real winter experience is brought to you by Anjo World Theme Park; another major surprise to be unfolded later this year or early next year.
Snow World
Snow World's pride and joy is to give us what we have always longed for– a colder season. Since we live in the tropics, having winter is impossible! But thanks to the Snow World team for organizing such a brilliant masterpiece, we can now have a much cooler playground and an appropriate avenue to dress up for winter. You know you've always wanted to wear boots around Cebu, am I right?
This frozen world is estimated to be 2,000 square meters huge. Can you imagine how much facilities you can enjoy in such a vast space?
The attractions include life-sized sculptures made of ice, slides also made of ice, ice bar, and a real snow experience!
Model Photos
Here are some photos of the model design of Cebu's very own:
Rates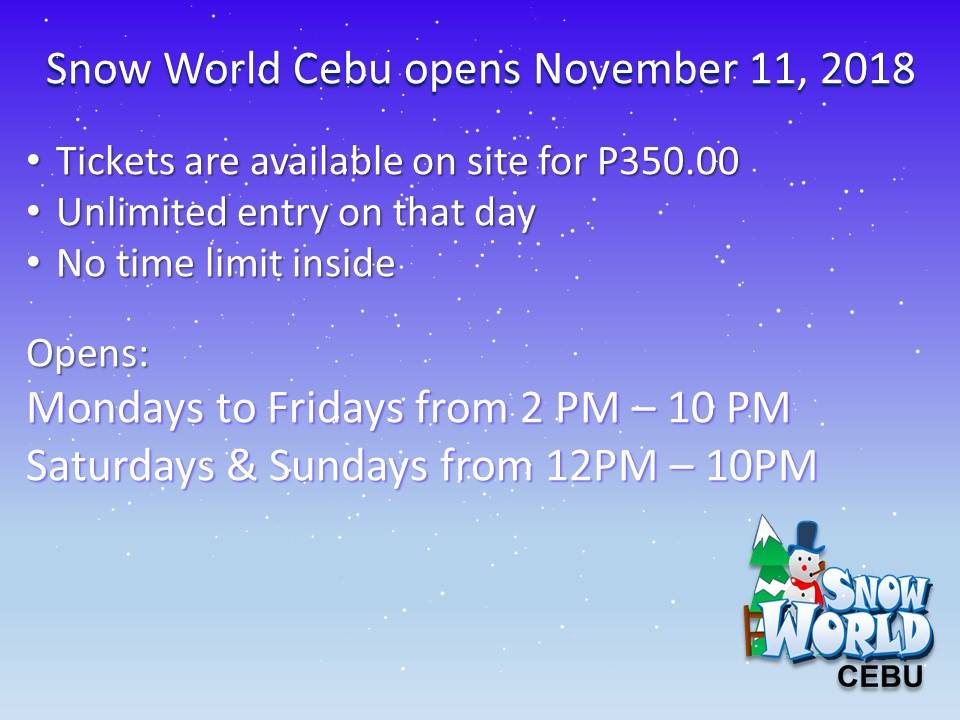 The entrance fee for Snow World is only 350 per head, excluding kids below 2 years old. Once the tickets are purchased, there's no turning back! No return, no exchange. You have UNLIMITED fun time inside to explore as much as you want!
The fee already includes the proper gears in order to enjoy the park.
Aside from the main slide attraction, Snow World has also built a small bar just in case you get too cold. You can get your dose of hot chocolate or coffee without having to leave winter. And just in case you get hungry for real food, you can exit to eat, and come back when you are ready.
Snow World will be open daily: Mondays through Fridays at 2-10 PM and 12 NN 10 PM during the weekends.
Opening Promo
Free bonnets! The first 500 customers will be able to claim 1 free Snow World bonnet as part of their opening promo! You know you want to wear one in Cebu grounds as well! You can avail of the promo onsite, when you buy a ticket for the winter park on Nov. 11, 2018.
How to get there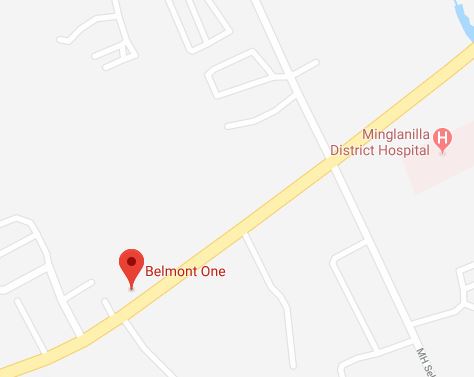 Snow World Cebu is located in Belmont One, Cebu South Road, Upper Calajoan, Minglanilla. Hail a jeepney going to Minglanilla (10H, 44, etc.). You can also take the bus for sure, from the South Bus Terminal to Calajoan, Minglanilla.
Belmont One is right after Minglanilla District Hospital.
For more updates, check out their Facebook page and website.