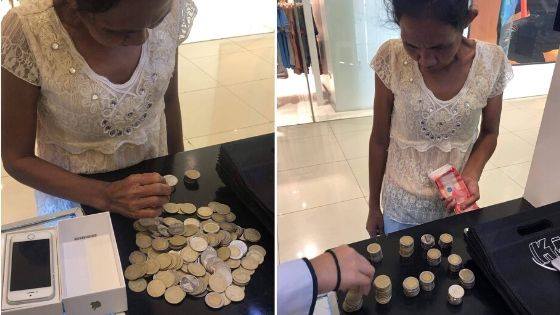 You have to give it to social media these for showcasing not just the worst of humanity but also the best. This time, I hope you'll find warmth in a mother's tale who proudly bought her daughter's first phone with coins. The very same coins that apparently has been saved just for this occasion.

K&L Marketing, a cellphone shop in Lapu-Lapu city that specializes in iPhones shared this story on their Facebook page on the 16th of November and at the time of this writing, it's already been shared more than 8,100 times.

And yes, nanay Vilma Jayme indeed bought an iPhone for her daughter's first phone – something that raised comments from some people saying why of all things did she have to buy such an expensive kind given their assumed hardships.

The cellshop was quick to point out however that the loving mother only bought the cheapest one they have at Php 3,000+ only. The shop even added that other Android phones out there are more expensive but iPhones are of better quality.

One comment also gave a little backstory courtesy of a certain "Sheila Diola" saying the family is indeed living a difficult life with the father working in a vulcanizing shop and the mother in the picture being a housewife. And that this is really something the family have worked hard for because they believe the daughter deserves it for doing well in school even having top grades. Comment of which you can see below in Cebuano:
I'm sure my fellow parents will feel this story more as we all know we will go to the hell and back for our kids. BUT… I'm hoping more kids would actually see this story so they will realize how much love and what sacrifice we are willing to take for them.
Like this article? Please share your thoughts below!