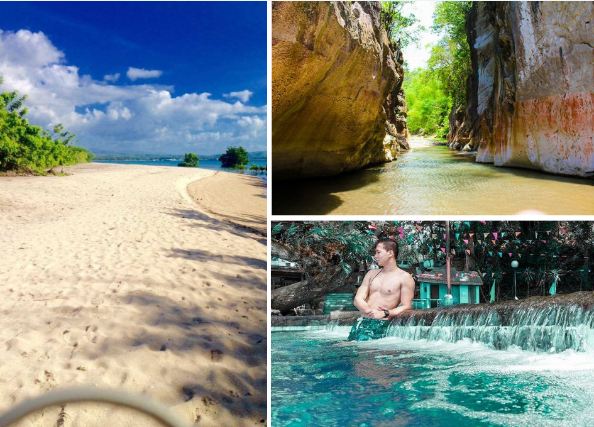 The summer heat is real! I'm sure many of you are already planning on going island hopping in Camotes or in Bantayan or maybe taking trips to the south to cool off in Kawasan Falls. If you are from Cebu, you should know by now that there are countless activities you can do here that can cool you off without breaking the bank.
All those mentioned places are really beautiful though, but I would like to introduce to you an unpopular summer destination.
Some of us may not know a thing or two about this town but Tuburan is a quiet home to many people who work in Cebu City– and they are very blessed to call this place their home.
Tuburan is also home to many natural resources and man-made resorts that will surely amuse every individual who gets to lay their feet in the Tuburan soil. The municipality has a tunnel, a spring, and pristine beaches you can visit.
I will give you many reasons why you should visit this unpopular town. If you have any related experiences with any of the places mentioned, comment down below!
How to get there
You can take a bus from the North or South Bus Terminal going to Tuburan and the trip will last up to 3 hours. You may also ride a V-Hire from the Ayala Center Terminal. Travel time for the second option is only 2 hours. Get off at the town from there, take a habal-habal going to your desired destination.
Marmol Cliff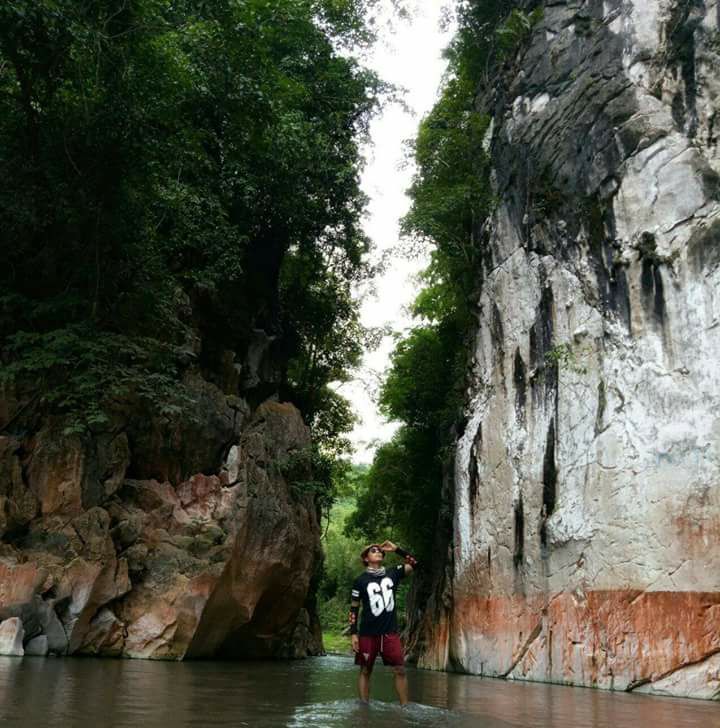 Have you been to Palawan? The island is known not only for its beautiful beaches and great underwater marine life, it is also popular among travelers for its astonishing rock formations.
We do have something similar to that here in Cebu. It is called Marmol Cliff– because it resembles a smooth marble stone. Basically, the cliff looks like gigantic, yellowish rocks facing each other. In between the rocks is a shallow river that anyone can walk on.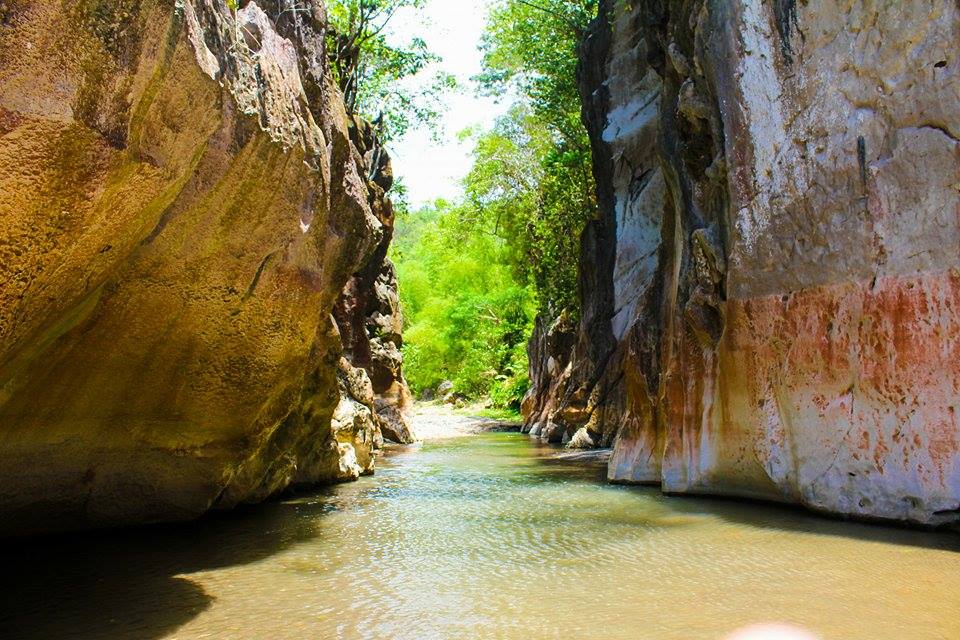 That's it. There are no extreme activities that can be done in the area because the water is really shallow, just a nice view of mesmerizing natural rock formation and a calm water that passes right in between. The water may rise up in cases like extreme flooding or strong typhoons, but most of the time, it's just like this.
This is how it looks like when the sun is setting. Just a golden view of everything.
Although there are no intensely exciting activities in the tourist spot, I still believe that it is worthy of our attention. Not many places have a solid gem like this!
How to get there
The fastest and most convenient way to get to Marmol Cliff is by taking a habal-habal. They are found everywhere but for you to secure a ride, you should start in the town proper. There, you will see a lot of motorcycles so will have many options. The fare is usually unfixed so you will have to bargain a little.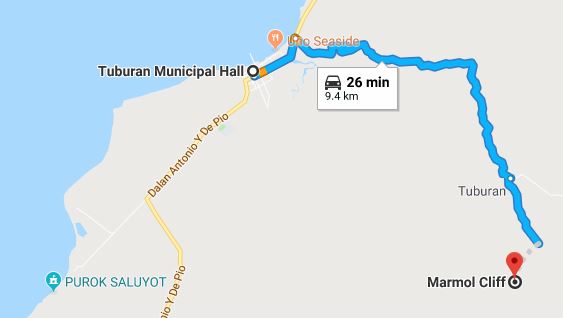 Lantawan Tunnel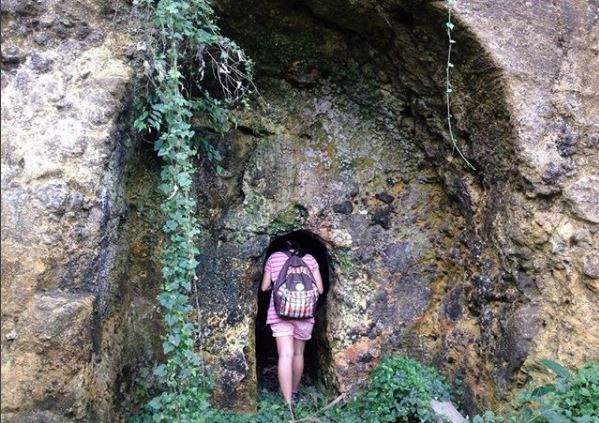 An old tunnel that was built by the Japanese soldiers a long time ago still exists in Daan Lungsod, inside a resort called Tuburan Lantawan Resort. Honestly, there is nothing extraordinary about the tunnel, only that is was used by the Japanese to hide from their opponents' fighter planes. If you are claustrophobic, you might want to skip this site. But if you are not, you are always welcome to visit a historic place like this tunnel.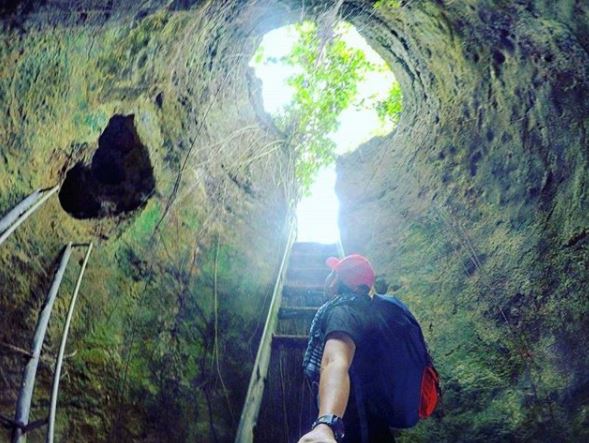 This underground passage is a remembrance of a past that Tuburan– or Cebu– had to go through during Japanese occupation. It is an interesting historical place though no extreme activities can be done there as well. You can, however, take the ladder to see how it's like to be inside a Japanese-built tunnel and under the Japanese rule.
How to get there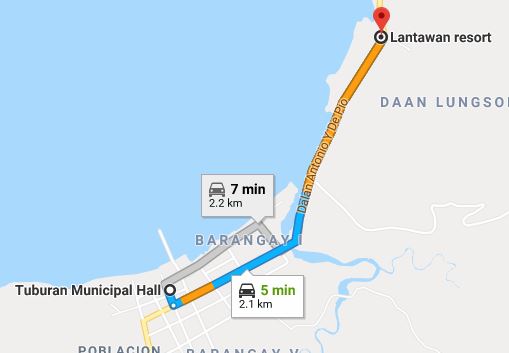 Like many sites, a motorcycle ride is the most efficient option. However, you can always ask the driver if they pass by the resort . If so, you can take off from there.
Molobolo Spring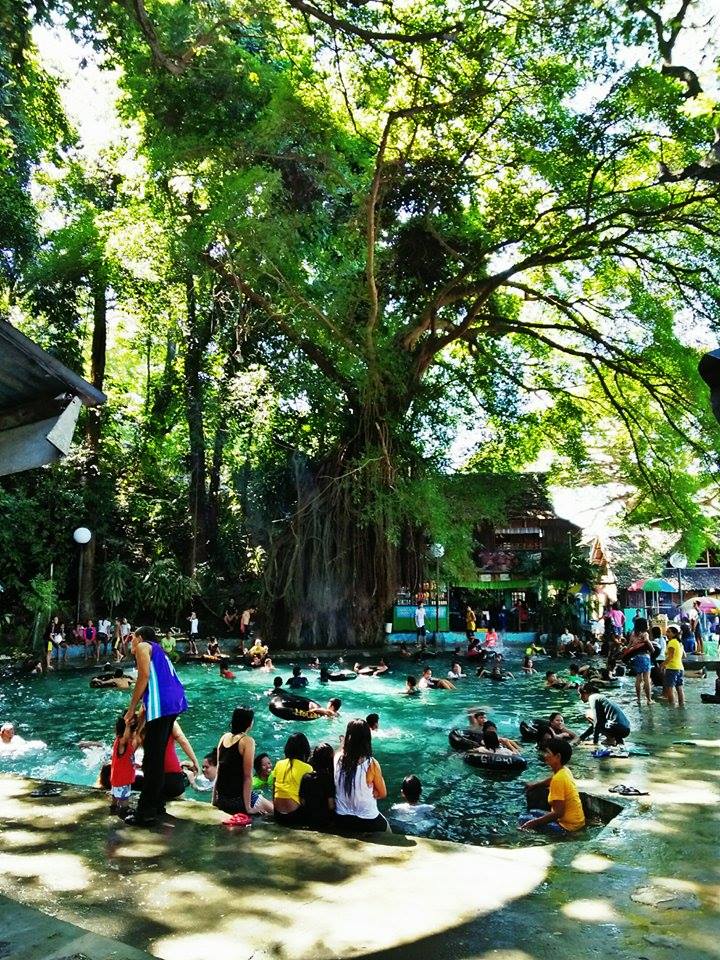 Tuburan is famous for their springs if you don't know yet. The municipality was named after "tubod" which means flowing water or springs. They are abundant with it, but we are only going to feature some (or just this one).
Springs are believes to have some natural healing properties in the because of the many minerals in the water. Many people come here to get some temporary relief from school and work, while some come just to enjoy playing in the water under the extreme heat of the sun.
Among the most-visited springs in Tuburan is Molobolo Spring. It is made up of a combination of freshwater and saltwater and it continuously flows through a large pool where people can take a dip. The area is big so you can fit everyone in your family there! You can bring food and drinks, and rent a cottage near the spring. Molobolo spring is surrounded by tall and healthy trees that keep the place alive and green. They also help give out shade so people can enjoy the place some more.
The place itself is already very rejuvenating. The trees help contribute oxygen so visitors can relax in their cottages.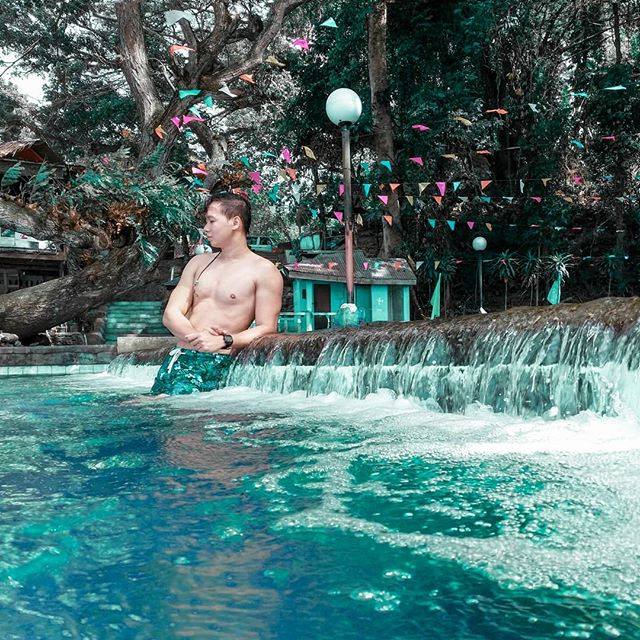 The spring is contained by natural rocks and is surrounded by tall trees. They help make the entire area feel relaxed, cold and very refreshing. Most days, the spring is crowded because as mentioned, it is a really popular destination among those who live in the area. Tourists are also attracted to Molobolo so they come with some friends. You can also enjoy a nice beach since it is just beside the spring.
There are also days when it's just you and the cool water. Pick days far from the peak season to own the spring and enjoy it!
How to get there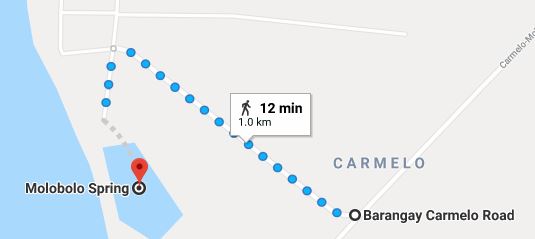 The spring is not too from the main road. You can take a 12-minute walk from Carmelo Elementary School but if you are far from the area, taking a habal-habal is the best option. The entrance fee is 10 pesos.
Little Baguio Beach
Little Baguio Beach is not your typical go-to beach in the islands of Cebu, why? Because the sands aren't as white as snow, though we all know that brown is just as beautiful. However, brown sand beaches come with negative connotations of having nasty water and dirty shores because in the cities, many public beaches are not well-managed. Thus, trash is all over the shore and water.
That could be one factor why many would still prefer white beaches because they are able to spot trash, or even dog feces in the area. We don't want to bathe in a water full of diapers too, you know.
However, this brown beach is very interesting. The shores are very clean, and the sands are fine, though it's mixed with pebbles. The place is usually calm, quiet and reserved– free from the crowd. This is one of the reasons why this beach is a must-visit because it is very undisturbed.
The view is impressive. You can see in the horizon the golden sun setting and it is the perfect amount of perfection you will ever experience in this tiny corner of Tuburan. It is a perfect destination if you want to chill and bask in the sun at the same time. You can even set up a small picnic where your family can freely play frisbee, volleyball, or as simple as bathing the heat of the sunq.
How to get there
The Little Baguio Beach is found on the shores of Brgy. 1 Poblacion, Tuburan. From the town, grabe a habal-habal to take you to the brown beach.
Vidar Beach Resort
Another popular beach in the area is Vidar Beach Resort. The sand is perfectly white and fine as sugar. It is when the sunbeams hit the shore, the sands reflect it back. There are quite a few activities that can be done here. Aside from swimming and strolling down the beach, you can conduct team building activities here or do picnics with your family. You can also do kayaking, and snorkeling. You will be stoked by how the water is so clean and clear, too! You will definitely want to come back after a 1-day experience.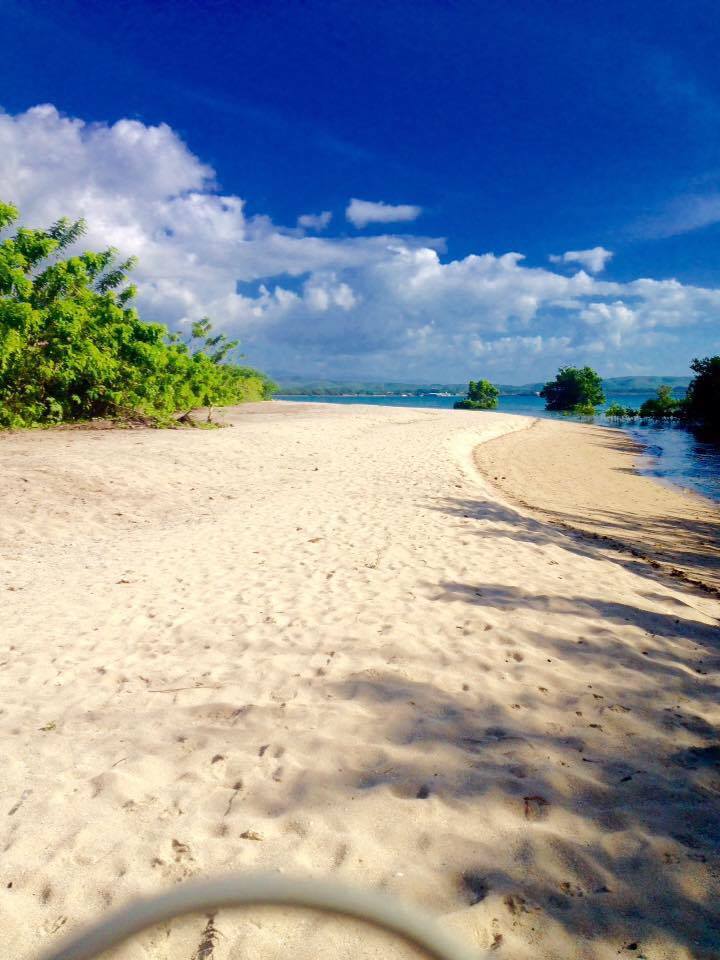 As you can see in the photo above, you would notice that you can never go wrong with this view. It is purely pristine in all angles.
The marine life in the area is bountiful so you should not skip exploring the underwater. The beach is around green trees and healthy mangroves which adds as accent to the already picturesque destination.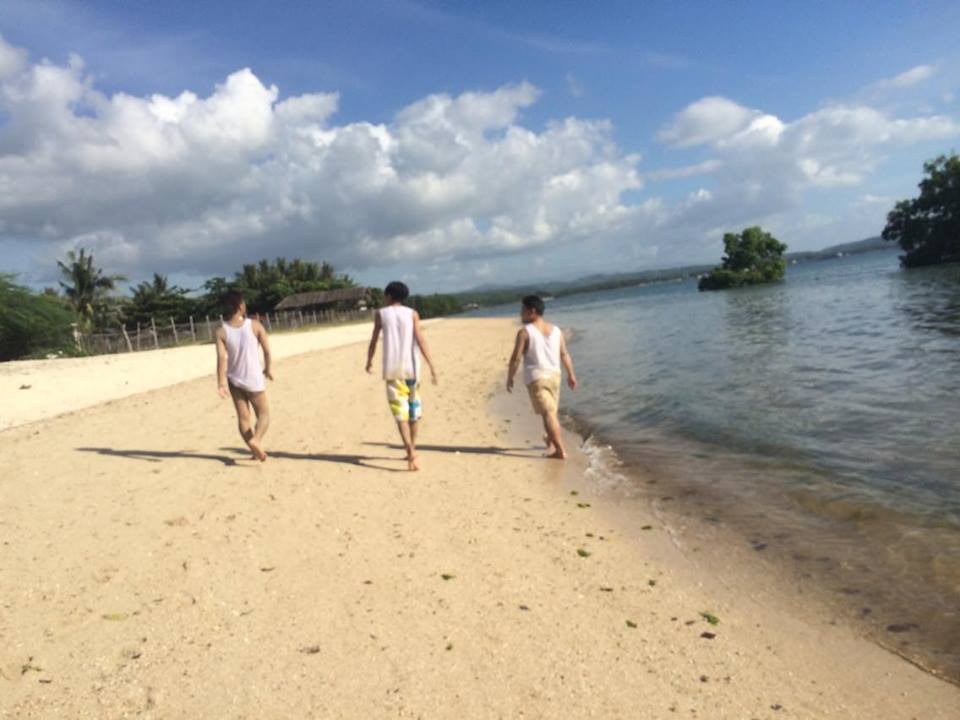 For non-beach lovers, you can still enjoy the water by swimming in their swimming pool.
The resort can give you all the tropical needs you can get. There is seriously no reason not to come and visit the place, plus, it is not very far from Cebu City!
How to get there
You can find the resort easily since it is just along the main road. Just tell the bus driver to stop by Vidar Beach Resort. For inquiries and reservations, you may contact them at 09228755781/09228755780.
Formosa Camp Resort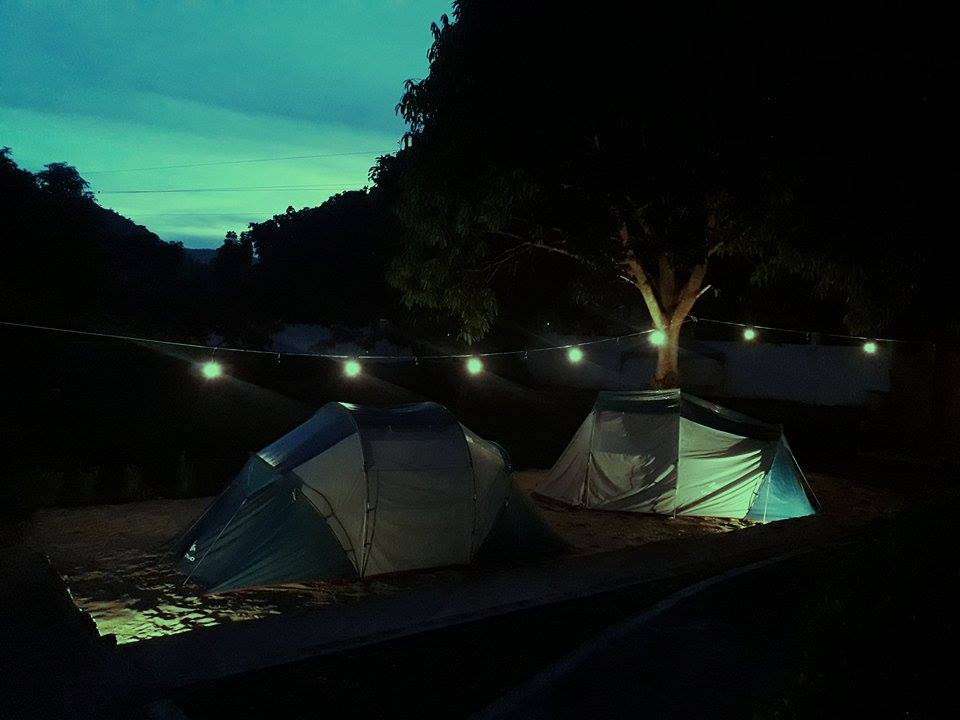 Camping is a common activity I always see in the movies. I think Filipinos would always prefer living in an air-conditioned room even when they're out on an island, don't you agree? But of course, there are still a lot of us who enjoy the thrill of creating bonfires by the beach and sitting around it, cooking s'mores and eating them with our friends and then finally heading to our little abode for the night: a tent.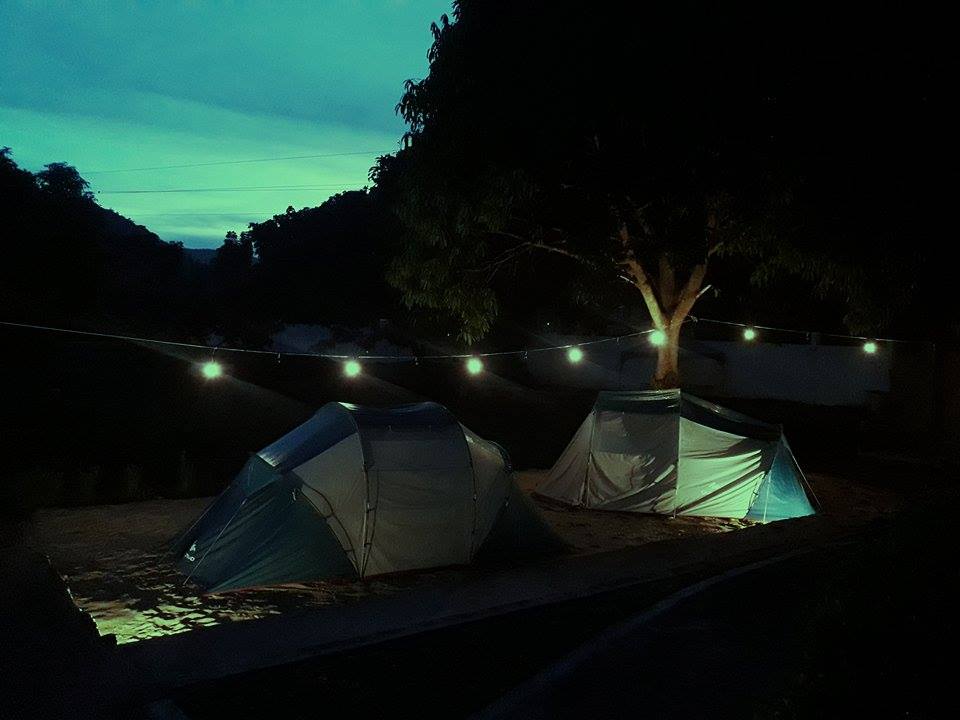 Camping is not a bizarre activity in the country though. People go to the beaches or to the mountaintops and spend a night there. Sometimes they bring their own tents to save some cash, but camping, honestly, feels more connecting to the place because you sleep on the ground as the sky as your ceiling. The moon shines above you as light to guide your way. I would always prefer living in a tent than rent an overpriced room for a night or two.
Thankfully, we get to experience this precious moment here in Formosa Camp Resort. Camping has never been this convenient and classy! The resort has air-conditioned rooms though but this is the main event right here.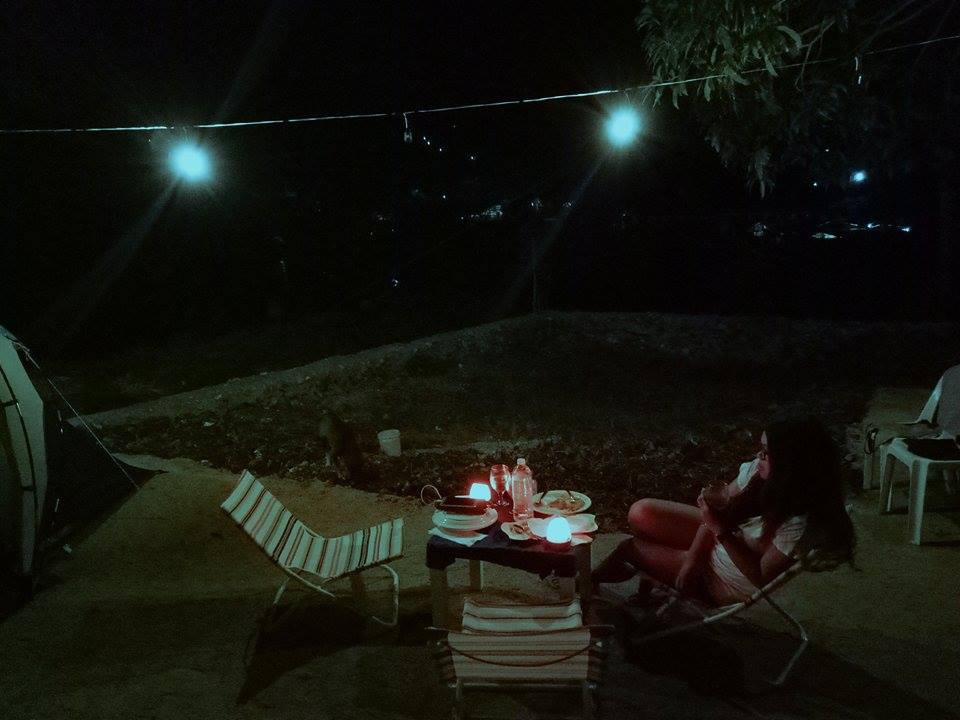 The camping area is very clean and well organized. They have set up lights to keep the place well-lit and warm. The tents are found under some coconut trees yet you get a clear view of the night skies in the evening.
The resort has a swimming pool too. You can use it for night swimming before 9 PM, right before going to bed!
How to get there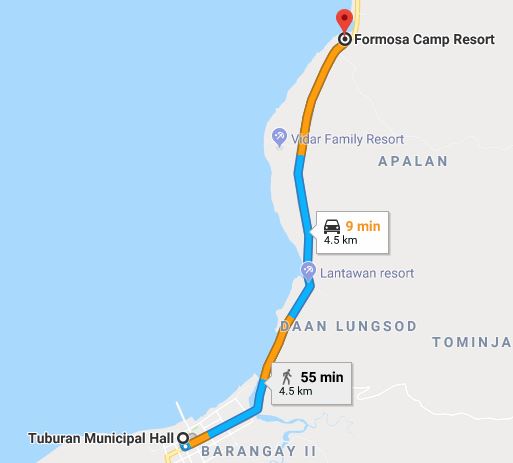 The resort is in Bagawase, Tuburan. From the town, take a habal-habal and pay around 10 pesos per head as fare. It can still go up though. If you are still in the bus, you can simply tell the driver where you want to get off.
Tuburan is a sleepy town, yet there are many interesting spots that not many have noticed. I think it is time to turn the spotlight to this quiet and humble municipality to help boost the already progressive economy.
Which one are most excited about? Is it the historical tunnel, or the spring? Is the cliff or the beaches? You know which one I would always choose, it would be the beaches! Brown or white, the beach is the most satisfying vacation destination I could ever imagine. If I get the chance, I would set up a nice little tent there too!