Right at the southwestern most tip of Cebu is the quaint town of Samboan. I've been living in Cebu for most of my life (I was born in Cebu City), but I've only heard about Samboan from a high school classmate who said she's from there. However, she never mentioned her town's tourist attractions, particularly its magnificent waterfalls. Perhaps because during that time, people weren't so keen about going places and sharing their escapades. And poor me, the only waterfalls in Cebu south that I know were Mantayupan and Kawasan, and that was enough for me then.
Two decades past, and travel has become a popular commodity. With the help of social media and mobile communication, we hear and read about other people's experiences and visits to both local and international attractions. Perhaps you too have heard about Dao Falls in Samboan. Enticing as it may be, it's not everyone's cup of tea. It's not an easy find. It's not an easy destination despite the existence of 'established' paths and tour guides. But one thing's for sure – it is a gem worth finding.
There's something about Dao Falls that would make you want to endure an hour more of a seemingly endless southbound ride. (You know you can always stop at Barili's Mantayupan or Badian's Kawasan, if a waterfalls is what you want.) So why should you come?
First of all, Dao Falls is one of the three major falls in Samboan. If you take up the falls trilogy tour, visiting Dao is already in the package. Even if visiting three waterfalls may seem too much for an out-of-town trip, trust me, it's worth every penny.
Actually, the waterfall trilogy tour is the most financially sound option because then you will have to pay a one-time fee of P250 per person for a habal-habal ride to all three waterfalls. This saves you from having to wait for and haggle with habal-habal drivers who often charge tourist double or triple the normal rate.
Second, it is the only waterfall of the trilogy that's tucked in the remotest sections of the town, and the tallest, too. You know, if you're truly thirsty for adventure and nature, you'd never be disappointed with Dao. I bet you wouldn't even let your Samboan trip end without hiking the rather challenging path to the falls and paying homage to this regal water feature.
Dao Falls is located in Barangay Suba, Samboan, in the interiors of the town. There is a paved road going there, but there are steep inclines that make the ride rather unpleasant. Most habal-habals can very well maneuver up the steep road. However, tricycles usually struggle with the ascent, requiring you and your companions to abandon your hired tricycle and walk some 50 meters up the road where you'll wait for your ride to arrive at a more leveled portion of the road.
Third point, Dao Falls offers you a one-of-a-kind-chasing-waterfall experience. Once you have alighted from your ride (and paid the fare), prepare your mind and body for a grueling yet exciting 20-minute hike to the falls. While the locals have established the trail to the falls, even carving stairways from boulders for the convenience of tourists, still the path to Dao Falls is not for the faint-hearted or the half-baked adventurer. It is relatively safe, that I can assure you. But it borders on the adventurer's kind of safe.
You'll have to test your balance by crossing rickety bamboo bridges. You'll have to coordinate your four limbs to safely climb up short bamboo ladders up rock boulders. You'll have to harness your hiking and scrambling skills as you skirt around steep, slippery paths on carved rocks, wet and pebbly trails in between gorges and canyons.
Fourthly, the adventure-packed hike to Dao Falls is like a quest to the heart of Mt. Bartolina, the tallest peak of southern Cebu. Because of its remote location, the trail is graced by tall trees and thick vegetation, as well as cheerful sounds of the local fauna mixed with the powerful roar of the rapids or the gentle trickles of the streams. During the initial hike to the falls, you'd be showered by a spectacular view of the Tañon Strait and the surrounding vista while passing a non-shaded portion of the trail.
Unlike most waterfalls in Cebu, the waters of Dao do not plunge but cascade down a rock wall as if it were a bride's train. Then the waters pour into a basin, like a "kawa" or a huge wok where tourists can have a dip and swim. At the side of the rock wall is a platform where tourists may do some cliff diving.
Note that Dao's basin isn't the main swimming or diving attraction. No, no, no. Along the path to Dao is a natural waterslide that plunges into a narrow yet deep-enough waterway fit for lap swimming and cannon ball diving. I bet tourists would prefer this section of the river over Dao's larger basin.
The exploratory journey to Dao is truly the hallmark of the entire pursuit. It is not an easy feat, but Dao Falls always rewards those who toil to find her. Dao Falls embodies the saying, "it is not the destination, but the journey". Don't get me wrong, Dao Falls' 90-meter vertical drop may be the culmination of the trip, but once you've been there, don't be surprised if you'll find yourself talking more about the path to Dao Falls' bosom than her cascading waters and natural pool.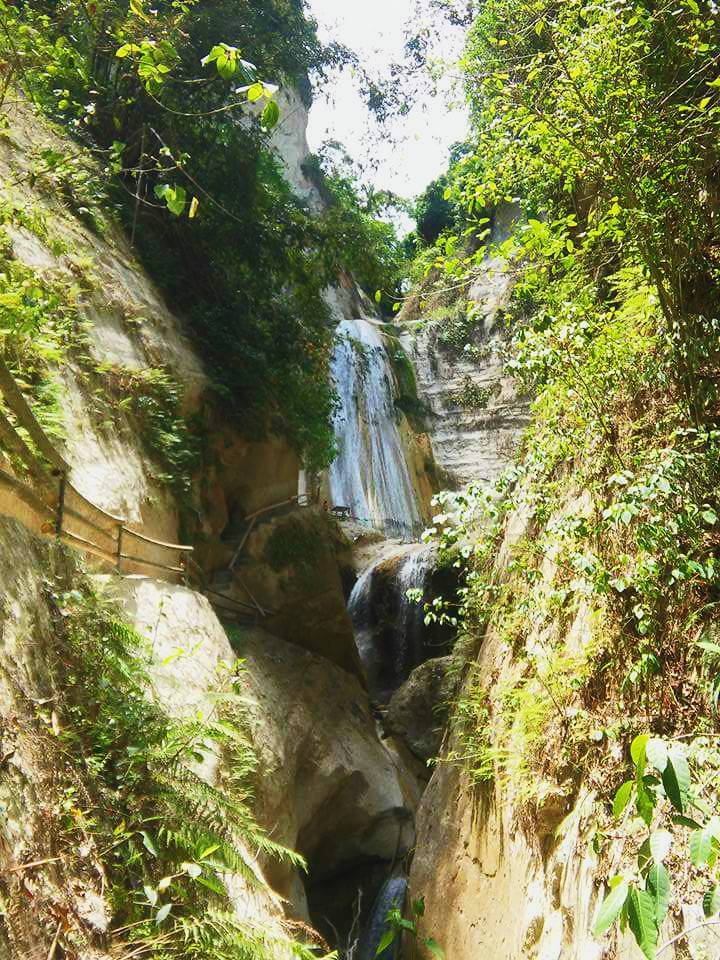 How to Get to Dao Falls
Ride a bus/van for hire/private vehicle to Samboan. Bato-Barili buses ply this route and they are parked at the Cebu South Bus Terminal. The usual fare for this three- to four-hour ride is P170 per person. Inform the driver or conductor to drop you off at Barangay Suba, Samboan.
Once at the jump off, hire a habal-habal to take you to the reception of Dau Falls. For this trip, you may have to pay from P50 to P200. Ask the driver to wait or come back for you. Or you can go to Aguinid visitor's center and avail of the waterfall trilogy tour where you will pay P250 and have a habal-habal driver take you to and from all three waterfalls – Aguinid, Binalayan and Dau. If you don't mind waiting and temporarily abandoning the ride up a steep descent, ride a tricycle and pay only P25 per person.
At the reception, register and hire a local tour guide. Local tourism collects a P20 entrance fee to Dau Falls. You may leave your other stuff (i.e. huge, heavy bags) here for safekeeping.
Spare some amount around P100-P500, depending on your generosity, as a token for your guide. Guides are more than just guides – they double as porters, photographers, lifeguards, etc. So be generous.
If it's just a day trip, be sure to return to poblacion by 5pm so you can catch a ride back to Cebu City. Last bus trip is 7pm. Overnight accommodation are available at poblacion and in neighboring towns.
Have you been to Dau Falls in Samboan? Tell us about your adventure.