Do you want to level up your regular swimming experience?
We always crave for a great getaway where we can enjoy playing in unlimited saltwater and just bask under the sun. The water activities are limitless! I often find myself daydreaming of that one summer break when I wish I did not have to leave for home. I bet you do, too!
Cebu has plenty of places where you can express your desire to be in the water. We have swimming pools, waterfalls, pristine white sand beaches and this– attraction that would make you want to plan another weekend getaway down south!
Dapdap's Floating Cottages
If you want to try something new for fun, a nice road trip to Badian would be a great idea. Now promoting their floating cottages, Badian attracts locals and tourists to come and experience with them their latest attraction– Dapdap's Floating Cottages.
If you know how to swim (or float, at the very least), you would love to be right in the middle of the sea, where you are far from the comforts of your own home. If you can't swim, like me, don't worry because life vests are provided for.
A floating cottage is exactly that– a small cottage that serves as a temporary shelter for you and your group as you explore the depths of Badian's waters. The cottage floats because of a bamboo raft which also serves as an extension to cater to more people.
Rain or shine, the water is still nice to be in, just be prepared for bigger waves and colder winds.
The southern part of Cebu offers raw underwater treasures– something that Badian and its neighbor, Moalboal, are known for. These places are famous for diving activities, which proves that booking a weekend getaway here is never a bad decision.
If you are wondering if you can eat in the cottage or on the raft, yes, you may, and there is NO CORKAGE FEE. You can absolutely pack and bring your own baon to save more on food. However, please be mindful of your wastes and keep the sea clean.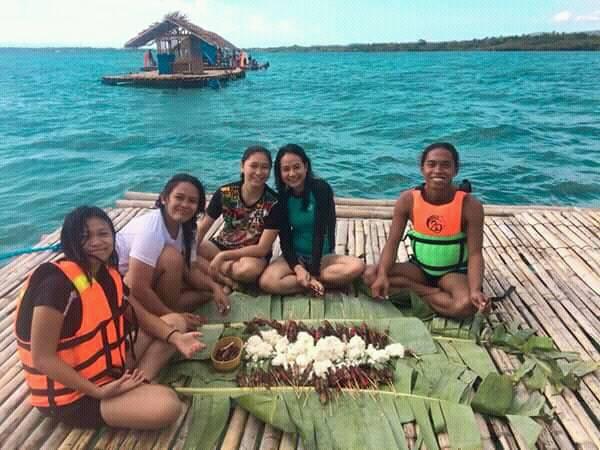 If you have no time to prepare your own food due to the looooong and tiring travel, you can order their Boodle Fight package for only 2,500 pesos, good for 10 pax. That's only 350  (plus standard rate) per head if divided equally. It's a steal!
If you are a little bit more adventurous, you can try eating fresh sea urchin to if you haven't, yet.
Swimming, snorkeling, and jumping are safe for as long as you have the proper gears on and you have buddies keeping an eye on you. Also, small children are not allowed for safety reasons.
Read: 2 Days And 2 Nights Moalboal-Badian Travel Guide w/ Itinerary
Rate
The rate per person is only 100 pesos, inclusive of a boat ride to the cottage and back, life vest and cottage rent. The cottage can accommodate up to 30 pax at a time.An additional price of 2,500 for boodle fight if you wish to order food from them.
All in all, your expenses (exclusive of accommodation) is roughly 650 round trip.
Location
Find local businesses, view maps and get driving directions in Google Maps.
Dapdap's Floating Cottages is in Badian is 3 hours away from Cebu City. From Cebu, take a bus going south in the South Bus Terminal. Make sure that the bus is en route to Badian. Get off at Sitio Dapdap, Barangay Bugas. The fare from Cebu City to Badian is only 150 pesos.
You can also drive to Badian to save more. Dapdap is easy to find since it is along the road. Please refer to the map attached.