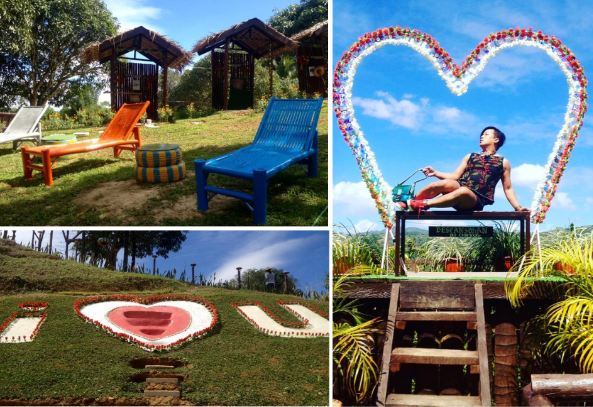 Selfies– we take them almost every time. Businesses nowadays open new spaces to provide new selfie spots for the selfie generation, giving us more options for photoshoots, nature appreciation, and most importantly, breaks.
Descansohan means BREAK. The name suggests that we take a break from our usual routine and rest for a short time while soaking in the goodness of nature in this little spot in Cebu.
Descansohan ni Onyol
Sun's up, it is a good day for a short trip to Descansohan ni Onyol. I am not sure if this new spot is a farm or if it is just a plain piece of land decorated with artificial flowers and other nice ornaments, but it sure does give a nice background for quick selfies.
One of the selfie corners is this huge heart-shaped decor that lights up at night time. During the day, people individually make creative poses like the one above.
But what is unseen in this photo is the reality:
It is an elevated deck that will allow you to see the mountains from the top. It is a pretty view from up there.
Other areas where you can take nice photos are the following:
A walkway or flower aisle. And more.
They also have little houses like the one below. You can rest here or take a cute photo of yourself.
There is also a garden shaped to write "i <3 u". Is this place too cheesy for summer? You can come here for a monthsary celebration. I hope they put on more items for Valentine's and Christmas.
You can also test your creativity and use it on this big pan.
The decors are simple but will definitely turn out cute depending on the quality of your camera and your confidence in projecting. Are you ready for a new profile picture?
And of course, what's a descansohan without a resting place? They don't have rooms or tents, but they offer bamboo beach chairs where you can take a pause and appreciate a nice day off.
It is always a good day to look up, absorb some vitamin D, and enjoy! Breaks are very important, but going out of the house to breathe in fresh air and to see new sights is also a great way of letting yourself loosen up and not worry so much about stressful stuff. Best if you come on the weekdays to avoid big crowds. You may not be able to enjoy with all the people!
Rates
The entrance fee is 50 pesos per person.
How to get there
You can find this new attraction in Guba, Cebu City. You can headstart from Pit-os, then take a habal-habal from there. Habal-habal fare costs 60 pesos per head. For information, it is best that you call them at 0922 700 0383. You may follow their Facebook page for updates.