Who here love fruits? I know I do! This hippie mommy loves tropical fruits like papaya, pineapples, mangoes – all of that goodness! We always try and make sure to add in these fruits and vegetables to my tiny human and I's daily diet. We both especially love pineapples, it's just so darn good. Like I am drooling here right now just writing about it. Lol!
And you know what they say, "a pineapple a day, keeps the worries away!". That is so so true, after eating fruits or drinking fruit juices, we immediately feel the positive effects internally. Pineapples have so much goodness in it, not just the taste but its holistic benefits. This delicious tropical fruit has been proven to help improve digestion and it's packed with nutrients, antioxidants and other helpful compounds such as enzymes that can fight inflammation and disease.
Pineapples are rich in vitamin C and manganese that boosts our immune system. It's great for when you need a little pick-me-up other than the usual coffee/ milk tea — a fresh pineapple drink is definitely a healthier one.
And we got some awesome news for you all tropical fruit lovers! Finally, this Saturday, June 15, – Piña: The Pineapple Company is opening at the third level (near KFC) of Ayala Center Cebu. Drop by and take advantage of their BUY 1, TAKE 1 promo on all their products! This will be from June 15 to 16, better not miss it. 😉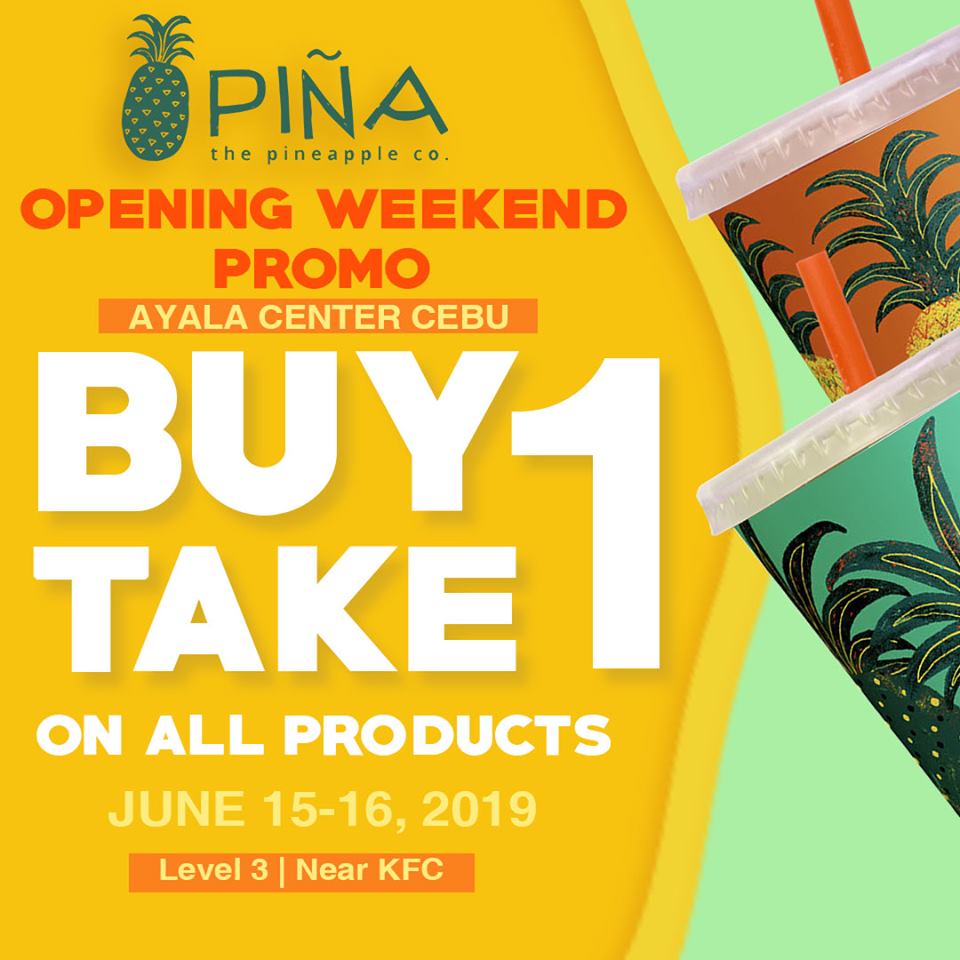 Piña: The Pineapple Company's specially trained pineapple gurus conjured up a menu that is a dream for you on the hunt pineapple lovers. "We are crazy for pineapples and we put them wherever we can and as often as we can."
They opened their first branch at the SM Seaside City Cebu last September 15, 2018, and they also already have another one at the Robinsons Galleria Cebu. Piña offer the best pineapple shakes, smoothies, piña coladas, juices, and salads! I would love to try out their piña colada and pineapple salad with yogurt in it. Mmmm sounds so good!
This healthy and yummy brand is the sister company of Thirsty, which for years have been a go-to for many Cebuanos who want something cold and nutritious. I myself always treat myself with their goodie banana shakes every time I visit the mall. As well as in my old university, yup we had our own Thirsty stall within the cafeteria. Hah and that was amazing. Nostalgic. 💚
I mean how can you say no to a refreshing yummy pineapple drink? Plus Piña: The Pineapple Company makes and sells these drinks on the go and are very affordable! Groovy as! Now as for this mommy, when life gives me pineapples – I'm gonna go ahead add rum and make a piña colada! Bom Dia!
*Photos are from their Facebook page – Piña: The Pineapple Co. and you may give them a call at (032) 416-1122, for any inquiries.