Cebu's food culture is as vibrant as the Sinulog parade. A lot of tourist who visit say that the island offers one of the best culinary experiences across the country, and we cebuanos take a lot of pride in that. From our famous lechon to one-of-a-kind street foods, Cebu offers a wide variety of dishes and delicacies that'll surely leave you wanting more.
Here are 10 foods which origins can be traced back to Cebu. these unique dishes are a must-try if you ever get to visit the island.
Puso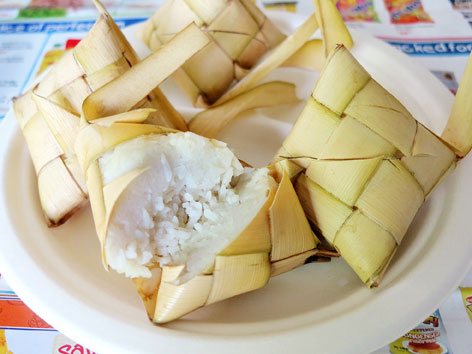 Although there are dishes similar to it, puso is definitely a Cebuano thing. Most people who have never heard of it or have seen it would expect to bite into a filling during the first time they try it. But Puso is simply just rice, placed inside a triangular casing made of woven palm leaves, and cooked. It makes eating rice easier, plus it's easy to clean up. Puso is a staple when eating street food, especially barbecue, or paired with lechon as a meal. Similar dishes to puso are the Patupat  from northern part of Luzon (which is similar to suman), and the Ketupat in Indonesian and Malay.
Where to eat Puso: it's everywhere. From the street food vendors to certain restaurants, you won't have a hard time finding Puso in the city.
Pungko-pungko
Pungko-pungko is definitely a unique experience. This is named after how you squat (pungko in bisaya) as you eat. You basically sit on a low bench in front of a table and choose from a wide assortment of fried food placed inside a giant plastic container. The food items range innards (especially the ever popular ginabot which is a part found near the pig's intestines), taas (a long spring roll stuffed with ground meat and vegetables), mubo (a spring roll stuffed with taugi or bean sprouts), utok (pork brains), longanisa, fried pork chop or belly, and fried chicken piece. After you choose your food, the vendor chops it up for you. Don't expect any utensils when eating at a Pungko-pungko stand. You're expected to eat with your hands. In fact they give you a sheet of plastic to use a gloves. You are given a dipping sauce made with vinegar and topped with lots of onions and chillies.  Pungko-pungko is eaten with puso, and is a go-to for those who are in a hurry or in a tight budget.
Where to eat Pungko pungko: the amazing thing about Pungko-pungko vendors is that they're all over the city. However, the best known ones are the ones near the Redemptorist Church, in Fuente Osmeña in front of Apple Tree Suites, and in Salinas Drive.
Tuslob Buwa

Some people might find this a bit too exotic, but give it a try and you'll understand why we love this dish. Tuslob Buwa roughly translates to "dipping bubbles", which is what you do when eating this dish. Like Pungko-pungko, this dish is a one-of-a-kind experience. It involves you sitting around an open flame with a pan over it. Pork fat is placed inside the pan to melt. As it melts, pork brain is added, along with soy sauce. Pork stock is then ladled into the pan and is boiled. Once bubbles appear and the mixture is thick, the dish is ready to enjoy. It's eaten with Puso and you dip it into the bubbling mixture, hence the name. Depending on where you eat Tuslob Buwa, the recipe varies. Some places add chopped liver to the mix, other add onions, some even throw in shrimp paste (hipon).
Where to eat Tuslob Buwa: If you really want to go authentic, you'll need to go to Brgy. Pasil. Azul in Gorordo Avenue also serves this dish.
Cebu Pochero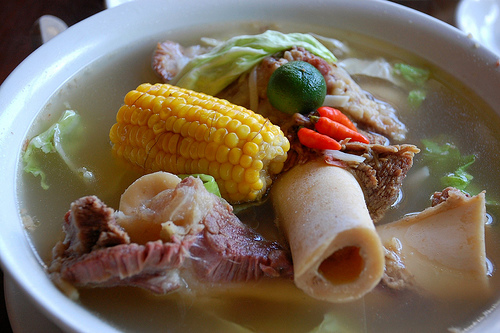 If you want this dish outside cebu, you'll have to be very specific that you want pochero cooked Cebuano style. Most people know pochero as a meat stew with tomatoes. However, the pochero served here in Cebu is actually a piece of beef shank simmered for hours until fork tender. It's served in a flavorful clear broth with pechay, bamboo shoots and sweet corn on a cob, a perfect meal for those cold days.  It's similar to Bulalo, but many say that pochero has it's own distinct taste. You can also get this dish (minus the soup and vegetables) served on top of a sizzling plate, covered in gravy. It's a real treat to have every now and then, especially the bone marrow part.
Where to eat Pochero in Cebu: Marjo's Pochero (a lot of us Cebuanos grew up eating here) in their new location at Gorordo Ave, Abuhan Uno by Robinson's Fuente, Ekits Foodhouse in Mabolo by Sarrosa Hotel or Muvans in Century Plaza by Mango Square (perfect when you're in a budget).
Siomai Sa Tisa and Tag Tres
The Chinese have a very strong influence in Cebu. The city is often seen as one big Chinatown. Chinese cuisine is very dominant, and we see its influence in the day to day foods that Cebuanos eat. Siomai (Shumai, siu mai, or shaomai) is a traditional steamed dumpling served in dim sum. We Cebuanos made it our own by tweaking the recipe and turning this dish into something that is readily available all over the city. Siomai sa Tisa actually refers to siomai that is from Brgy. Tisa. the area is known for their hole-in-the-wall food stalls that sell siomai. Another popular version of this dumpling is siomai tag tres. These are sold on carts so the vendors are very mobile, transferring from place to place. They're called siomai tag tres because they only cost three pesos. Stories about the questionable content of these dumplings (explaining why they're so cheap) have gone around, but the truth is, these dumplings are so cheap because they hardly have any meat in them. They're mainly made with grounded sayote, which allows the vendors sell them at three pesos each. Like most street-foods, this is eaten with puso along with a spicy, chilli sauce.
Where to eat Siomai Sa Tisa and Tag Tres: Although Siomai Sa Tisa is being sold outside Brgy. Tisa, you really should try eating it there in Katipunan St. As for Siomai Tag Tres, the vendors usually stay in a certain spot for a few hours before transferring. They often hang out in areas near schools or offices. You can find them downtown in Colon st., around the Fuente Osmeña area, and outside IT Park in Lahug.
Steamed Fried Rice

photo from buyincebu.blogspot
Looking for steamed fried rice outside Cebu is like looking for a needle in a haystack. Steamed fried rice is a dish with rice, stir fried with soy sauce, and served topped with a special sticky sauce that contains meat, shrimp, onions, peas, and seasonings. It's a meal on its own and is a must-have when eating dim sum here in cebu. It  was an original creation of Henry Uytengsu of Ding Qua Qua Dimsum House, which pioneered the all-day dim sum dining during the late 60's. Although there have been a few that tried to replicate the original recipe, many still prefer the original.
Where to eat Steamed Fried Rice: Ding Qua Qua Dimsum House (eat-all-you-can) in JY Square, Harbor City in SM or Ayala, the many Dimsum Break branches, Bradexx in Katipunan St.
Chorizo De Cebu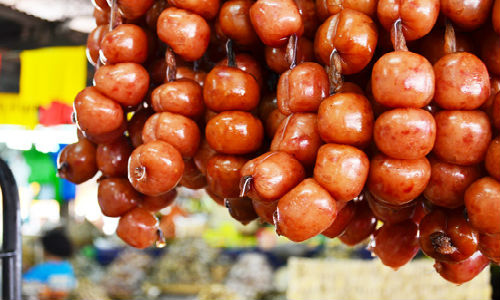 There's something special with how we Cebuanos flavor our chorizo (or as those from the north would call it, Longaniza).  Our version of chorizo is stuffed inside a natural casing and has a sweet and spicy flavor. There's also a higher fat content in the mixture compared to other recipes. Unlike Spanish chorizo, which is often cured or smoked, we prepare ours by pan frying it in a little oil or grilling it. Chorizo is often sold in barbeque stalls and restaurants all over the island.
Where to eat Chorizo De Cebu: Larsian BBQ in Fuente Osmeña, Any of the AA BBQ branches, Matia's in A.S. Fortuna, and Yakski Barbeque & Eatery in Capitol and IT Park.
Chinese Ngohiong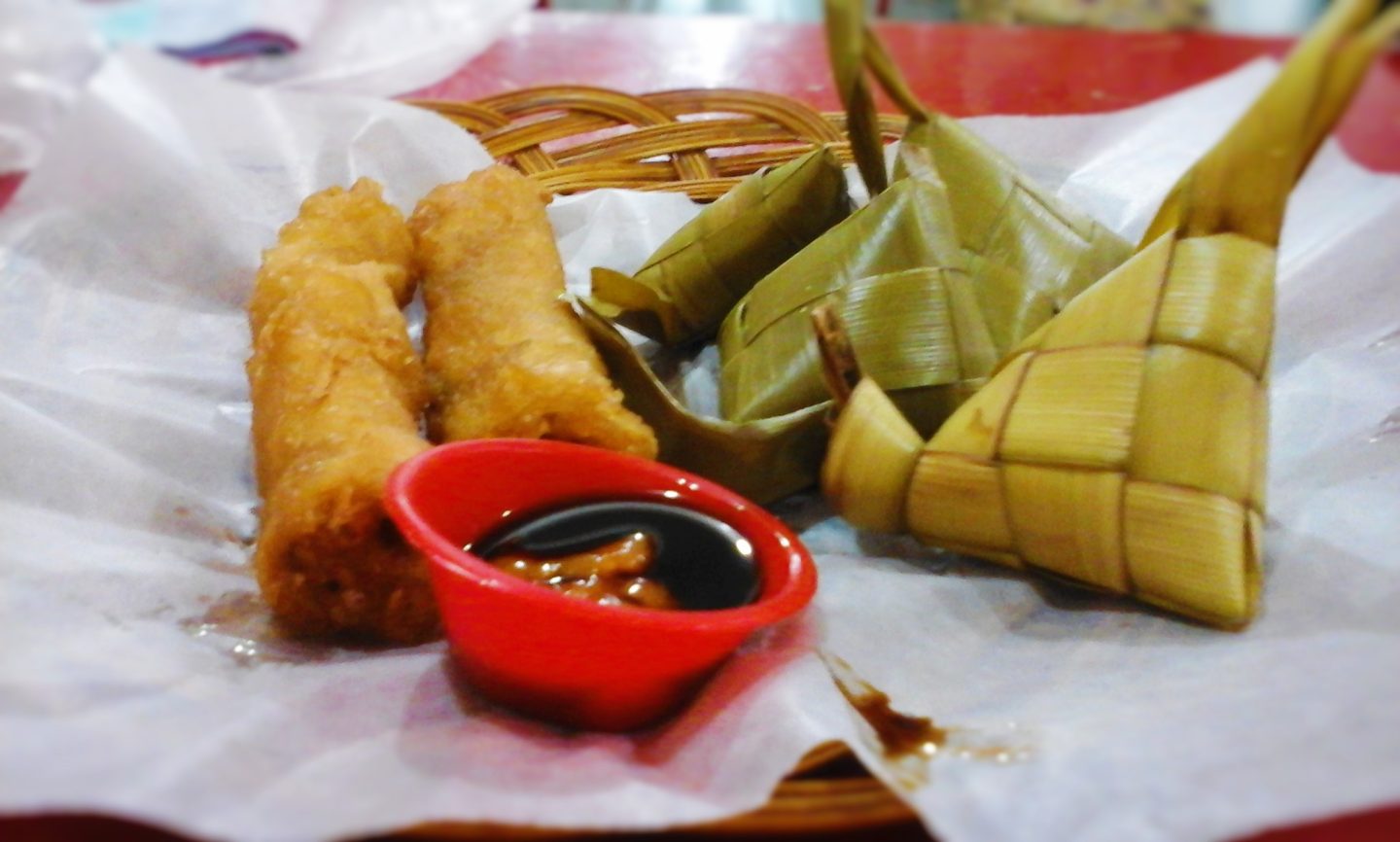 Another ode to our strong ties to Chinese culture, ngohiong is a spring roll type of dish that non-cebuanos would often refer to as Lumpia. It's name could have simply originated from ngohiong (or ngohiong-hun), which simply refers to five-spice powder, an ingredient that gives it its distinct taste. It's made with ubod, or palm heart, wrapped in a thin lumpia wrapper. It's then dipped into a light batter and fried to perfection. It comes with a spicy dipping sauce or with a soy and vinegar sauce.
Where to eat Chinese Ngohiong: Chinese Ngohiong by the University of San Carlos Downtown (Main) campus or order it from Domeng's at Fairlane Subdivision, Guadalupe.  Ngohiong Express stalls also offer a pretty decent ngohiong.
Rosquillos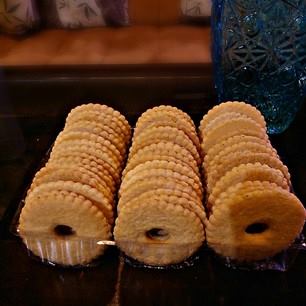 Despite it sharing names with a known Spanish doughnut, they look nothing alike. Rosquillos are cookies that are made with sugar, shortening, eggs, flour, and baking powder. These were created by Margarita "Titay" T. Frasco, who owns one of the oldest bakeshops on the islands. Its name means "ringlet", describing how the cookie looks like a ring with the hole in the middle of each one. It makes a great snack and pasalubong and they're found in most groceries, supermarkets, and even convenience stores.
Where to eat Rosquillos: You can't go wrong with the original. You can buy a box of rosquillos from Titay's in Liloan. If you're not willing to go that far, rosquillos can be bought from groceries and supermarkets.
Linarang
Fish makes in the city often time have little karindiryas that use the freshest fish for their dishes. Linarang, or larang for short, is one of the most well-known fish dishes, especially here in Cebu. huge wood-fired woks are used to cook this homey, semi-thick soup that's seasoned with tomatoes, black beans, and at times, green mangoes. Isda sa bato, or parrot fish, is often used. But some cooks (although this is now frowned upon) use more exotic seafood, like stingray, and sometimes, even turtle, for the soup. This dish is best eaten with mais, or corn grits, rather than the usual rice.
Where to eat Linarang: there really is no other place that cooks this dish like Pasil. There's a fishport there that sells a wide variety of seafood, and a number of karindiryas are found around the port serving this dish. However, the best time for you to go there to eat is really early, like at 2 to 3 a.m., when the fresh seafood gets unloaded and sold in the market. You're assured of the freshest fish since the karindirays get it straight from the fish market.
Those were 10 foods that originated, and surely are a must-try, in cebu. Like this article? Leave a comment or even a suggestion for other possible topics. Don't forget to share!