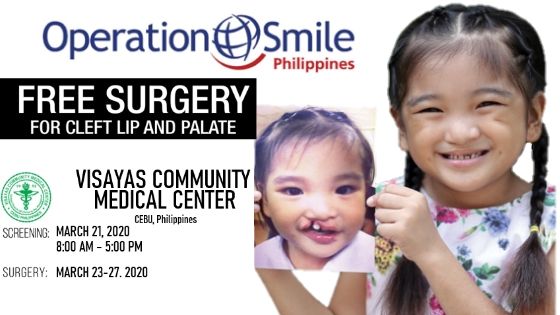 If you see someone without a smile give them one of yours. The effect is very contagious, he will give that back to someone else making a ripple effect of more happy and smiling people in your place.
But what about if you are not confident enough of your smile because you have a cleft lip or palate? This coming March 23-27, 2020, Operation Smile Philippines will provide FREE reconstructive facial surgery to Filipino children and young adults born with cleft lip and cleft palate deformity at the Visayas Community Medical Center, Cebu.
Operation Smile Philippines, founded on 1982, is the very first in-country organization of Operation Smile International – a private, not-for-profit volunteer medical services organization and worldwide children's medical charity headquartered in Virginia, USA.
They have been providing FREE reconstructive surgery and related health care to children and young adults with cleft lip and/or cleft palate facial deformities through their highly skilled medical volunteers and the support of donors.
Screening will be done on March 21, 2020 from 8:00 AM – 5:00 PM. To Register a Patient, message the following details to 0995-766-5091 or 0908-175-2271.
1. Text Full Name of Patient
2. Birthday
3. Complete Address
4. Parent/guardian's Name
5. Mobile Number
Should you wish to Donate to Operation Smile Philippines:
Bank Details:
OPERATION SMILE PHILIPPINES
United Coconut Planters Bank – Main Office Branch
PESO Account: 001-128752-4
Dollar Account: 01-001-303364-8
SWIFT CODE: UCPBPHMM
If you know of someone who would be needing this help, spread this news!