Fresh air, Awesome view, and Delicious food // Photo from Rustic Hut Karenderia's Facebook Page
I've always loved going for rides to Busay and just enjoying the scenic view as you make your way to wherever it is your friends and family are going – Mountain View, Mr. A's, TOPS, or even just to one of the tiny stores where you can tambay with friends.

One of the things we have sorely missed all throughout this somewhat crazy pandemic is the freedom to go laag anywhere and everywhere. Lots of places have stopped their operations during the last few months due to the Quarantine ordered by the government of Cebu. 

However, good news because a lot of places have opened up their doors again and have resumed operations. One of which is a very relaxing and chill little restaurant in Busay that's laidback and cozy – Rustic Hut Karenderia.

The Rustic Hut Karenderia has been known and mostly-visited by motorcycle riders in Cebu because it makes the perfect destination sa bukid for a quick lunch and a breath of fresh air. The place offers food and drinks, both alcoholic and non-alcoholic drinks. You can enjoy sizzling dishes and the usual pica-pica. 
You and your friends or date will enjoy the really nice panoramic view of the city from up here, and it's not too crowded. The place may not be too big but it can accommodate a small group of maybe up to 20 people in the lower deck – which makes for a nice venue for a mini-birthday celebration.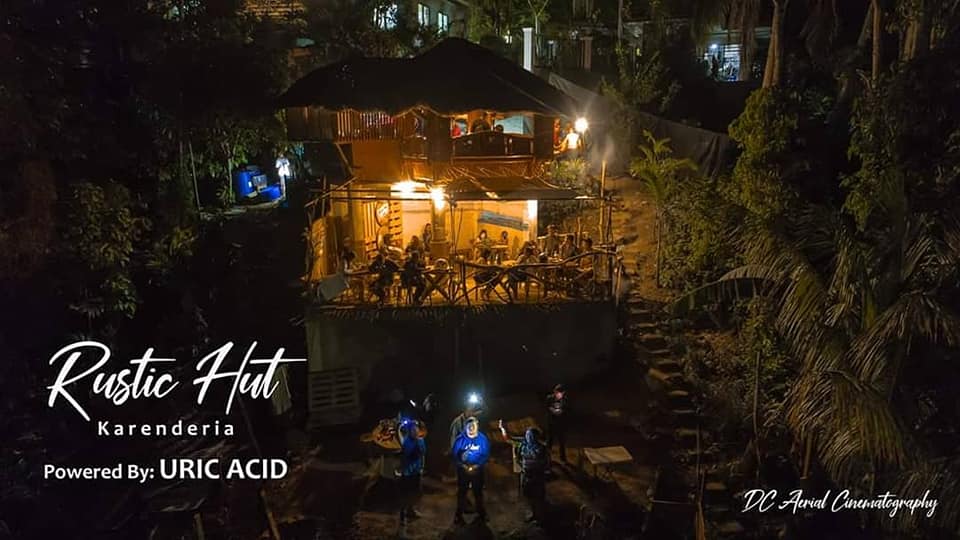 I like how they made use of natural resources in building the place, the bamboo, and all the wooden furniture. And on top of that the breathtaking view of the city of Cebu – gives off that really chill rustic vibe. The management is very friendly as well, according to lots of reviews. 
READ: Chill with friends at the Cabanas in Busay
Rustic Hut is ideal for that unplanned date night or chill out with your barkadas. When you feel like getting away from the busy feels of the city. I swear it's a whole lot nicer chilling in places like this one, just quiet and has that awesome view. Good food, good friends, cold beer, cold air, and add in a little chill hop music. Mmm hmm.. 
The view here is equally nice during the day and more so during the night. Be careful on your way here at night though, as the road going there can be very dark. There are no street lights on the road heading to the place.
Also, you may be asked to pay a parking fee of Php 20 or Php 50 when you park your vehicle by the side of the road. And lastly, I'm pretty sure it gets colder as the night gets older, so take something to keep you cozy.
Food and Drinks
The place serves the typical pica pica, barbeque, and silog meals.
Native Chicken (ask for price)
Sisig
Mix Pork
Spicy Pork
Chicken Dynamite
Chicken w/ gravy
Pork w/ gravy
Spicy Chicken
Burger Steak
Chicken Mix
— Php 120 
Shrimp – bbq / spicy
Smoked Belly
– Php 150

Drinks
Red Horse Php 350
San Mig Apple Php 60
Soft Drinks Php 20
Bottled Water Php 20

Pika Pika
Rustic Lumpia
Rustic Pura (I'm guessing these are Tempura)
Onion Rings
Rustic Fries
– Php 60 to Php 100

READ: Enjoy The Scenic View As You Chill Out At The Busay Holiday Pools
How to get there
The Rustic Hut Karenderia is located at Roosevelt, Busay, Cebu City. It is about 1 KM beyond the Temple of Leah.
CAR/ MOTORCYCLE or TAXI CAB: The easiest and more convenient way to go there is through a private car or you can take a cab to drop you off there. You can just search Rustic Hut Carenderia on Google Maps or Waze for directions. You will see a tarp with their sign on the left side of the road when you're going up from the Temple of Leah.
Information 
For more information and inquiries, please visit their Facebook page – Rustic Hut Karenderia. You may also contact them at 0933 816 2733 – look for Ralph. Or at 0905 140 3958 – look for Maikko.

The place is open from 11 AM – 2 AM from Tuesday to Sunday. Closed on Mondays.