If you want to know the roots of Cebu, then it's about time you go beyond the usual spots flocked by tourists and experience Cebu at its finest – during the Gabii sa Kabilin. This annual activity, spearheaded by the Ramon Aboitiz Foundation Inc. (RAFI) Cultural and Heritage Unit and its partner LGUs, museums, and cultural organizations, aims to promote Cebu's cultural and religious heritage by advertising Cebu's museums and heritage sites. This was is held every last Monday of the month of May in celebration of the Philippine's National Heritage Month. This runs from 6pm to 12midnight on May 24 this year.
WHAT'S NEW?
On its 13th year, aside from the 18 cultural destinations in the cities of Cebu, Mandaue, Lapu-lapu, and Talisay, Aduana House, a shared undertaking between Armed and Philippine Navy, will also join this year's event to highlight the history and arts of the Province through the display of landing and patrol crafts. Guides will be deployed to orient the different parts of the ship so as to give the 'feels' of the five ships that journeyed from Spain to circumnavigate the world and the undocumented advances of our ancestors as they explored the land that was about to be "found"; hence the theme: Setting Sail.
This is a preparation as well for the grand 500th anniversary of Magellan's arrival in the Philippines in 2021. Thus, upcoming themes are aligned with the expeditions that had critical impact not only on the Filipinos but across the world.
WHERE TO GO?
To enrich knowledge about Cebu's astounding past, here are the places you can visit in this year's Gabii sa Kabilin:
Cebu City
Archdiocesan Museum of Cebu
Aduana House
Cebu Archdiocesan Shrine of the Most Sacred Heart of Jesus
Basilica Minore del Santo Niño Museum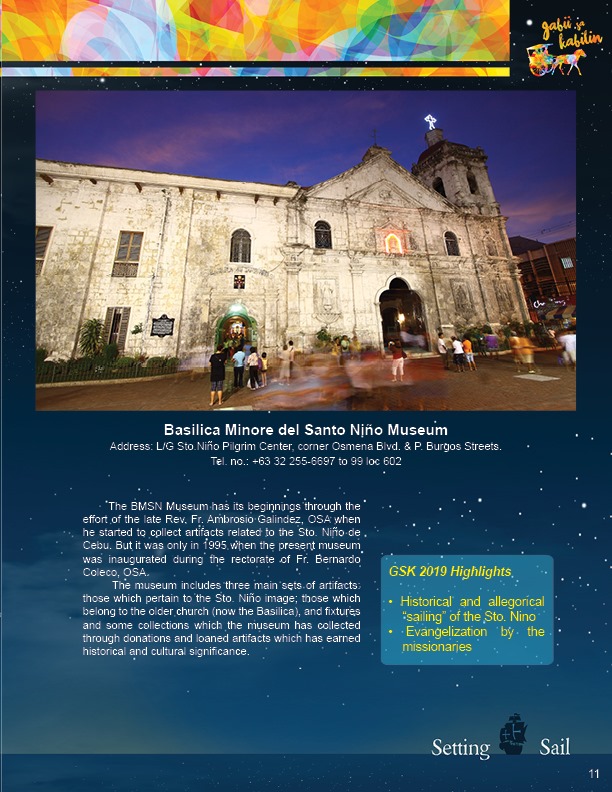 Fo Guang Shan Chu Un Temple
Palm Grass – The Cebu Heritage Hotel
Jose R. Gullas Halad Museum
Museo Parian sa Sugbo – 1730 Jesuit House
Theresa's College – Sr. Maria Delia Coronel Folklife Museum
University of San Carlos (Main) Museum
University of Southern Philippines Foundation Rizaliana Museum
Mandaue City
Lapu-lapu City
Talisay City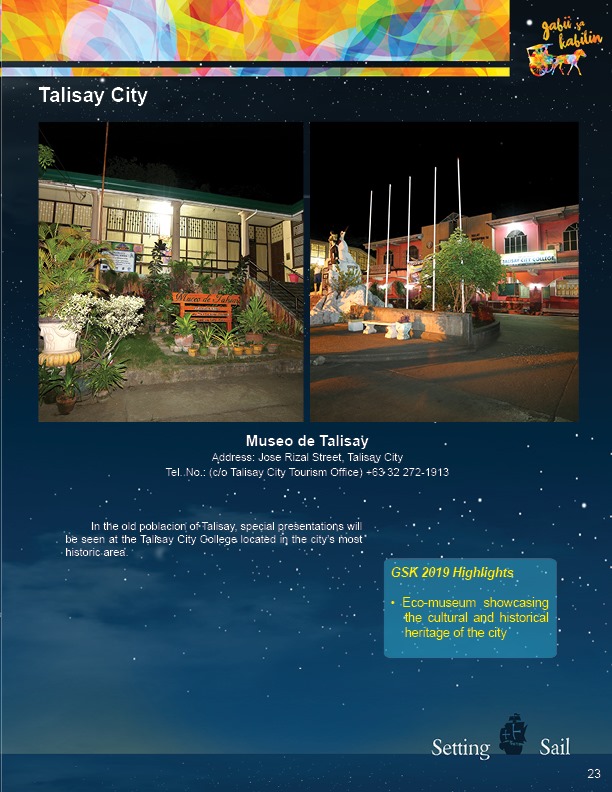 HOW TO JOIN?
Enjoy this night filled with cultural performances, culinary experience, art fairs, and special exhibits by purchasing the Gabii sa Kabilin ticket for only P195 with tour map, FREE tartanilla trip ride through the city's old district, and unlimited bus rides to Gabii sa Kabilin's partner museums and sites.
Note: Admission is FREE for children ages seven and below. Tickets may be purchased in all participating museums and other participating heritage sites.
ROAD CLOSURE NOTICE:
In order to fully enjoy this once a year event and ensure safety among walking participants, the following roads will be closed to traffic on May 24, 2019 from 5pm – midnight:
Eduardo Aboitiz Street
Mabini Street
Burgos Street (from corner V. Gullas to corner of M.C. Briones)
Portion of Colon (from corner of Jakosalem up to Mabini).
Please seek alternative routes during this time.