Is Christmas here yet? Because the happiest place in Cebu is finally unveiling before the year ends!
Get yourselves ready for the biggest and the most enjoyable floating waterpark in Cebu, The Happy Beach!
The beach is and will always be a happy place, but how about a little twist? Our favorite outdoor haven now comes with happy pastel colors of yellow, pink, and blue plus so much more! Everything you love about a waterpark is here including gigantic inflatables, all access to amazing facilities, restaurants, entertainment, pink pool, and cozy rooms.
The Happy Beach CEBU
When I was a kid, going to the playground has helped me forget all of my school worries and other childish problems. There, I got to meet my friends as we only think about having fun and creating memories.
As a kid at heart, I still hold the playground close to my heart because it reminds me to not take life too seriously! Now, as a grown-up, this wonderful invention of a huge, floating playground is all I need.
Who would not get excited to have fun in this amusing floating island?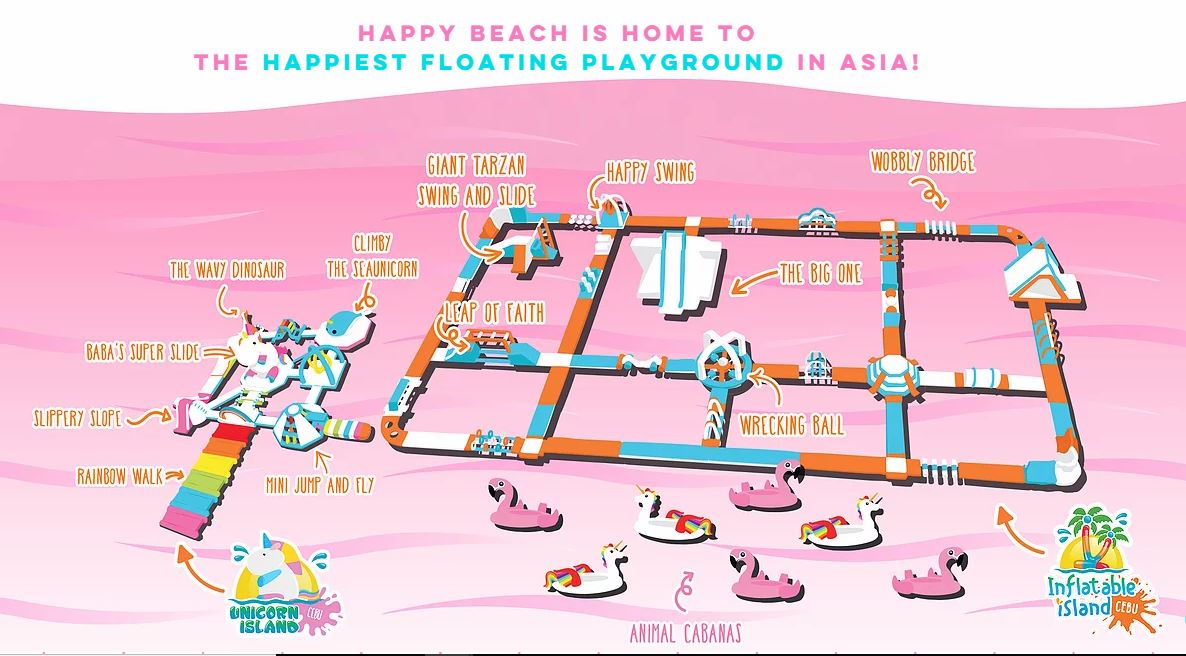 The design starts with a unicorn island where one can step on a rainbow walk going to the real deal. They have a slippery slope, Baba's slippery slide, wavy dinosaur, climby the sea unicorn, and mini jump and fly.
The tricky part is always having to hold your balance to not slip and fall into the water! This waterpark will be super enjoyable with friends.
The second part includes a swing, slide, bridge, wrecking ball, and a bigger slide. It is a challenge not to fall!
The other part of the inflatable island is the floating zoo, which consists of animal cabanas, or simply animal floaters. No animals were harmed in the making of this waterpark.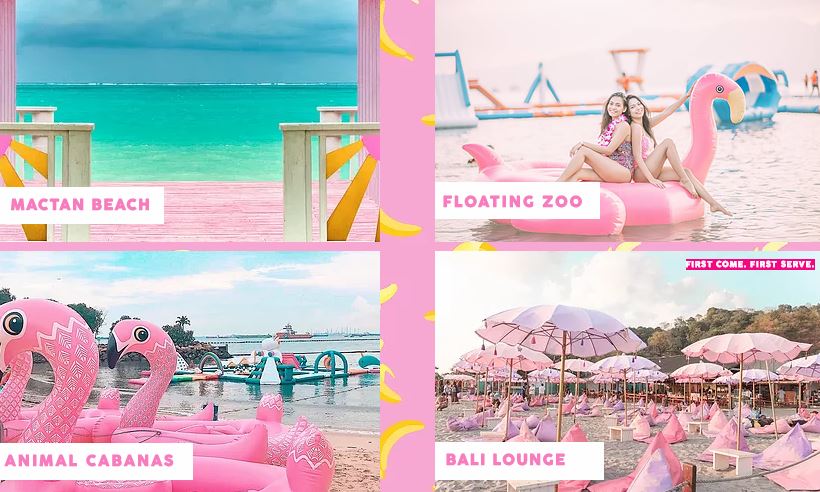 Aside from the main attraction, which is the waterpark, people are also excited to be relaxing under these pastel pink umbrellas by the beach. They call this the Bali Lounge.
Sneak Peek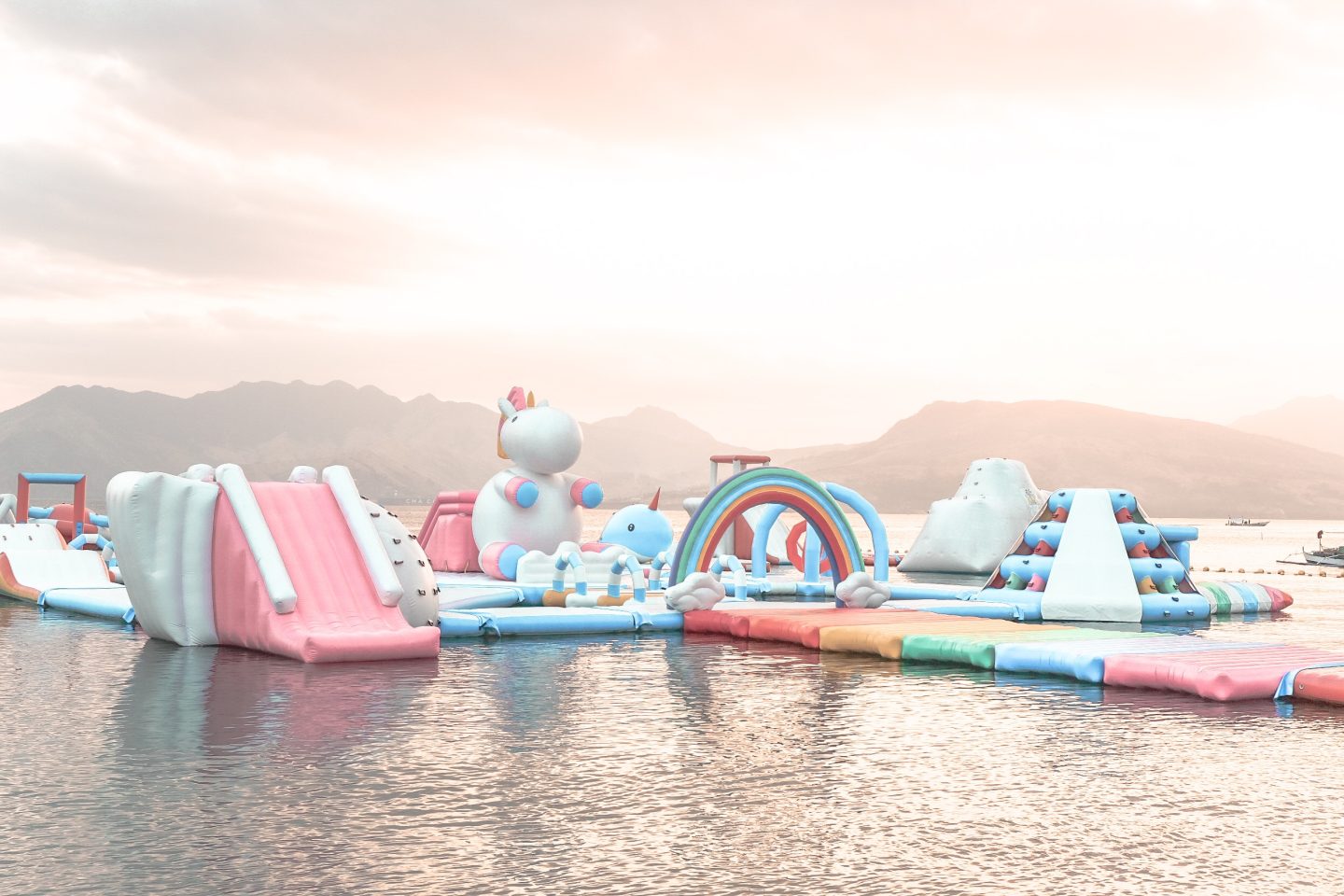 Accommodation
Do you prefer a private room or a daybed?
A Happy Room consists of 1 Queen-sized bed with a pull-out and a double deck. The room is good for 6 people.
This room costs 8,000 pesos but an early bird rate of 6,000 is available.
However, for day users, you may use one of their daybeds and stay under the sun on a bed!
Rates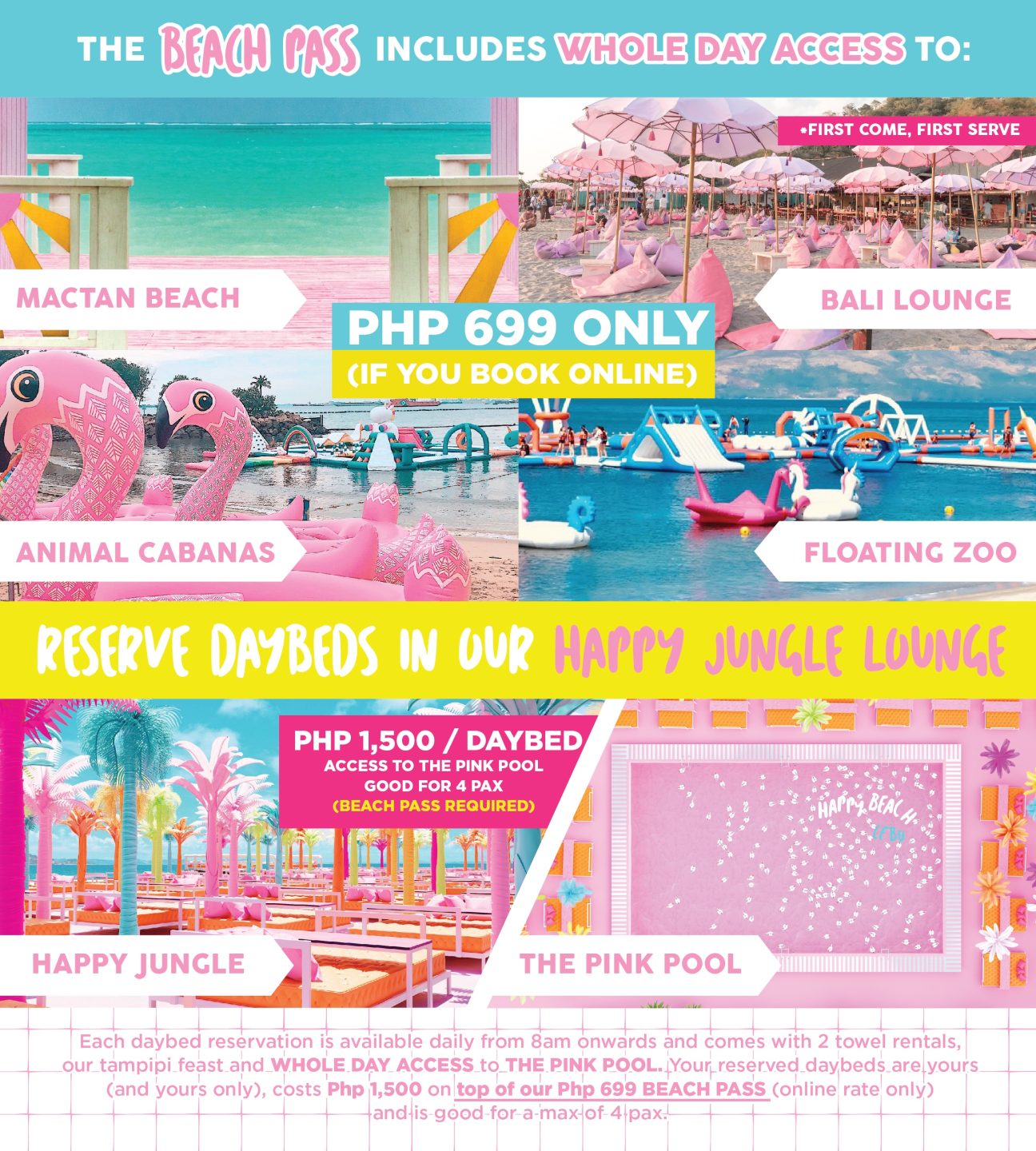 Beach pass (day tour) for 699 includes one whole day access to the beach, Bali Lounge, Floating Zoo, and Animal Cabanas. This rate applies for the early birds who book online.
Add-ons include:
Sprinkle (add 299)- access to the inflatable and unicorn island for 1 hour
Splash (add 499)- 2-hour access to the inflatable and unicorn island
Spray (add 699)- half-day access to the inflatable and unicorn island
Soaked (1,299)- whole day access to the mentioned above, plus lunch feast and free towel rental.
Happy Jungle Lounge and Pink Pool- 1,500 (good for 4 pax) — beach/inflatable pass is required– includes access to daybed in the Happy Jungle Lounge for the entire day, access to the pink for 1 whole day, 1 towel rentals for free, "Tampipi" feast for 2.
Happy Room- 5,999 (This rate is for the early birds) includes an overnight accommodation good for 4 (2 adults, 2 kids), free breakfast for 2, 1 full day access to the pool and other beach attractions and a discounted rate to the inflatable and unicorn island.
Walk-ins will be charged more. You may book through their website.
Reminders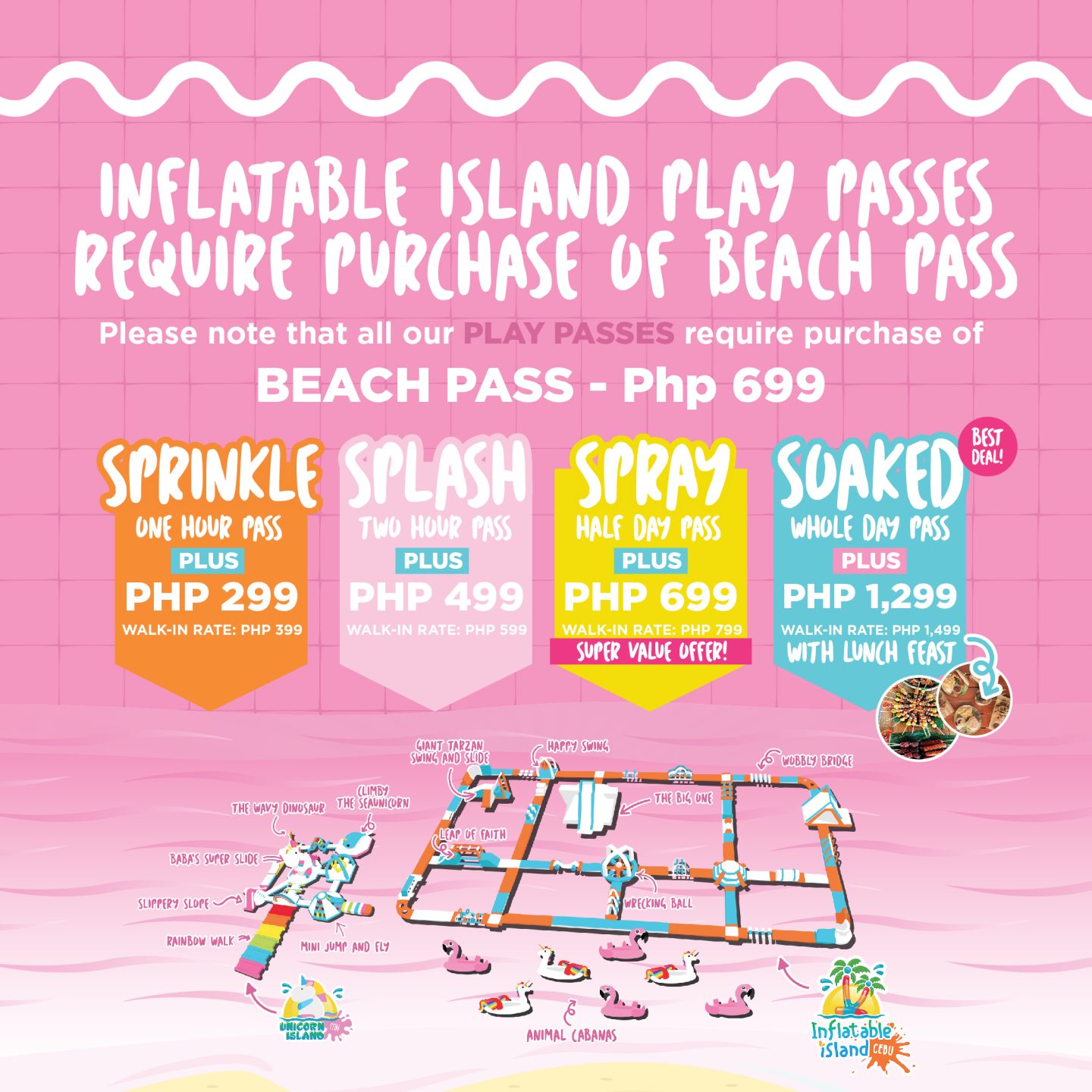 How to get there
The Happy Beach Cebu resort is located in Tambuli Beach, Pag-utlan, Brgy. Maribago, Lapu Lapu City. The most convenient way to get there without a private ride is by taking a v-hire from SM Cebu going to Gaisano Island Mall, Lapu Lapu. From the mall, take another ride (jeep/multicab) going to Maribago, Buyong Road.
Total fare is approximately 40 pesos, one way.
*All photos are from Happy Beach Cebu.*