After a whole week of working with those documents, battling with traffic, and paying all the bills, wouldn't it be better to spend some time away from the city? Well, here's the best thing about Cebu – everything is within reach in just few minutes.
If you are in the mood to catch up with friends and family or spend quality time alone but do not want to spend a lot of time traveling, here are easy to access places where you can escape the demands of the city:
Kan-irag (Sirao Peak)
Just an hour away from the city lies a one of the renowned hiking destination for adventurers and nature lovers alike. While there are plenty of routes to take when visiting this place, the easiest is by taking the ride from JY Square to Ayala Heights. From the drop-off station, you just need to do a ten to fifteen minute ascend to the peak and start setting your camp. Just in case you find the campsite to crowded, a better ground is located twenty minutes below. Fondly called as the Judas Peak, this area has a wider space for camping and best remembered for the lomboy tree that looked like the Judas tree where the apostle hang himself.
Recently, as the campsite has become too dense for the crowd, the former Malubog Golf Course has been maximized as a camping spot as well.
ENTRANCE FEE: None
LOCATION: Sitio Kan-irag, Cebu City
TRAVEL TIME FROM THE CITY: 1 hour (JY to Ayala Heights jumpoff)
Read: Nature Trip – Nature-Lovers Destinations in Cebu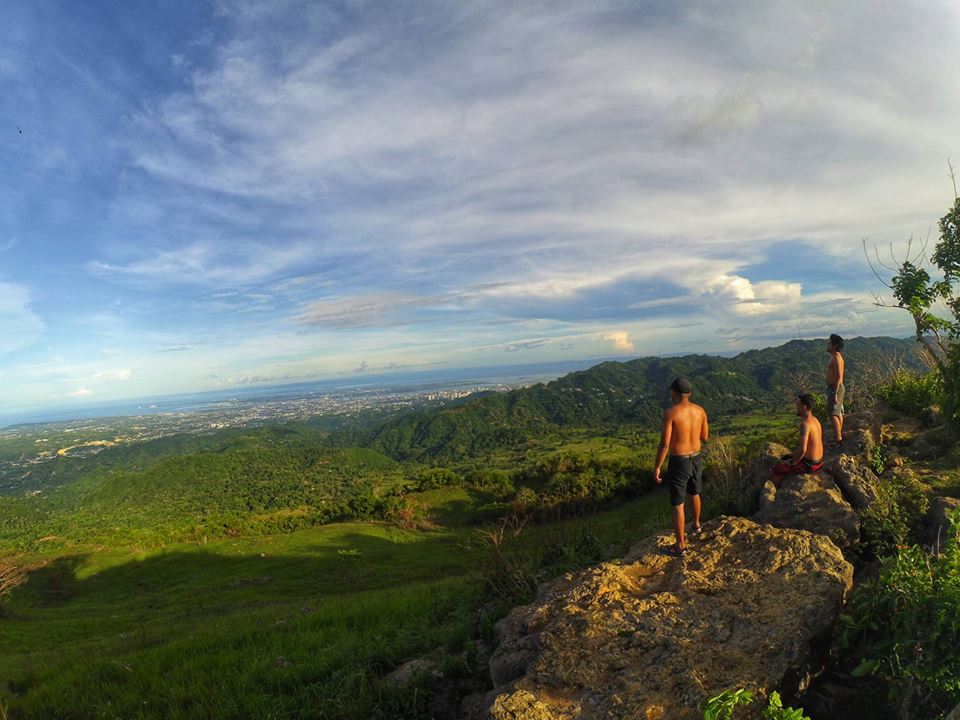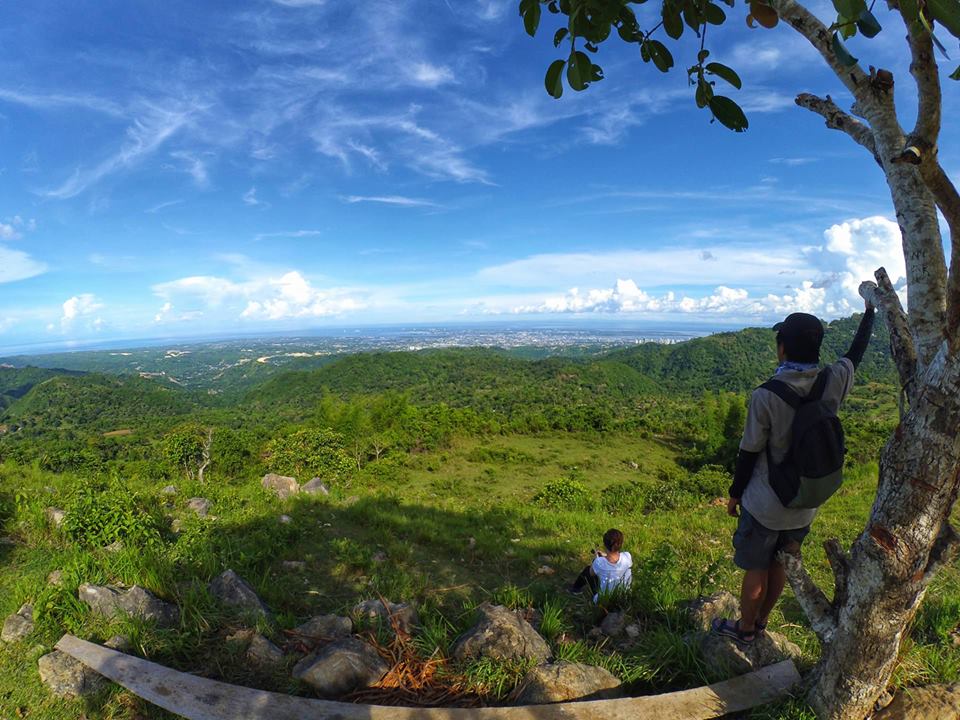 Naupa
If you are looking for a perfect spot to catch the sunrise and sunset, then Naupa is the one for you. Located in Cogon, Naga City, this beginner-friendly mountain will unleash your love for nature. Most visitors take a habal-habal from Rikio, Naga City and end at the Cogon Chapel. Just on hour of trailing the slopes, you'll then reach the campsite and feed your eyes with the city view. Best time to visit the area would be from three to four in the afternoon. The heat of the sun won't be that harsh anymore even if the trail is very open.
ENTRANCE FEE: P20 (additional P20 for camping)
LOCATION: Cogon, Naga City
TRAVEL TIME FROM THE CITY: 2-3 hours depending on how heavy is the traffic
Read: When In Naga City
Bacalla Woods Campsite
Just in case you want to take a break from social media, then Bacalla Woods is the perfect place for you. Identified as a home for artists and outdoorsmen who want to be one with nature, Bacalla Woods Campsite is a perfect place to relax and gather all your thoughts. This place has become the talk of the town after it was haplessly-created wooden swing tied to a branch of a tree got featured on several programs. What makes this campsite in San Fernando special is its hospitability to visitors. Campers can choose either to use tents or hammocks for the overnight stay. Additional activities like trekking, chasing waterfalls, skateboarding, and mountain biking.
ENTRANCE FEE: P100 (Due to the number of people going to the place, reservation is required. No walk-ins will be entertained.
LOCATION: Ilaya, San Isidro Road, San Fernando, Cebu
TRAVEL TIME FROM THE CITY: 3 – 4hours
Read: Bacalla Woods Campsite – is it Worth the Visit?
Camp Marina
While Camp Marina has become a renowned area used for wedding and debut photoshoots, it remains a perfect site for camping. The perfect grounds of the Boys Scouts Camp allow campers to be one with nature even within the city proper. This has become a famous training area for hikers and outdoorsmen who want to further their learning of the outdoors by joining Basic Mountaineering Courses. As it is a special training ground, special permit for camping is needed here.
ENTRANCE FEE: P10
LOCATION: Capitol Hills, Cebu City
TRAVEL TIME FROM THE CITY: 20 – 30 minutes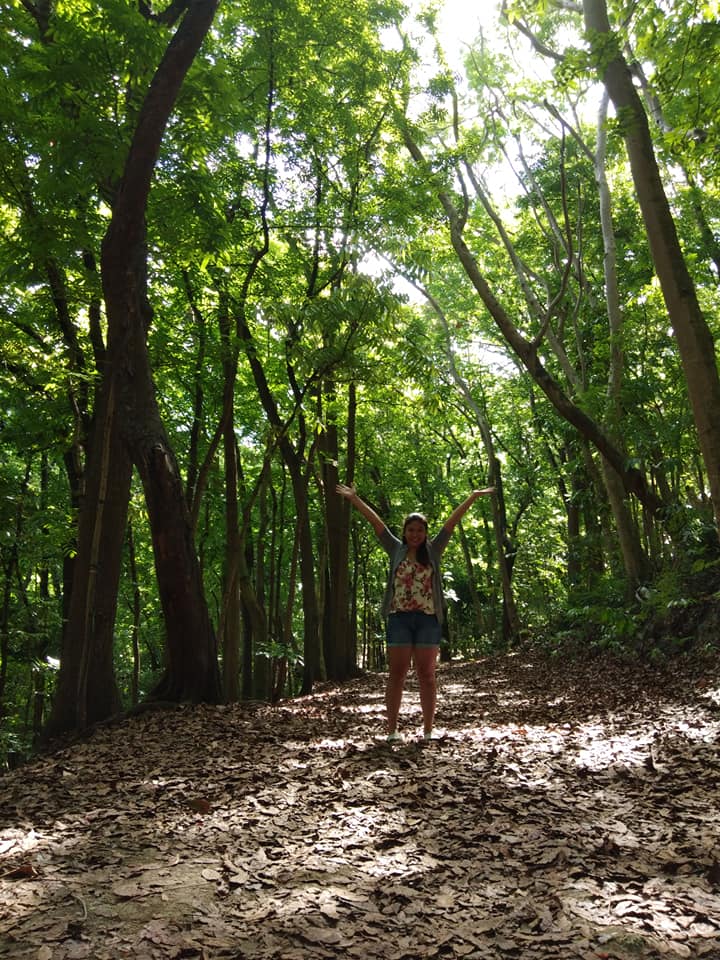 Chalet Hill
This small hill has become a home to many mountaineers in times of dire need for relaxation and socialization. By just taking a habal-habal from JY Square, you can easily access this privately-owned hill after taking few steps from the jumpoff. There you can easily set the tent, prepare food, and take time to be with nature with the city lights at the background.
ENTRANCE FEE: None (Due reminder: This is a privately-owned lot.)
LOCATION: Busay, Cebu City
TRAVEL TIME FROM THE CITY: 30 – 40 minutes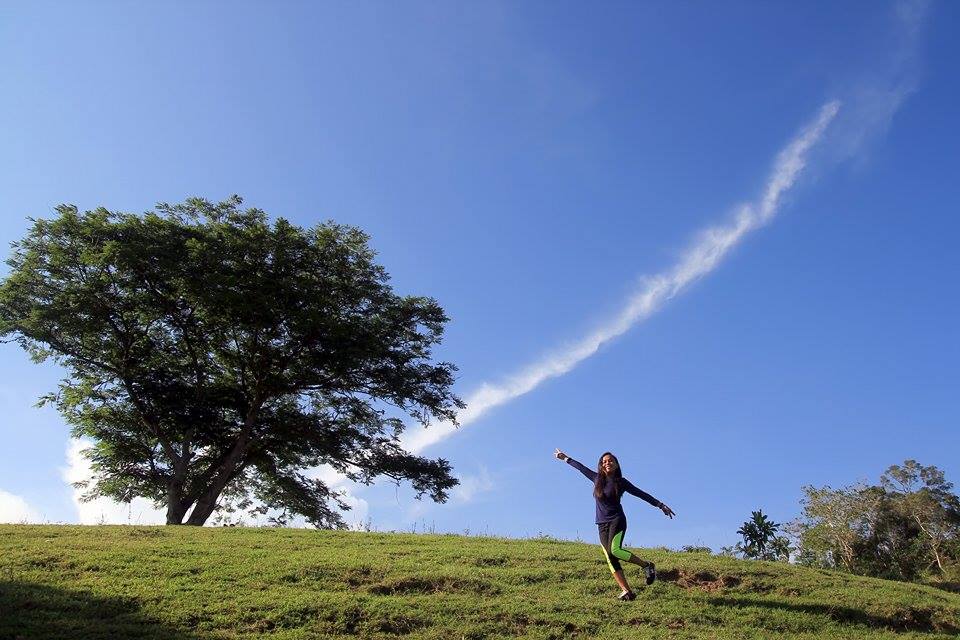 Formosa Camp Resort
If you're not fond of trekking but wants to experience camping, try the hassle-free accommodation of Formosa Camp Resort. This resort offers a unique style of camping called glamping where people can experience both the comfort of a resort and the thrill of an overnight stay on outdoor tents. This staycation facility in Tuburan has eight tents that come in three different types.
ENTRANCE FEE: P150 per head (P50 for kids); Tent rentals range from P750 to P1,250)
LOCATION: Bagsawe, Tuburan
TRAVEL TIME FROM THE CITY:2 -3 hours via Transcentral Highway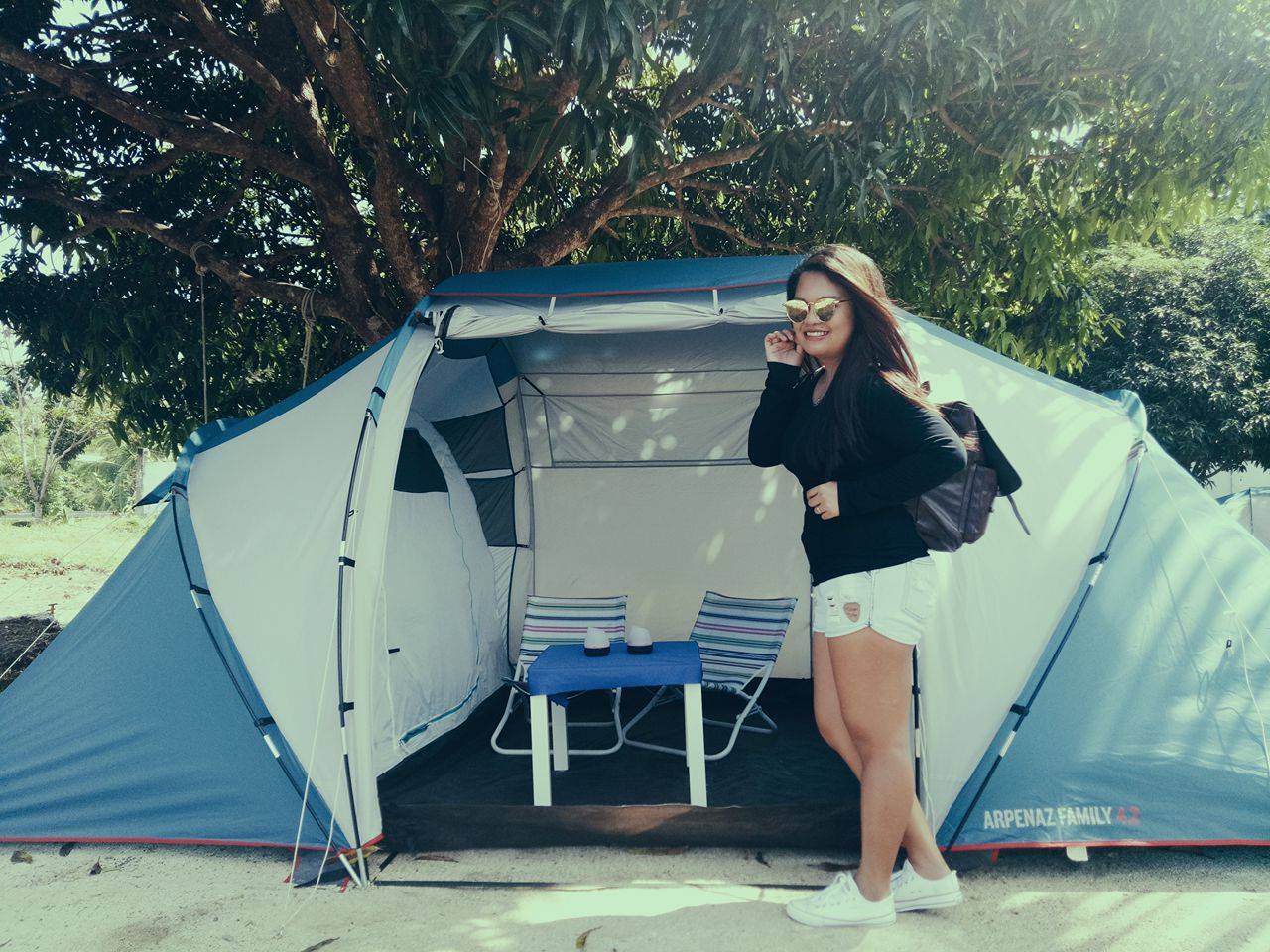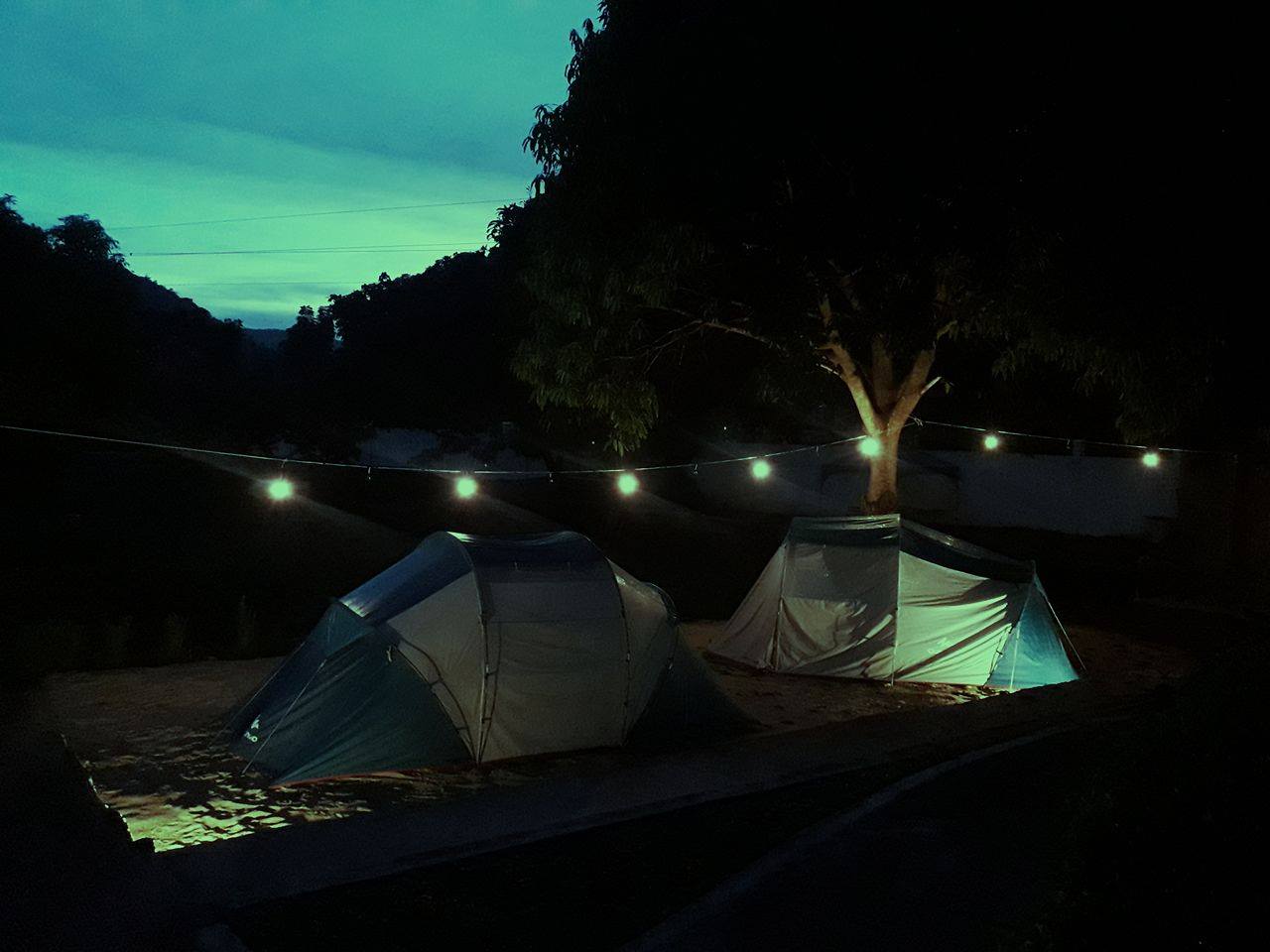 Baguio de Cebu Eco Mountain Adventure
True to its name, this place in Balamban is somehow similar to Baguio City with its cold temperature, presence of pine trees, and the beautiful landscapes found in the area. This area has been a familiar destination to mountaineers because this is where you will find the crash site of the C-47 aircraft that caused the death of the former president of the Philippines, Ramon Magsaysay – Mt. Manuggal. Nonetheless, if you aren't into hiking, you can as well enjoy the verdant sceneries around by camping here. Enjoy as well horseback riding and sky biking adventure there.
ENTRANCE FEE: P80
LOCATION: Barangay Sunog, Balamban, Cebu
TRAVEL TIME FROM THE CITY: 1.5 – 2 hours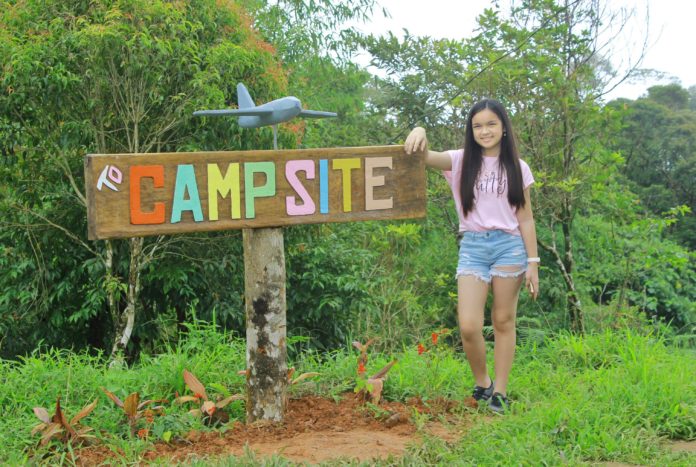 Lambug Beach Resort
While Badian is known for its canyoneering adventure exiting at Kawasan Falls, it's also a favorite destination among those who want spend more time with the sea. Lambug beach has become one of the many go-to beaches now because of its clear waters, rich marine resources, and white sand beaches. With this place, you no longer need to travel outside Cebu just to go camping and swimming.
ENTRANCE: No entrance fee
LOCATION: Badian, Cebu
TRAVEL TIME FROM THE CITY: 3 – 4 hours
Read: 2 Days And 2 Nights Moalboal-Badian Travel Guide w/ Itinerary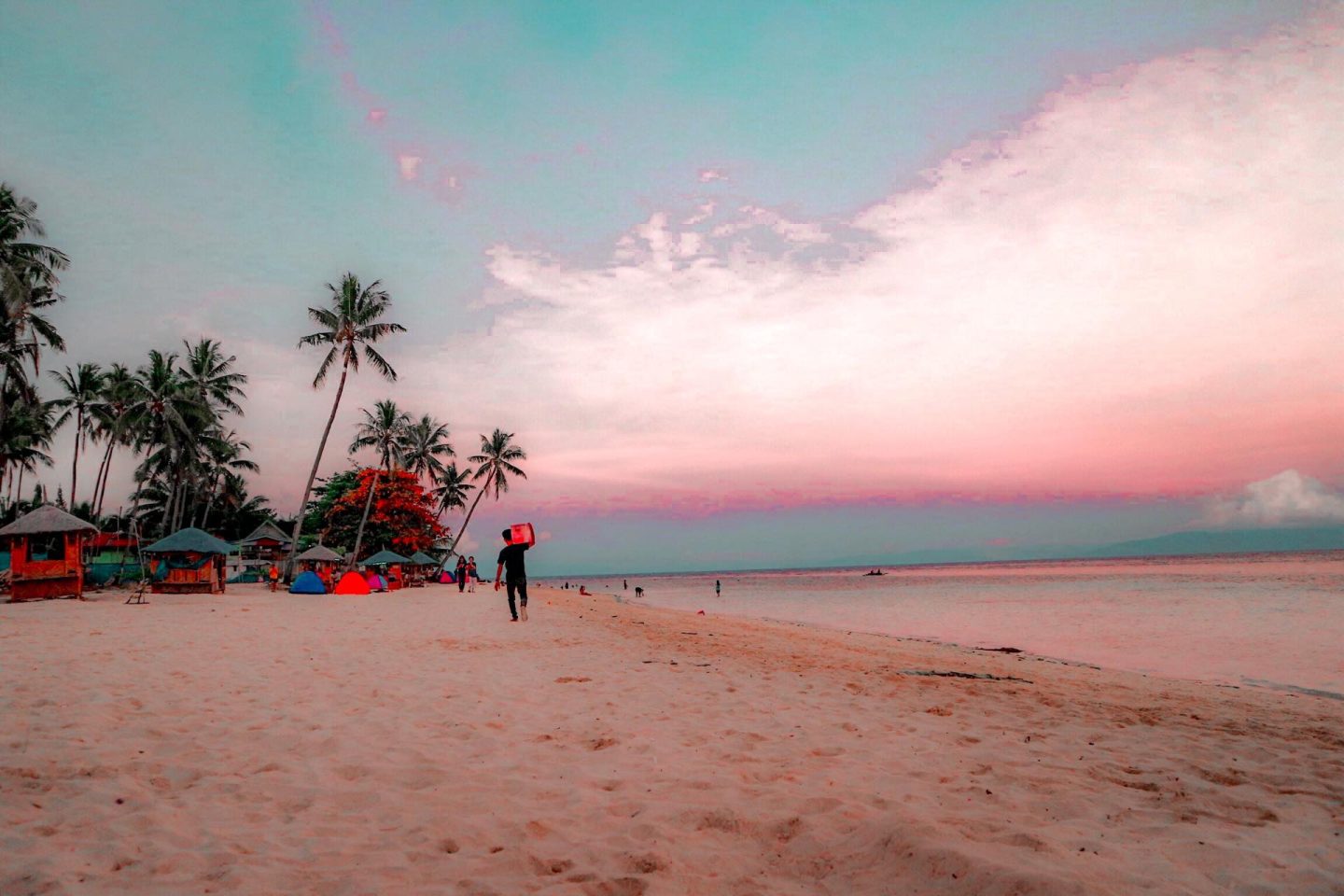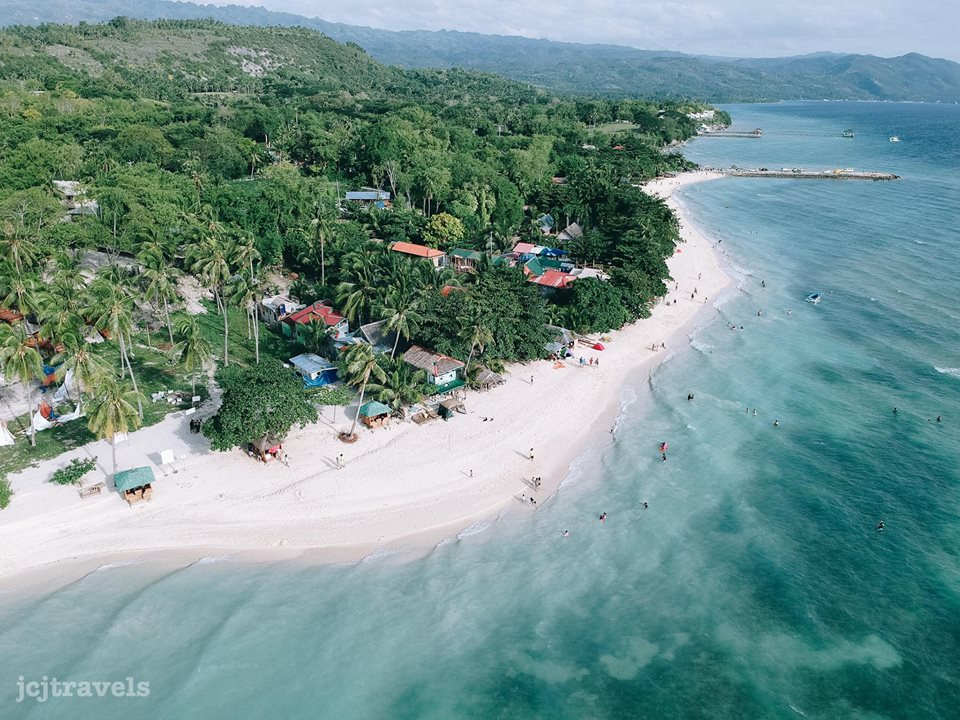 Foressa Trails
Formerly known as Canso X, this mountain adventure park offers beginner friendly trails for adventure seekers, bikers, and soul searchers. Along with the trail you'll find a number of beautiful spots to commune with nature – waterfalls, rivers, sanctuaries, valleys, and peaks. If you want to breathe in the natural breeze of nature, Foressa Trails is the perfect one for you.
ENTRANCE FEE: P60 (Separate fees for the use of camping grounds and tent)
LOCATION: Foressa Mountain Town, Cansomoroy, Balamban, Cebu
TRAVEL TIME FROM THE CITY: 1.5 – 2hours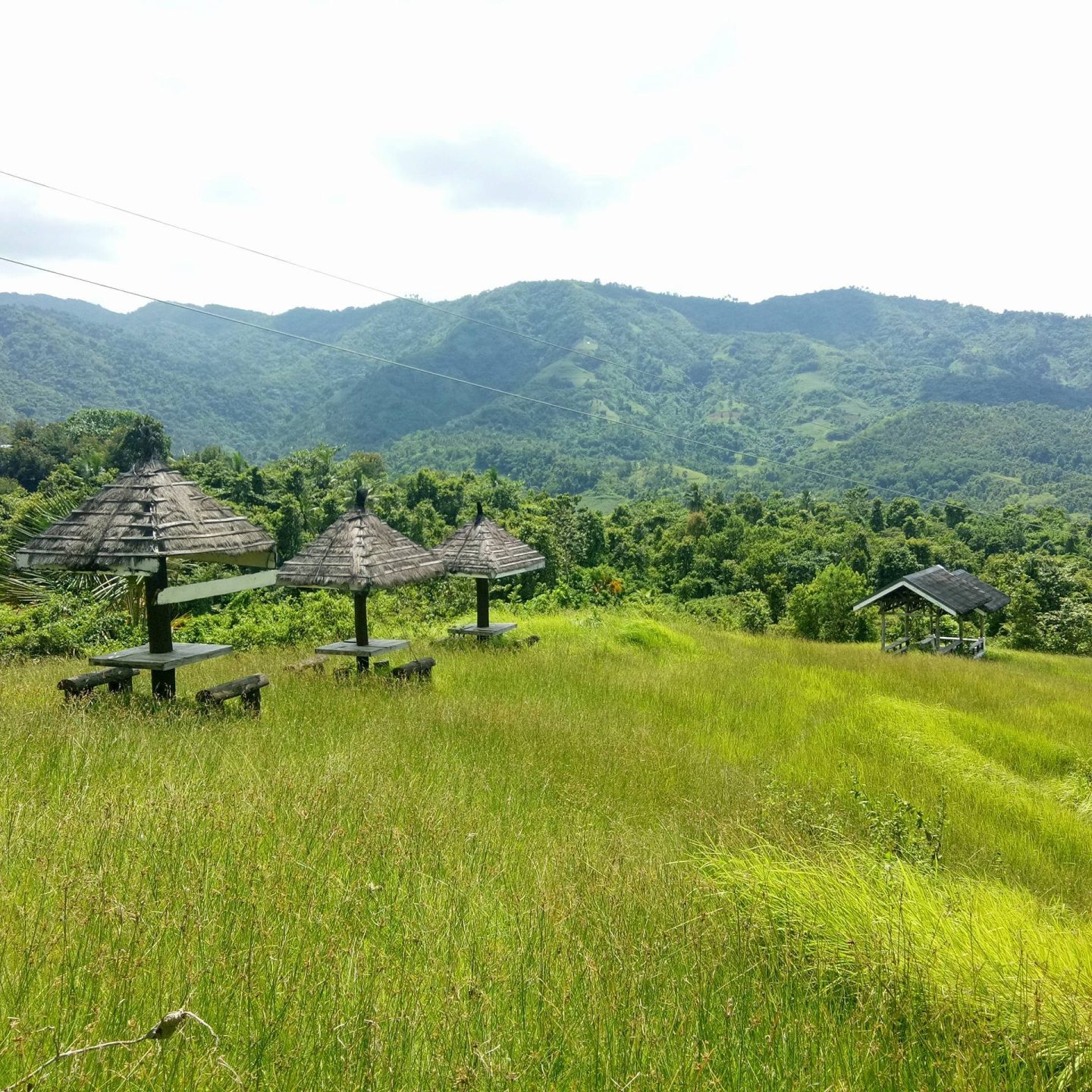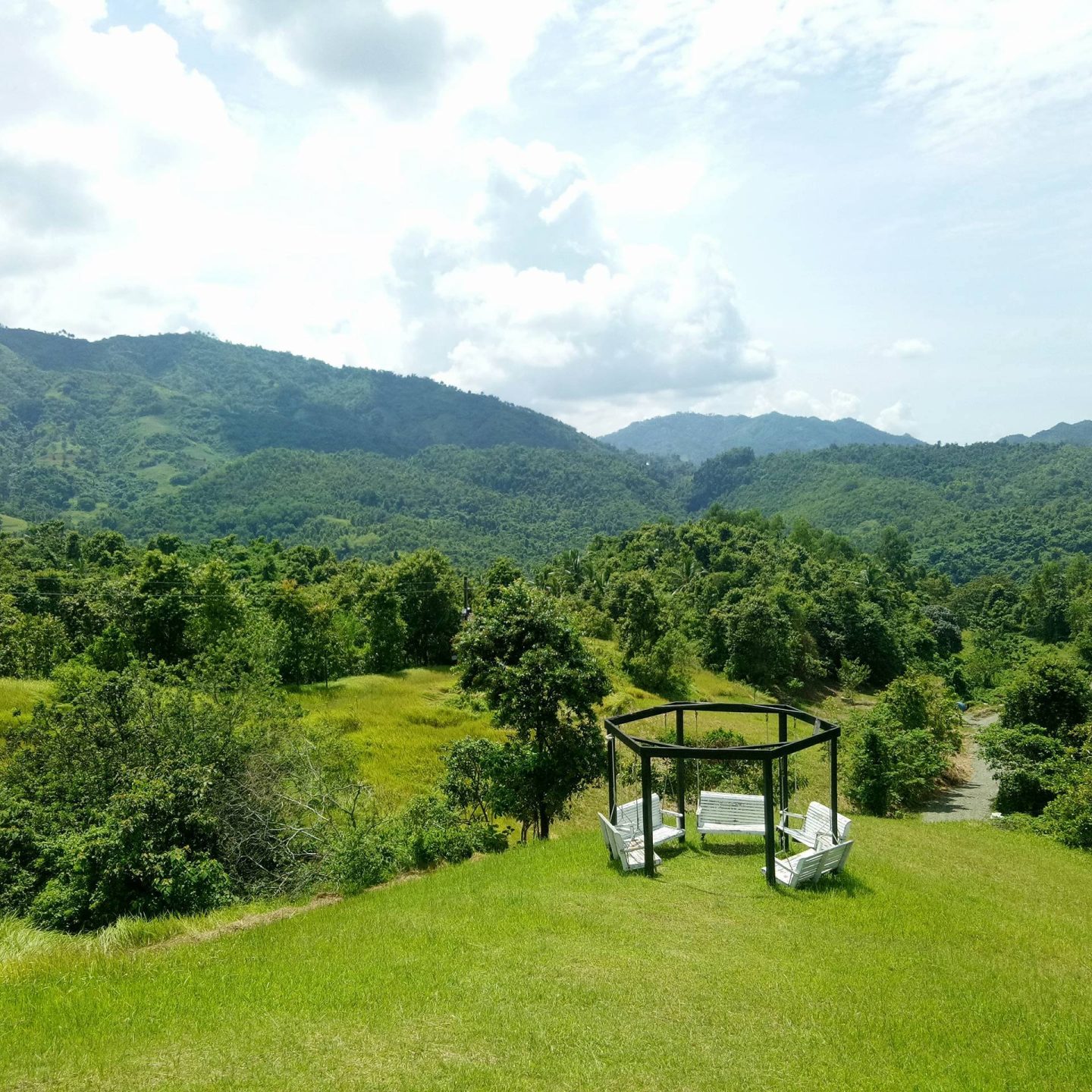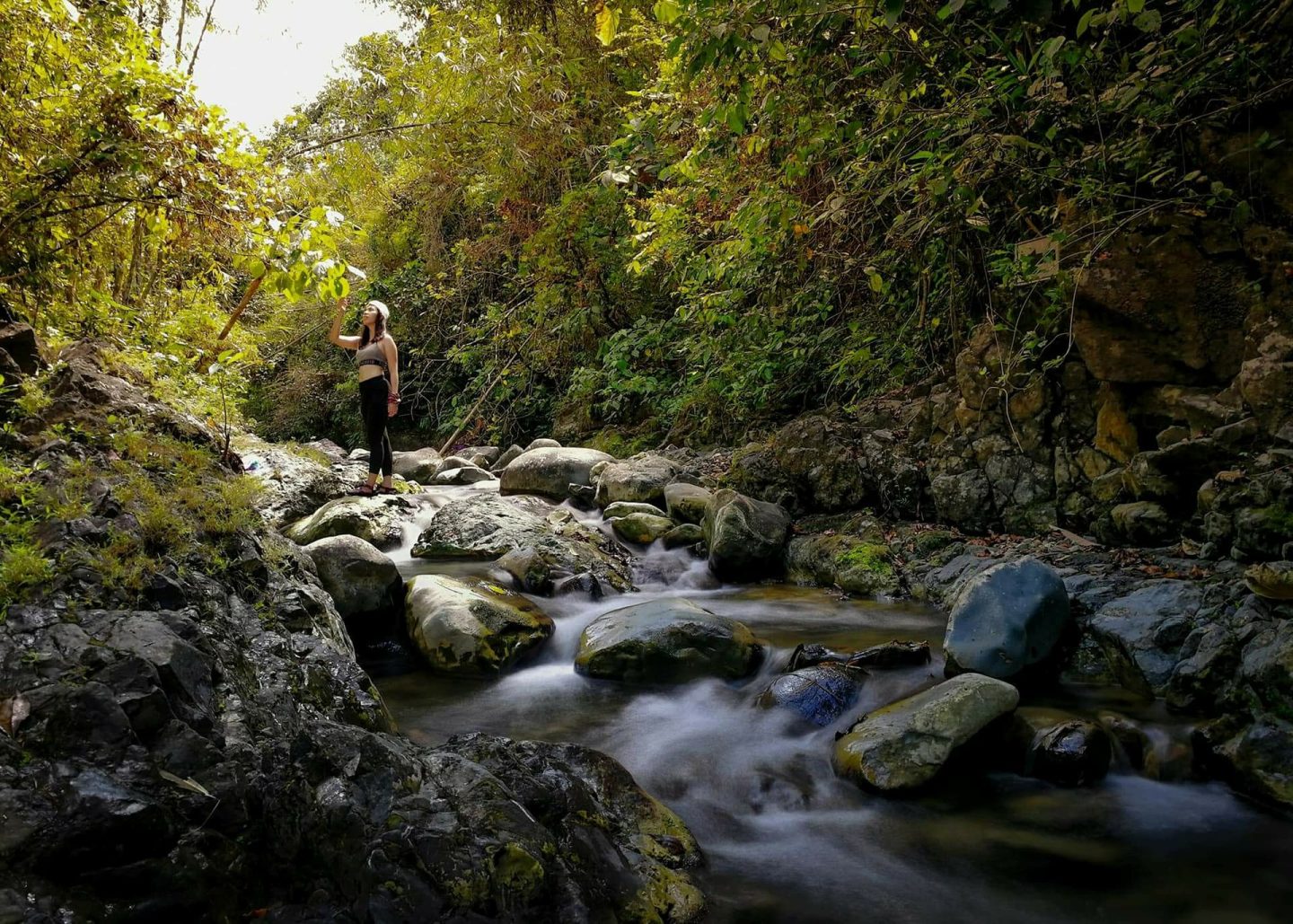 Osmeña Peak
Labeled as the highest peak of the island, Osmeña Peak remains a favorite camping destination for the experienced and beginners of the outdoor. Offering a vantage point to witness the alluring sunrise of the east and sunset of the west, Osmeña Peak proves to be a perfect place to escape the heat of the city!
ENTRANCE FEE: P30 (excluding the mandatory guide fee)
LOCATION: Geographically part of Badian but easier to access via Mantalongon, Dalaguete
TRAVEL TIME FROM THE CITY: 4 – 5hours
Read: The Ultimate Guide To Finding Cebu's Fluffiest Sea Of Clouds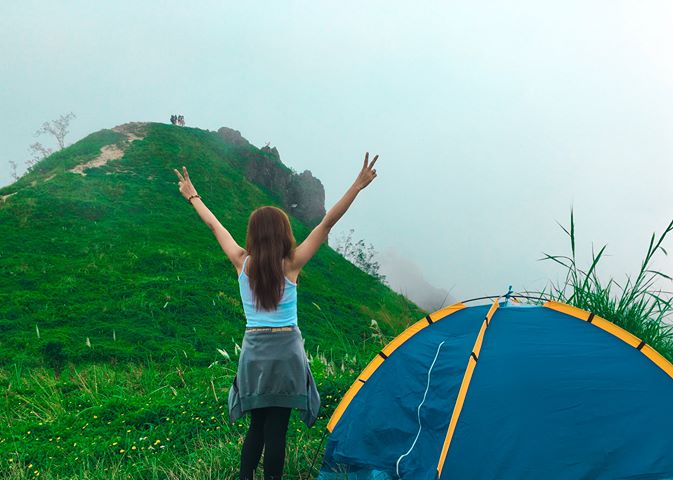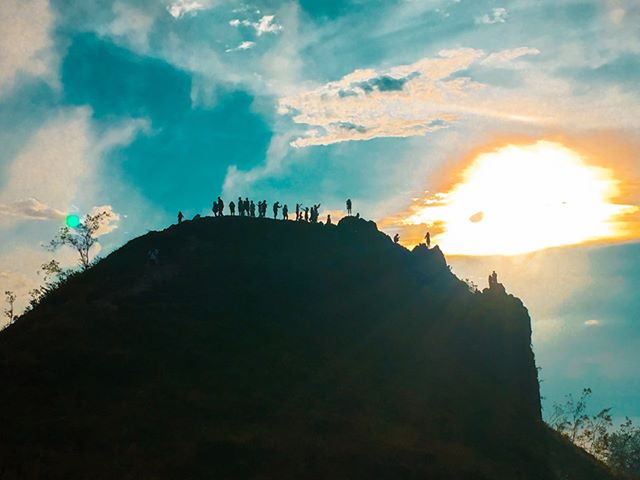 And the list goes on. Surely, there are many more places to go around the province and that would be your assignment once you found the joy of camping… you'll badly want for more. However, wherever you may find yourself in, always practice security and promote responsible tourism by causing no harm to the locals and the environment.   Happy camping!