If you've driven by the north reclamation area, you might be shocked at why there's a tank there. Don't freak out. No one is going to war. It's actually the grill's theme.
Kampo Grill and Bar is a military themed grill located in the NRA, right next to Café Racer. Trust us, you won't miss it… I mean there's a tank parked out in the front.
This guy…. Out of nowhere….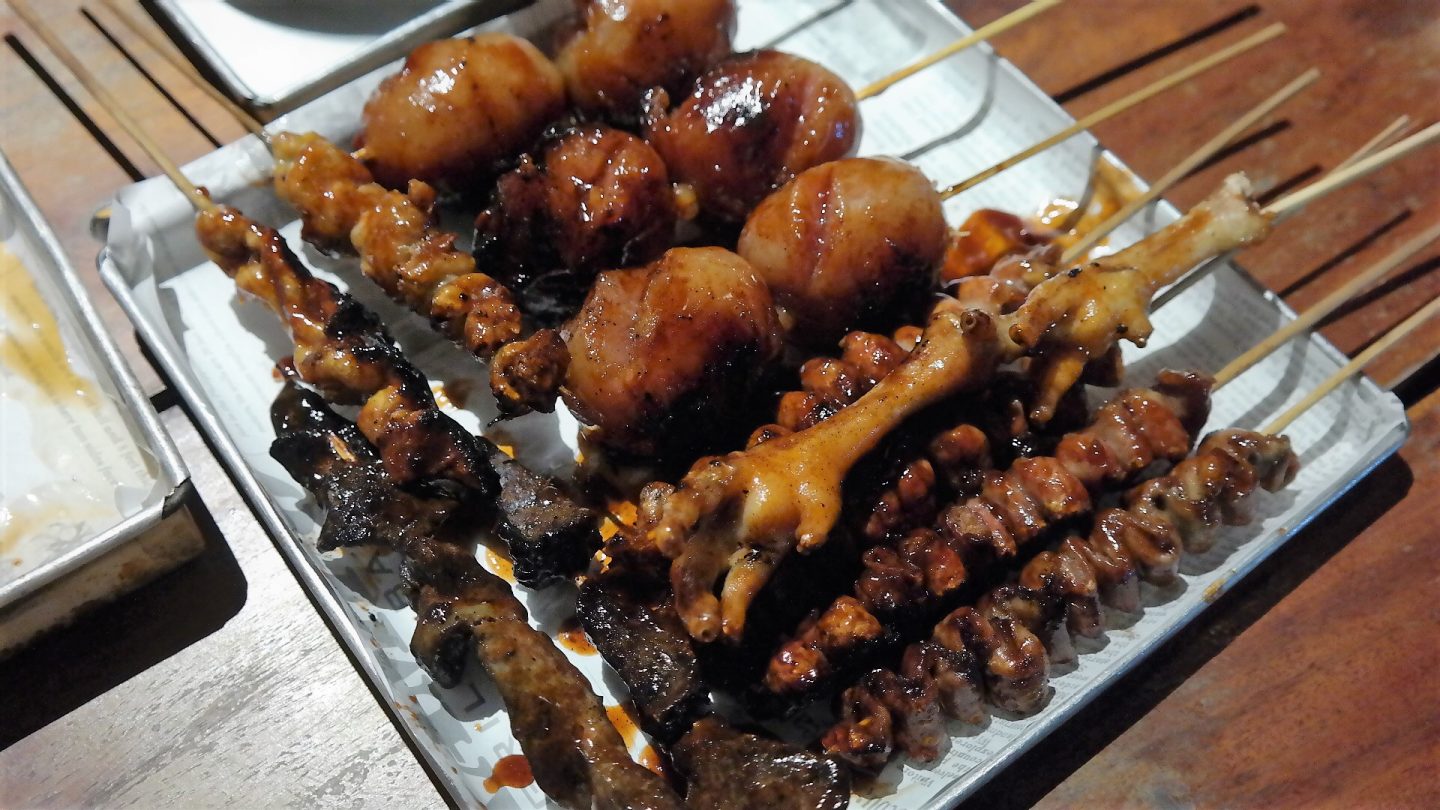 They offer a wide array of grilled dishes and short-order meals, ideal for those nights out with your friends or even a fun night with the family. Aside from grilled favourites like barbeque and pork belly, they have everything from starters, pizza, burgers, main dishes, and dessert. Aside from the usual drinks, they also have a good variety of cold beer, as well as a good selection of cocktails.
They're currently having their HOOAH! Barbeque Fest and Musik Guerra sa KAMPO where you can get to enjoy their special barbeque only menu and a band competition every Saturday. We got to sample their barbeque specials and we have to say, the food was good. We had some of their grilled specials like the pork belly, chicken, and a pretty big serving of chorizo. Aside from chicken liver, they also have pork liver and pork isaw barbeque, which are not really that common in most grills. The rellenong bangus was great, very tasty. They also served us some tinola and halang-halang.
Items on their special barbeque menu range from 15 to 250 pesos. Portion size was decent for the price, a couple of barbeque items from the menu and a cup of rice would fill you up pretty well with a budget of 150 – 200 pesos. We've included the menu at the bottom if you want to see the details.
As for the band competition, qualifiers happen every Saturday, so if you want to see local bands play their hearts out for a spot at the top, drop by every Saturday. Aside from the bands in the battle, there's also a guest band performing. Do follow their Facebook page, Musik Guerra sa KAMPO, for updates.
The contest will have its culminating night this coming October 27, 2018, where the top bands of the competition will battle it out to win as much as FIFTY THOUSAND PESOS (P50,000.00) as the grand prize money plus music distribution to digital platforms like Spotify, Apple Music, Deezer and a lot more.
All in all, Kampo is a good place to hang out and eat if you're looking for a super casual place that offers barbeque favourites. Their barbeque only menu is perfect for pulutan, paired with a nice, ice-cold beer and live music. The staff were very nice and helpful, plus you get to take quirky photos of the trucks and the tank.
Follow Kampo's social media page here to stay updated. They're located at the North Reclamation Area, right next to Café Racer. Open from Tuesday – Sunday, 6PM onwards.