Thanks to the many Philippine holidays, we get a few long weekends where we can get away from the hustle and bustle of the city and really enjoy the perks of living on an island. Cebu undoubtedly has a number of beautiful beaches and natural attractions scattered across the island, as well as in the nearby islands that are still under the province. Below are a couple of spots you can go to spend your long weekend on, not that you need to wait for a long weekend to come around for an excuse to visit these beautiful places.
***Writer's note: Three of these spots are found in Northern Cebu, two are found in the south, and two are found in the barangays along the Transcentral Highway. Since Cebu City is found smack in the middle of the island (well, by the east coast of the island anyway), the bus terminals (North and South Bus Terminal) are the kick off points. As for the spots along Transcentral Highway, you can take a V-hire or a Habal-habal.

Photo from cebu-bluewaters
Santa Fe, Bantayan Island
For the past few years, Bantayan has become a favorite long weekend getaway for Cebuano city dwellers, as well as local and international tourists, especially during Holy Week. But just to be clear, it's a misconception that the island's fiesta is during the Holy Week. Maybe it's because of the town's fiesta atmosphere, or the practice of eating meat on lent, that made people conclude that it is indeed a fiesta. You can enjoy the pristine crystal clear waters and powdery white sand beach that seems to stretch for miles and gorge on the freshest seafood. There are hundreds of resorts and hostels that offers rooms for any budget, so finding a place to stay there is no problem. Don't forget to bring back some dried fish for pasalubong.
To get there, take a bus from North Bus Terminal to the Hagnaya port. Travel  times is about 3 hours, so you might want to take an early morning trip out from the city and arrive at Hagnaya by 8 or 9 in the morning. From Hagnaya, you take the barge to Bantayan Island. The boat ride takes about an hour and a half.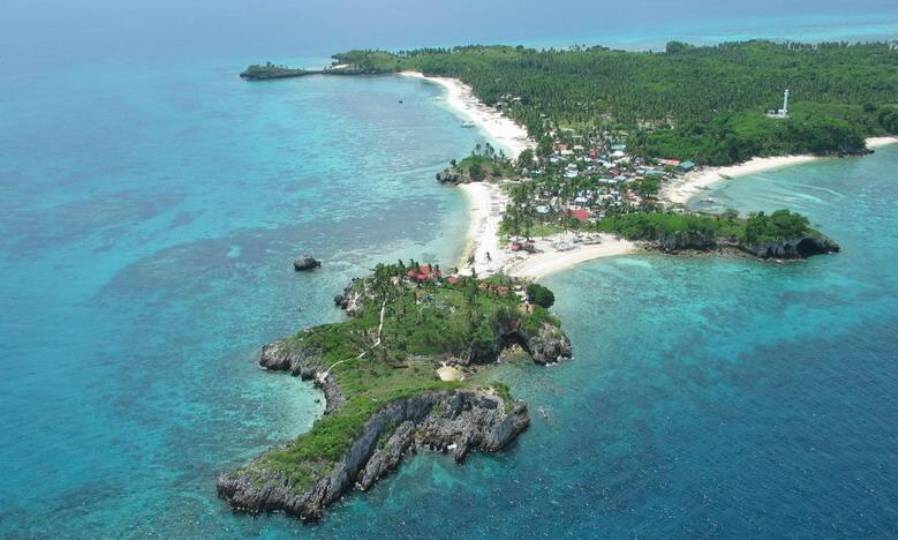 Photo from ceburentacar
Malapascua Island
If you really want to get away from it all, consider going to Malapascua Island during your long weekend. Malapascua is found at the top most point of the province of Cebu. it's a quaint little island with a few small beach resorts nestled into a fishing community. Malapascua is not as crowded as Bantayan, even during peak season. You'll find breathtakingly beautiful beaches here, and if you're into diving, or want to try diving, Malapascua is the destination for you. The island boast of having a number of rich dive sites, and you can find the famous thresher sharks in the waters near the island.
Malapascua is a bus, plus a boat ride, away from cebu. Take the bus going to the port of Maya at the North Bus Terminal. Travel time to Maya is about 4 hours. Again, you might want to leave early from the city and take the first few trips out. If you're going with a group, you can get one boat for all of you, but if you're traveling alone or with just a few people, you might need to wait for the boat to get filled up other passengers before you can leave for the island. Travel time on the boat to the island is about an hour.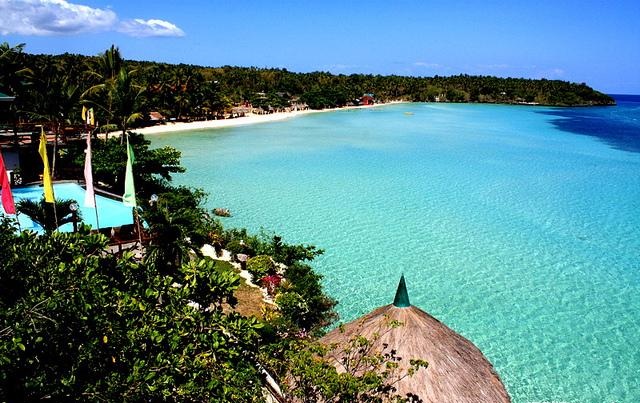 Photo from flickr
Camotes
An island found on the Northeastern side of Cebu, Camotes is another less crowded destination for those looking for a quiet long weekend by the beach. There are a number of resorts to choose from on the island and besides enjoying the beach, you can also visit Lake Danao, Bukilat Cave, Timubo Cave, and the San Francisco Baywalk. The local habal-habal driver can be your guide for a small fee.
Take a bus bound for Danao in the North Bus Terminal. The bus ride takes about an hour. From Danao Port , you can ride a boat (Jomalia Shipping) going to Consuelo Port in Camotes Island. Travel time by boat is around two hours.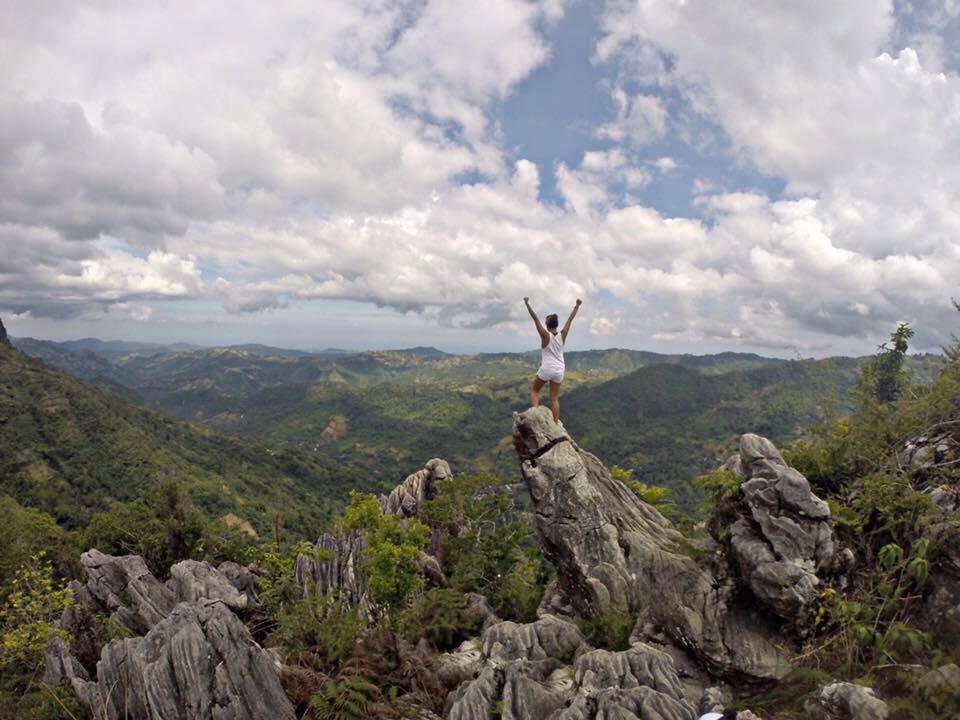 Mt. Manunggal, Balamban
If you enjoy the outdoors, want to conquer mountains, and go on a trail, trekking from the base of Mt. Manunggal and camping out for a day or two in the campsite may be a perfect long weekend getaway. Manunggal is better known as mountain where President Magsaysay's plane crashed. In fact there's an annual Magsaysay Death Anniversary Climb. There are a number of accessible trails to follow, but the one from Tagba-o and at Cantipla, Tabunan, is the main route. You're going to need a guide to help you through the trek, and many of the locals would gladly offer their services for a fee. The campsite is pretty big, and oftentimes, less crowded compared to other climbing destinations in Cebu.
V-hires from Ayala to Balamban are available, so getting there via the Transcentral Highway is easy.  Communicate with your guide on which trail you'll be following and where you'll meet up. You can also find many habal-habal there if you ever need a ride.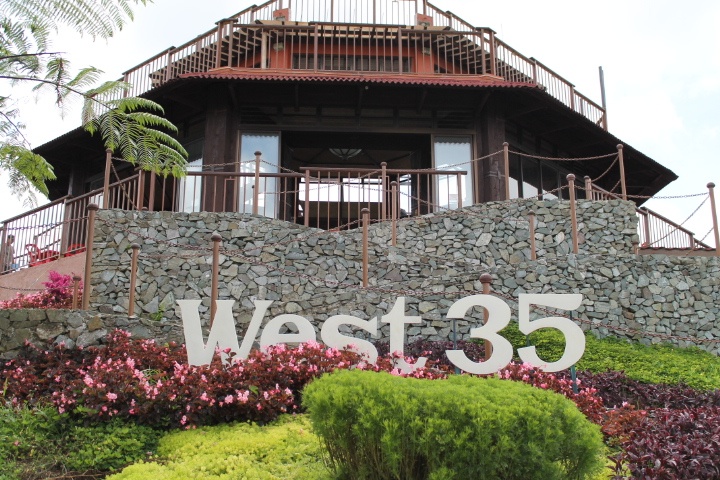 photo from pinterest
West35
If the beach is too hot for you or you just want to cool down and go somewhere far from the city and relax, consider getting a room at West35. West35 Eco Mountain Park Resort is a relaxing environmental facility found in Gaas, Balamban. It's secluded, quiet, and a perfect place if you want to get in touch with nature. Although it doesn't have a swimming pool, West35 offers a viewing station deck, a trekking trail, a Zipline, a game room, and a restaurant called Heaven Cafe that serves a variety of dishes at reasonable prices. Have a romantic getaway or a barkada outing in the cool mountains of Balamban.
There are V-hires at the Ayala terminal going to Balamban that passes by West35. It'll pass by the transcentral highway. Enjoy cool breeze and the mountain view during the hour or so trip to Brgy. Gaas. Just tell the driver to drop you off at West35, which is just along the highway.

photo from peanutbrowas
White Beach/Basdako, Moalboal
A go-to destination for long weekends, Basdako in Moalboal is a stunning stretch of white sand beach 3 hours away from the city. Resorts and hostels are lined up by the beach, giving you a wide variety of accommodation to choose from. Some resorts even have a pool. Moalboal is also known as a popular dive site and you can take diving classes as well as rent diving gear for less here. Visit numerous dive sites like pescador island where you can find schools of sardines and the WWII plane wreck.
From South Bus Terminal, take a bus to Moalboal. The bus ride takes about 3 hours via the main highway to the south, passing through mountains and the west coast of Cebu. Take a tricycle to Basdako from Moalboal proper.

photo from cebupictures.blogspot
Lambug Beach, Badian
Another popular destination local and foreign tourists often go to is Lambug beach in the municipality of Badian, found in Southern Cebu. Lambug is actually a public beach, so if you're up for it, you can definitely pitch a tent and camp out for a few days. If you're looking for a place to stay, there are a couple of small resorts along the beach that offer rooms good for two or more people. If the beach is getting a bit too hot, cool down and visit the famous Kawasan falls. It's just a few kilometers away from the beach and you can take a tricycle there.
Catch a bus to Badian from the South Bus Terminal. It takes about three hours and a half to get to Badian's town proper. From there, it's just a few minute tricycle ride to Lambug.