No debates needed, Cebu is one of the best places in the country in terms of gastronomic adventure. And while it's good to discover new food places to try, there is also wisdom in going to restaurants that stood the test of time. Here are 4 old restaurants in Cebu that are still loved by Cebuanos:
Sunburst
Before the crispy chicken of Jollibee, Mcdonalds, and KFC mushroomed around Cebu, Sunburst is a legend in terms of serving juicy, crispy, finger licking good fried chicken in the city. It started operating since 1971 and still managed to thrive along with other foodshoppes, restaurants, and fastfood up until now. Valued customers still frequent to this restaurant to enjoy its sinful Chick N' Crackers and fried chicken skin.
LOCATION: Near Cebu Metropolitan Cathedral
2. Snow Sheen Restaurant
You know you've aged gracefully if this restaurant rings a bell. Why not? This is one of the most famous restaurant back then for family gathering. It specializes in Chinese food that suits best the picky taste buds of Cebuanos. Their specialty, the pancit lomi, is still the most requested favorite of many. In addition, they also serve chopseuy, patotem with asparagus, and bird's nest soup with quail egg.
LOCATION: Osmena Boulevard (near Unitop)
3. Manila Foodshoppe
Everyone would agree that this restaurant has helped shape the culinary landscape of the Cebu. For decades, they have been serving the best-tasting Chinese dishes around Metro Cebu. One of the many favorites of their diners is their fragrant, soft, and bursting with real meat fillings siopao. In fact, it won as the Best in Cebu in 2015. Other common favorites include buttered chicken, chicken curry, honey soy chicken, steamed rice, noodles, fish fillet taosi, breaded pork chop, and many others.
LOCATION: Manalili Street, Cebu City (near Pacific Tourist Inn)
4. Cebu Lumpia House
If you've heard the statement, "where Ho Chia makes sense", then probably you've had a great taste for Chinese delicacies; and that is thanks to Cebu Lumpia House. This establishment, run by LH Food Corporation, accepts delivery, catering, and takeout food services. They serve variety food choices from soup, appetizer, vegetable, pork, beef, and chicken dishes, noods, and rice toppings. Though this is a Chinese restaurant, seeing the needs of many Cebuanos, they also offer Filipino dishes like sinigang pasayan, kinilaw, and dinuguan.
LOCATION: 262 Manalili Street (also available in Gaisano Country Mall food court, Mabolo, and Robinsons Food court)
5. Orange Brutus
Ohhh whenever I see their logo or hear their name – I instantly think of their signature burger steak. Very different from other burger steaks in town for sure. Whenever you take a bite off their famous burger steak – one can quickly incorporate it with home, "Cebu".
The brand that brought the "Hamburger" to Cebu. Orange Brutus started out as like this American-diner, serving burgers then pairing them with shakes – which was a bold step in the food industry at that time. The very first store opened in Colon – a clean, bright and charming resto. Luckily Cebuano families fell in love with them and continued to patronize them.
Orange Brutus has expanded their food choices in order for the whole family to have something to enjoy when they dine in their restaurant. The business started in the early 80's and continued to flourish until today; and hope to continue from this generation to the next.
LOCATION: Ma. Cristina Building, Fuente Osmeña Cebu City and open 24 hours and click here for other store locations.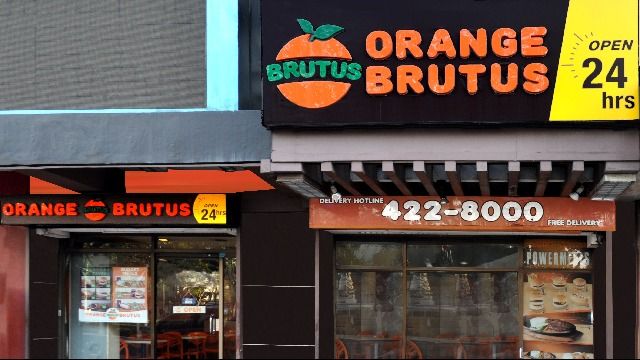 Have you been to these old restaurants? Which one's your favorite?
Like this article? Please share your thoughts below!