The covid-19 pandemic did not only affected the health of many Cebuanos but so as the economic stability of the people. For this reason, many students are still uncertain if their parents will be able to sustain their education given the rising number of cases in the province and announcement of closure in the business sector.
Seeing the need for educational assistance among Lapu-lapu City residents, the city government announced that online application for Mayor Junard "Ahong" Chan and First Lady Ma. Cynthia King Chan Scholarship 2020 is now open.
Mayor Junard "Ahong" Chan and First Lady Ma. Cynthia King Chan Scholarship 2020
Lapu-lapu City has partnered with Sto. Niño Mactan College in order to offer full scholarship to deserving applicants. Specifically, applicants must be interested to one of the following courses:
Bachelor of Science in Criminology
Bachelor of Science in Development Communication
Bachelor of Science in Tourism Management
Bachelor of Performing Arts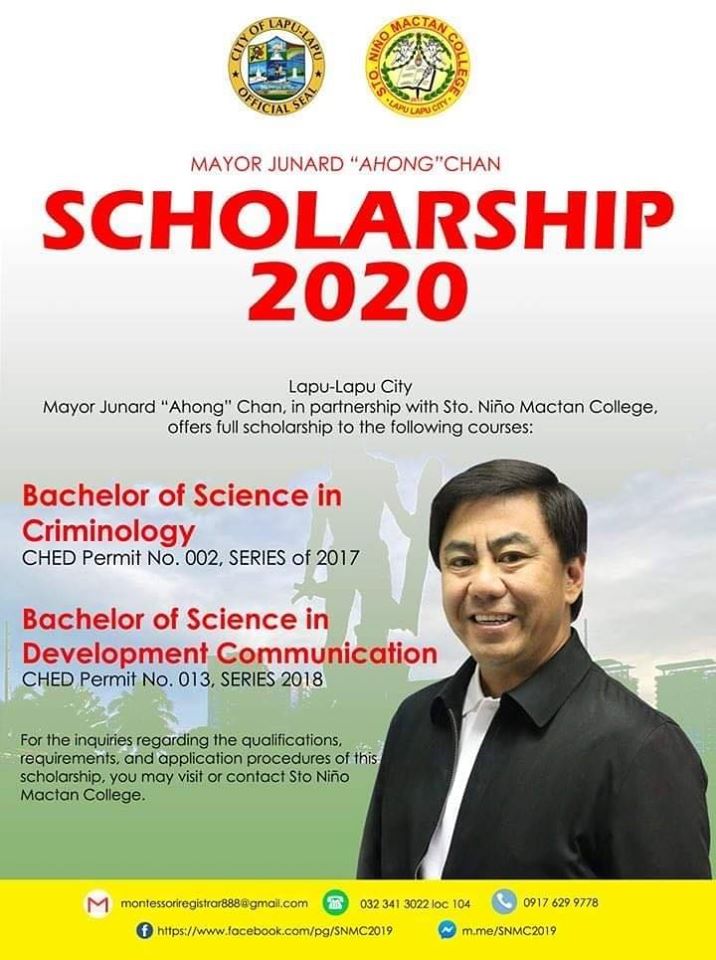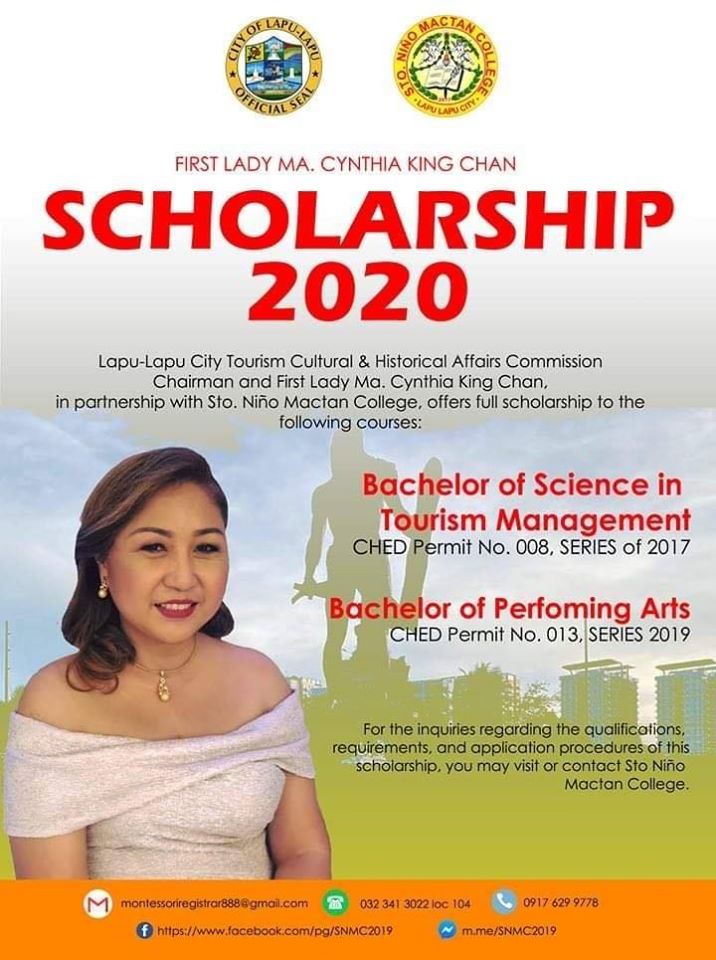 What are the Requirements for Scholarship Application?
To qualify for this scholarship program, applicants must meet the following qualifications:
Lapu-lapu City resident
Bonafide Senior High School student from any private or public schools in Lapu-lapu City
Has not availed any educational assistance/scholarship offered by the government
Willing to enroll for SY 2020 – 2021
Whose family income/earning has been totally affected by the covid-19 pandemic
Not a recipient of 4Ps (Pantawid Pamilyang Pilipino Program)
How to apply for Lapu-lapu City Scholarship 2020?
Students who are interested to take the aforementioned courses and are eligible for the scholarship programmay submit online the necessary documents needed to the School Registrar ([email protected]) or do walk-in submissions to Sto. Niño Mactan College Soong 1, Mactan, Lapu-lapu City.
Application Form
Valid ID of the Family Member applying for the Educational Assistance (Parent or relative of the Student Beneficiary)
School ID of the Student Beneficiary
Latest Report Card of the Student Beneficiary
Certificate of Eligibility from the nearest CSWDO (City Social Welfare and Development Office) that the family income has been reduced/diminished to the covid-19 pandemic
Note: All applicants must also present a CERTIFICATE OF ENROLLMENT or any document that will verify that the student is enrolled for the school year 2020-2021. Only one student beneficiary per family can avail of this educational assistance.
All submitted documents will be duly assessed and verified by the authorized personnel. Once approved, the beneficiaries will be contacted for updates with regards to their application.
For questions and verifications, feel free to message the official Facebook Page of Sto. Niño Mactan College or directly contact the school's registrar, Ma'am Maggie at 0917-629-9778.
To register and apply for scholarship please click here: https://docs.google.com/forms/d/e/1FAIpQLSfbajJadzrWmJ4rwMc-9mAPc9y5rUqSIJRb8AHheHhDCWMh5Q/viewform?usp=sf_link