City girls (and boys) like me understand how sickening it is to be caged in a certain routine on a daily basis. Home-school/office-home is the usual setup in every home. Work and life balance is important because it keeps us sane so to keep your mind free from unnecessary stress and pressure, why not reserve two days and two nights from your week and book a ticket to the south?
I can't stress it enough, but the Philippines is rich. We have the most beautiful beaches and marine life, we have plenty of waterfalls and our mountains are healthy. Even without the growing businesses in the cities, the people of the Philippines would probably live happy and wealthy lives and won't starve if we only knew how to take care of our resources.
Anyway,  just recently, I have discovered that the southern part of Cebu has so much to offer after I went there myself. If you want to take a short vacation this weekend, I am sharing with you my itinerary from Moalboal to Badian for 2 days and 2 nights.
Diving in Basdiot
Diving isn't exactly everyone's cup of tea but it is worth the try. The underwater adventure is exciting, rich and very interesting but if you can't stand being in the deep, you can skip this part.
It is a whole new world to be under the sea. You will realize that a different life form exists and they need to live like us. The experience will take you to a deeper understanding of life in general and maybe instill in you a sense of purpose too.
After the diving experience, you will probably be one to start protecting sea creatures by taking care of the environment. These types of activities are important because it brings value to what we do. Taking a break from a routine shouldn't only be because we have nothing better to do, rather we need to change up our usual activities to give life more meaning.
Cebu is very rich indeed, but Cebu doesn't know that.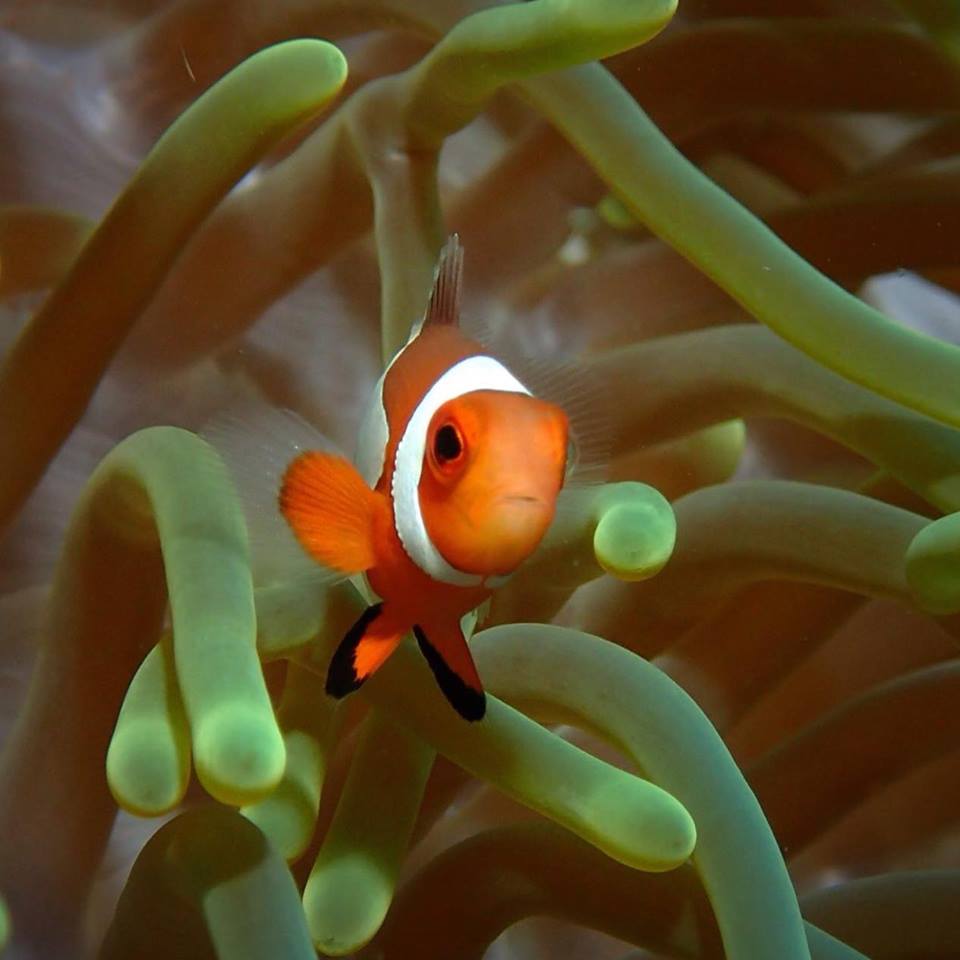 How to get there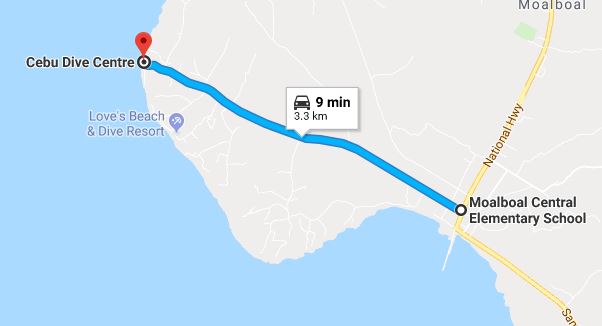 From Cebu City, go directly to the South Bus Terminal where all public buses to the south are found. Look for a bus that is en route to Moalboal/Badian. Get off at the Moalboal Central Elementary School. From there, you can take a habal-habal to the Cebu Dive Centre. Travel time is 3 hours.
Basdaku Beach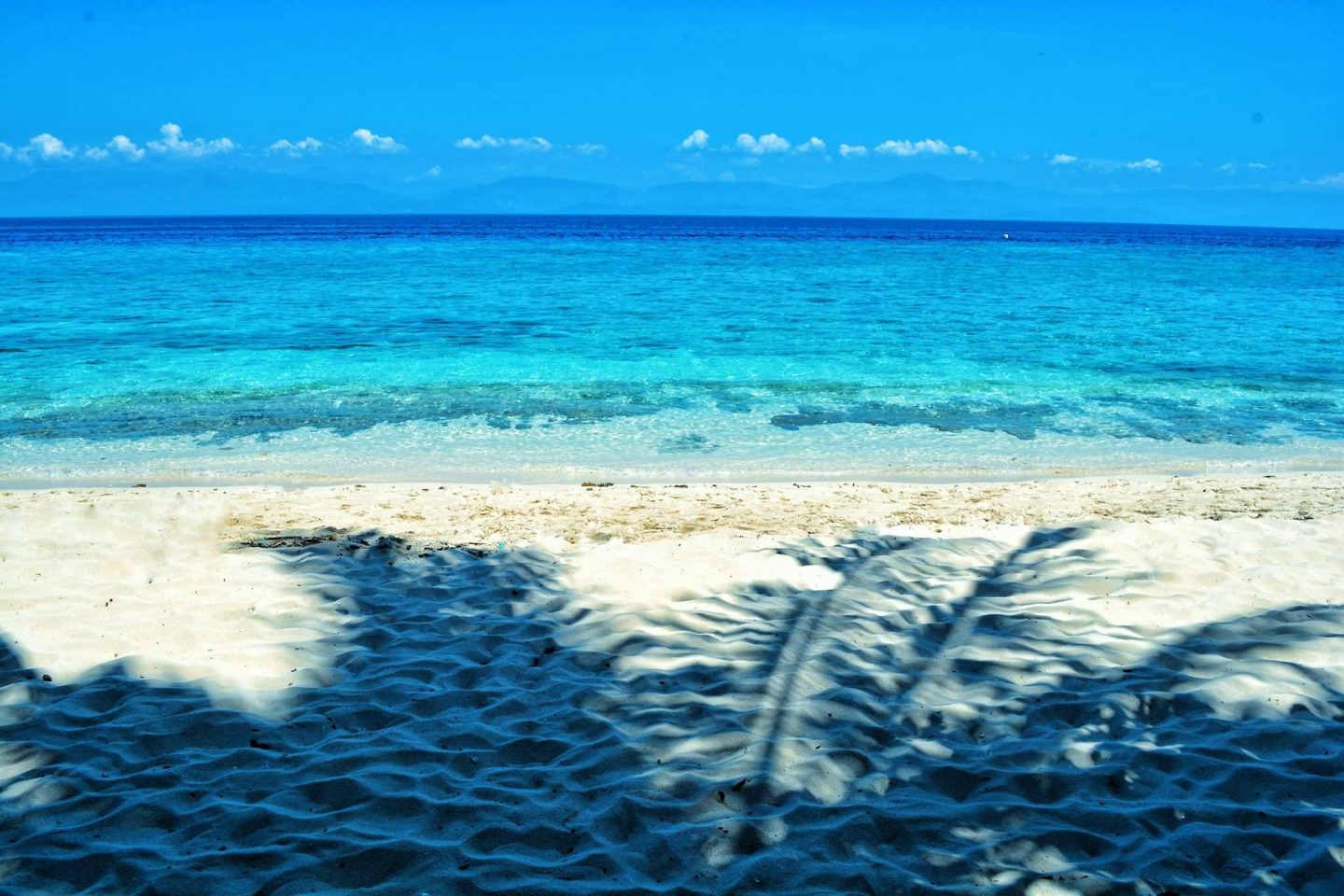 Baskdaku is the go-to beach in Moalboal. Whatever you see in the pictures online, Basdaku is even better. The water is clean and clear, the shoreline is long and the sand is fine and white. The locals have really taken care of this gem.
The sea is low in the morning and around 10 AM, it starts to rise. There used to be a part where guests can set up tents on the beachfront but it's not allowed now.
Food prices are a little higher than eateries in the city but the dishes are fresh from the sea (and the wet market) and are actually really good. One thing I don't like though is that it is a bit rocky underwater. If you want to enjoy swimming, you will have to wear proper underwater footwear.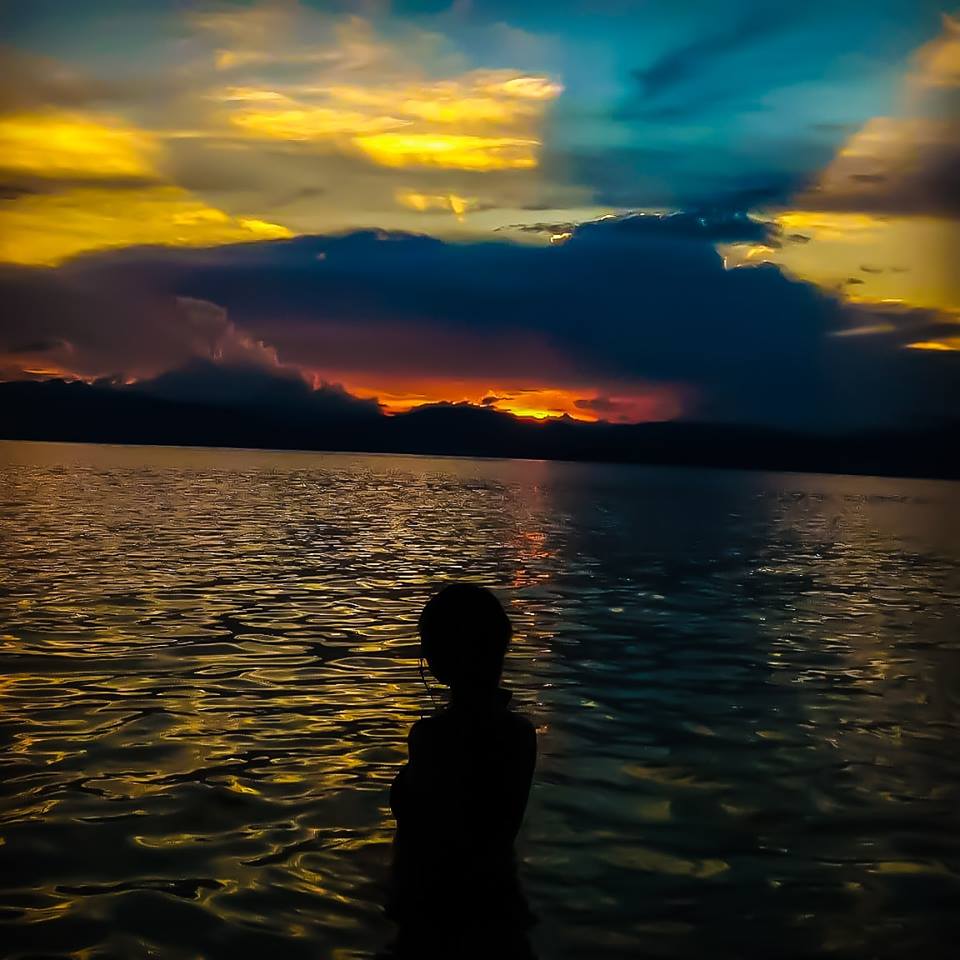 After the diving activity, you can spend the rest of the day swimming, snorkeling and sunbathing in Basdaku. There are many resorts in the area so finding a place to stay won't be hard. I recommend Conching's Place Beach Resort. Their rooms are simple but everything is there — bed, air condition, bathroom and bonus– the owner and the staff are really nice. The resort is only a few meters from the beach.
And oh, did I mention that it has an amazing sunset as well?
How to get there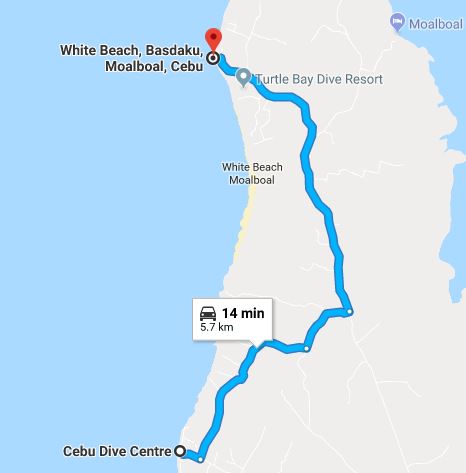 From the diving centre, take a habal-habal to reach Basdaku. They will ask for a little entrance fee but that's about it. Make sure to book a room ahead because rooms easily get fully booked in Basdaku.
To contact Conching's Place, you can text them at 0927 144 1549.
Kansanto Spring, Badian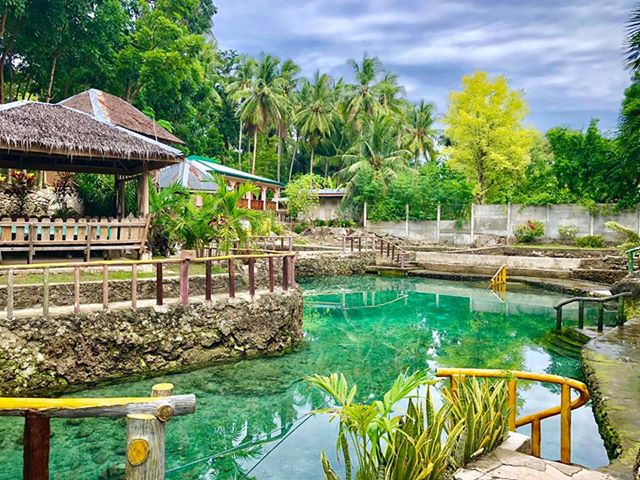 To wake you up in the morning, go directly to Kansanto Spring for your dose of cold water. Do this in the morning because our second day is packed with action and adventure! You will need energy so you better relax in the first few hours of the day.
Kansanto is just one of the most traveled springs in the south. It is located in Badian, right before Kawasan Falls. Most likely, people who are set to explore Kawasan side trip to Kansanto first. The spring is medium-sized, but enough for snorkeling and some relaxing dip before starting the day. The good thing about this spring is that it is never too crowded so it keeps you well-rested and undisturbed.
The entrance fee is 40 pesos. Not bad for a well-maintained treasure, right? Overnight room (non-aircon) – P1,500 while the open cottage rentals ranges from P350 and up. You may message or call Edsel at 0922 675 8127 or Bam-Bam at 0915 417 4426if you want to book there.
How to get there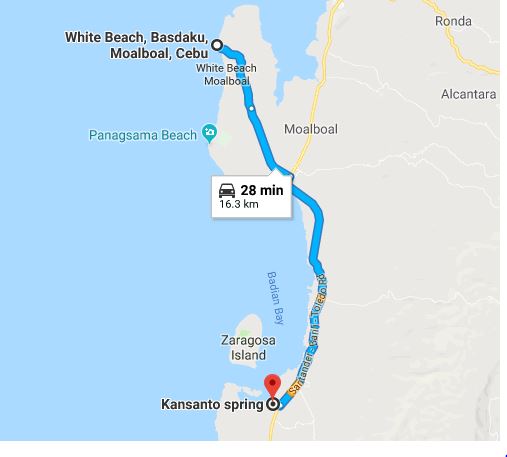 Aside from traveling by car, the most efficient mode of transportation is a habal-habal. Get one from Moalboal and hurry to Kansanto Spring. The travel time is estimated to be around 20-30 minutes since Badian is a different municipality.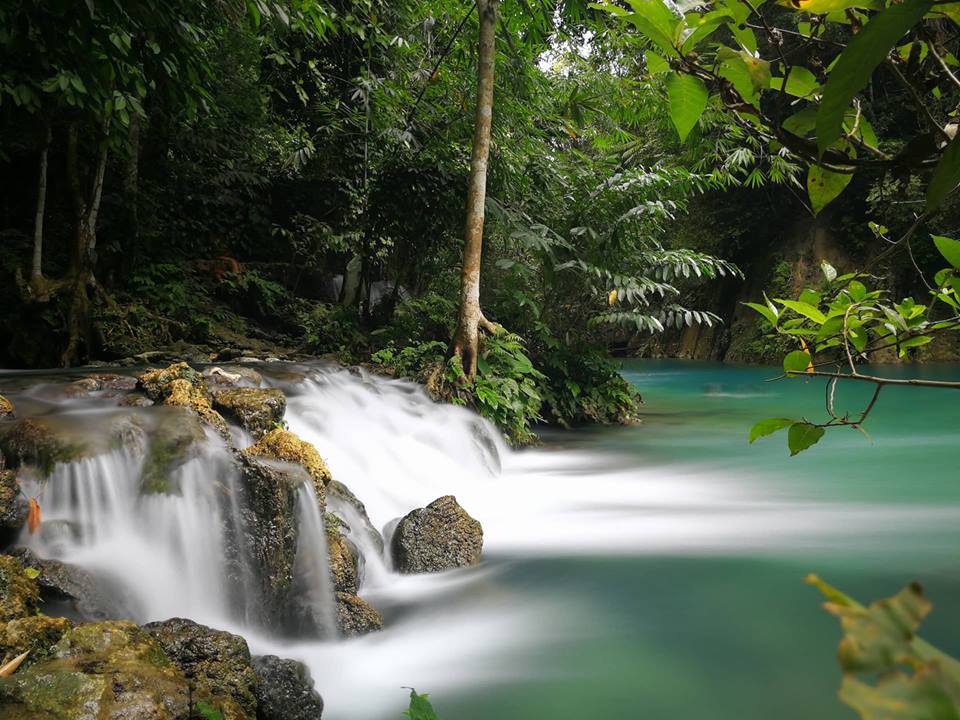 We all know this waterfall as it is famous all over the world. Kawasan Falls is one of the most enchanting places I have ever seen. The falls are strong but sweet and the water is clear and deep. It feels surreal to be face to face with the waterfall.
READ: Kawasan Falls: A Guide to Cebu's Best-Loved Waterfall
Kawasan has 3 levels and all levels welcome guests but always be mindful to not get too excited because as mentioned, the pool is deep. The pavements are wet and slippery so you have to be extra careful.
The scenery is unspoiled. Each level will take you to a different world away from the hustle and bustle of the city. It actually ensembles anime scenes. It is that perfect.
How to get there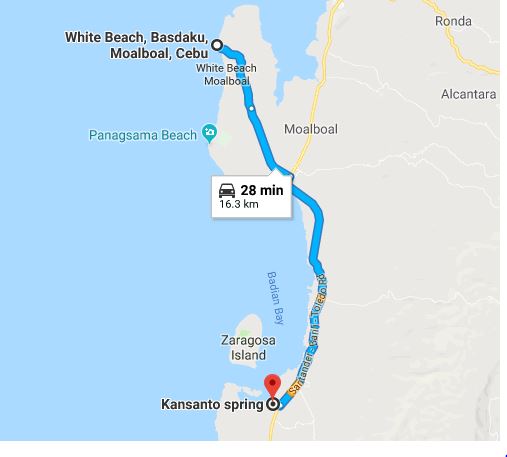 Since you are already in Badian, going there will be a lot easier and faster. Hire a habal-habal once again to take you to Kawasan. Take a little hike to the registration area and pay 40 pesos as entrance fee.
Kabukalan Spring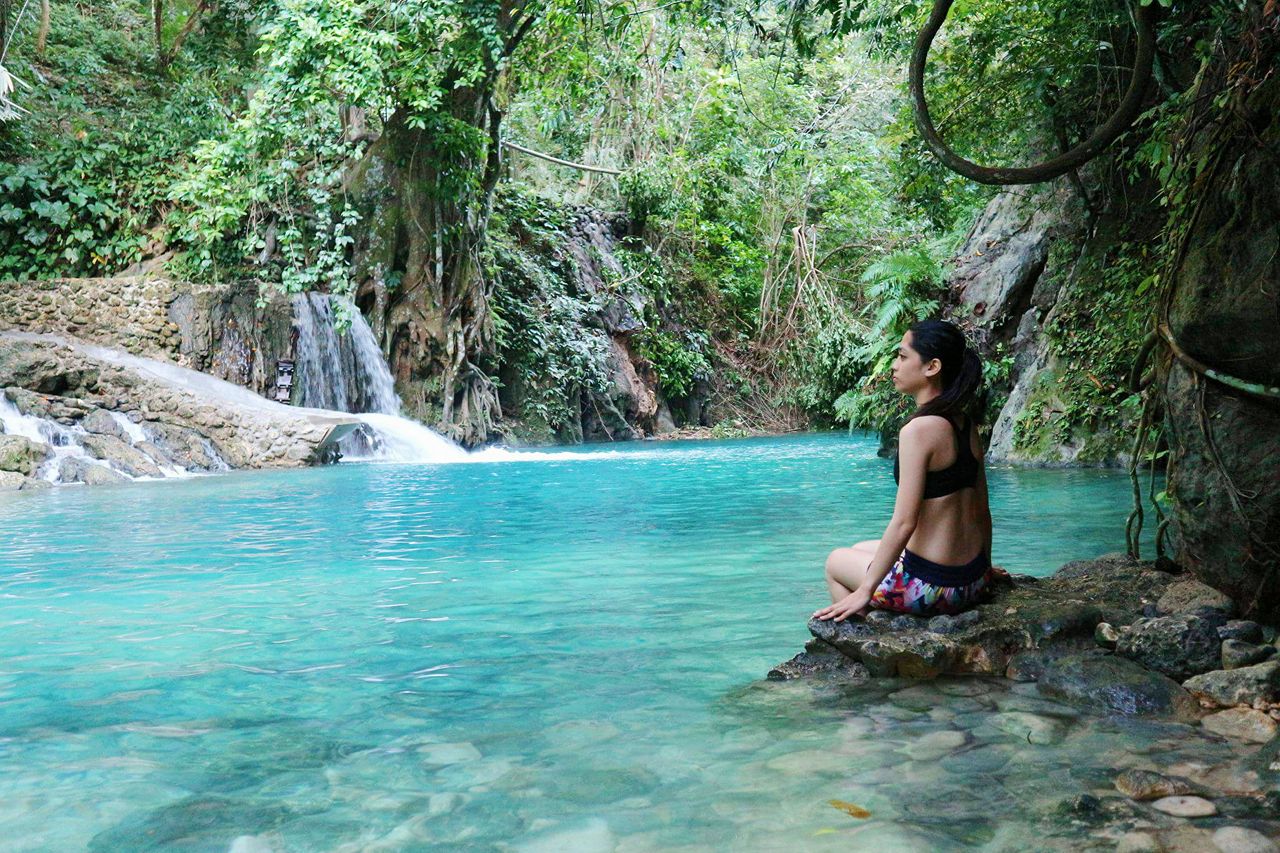 You don't need to go any further because Kabukalan Spring lies at the source of the Kawasan Falls. It is located at the topmost part of the attraction. Kawasan is amazing. It is located near Matuninao River and Osmena Peak where many adventures happen. In this one location alone, you can do many things such as cliff jumping, canyoneering, swimming, relaxing by the spring and of course, photoshoot.
The water is bluish-green in color but clean and crystal clear. It is cold and very pristine. The surrounding area of the spring is just as enchanting as the first and second level. You can spend the entire afternoon here in Kawasan because again, there are so many things you can do here.
How to get there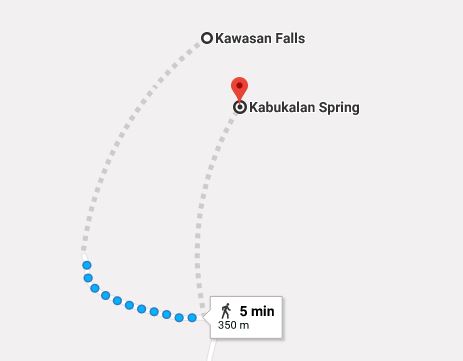 Going to the Kabukalan Spring from two levels below won't require you a habal-habal ride because you only have to climb up to experience the source of Kawasan Falls. The way is tricky but is it now too steep and the trail is okay.
Lambug Beach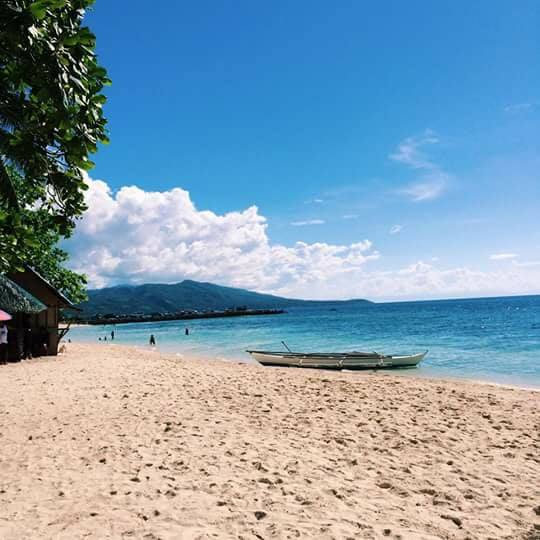 Lambug is the best beach option when you are in Badian. The water is very clean and clear, and the white sand is very fine. It is a perfect view where the sky meets the sea and the mountains. It is also the perfect summer getaway and the best place to spend the last night in Badian.
Lambug beach is not crowded unlike many beaches in the surrounding areas. It is really beautiful and well-maintained, just like Basdaku in Moalboal. Guests have the option to either set up a tent or pay for an overnight stay in a room. The best thing about setting up a tent is that you will be able to make the most of the beach. Low or high tide, Lambug is picturesque.
UPDATE (as of March 2019):
Tent charge: ₱50 /head on weekdays, ₱150 /head on weekends (bring your own tent)
• Cottage: ₱500 per day / overnight : ₱1,000 w/ electricity
• Bus fare: ₱140 /head
• Tricycle: ₱30 /head
• NO Entrance Fee!
How to get there
From Kawasan Falls, take a habal-habal to Lambug beach. The trip is about 30 minutes because Kawasan is far. Rest assured, the trip to Lambug is worth it and you will enjoy every moment spent there.
Cebu is small but it is packed with all the necessary vitamins we need to get revitalized and get back on our feet when Monday arrives. If you have other destinations in mind, please let us know in the comments!