Barangay Tisa has always been the go-to place for most all-nighters when it comes to cheap food trips around the metro. If you have food cravings from lechon, siomai, steamed rice to halo-halo, Tisa is the place to be. You will certainly be delighted by the numerous food stalls in the streets, making Labangon a local food haven!
Their most popular food is, of course, Siomai Sa Tisa, a tiny Chinese-style dumpling with a Filipino touch. It is very cheap, delicious and filling. If you ever want to put up a food place near it, you better make sure that you can keep up!
Just recently, a newbie has taken the spotlight as they introduced their appetizing dishes to the market. They have set foot not to compete with any brand, but to create their own name. The latest craze is the newly opened pizza place at the center of the busy Labangon– Food Porn!
Why and how this fresh name became viral is because of their generous offer to their market. Food Porn is a very small place that offers UNLIMITED pizza, burger and onion rings for only 169 pesos! Imagine your 169 pesos turn into unlimited goodness of freshly baked pizza, a stack of juicy burgers and crispy onion rings? And again, it is unlimited! No matter how tiny their serving is, you can always get your money's worth.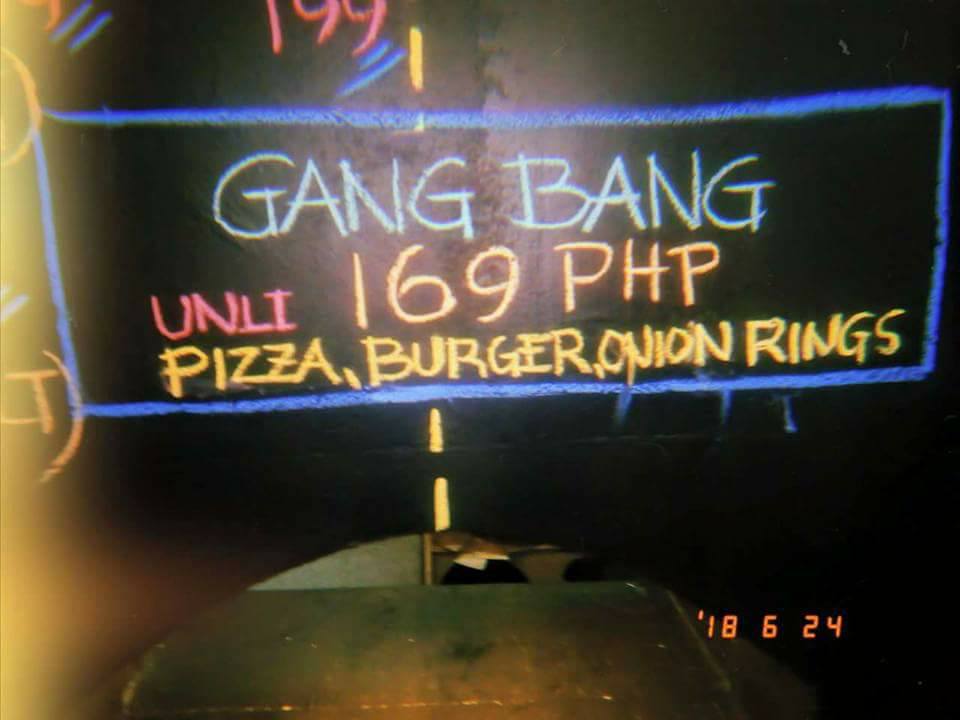 Their pizza looks like this! Can you just imagine consuming an unlimited amount of your all-time favorite?
Their burger consists of a small piece of bun, juicy beef patty, cheese and some veggies. It is indeed very tiny but it is really filling.
Here is what your plate will look like.
They offer more! If you don't feel like eating too much, you can choose a la carte items from their menu.
As mentioned, Food Porn is still very new to the market. Their space is really small and their service may take a while because they are still adjusting. If you have not gone there yet, you may experience long waiting hours before you get a table and an additional waiting period before you get your food delivered. Not to mention the refills! That's a bummer but please be reminded that they are still adjusting, and everything will get better in no time! But for now, don't forget to take your patience with you! 😉
How to get there
Food Porn does not appear on Google Maps yet but to give you an idea, it is located where the popular strip of siomais can be found, right in front of Braddex. To get there, take a jeepney going to Labangon: 12D, 12G, 12I, and 12L. Food Porn is right in the middle of the busy Tisa, Labangon and is open from 12 nn to 12mn!
For inquiries or reservations, you may contact them at 09324144194 or send them a message through their Facebook page.