Still undecided whether to go to the beach or step up your adventures to the mountains? Well, no need to debate with your friends and family as there is a perfect place that will cater to each of your differences – the town of Dalaguete. From beaches to mountains to resorts and springs, you'll surely never ran out of things to do in this town in the southern part of Cebu. So get ready to pack up your bags and let's visit Dalaguete!
About Dalaguete
The Municipality of Dalaguete is located approximely 84 kilometers south of Cebu City. It is bordered with the towns of Argao, Badian, Alcoy, and Alegria. On its east is the bountiful waters of Cebu Strait. According to legends, the name Dalaguete was derived from the tree called "dalakit" which is considered as a sacred dwelling of spirits and mystical creatures. The dakit tree served as a landmark for the community to conduct their social gatherings and economic activities.
Dalaguete's Utanon Festival
Because of its topographic landscape which consist of hills and mountains, the lands were used for agriculture – the reason why Dalaguete is called as the "Vegetable Basket of Cebu". As the mountain barangays are cold, that even Mantalongon, Dalaguete was labeled as the "Little Baguio of Cebu", the place became a perfect area for planting vegetables. Hence, the Utanon Festival.

READ: Utanon Festival- Celebration of Bountiful Vegetable Harvest in Dalaguete
Every 9th and 10th of February, the townspeople of Dalaguete celebrates their town fiesta in honor of their partson saint, San Guillermo. Some of the highlights of the celebration includes street dancing and showdown competition for "Utanon Festival" which is their way of thanksgiving for the abundance of harvest.
Places to visit in Dalaguete
There is no way that you'll ran out of things to do in Dalaguete. Here are some of the best places to visit in this humble town.
Osmeña Peak
A trip to Dalaguete won't be complete without visiting the highest point in Cebu – Osmeña Peak. It stands with an astounding height of 1,013 meters above sea level and has been a favorite hiking and camping destination among nature and adventure lovers. Despite its height, Osmeña Peak remains a perfect destination both for the young and old as its trails are not that technical and difficult to hike.
READ: Ocean Bay Resort: A Perfect Staycation in Dalaguete
Tip: If you want to make the most of your day trip, you may also visit nearby peaks like Kandungaw Peak and Casino Peak (or Lugsangan Peak).
Located in Barangay Mantalongon, Mag-alambak Forest is a 48-hectare reforestation area that has been recently promoted as a perfect ecotourism destination for those who wants to learn and get to know more the varied flora and fauna that can be found in Dalaguete. Guests may join this educational tour organized by the local government with farmers that serves as tour guides.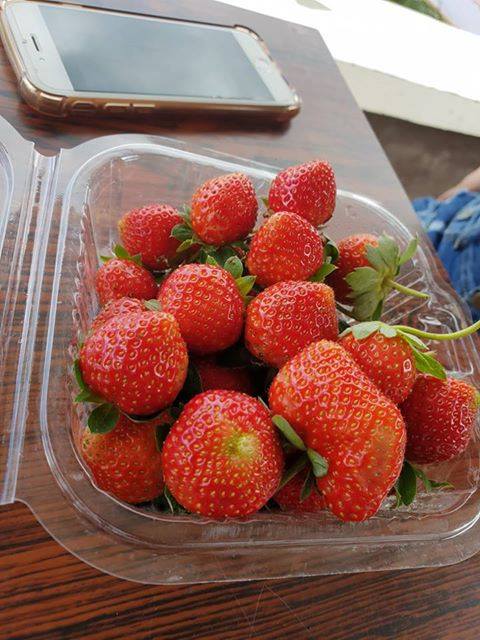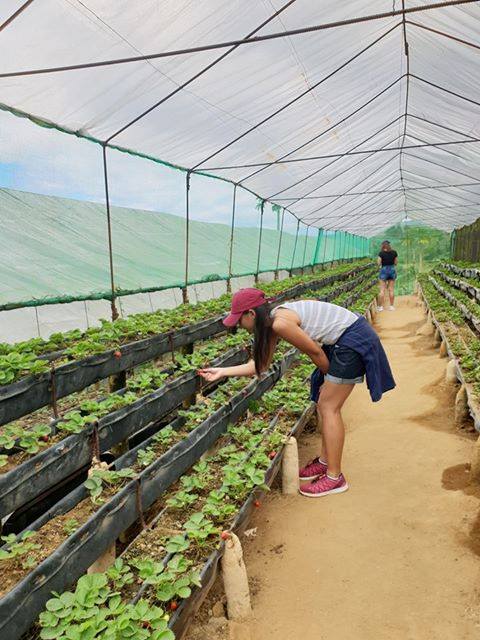 Bringing closer the Baguio favorite, Cebuanos can now enjoy eating the organic strawberry harvests of Sergio's Strawberry Farm located in Maloray, Dalaguete. It used to be a pick and pay but since some visitors would just pick and eat without having the strawberries weighed first. The establishment decided to have the person in charge pick for the visitors so they can pay and eat after.

A kilo of strawberry is at 800 pesos. You can already satisfy your cravings and curiosity with 1/4 kilo for only 200 pesos.

Visitors may also enjoy their Maloray Salad, strawberry shakes, ice candies and strawberry jams.
READ: Finding Peace At Dalaguete's The Beach House
Located in Barangay Balud, Obong Spring is unique destination for a very affordable price. Obong Spring is a favorite swimming destination of the locals. Obong Spring has a distinct type of water as it is a mixture of fresh and salt water. This is because of the close proximity of the spring to the sea, during high tide the salt water mixes with the fresh water of the spring making it brackish.
Upon visiting Osmeña Peak, guest may also take the chance to visit this cave which is known for its great number and varied species of bats flying in and out of the cave. It has a unique cave formation and perfectly suited to those who want to set forth on an adventure.
For a minimal amount of P15 to P30, guests can already enjoy Barangay Casay, Dalaguete's public beach. Like most beaches in the southern part of Cebu, it has a white sand beach with cool waters that can be best enjoyed with the company of good friends and family members.
READ: What To Expect In Casay Dalaguete Beach
Dalaguete Sunflower Garden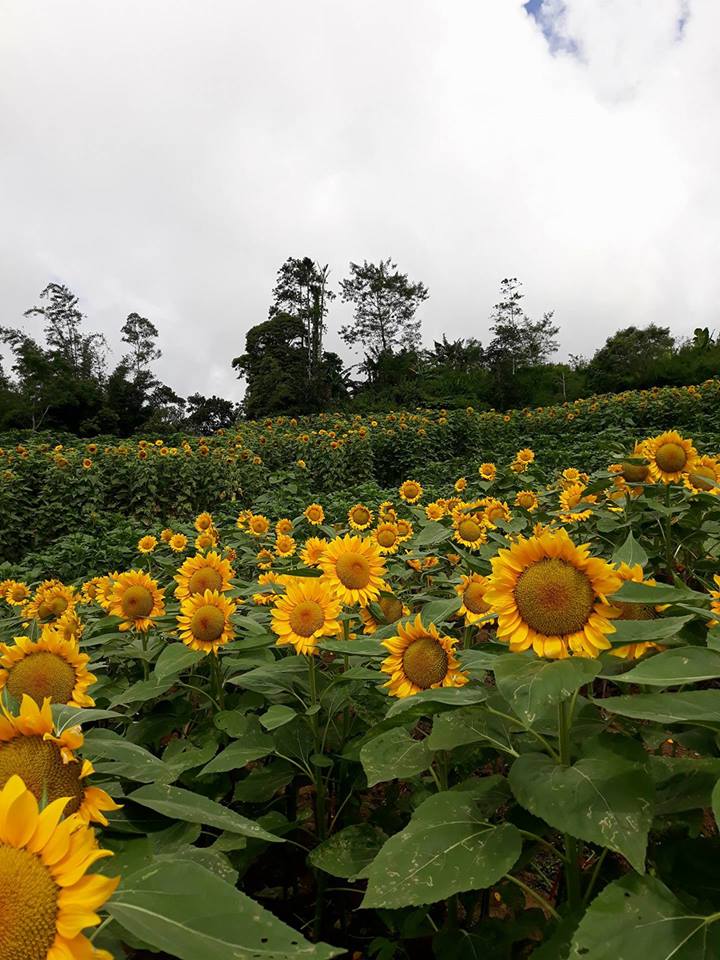 Apart from beaches and mountains, Dalaguete also hosts a beautiful sunflower farm or the "I love Dalaguete Flower Farm". It is located in Mantalongon, Dalaguete and features to a more than 400 sunflower blooms with more or less 15 species. Perfect time to visit the Sunflower Garden is in between April-May and September-October. Enjoy this treat for only P50 entrance fee.
READ: Flower Farm Gardens In Cebu You Should Not Miss
HOW TO GET TO DALAGUETE:
Option 1
From South Bus Terminal, ride a bus bound for Dalaguete.
Option 2
In case you want to enjoy a ride with locals, buses bound for Mantalongon, Dalaguete are stationed in Caltex Gasoline Station near Carbon.
Option 3
As Cebu is a coastal road, it is easy to navigate your way going to Dalaguete using Waze or Google Maps.