No matter how much we try to be frugal when traveling, accommodation would always take a great portion of the budget. Nowadays, even the "cheapest" transients are no longer cheap. So why suffer on those fan rooms, dirty sheets, and communal bathrooms just to save a little when you can make the most of your stay without breaking the bank? Say, staying on hostels like Noordzee Hostel Boljoon.
Read: Ultimate Boljoon Travel Guide: Where to Stay, What to Do
There's so much to see and do in the southern part of the island of Cebu – like island hopping, swimming, hiking, whaleshark watching, diving, and immersing with local culture. Because of this, it is highly recommended to stay for more than a day so as to enjoy these adventures and give justice for the long hours spent on the road just to get to this part of the island. Here now lies the problem: because this part has been flocked by a great number of tourists, both local and international, finding the best place to stay overnight can really be a headache. Where to find the best place to stay that is not that crowded, can address all your needs, but won't empty your pocket? Real backpackers and longtime travelers can easily answer this question – in a hostel. Specifically, Noordzee Hostel.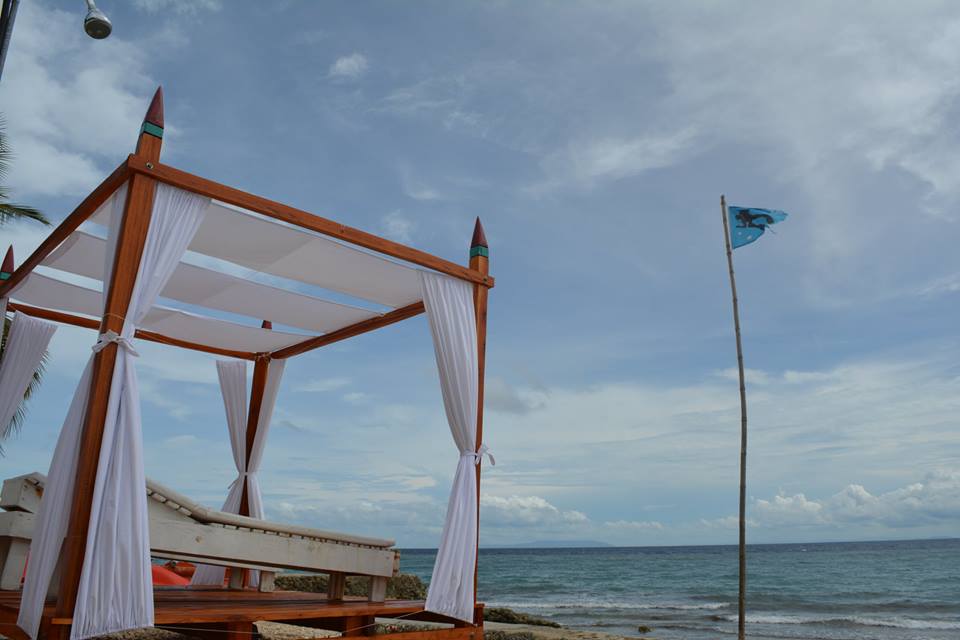 Noordzee Hostel Boljoon is first official hostel in the island of Cebu which is approximately 3 – 4 hours away from Cebu City. It is a beach hostel that provides both budget and luxury rooms for guests who wants to easily access all the activities that can be done in the southern part of Cebu. Aside from being a beachfront hostel, it also has its own swimming pool, beach bar, and rooftop area perfect for savoring freshly prepared food and cold drinks served in their À la carte Noordzee RestoBar. Other facilities include:
Grilling station
Terrace
Outdoor fireplace
Garden
Sun deck
Board games and puzzles
Read: Travel back in time at El Gran Baluarte de Boljoon
Noordzee Hostel traces its early operations after being hit by typhoon Bobha (locally known as Pablo) in 2012 which totally destroyed the construction of the hostel in the beach level area. But the owners didn't crumbled together with the destruction, instead build up a great structure which initially started with only three bed spaces for rent. Right now, aside from the fact that the place is most enjoyed because of its classy beachfront, healthy coral reef, and rich marine life that can easily be accessed to turtles and whalesharks, it also offers paddleboarding, standup paddle boarding, and waterfalls chasing adventure to guests. As it is a hostel, guests can also cook their own food which they can buy in the market which is just five minutes away from the hostel.
ACCOMMODATIONS:
Bunk Bed Dormitory Room (with aircon) – P599
Bunk Bed in Deluxe Dormitory Room – P 699
Tent (good for 2 pax) – P1,999
IMPORTANT DETAILS:
Check-in: 2:00pm – 11:00pm; Check out: 12: 00am – 12:00pm
With FREE WiFi
Offers breakfast deals for a minimal amount
No parking area available
No capacity for extra beds
Airport pick-up and drop-off
Read: The Unfinished business of Cuartel in Oslob
HOW TO GET THERE?

From Cebu City, go to Cebu South Bus Terminal and ride a bus bound for Boljoon or Oslob. Ask the driver to drop you off at the Boljoon National High School. Noordzee Hostel is located just next to the school.
For more details, feel free to contact them at (032) 482 9013 or email at [email protected] or visit www.noordzeehostel.com.
Make the most of your vacation by staying in a hostel that give a holiday resort treat with a backpacking atmosphere by booking at Noordzee Hostel Boljoon!
Read: Get Sunkissed At Cebu Club Fort Med Resort