There is still so much of untouched beauty in the southern part of Cebu that is worth our visit. Nature won't stay the same forever so I suggest that you start planning your trip from Oslob to Samboan now. To give you an idea of what to expect, here is a sample itinerary for you to be guided.
To get to Oslob, you need to hop on a bus from the South Bus Terminal that says Bato via Liloan. To be sure, tell the conductor that you wish to go to Oslob for whale watching– this depends on your ETA, you can mix it up depending on what time you arrive in Oslob. The fare is around 155 pesos for the airconditioned bus and the trip is around 3 hours long.
Whale Shark Watching/Swimming
Oslob is popular for the gentle giants. If you have not heard of it yet, it is a must-do activity when you pass by Oslob. Whale watching– or swimming with whale sharks is a tourist attraction that has greatly helped the locals. It is not advisable to swim with the sharks though, but in this place, doing so is a thing.
READ: Oslob's Whale Sharks – Fascinating Facts on Cebu's Gentle Giants
The trip to Oslob is pretty long so you should not waste your time. In the morning, head directly to Brgy. Tan-awan, the home for scuba diving, and whale shark watching.
When you arrive at the place, you will need to register first. The rate for locals, foreigners, and non-swimmers differ. Prepare 500-1000 pesos if you want to enjoy the 30-minute activity with the sharks. Taking underwater photos with the animals is allowed but if you don't have an underwater camera, you can rent one for 500 pesos.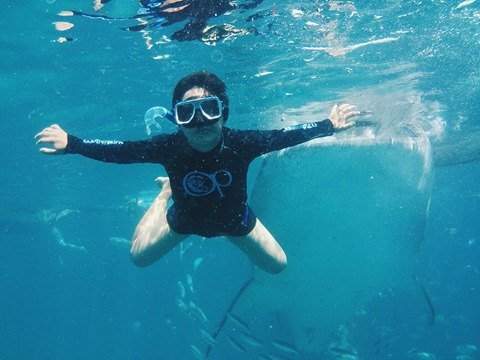 When I swam with the sharks a couple of years ago, I felt like I was about to be eaten by them. Their mouth is big, it can really fit a human being in my opinion. I was really scared that I didn't mind being unable to take decent photos with them underwater! I was just hanging at the side of the boat, with the life vest ruining my floating position. It was a life and death experience for me though it was not really dangerous at all.
The sharks are dubbed as the gentle giants. Yes, they are sharks but they don't eat humans. They are indeed very gentle as they swam under me, their tails touched my legs many times. And all those times, I freaked out. Their teeth are really tiny and their food smells bad by the way.
Please be mindful when you are in the water with the sharks. Do not touch them because human interaction could harm them. Also, you are encouraged to wear a rashguard because sunscreen can poison them.
The sharks only show up in the morning so after that, you can head straight to Tumalog Falls or eat lunch along the way.
READ: The Unfinished business of Cuartel in Oslob
How to get there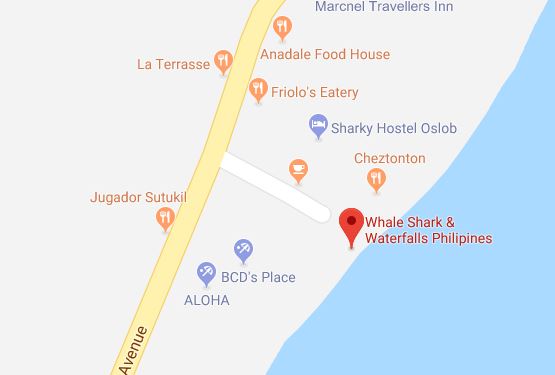 The bus from Cebu City will pass by the road where the whale watching happens. For more information, please check this website out or call them at 5136350.
Tumalog Falls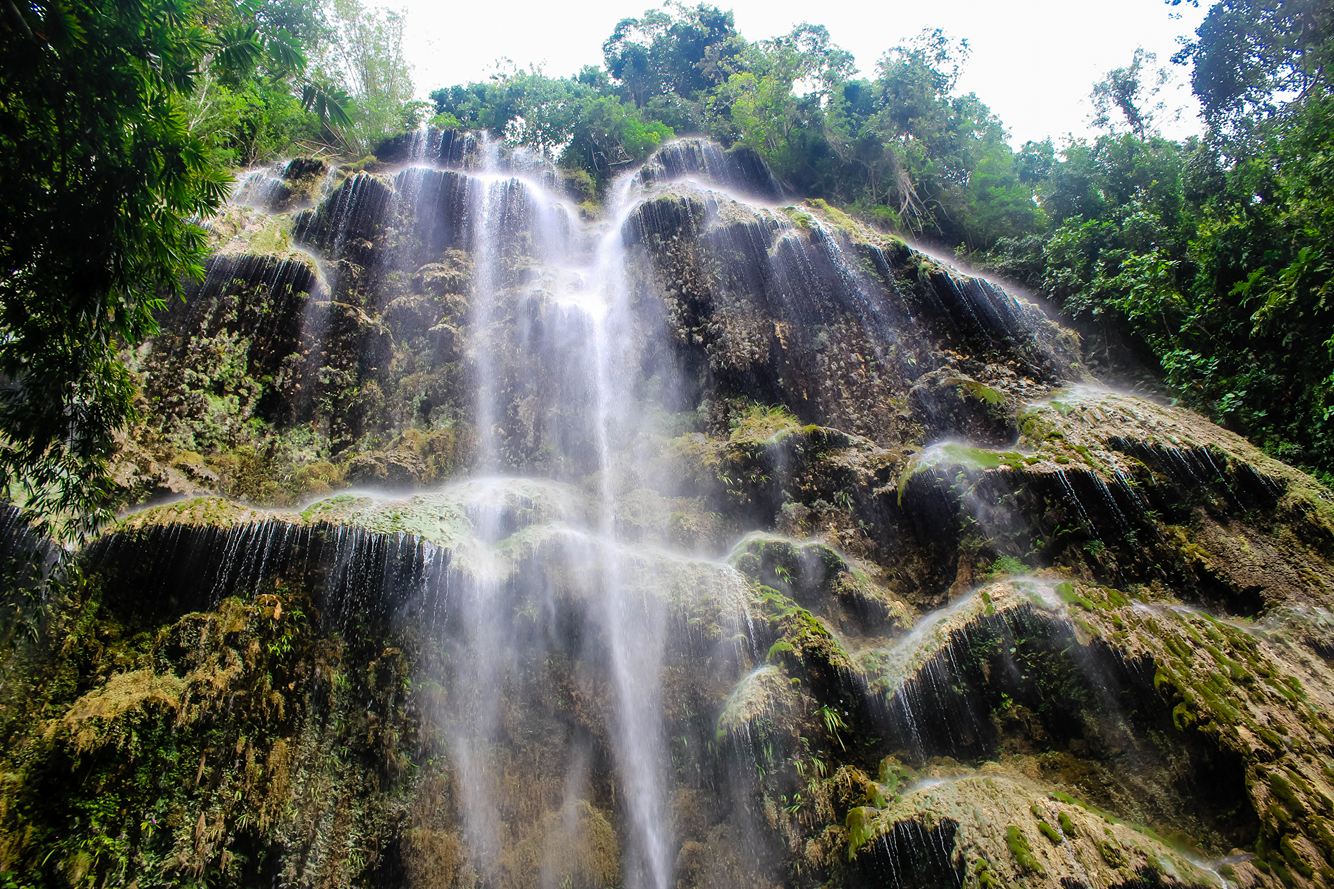 If you are like me who is afraid of the strong pressure from the falling water, Tumalog Falls will be your best friend. The waterfall, unlike Kawasan, fairly distributes its water like a thin curtain covering the rocks. It is so nice! It looks like a very elegant public shower. The water falls so perfectly into the pool and it sure won't harm anyone in the process.
READ: Sunrise Watching at Lagunde Beach Resort in Oslob
Tumalog Falls is high, the rocks are big and the water is clean and clear. The pool is shallow, waist-length, which I like! No life vest needed and kids can enjoy as well.
The waterfall is mesmerizing. I sometimes run out of words to describe the waterfalls but this one is the best that I have featured so far. Look at that! It stands high, strong and mighty, but the water is not overwhelming, rather the waterfall is just a thin layer which makes it fun!
How to get there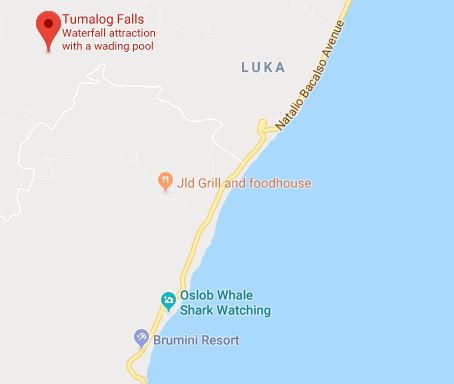 If you come from whale watching, you will have to take a motorbike to reach Tumalog Falls. It is around 10 minutes away. Renting a motorbike is the most efficient way of touring Oslob or any other province.
The waterfall is uphill and will take you a lot of effort if you decide to walk your way to the destination but trekking is doable. The fare is about 70 to 100 pesos, depending on your arrangement with the driver. The entrance fee is shockingly only 20 pesos. Is this not a good deal already?
READ: Dao Falls – The Quest for the Grandest Flowing Gem of Samboan
Lagunde Beach Resort
After an entire day of enjoying Oslob, it is time to rest and prepare for the next day. I did not book any resort. Fortunately, I found Lagunde Beach Resort while I passed through the highway.
Lagunde Beach Resort has a huge signage outside that shows a swimming pool. Because of this, I went inside and inquired and was able to book a room.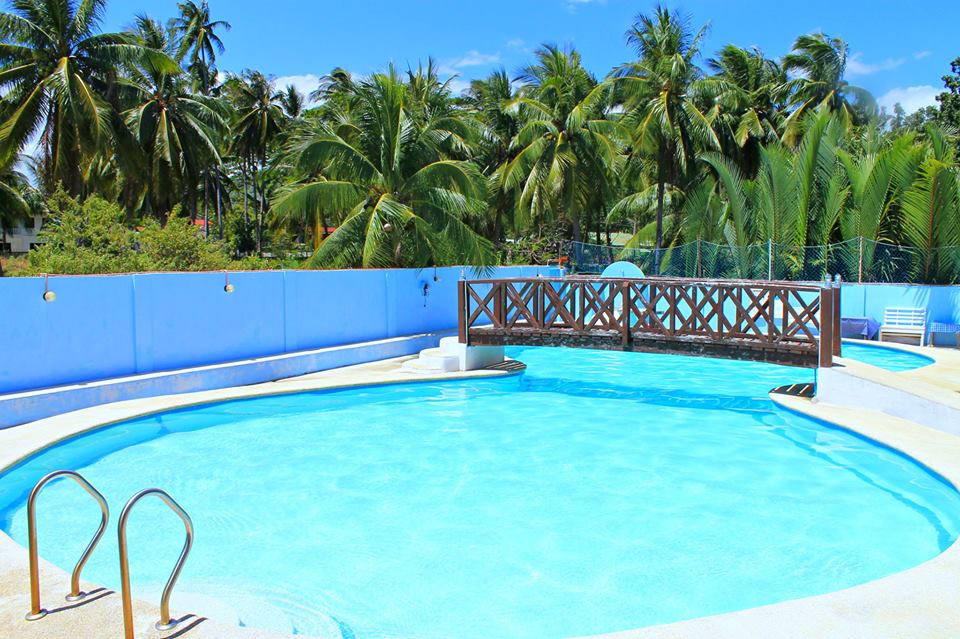 The resort is very outdated. The design and the paint colors feel like I was born 50 years ago. However, I enjoyed my stay there because it was peaceful and they had everything I needed. The pool and the view were the best.
READ: Villa On A Cliff and its million dollar view
The rooms are airconditioned and very affordable– with cable T.V., hot shower, and free Wi-Fi for only 1,790. Perks? The rooms are very near the beach and the pool, also near the restaurant and they also offer free breakfast for two. By the way, their food is great! The prices are reasonable, too. They have a bar that closes late at night, and a karaoke machine which you can rent. Their staff are very accommodating and patient as well.
How to get there
Lagunde Beach Resort is along the road, a few minutes after St. Joseph Parish Church. If Lagunde is your first stop, you can inform the bus assistant that you will be getting off at Lagunde Beach Resort. On the other hand, if you are coming from whale watching, take a motorbike to take you to resort.
READ: Country Home Resort: Your new staycation down South
I swear you will love it here! They have a trampoline, birds and a monkey! Book as early as you can by calling their number at 481 9990. You may also reach them via Facebook.
You will stay here overnight but before hitting the sack, you may want to go to the town where you can find 7/11, other restaurants and many local eateries.
Aguinid Falls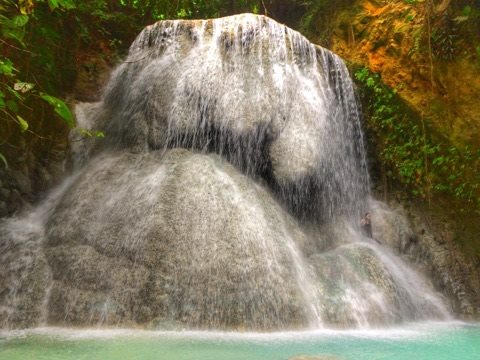 After you have claimed your free breakfast from Lagunde in the morning, it is time for you to head on to your next destination, the Aguinid Falls in Samboan.
It is slightly similar to Tumalog Falls because the water looks like a thin curtain that protects the rocks. The rocks are enormous! Look at the size as compared to the woman in the falls.
Good news for people like me and bad news for those who are adrenaline junkies, jumping is not allowed in Aguinid Falls because the water is very shallow, just like Tumalog Falls.
The falls in interestingly up to 8 levels, 5 of which are open to the public.
So much to explore in one place!
How to get there
Hire a motorbike to take you to Aguinid Falls. The fare would depend on the driver because Samboan is already a different municipality and is more or less an hour away.
At the registration area, you will be asked to pay a little amount as entrance fee and environmental fee. Don't worry, it won't be more than 50 pesos for the locals. Foreigners should expect a higher price but just about 60 pesos only.
Binalayan Hidden Waterfalls
In the afternoon, you can explore two more waterfalls before calling it a night.
Binalayan Hidden Waterfalls could be one of the waterfalls in the entire country that is very near to the main road. You can even walk to the registration area from the road with no sweat and a few minutes from the registration area is the waterfall.
The water is a treat because it is cold, very refreshing and good news for me (again)– not too deep! Folks can still jump in the water though. The waterfall is high, and the water slips down to the pool smoothly. The pool is a decent size where you and your friends can still enjoy.
How to get there
As mentioned above, the falls is just a walking distance from the main road. All you have to do is register and they will take care of you. Make sure to pay the fee of 40 pesos to support their environment.
Dao Falls
Last, but definitely not the least, is Dao Falls, just 15-20 minutes away from Binalayan Falls. It is a familiar sight if you have been to Bugasok Falls in Argao. If you don't know about Bugasok Falls, you can read our post here.
Going to the Dao Falls is a long way. You will have to cross a hanging bridge, and walk through a river. The way there will seriously increase your heartbeat because there will be lots of narrow bridges to cross. Nevertheless, the view is worth it! The water is teal, clean and clear. The waterfall itself looks impressive. Everything is picturesque!
How to get there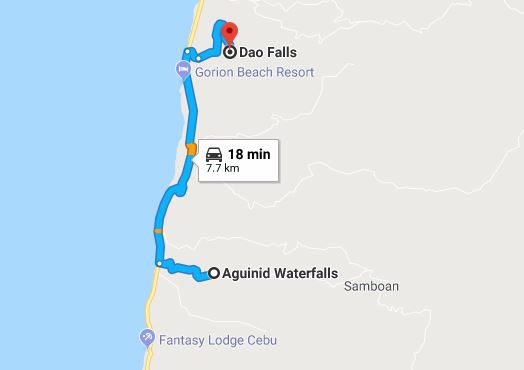 Begin by hiring a motorbike since it is the best option if you plan to travel back and forth. When you reach the entrance, you will be required to pay 40 pesos before you enter. The fee is worth it, take my word for it. After that, you will have to trek for around 30 minutes before getting to the best part so make sure to be well on the day.
Fantasy Lodge
To end the trip is a treat. Look at this stunning resort from the top view. Fantasy Lodge offers a different kind of adventure for nature lovers who wish to relax before heading back to the city. I would love to come back to this place because the lodge is the trip's cherry on top.
The lodge is at a secluded area where the guests will be one with nature. No distractions, just pure relaxation.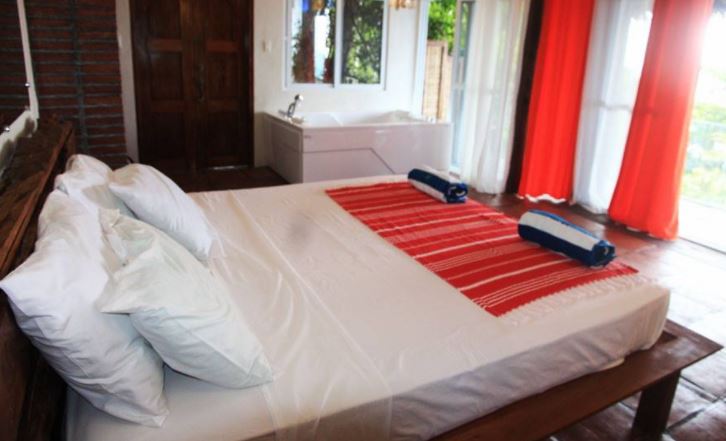 The rooms are very chic and luxurious. They are spacious and well ventilated. They also have a swimming pool and other fun activities such as Kawa Hot Bath where you will be laying in a huge pan for a very relaxing, hot bath. Isn't that instagrammable?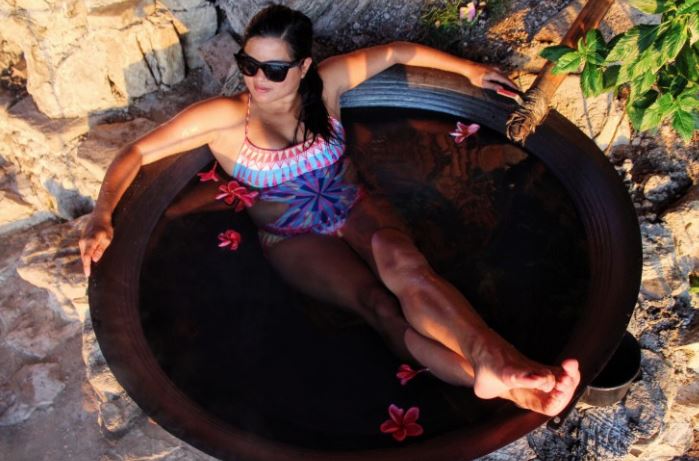 Their room rates start at 2,530 which includes a Queen-sized bed, a private bathroom, and Wi-Fi.
How to get there
Fantasy Lodge is about 15-20 minutes from Dao Falls. Take a motorcycle, again, to take you to the destination. Fantasy Lodge still has so much to offer. If you want to know more about the resort, you may call them at 09177006027 or go to their website at www.fantasylodgecebu.com.
I hope you enjoyed reading through the post and discovered places you didn't know existed. Leave us a comment if you are planning on using this itinerary and let us know what you think!