Plantation Bay Resort & Spa is easily one of the two resorts that many locals (and maybe even tourists as well) back in the 90s would consider their "dream" resort. "Dream" resort in this case simply means the place is nearly always in the conversation when locals think of that luxurious, over-the-top, if-I-win-the-lotto kind of destination to go to that only foreigners and foreign funded locals can seem to afford.
More than 2 decades have passed and surprisingly, the resort still sits on the podium when it comes to traveller ratings even when a dozen or so newcomers in Mactan have sprouted. Could it be because the resort has well established name already? Or are they really on top of their game relative to the competition? This, we'll soon find out…
Facilities
Size of the resort
First off, it should be noted that this resort is HUUUUGE! 11 hectares huge to be exact! To give you a better idea of how big this place is, when we stayed at the right side of the resort (the room immediately beside their souvenir shop), we didn't even reach the opposite side of the resort! The farthest we were able to explore was the main restaurant which is in the middle of their lagoon. Heck we didn't even reach the beach that time!
———————————————————————————————————-
Update May 2021: For our 5th stay, we DID reach the beach and we stayed and dined at this area most of the time because nobody else was there!
The beach isn't really as small as I initially thought to be quite honest. I guess it just looked small RELATIVE to the entire place or the lagoons in particular but after our 3D2N stay this time around, and nobody else was enjoying it, it was actually around twice as much as Crimson Resort's beach (review here: https://bit.ly/3hQvtEm).
Another pleasant surprise about their beach? It actually had fishes! Although definitely not Shangri-la (review here: https://bit.ly/2RElxTO) level but much better than that of Crimson's further cementing this resort at 2nd place in our top resorts in Cebu!
My only regret is not knowing this ahead so we didn't actually bring our snorkels but hey, that'll make it even more exciting for our 6th stay for sure!
———————————————————————————————————-
But hey, that's just us being lazy and all but if you have kids in tow, believe me you will surely wish each room had their own trisikad (bike with a side car) so you can get to the other parts of the resort much faster. Sure the resort has a golf cart but if I remember it correctly, we weren't even driven to our rooms to that time – I believe there's just 1 or 2 of those electric vehicles available so prepare to walk from the parking lot to where your rooms will be! This experience alone will make you wish you had Crimson Resort's or Blue Water Resort's guest delivery service.
XXXXX
PRO TIP:
Try, I mean TRY to keep one of them bikes in your rooms so you can get to explore the entire resort easier. The keyword here is TRY simply because if memory serves me right, they have limited bicycles and we are only allowed a limited number of hour(s) to use them.
PRO TIP #2:
This tip is guaranteed to make your stay a whole lot better trust me… Get a room on the LEFT (when you're looking at the restaurant from the reception) side of the resort. Why? Simply because the left side of the resort houses their spa (free hot jacuzzi), game room (with ping pong, billiards, etc.), shooting range, wall climbing, archery range, and children's playground. The right side of the resort, on the other hand, only has their souvenir shop and we all know how overpriced all things are in those shops so only use if absolutely needed (like that time we ran out of sunscreen).
Manmade seawater lagoons
With the size of the property aside, the moment you enter the resort's guarded entrance, you are already exposed to Plantation Bay's main attraction, the lagoons.
When you go out of the reception area, you will then see a huge "pool" divided in the center with a walkway going to the main restaurant which is on the end of one of the man-made saltwater lagoons.
Simply put, these lagoons are what makes this resort what it is. Most of the rooms of the resort are beside or just a few steps away from them. Thankfully, the waters of these lagoons are actually filtered seawater making them indeed the only resort in Mactan to offer the closest rooms with access to such – many other resorts have rooms close to the water as well but are mostly pools with freshwater on them.
Pros and cons of the manmade lagoons
These manmade lagoons, unfortunately, are never going to replace the beauty of the sea especially if you love snorkeling the way we do. However, given they are filtered, this makes them actually cleaner especially since Mactan's beaches aren't really the cleanest seawater around given the sheer number of people that enjoy them (including those who live near beaches with their waste going to the sea no less) as well as all the boats that use it (both recreational as well as transportation).
Another thing good I see about this arrangement is the fact that you don't usually get itches usually gotten from, say seaweeds, or other living creatures (think jellyfish and the like) found on the sea.
On the flip side, besides the fact that you don't get to see anything but cement on these lagoons, you can also get scratches and cuts from the cemented floor that has many sharp finishes. Although this is something you can get from the natural sea as well, there are many pure white sand beaches around Cebu that your feet will love stepping on for a fraction of the cost with some even FREE (think Basdaku in Moalboal or Lambug Beach in Badian).
Also, let's not forget that the lagoons also have slides on them ranging from 5 feet to about 10-15 feet high. I slid on the small one with my son and since they are made of concrete, that was the first and the last we got on them. I just don't feel comfortable sliding on something made of concrete especially given how slippery things can be and you aren't required to wear a helmet.
All that said, if you're just looking for a place to spend time, away from the possible itches that come from a natural beach, and of course price notwithstanding, I doubt you can get any better than Plantation Bay. But then again, that's probably because there's no other place in the country that has this set-up.
If you are looking to spend time on the beach and especially if you are more into snorkelling, for a slightly higher price (if you book online or through phone and ask for their "local rate"), I definitely would rather spend the night on Shangri-la.
Things to do in Plantation Bay
With its massive total area, it doesn't come as a surprise that they have a lot of activities that everyone can enjoy so long as you have the energy as well as the budget. Let's start with the free ones shall we?
Of the 3x we went there, we were able to avail of 30 minutes or 1 hour of kayak use on the lagoon. This is how it looks like for good measure:
Come to think of it, these kayaks are actually closer on the right side rooms so, if these are what you're after for mainly, then get rooms on the right.
Paddle boards are also available for rental.
Next stop is the resort's game room which houses 2 billiard tables, ping pong table, foosball, hockey table and some arcade games. If I'm not mistaken, the arcade games were also free but don't take my word for it. The place looks like this:
Another area of the resort houses activities like wall climbing, archery, a tennis court, as well as a shooting range. I believe the wall climbing, archery as well as the children's playground can be enjoyed free of charge but, naturally, if you want to do some shooting you have to pay. I'm not sure anymore how much we paid though but I believe that it was about PHP 1,000 for 8 rounds. They had a 9mm Gloc, a .45, a revolver, as well as a shotgun when we went there.
We also enjoyed riding the calesa (horse carriage) and that too was free. You get to go round the entire resort just like how a "haciendero" (plantation owner) would have done back in the day when cars weren't a thing yet.
*Keep in mind though that the free activities will naturally have more people lining up for them so don't expect you'd be guaranteed to enjoy them.
A quick check on their Facebook page and voila I see something new! They now have Segway rentals for PHP 600.00/30 minutes. I bet they know how this would be awesome if everyone who checked in would have one at their disposal to get the most of the resort but knowing how expensive these 2 wheeled vehicles are, I understand their decision to just have this available for rent.
Where and How to Get to Plantation Bay Resort
This resort is, no question, secluded. It is on a place of its own so-to-speak. It's located on the far end of Marigondon, Mactan and, once you get there, going anywhere else like another restaurant or food place to eat, for example, is going to be an effort especially if you don't have your own car.
Map above shows 2 lines marked blue and red. The red line gives you an idea how far Plantation Bay Resort is from Fuente Osmeña Circle, or the heart of Cebu City. The overall distance you need to cover here is only about 20 km. The time it takes would be about 1:20 minutes on Sunday's traffic while it could take about 3 hours on a work day.
The red line shows the proximity of the resort from the Mactan Cebu International Airport. It should only be about 10 km away and should take about 40 mins on a non-working day and 1 hour on a working day.
I don't know how to show two different routes on a live Google Map, but here they are, separately:
Fuente Osmeña–Plantation Bay
Plantation Bay–Mactan Cebu International Airport
The resort also offers scheduled roundtrip airport transfers free of charge.
The food, prices and how it compares
The food here will cost an average of PHP 400.00 net of taxes and service charge for a main course. This is about the same with its competitors although I'd say the portions here I find a bit more. However, for the price the food is nothing spectacular in the taste department as well as in the presentation relative to its peers.
And if you're looking for the quality of food above anything else on your resort, what I'd recommend will have to be Shangri-la or the Abaca Boutique Resort with the latter I'd say a little ahead of the former simply because chef Justin cooked us something off the menu during our stay – imagine that!
Service and how it compares
The reception and concierge is at par with its peers but, from the moment you are in your room, service dramatically drops. It could be the sheer size of the resort that makes you feel you are on your own and that ordering something will take an effort and about 30 minutes or so to get to you, or it could be something the resort is actually trying to achieve as it does want you to feel you are in a "plantation" and that a plantation definitely doesn't have a lot of people in it except maybe if it's planting or harvesting season.
When you're out and about, getting someone from the resort to get you something to drink or nibble gets even trickier as you can barely see staff walking around or on standby unlike Shangri-la (since this resort is also of considerable size) where it seems to have people that can assist you anywhere you go. I honestly thought there are parts of the resort where you can have a heart attack and nobody would even notice.
That said, you best bring water along when you decide to wander around because ordering one is just not an option you can have easily.
I can imagine lovers would love this set-up better, as they get to have more privacy and all that, but this isn't really something I prefer especially with kids in tow.
Overall safety and how it compares
I'd say the resort is overall safe even for kids especially since there's a lagoon dedicated for kids as well and that most parts of the lagoons are just about 4 feet max in depth with plenty of access to sidelines and middle islets to relax.
However, given the lack of staff to cover many parts of the resort, I still don't feel comfortable just leaving kids on the lagoon especially since I didn't even notice there were lifeguards around the lagoons. Or, if there were indeed lifeguards, they are probably somewhere else or they are not as proactive as the ones in Shangri-la where there are dedicated lifeguards everywhere there's water and they don't just sit around, they actually call to attention people and kids who are not following safety guidelines or etiquette.
Although definitely not a deal breaker, I still thought of sharing this fact so people especially those with special needs have to prepare accordingly.
Rates, tips on getting the best one and how it compares
The lowest price for an overnight stay here is pegged at $160 on their website – and this is static unlike most luxury resorts at this price range where their rate fluctuates depending on the season, etc. One thing you have to be wary of however is that the rate does not include a buffet breakfast, standard with its competitors and of course, you have to add 12% VAT and 10% service charge which will make their lowest price at about PHP 9,700.
WARNING!!!
There might be other sites like Agoda, Booking.com, & Expedia that might seem to offer a slightly lower price for the same rooms, be wary of these. Make sure you go through the whole online check-in process to actually see the FINAL PRICE because these sites too will add other fees on top of their "published" rates.
With the warning aside, I'd say the best way to get the best rate is to actually go through all the online booking options including the resort's official site as well as calling their reservations itself (if an option). This way, you are assured to have covered all grounds. The resort's contact details are as follows:



Tel. + 63 32 505 9800
For general inquiries and reservations email: [email protected]
Website: https://plantationbay.com/
As for the lowest possible rate, I'd say you can have them if you get lucky enough to find someone selling a gift check (voucher). These situations are quite rare especially for this particular resort and you can find them in places like Istorya.net's buy and sell section as well as all over Facebook's buy and sell groups. I haven't seen anyone selling such on other classified sites such as OLX just yet. My first and last experience through allowed me to get an overnight stay for only PHP 6,000 if I remember it correctly.
Of course due diligence should naturally be done in going this route as these transactions are already outside the resort's control.
At PHP 10,000 price range minimum without a buffet breakfast, I'd say the resort's price isn't really the most expensive in Mactan although I can't say I wouldn't be choosing it for monthly stays as I'd rather opt for Shangri-La given the price. Shangrila's minimum overnight rate when I checked this month (May 2017) is pegged at about PHP 12,000 all in and this includes the best buffet breakfast in the region which is worth about PHP 2,000.00/adult.
Not to mention, if you're a Shangri-la Golden Circle member, you get points on all your spend which translates to even more savings (in my calculation, it takes about 5 overnight stays to get enough points to get another overnight stay for free). IF you get vouchers on Shangri-La's Paradise Rush or other sellers, it's really a no brainer as those can be had at PHP 7,000 or even lower from 3rd parties.
Verdict: who the resort is for and who should avoid it
I daresay the place is no doubt for everyone to experience at least once and I'd like to believe, given the number of Filipinos that still flock to the place, that the resort still remains that dream resort to visit for most locals.
However, if you are looking for a resort to spend beyond a day and maybe even one that you can visit monthly, I would say for about the same price, I'd pick Shangri-la over Plantation Bay Resort anytime for reasons mentioned all over this piece.
Of course these thoughts are just my opinion and your thoughts about the resort could have been different so by all means, please let me know your thoughts on the comments below.
Update May 2021: Given the Php 5,000 price per night including a plated breakfast for 2 adults and the fact that their beach is actually big enough, I am definitely going to find the family here more often as 2 nights here at this rate is just 1 night at Shangri-la!
More Images After Our May 2021, 3D2N Stay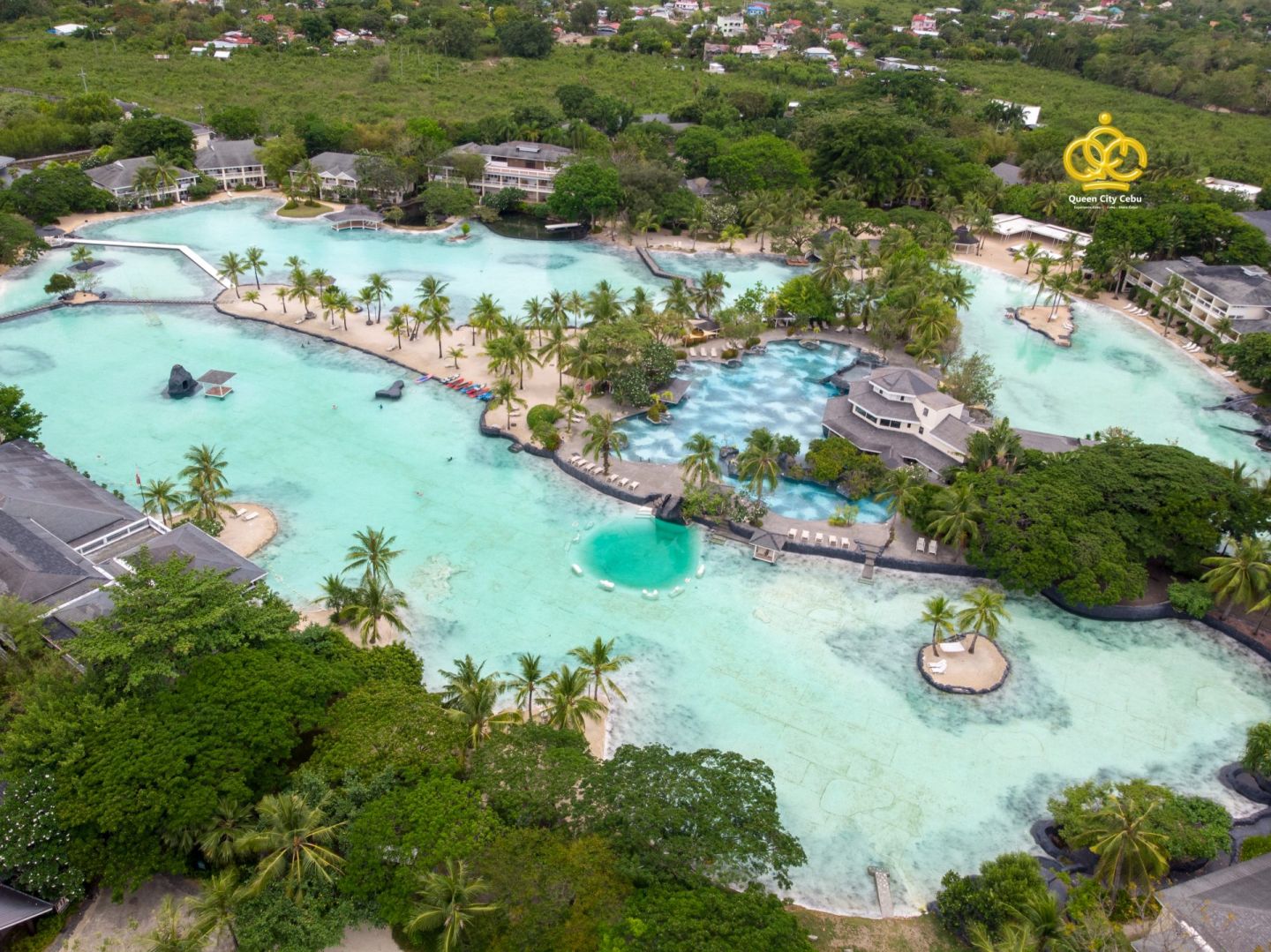 Plantation Bay Resort all ours for this day!
More pics of the empty manmade seawater lagoons below!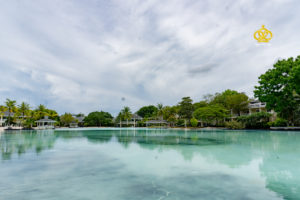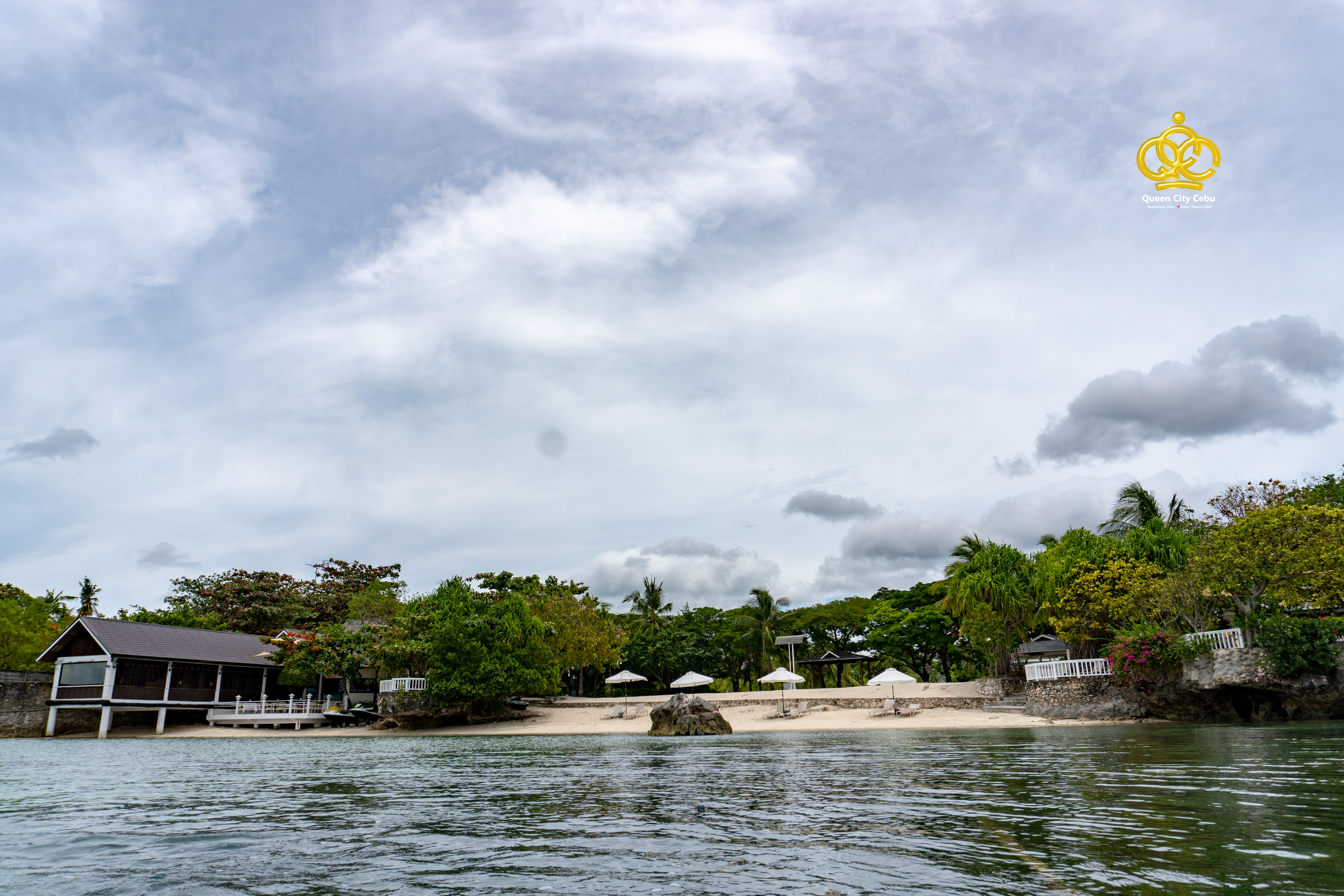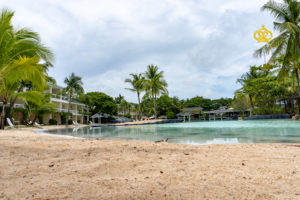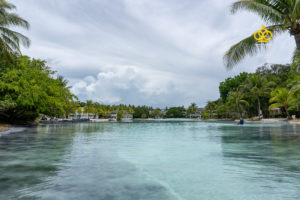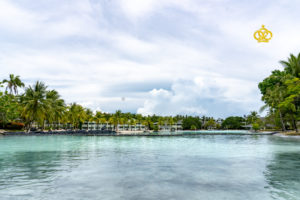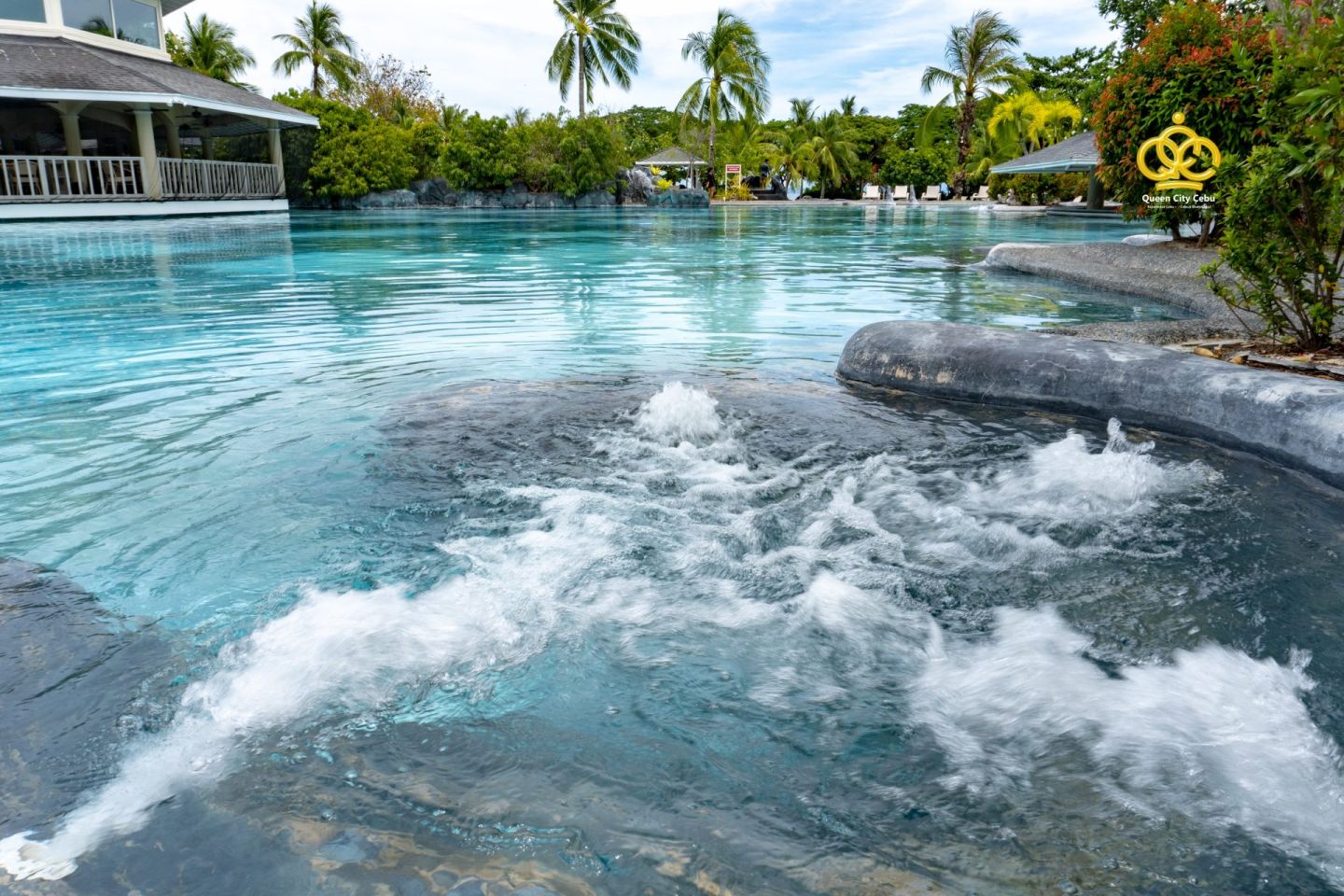 Some of the food we got for our 3D2N stay – price ranges is from Php 4,000 – 1,200 per dish:
The QCC TEAM for this trip!