Verdict: Although the quality of the food that we ordered was there, we found this Japanese restaurant rather on the expensive side (or the overall taste & quality didn't match the price in our opinion). One thing is certain though, we'd still recommend the place a vist if you fancy ramen as much as we do. I for one am going back here and I can't wait to try out there off the menu (secret) ramen of the day.
So I came here for my 2nd try and ordered their seafood ramen that's off the menu and oh boy I can definitely tell you it's one for the books! I am salivating right now just writing this update for it! Totally a must try for ramen lovers out there!
For: A new experience, in fact a first in Cebu if I'm not very much mistaken with their no take out policy. Some uncommon ramen dish and overall good quality food. Overall service is top notch.
Against: Rather on the expensive because of the no take-out policy – something that came as a surprised to us as we usually dine with 2 kids and 3 adults and we love ordering more than we can eat and take home the leftover. The restaurant itself was on the warm side for our taste – we even overheard multiple diners complaining about it. This could be part of their strategy to keep their ramen hot for as long as possible?
This is one of the few eat outs we've done that is quite honestly, influenced by social media thanks to a friend posting pics of their ramen. That's right! Even marketing veterans like myself can also be influenced by this platform and that just tells you how powerful it is!
I have to admit as well, the food styling in Ramen Yushoken along with the lighting in the restaurant makes for rather pretty images and if you're one of them always on the look-out for the next food porn to post, this is no doubt highly recommended.
Our order
Our orders came quite fast which is something we found unusual given the place was packed on a Saturday dinner (we were #7 on the wait list). I'm sure it helps that there were ample staff (about 7 during our visit) manning the open kitchen behind the dining bar area as you can see below: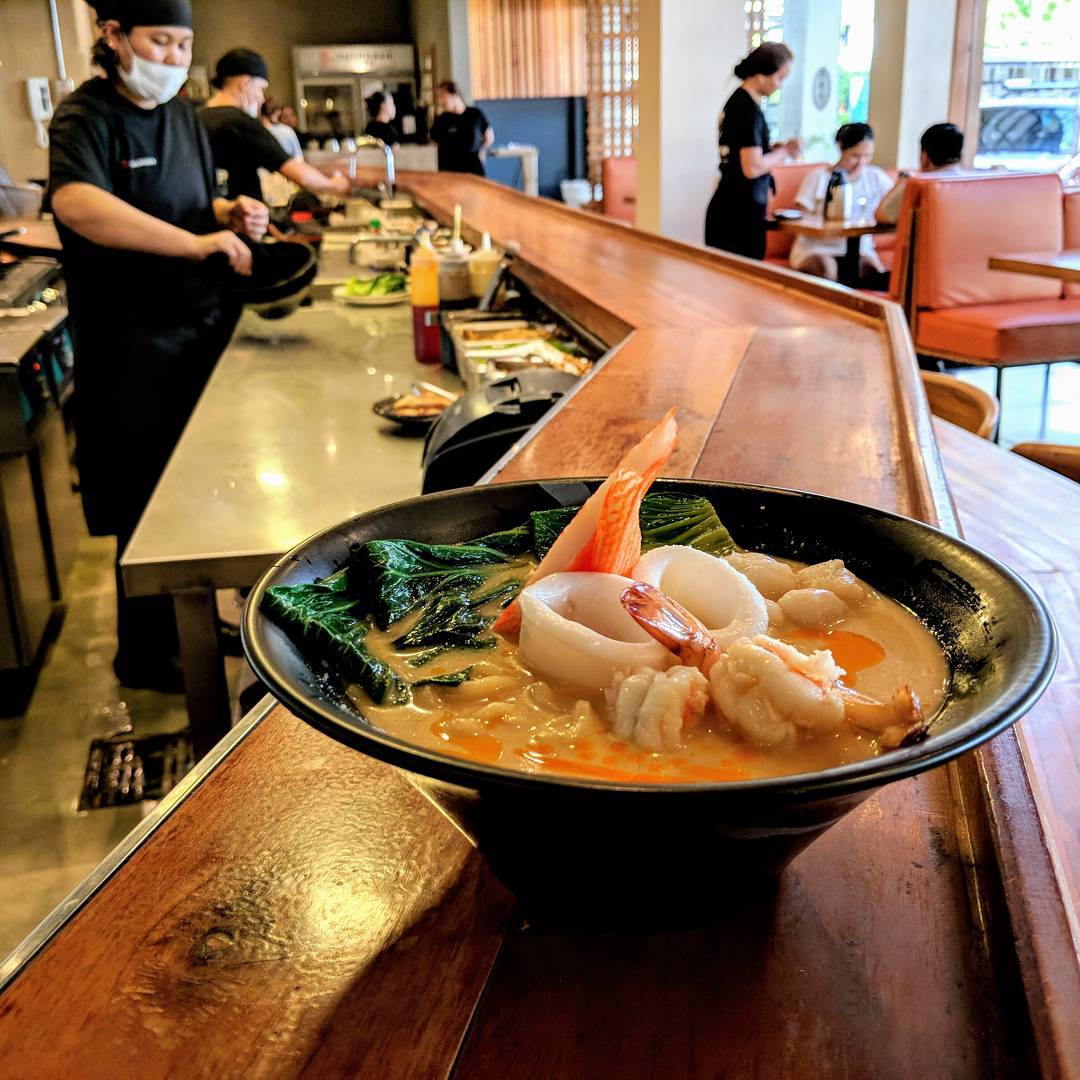 The remarkable service time also tells you their experience in the industry as for sure they've been honed from their Muntinlupa branch as well.
I dined with my wife, 2 kids (9 and 2 years old), and another adult companion. We order a total of 4 ramen dishes along with their Japanese fried rice. Without further delay, here's what we got that night: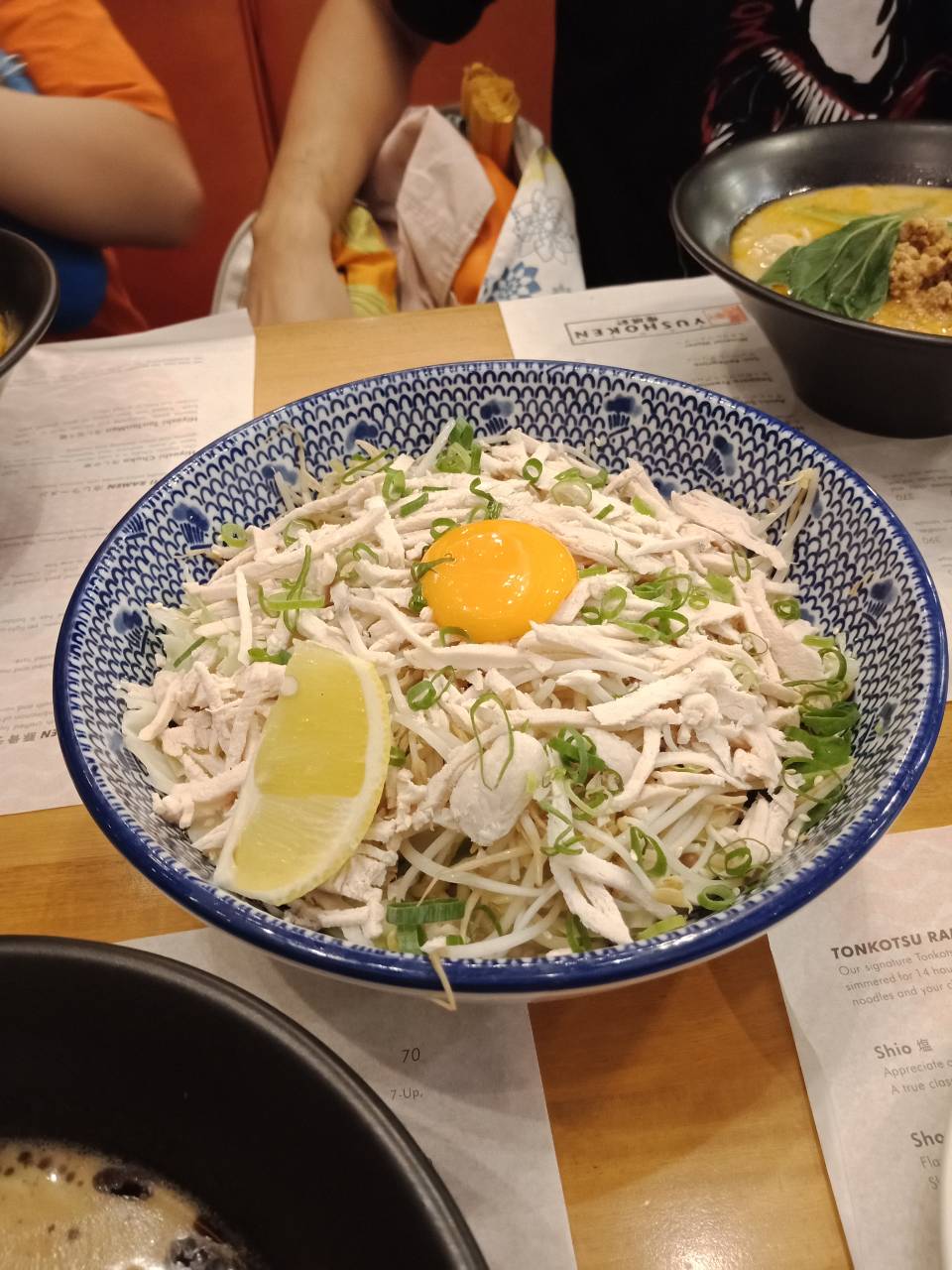 Let me start with the best of what we had, the Shio Maze Soba. This is the most unusual "ramen" we've had in all honesty as it didn't feel like ramen at all. It was more like a salad of sort complete with bits of chicken and bean sprouts along with a dash of lemon.
Overall the taste was quite refreshing and unique in a good way which made it quite memorable unlike the other dishes we had. As a kicker, the serving size of this is probably at least good for 2 average size adults – our group barely touched it as we focused on our traditional ramen orders. That said, this is by far the cheapest dish we had on the table relative to its serving size. I just don't think it'll satisfy anybody's craving for traditional ramen though.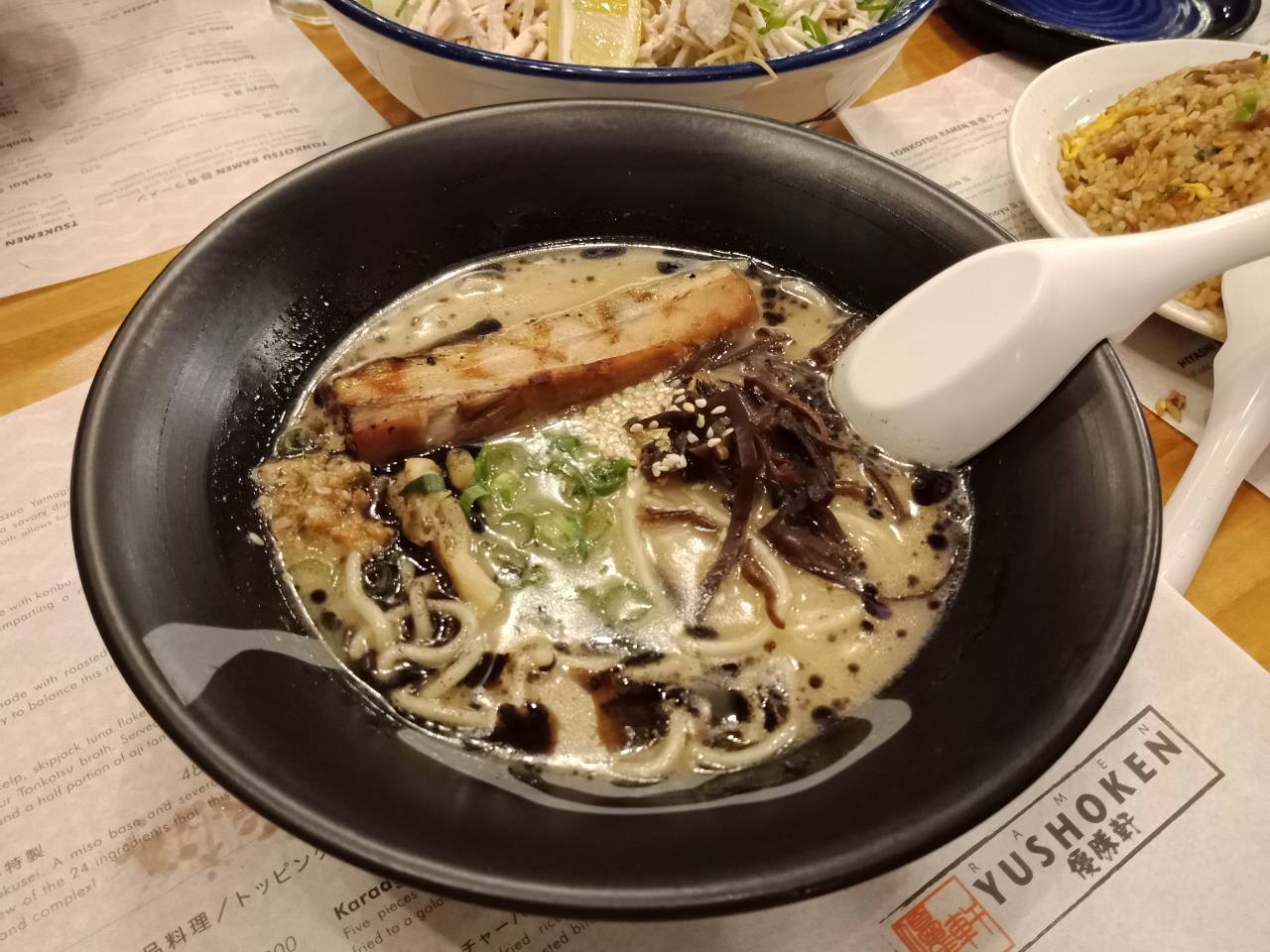 Their Shio Ramen got somewhat a mixed bag of reactions from our group. 2 adults, including myself found it the tastier dish over the TanTanMen however, my wife didn't like the smell of the broth.
I personally would recommend this over the TanTanMen for its tastier and more flavorful taste. If I was to improve on it, I'd probably have the pork cut softer.
My son and I ordered this for one reason, it was supposed to be their "spicy hot" (halang in bisaya) ramen. When we ate it however, it was nowhere near our definition of spicy hot. You might say we're both accustomed to rather spicier dishes which is true, however, my wife doesn't eat anything close to spicy hot at all and she said the same thing. It could have been a miscommunication which is quite unlikely as I vaguely remember mentioning the word "halang" when asking our attendant.
Apart from that, my son and I weren't a fan of the ground pork as opposed to the Shio's pork cut but that's partly our fault for not reading the description as again, we were both only after something with heat.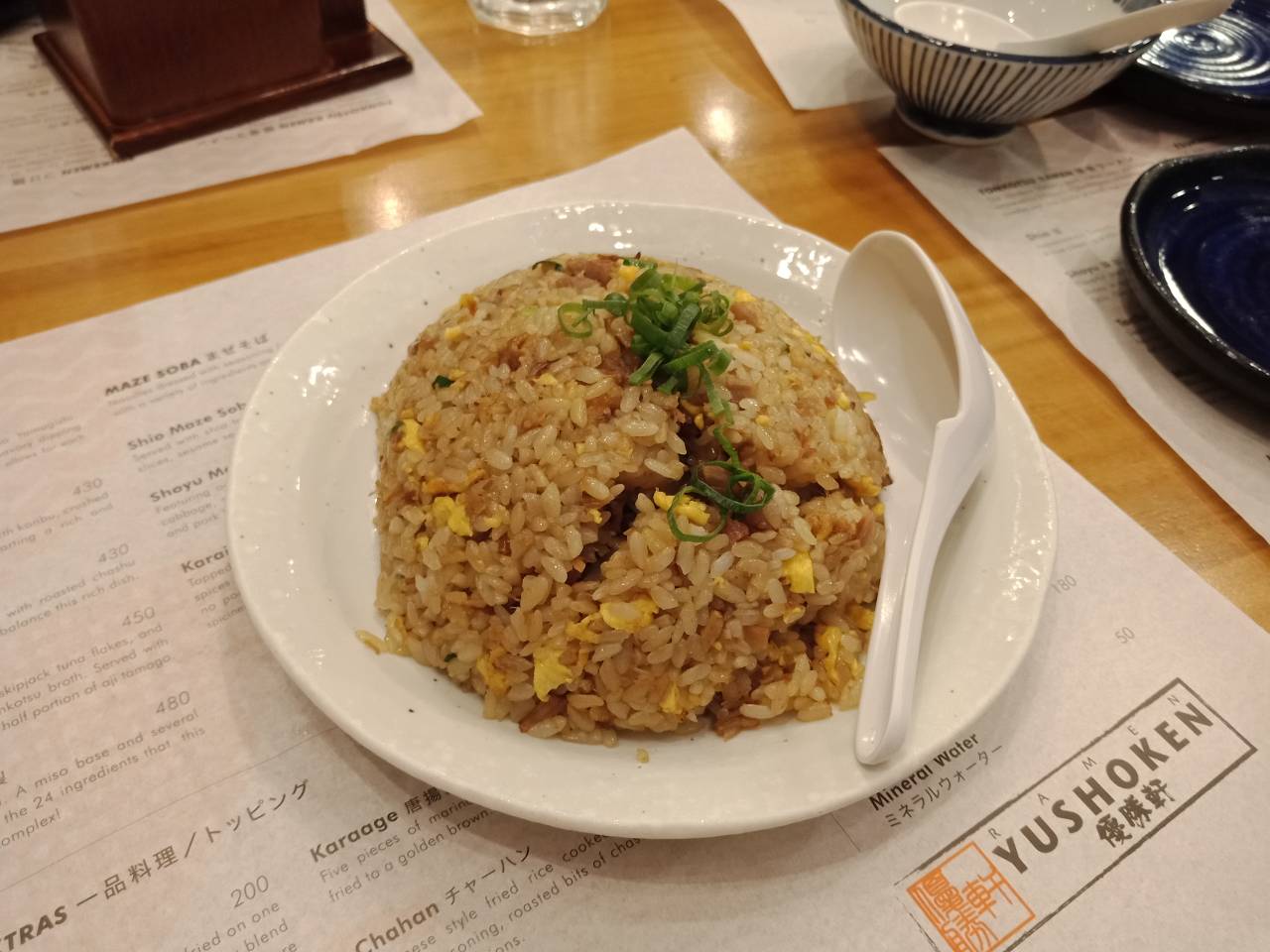 At PHP 280+, this dish is at the bottom of our pick. It didn't really taste like anywhere close to what we paid for it. Of course that's coming from someone Filipino that's used to having flavorful fried rice dishes that even I myself can make out of leftovers and basic kitchen ingredients.
Where is Ramen Yushoken & Contact Details
The restaurant is the 3rd establishment the moment you enter at the Oakridge Business Park. Oakridge is located at 880 A. S. Fortuna Street, Mandaue City, Cebu. The place is closer to the Banilad side rather than Mandaue. Here's a map for your guidance:
The facade of Oakridge looks like so:
You can call Ramen Yushoken at (032) 367-7017
Opening hours: 11:00AM – 12:00AM (midnight)
Overall experience and recommendation
From the moment we entered Ramen Yushoken, you get a feel straight away that they value you as a diner. You get to be greeted in Japanese and are going to be attended like so. During our visit, there were already people waiting inside and outside the restaurant – something that of course made us want to try it even more. All of us were accommodated quite well and the whole waiting game was very orderly.
It also helps that the restaurant is at a well established commercial compound where other shops are just beside the restaurant. For those who have kids in tow like ourselves, you're kids will enjoy window shopping at the shop beside the restaurant like we did.
Once seated, an attendant was ready enough to get our orders and orders came in less than 10 minutes giving you the idea that they are well prepared to accommodate the volume of diners that night.
Although I personally hate menu with no pictures, I also understand the logic of it. If only our attendant had explained better about the serving size and had warned us better about their "spicy hot" ramen being not that, we would have gotten a whole lot better experience especially since the "no take out" policy had us leaving a lot of food on the table.
*The only other place I remember that somewhat had this policy was Abaca Resort. Although when we stayed there, they didn't have this policy printed out, when we wanted to take our pizza to the suite, Chef Justin wouldn't allow as he thinks the quality of the food will diminish. He gladly offered to cook us a fresh one but we didn't take it – we're too shy! lol
One other con that I think can be put on our attendant that night was the fact that she didn't mention the off the menu dishes. If this was intentional as of course there's a reason why those dishes were "off menu" or "secret" in a sense, then maybe this part isn't the attendant's fault but the management. Although I can understand the overall objective of these secret dishes, I personally feel our overall experience could have changed had we known they existed. Emphasis being on the word COULD.
Lastly, the room temperature inside the restaurant was rather too warm for our (and other diners we overheard complaining as well) taste.
All factors taken into consideration, I would recommend the place to everyone (not just those that love ramen or Japanese food in general) to at least give it a try. One thing I can be sure of, you will no doubt get quality food that doesn't taste like corners were cut in the preparation of them.
Just please take note of the no take out policy ahead so the rather on the expensive side dishes won't feel like much more expensive than they really are if you leave food behind like we did.
As for the food, if you're looking for spicy hot ramen, they don't have it so don't expect the TanTanMen that our host recommended would suffice. Of course you have chili flakes to try – something I personally don't prefer over fresh chili.
Lastly, don't be like us on our first try – ask for the secret dishes and try them out.
Have you eaten here? Please share your experience in the comments below!
UPDATE January 7, 2020:
So after I wrote this review, I visited the place again twice because some friends have recommended I try their off the menu ramens and so I did. I believe there are 2 off the menu choices, one is their seafood ramen and the other is one of them upgraded pork version.

On the two other occasions I dined here, I only tried the seafood version simply because just thinking about it makes me drool literally! Think of how you salivate when you see an unripe mango with bagoong on Facebook, that's what I'm feeling right at this very moment thinking about it.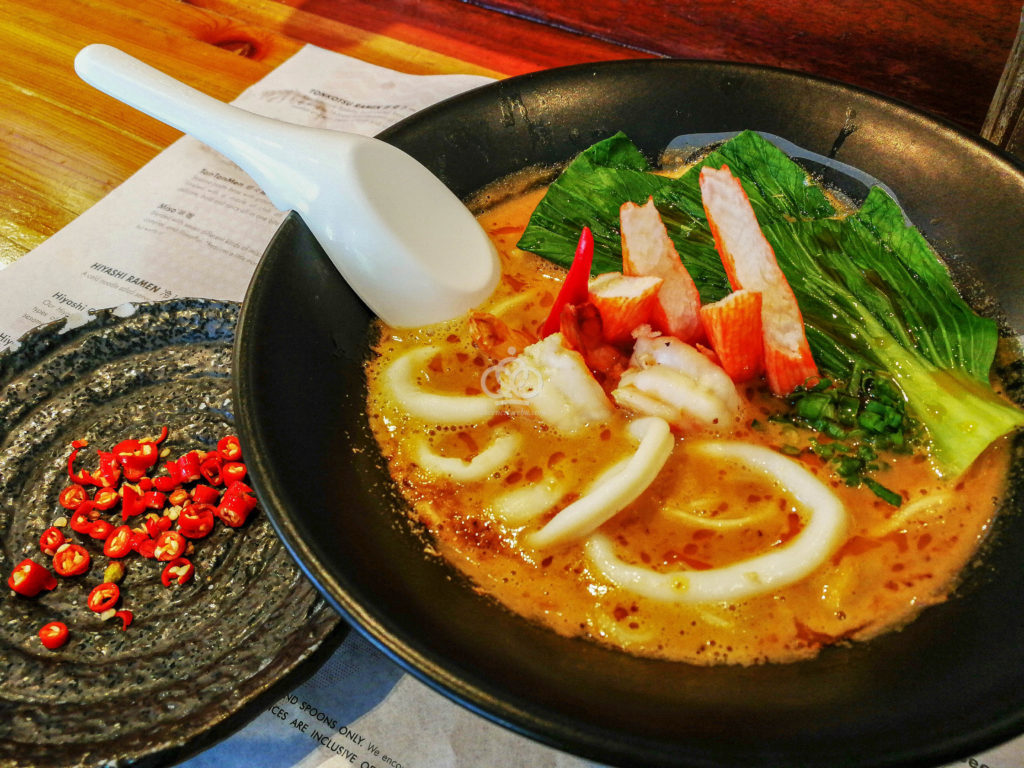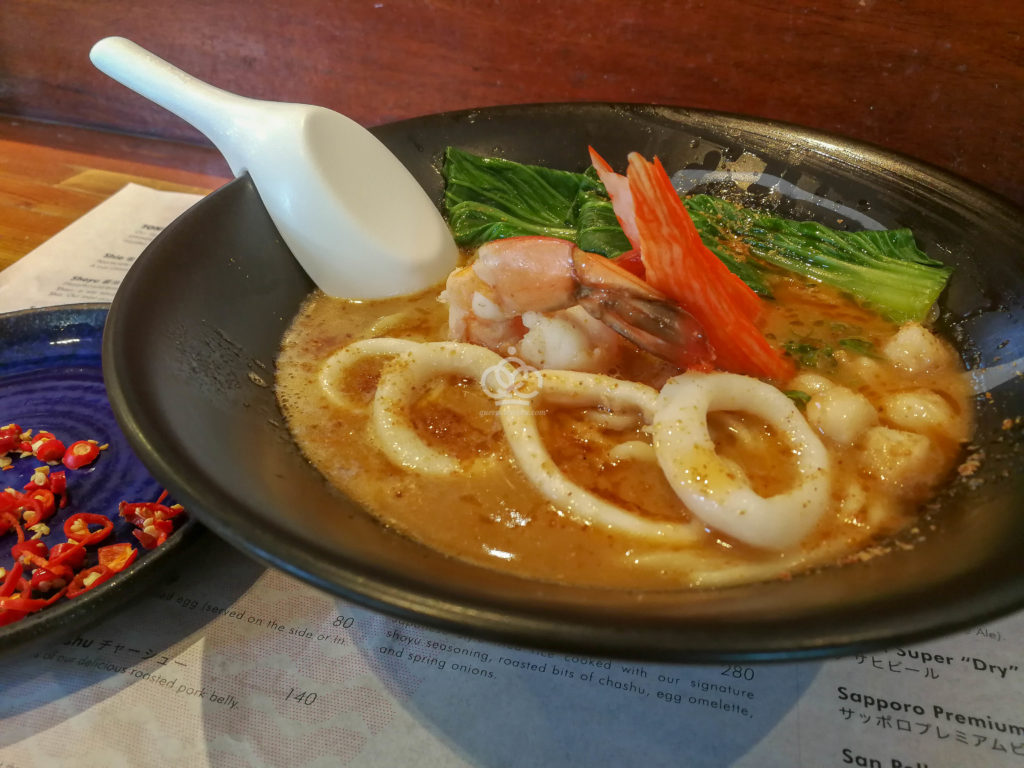 Verfied for this Php 600.00 (about US$ 12.00) ramen is needless to say, bucket list worthy! This for me is so far THE BEST TASTING ramen I've tried in Cebu although given the sheer number of Japanese restaurants these days, I can say I haven't tried that many. About a dozen only (from Php 99.00 peso ramen to the usual Php 200-300 ramen price range).

Of course you also have to take into account that the price for this bowl is about 2-3x the usual price range of most ramens in the metro so I guess in this case, you do get what you pay for and I'm super thrilled to recommend this to everyone.
[ReviewDisclaimer]