I don't know what's in Korean food that we love so much, but the Korean cuisine is IN and it's not going anywhere!
Last week, I went to Smith Meat and Salad to try a popular Korean restaurant in Cebu. I have seen several food posts on my social media and I have heard nothing but good things from friends about the "unli samgyeopsal in Country Mall".
Smith Meat and Salad
Smith Meat and Salad is a new Korean restaurant in Cebu which offers unlimited samgyeopsal (grilled meat) and side dishes for only 399 pesos, it's 299 on their Happy Hour (9 AM to 3 PM). I understand that when you look at the price, you would easily get the impression of having to pay a higher price as compared to some other Korean restaurants in Cebu, but you won't get the answer to your "is it worth the price" question if you keep avoiding trying it!
Here's their All you can eat MENU that is for 399 pesos only
📌 UNLIMITED SAMGYUPSAL
📌 UNLIMITED MOKSAL
📌 UNLIMITED KABURISAL
📌 UNLIMITED MOKSAL
📌 UNLIMITED HANGJEONGSAL
📌 UNLIMITED GALBI STEAK
📌 UNLIMITED GALMAEGISAL STICK
📌 UNLIMITED CHICKEN STICK
📌 UNLIMITED KIMCHI
AND MANY MORE!
First, let's talk about the meat. People come here to eat samgyeopsal, a Korean term for grilled pork belly (which you will cook yourself but their staff will guide you). Since the main event is the belly, it is just proper to examine the meat that they serve.
I love their meat! I have tried a couple of samgyeopsals around the city but most of them offered thick slices of meat which I didn't enjoy very much. In Smith Meat and Salad, the meat slices are thinner which makes it faster to cook and easier to digest. Each set comes with beef meat as well.
Another interesting dish that you should look forward to eating is this:
They call this galbi, composed of well-seasoned, bite-size chicken, sunny side up egg and rice. This dish is really good.
Next is chicken barbeque which I didn't think so much about until I took a bite. It was really good as well! The meat itself is seasoned making every bite pleasurable.
Aside from these heavy dishes, you get kimchi, chicken soup (with chicken), vegetable salad, lettuce, and their appetizing dips.
Birthday Promo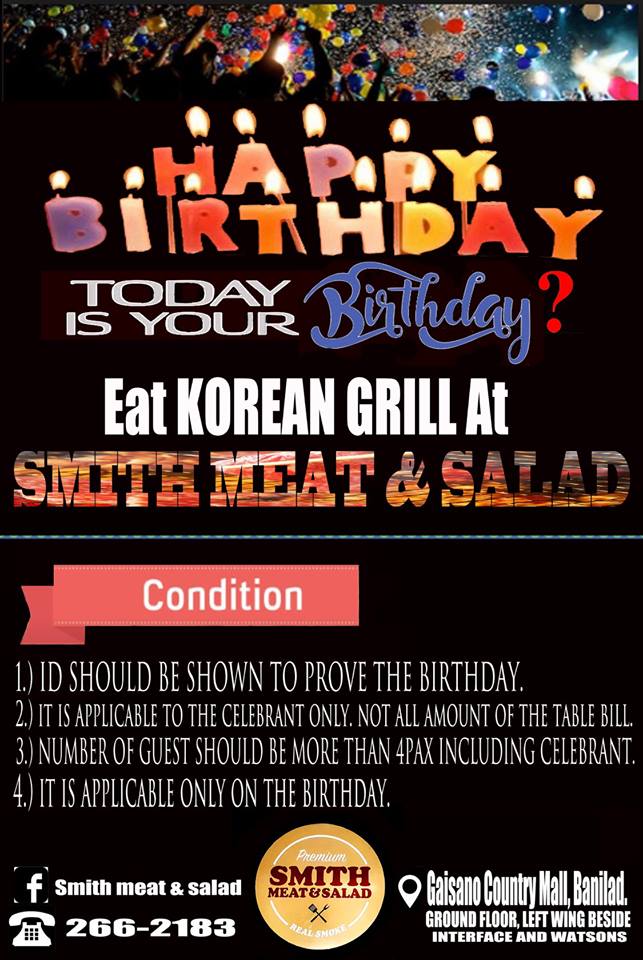 Did you know that you can dine for FREE on your birthday? In order to avail the promo, you need to tag along 3 (or more) of your friends, present a valid ID that proves your birthday and done! The promo is only valid on your birthday (Monday to Friday, 9 AM to 3 PM) and only for the celebrant.
Student Promo
Students get a special discount as well. You get 10% for a set worth 399 pesos. Valid from Mondays to Fridays, 3 PM – 10 PM only. Just present your student ID for validation purposes.
How to get there
Smith Meat and Salad is on the ground floor (near Watsons) of Gaisano Country Mall, Banilad Road, Cebu City. If you are coming from Ayala Mall or USC Main, take a 13C/13B jeep and get off across Country Mall.
For more details, please check out their Facebook page or give them a call at 266-2183.