Since gambling activities have been legalized, the Philippines became another attractive South-East Asian destination for casino players. The gambling industry records sky-rocket growth that is expected to hit a 20% rate in the years to come. The Philippines capital Manila has become a trendy gaming hub that draws the attention of lots of gamblers in the region. It won't be surprising if Manila steps up and challenge Macau as the most popular gambling destination in this part of the world. Besides the tourists, locals are also allowed to place their bets and enjoy casino games. All land-based casinos in the country are operated by PAGCOR (Philippine Amusement and Gaming Corporation), and all Filipino players are welcome to play. Although the laws that regulate online gambling are a bit odd, locals can gamble on the offshore providers' websites.
Land-based casinos and Online Gambling
Thanks to the gambling legislation, a lot of foreign investors are flooding into the casino industry. Many big resorts have been built that facilitate casinos as well. All players can experience the Vegas-like atmosphere, which includes luxury, top-quality service, and great entertainment. Some of the most famous ones are Solaire Casino & Resort, Resorts World Manila, or Winford Manila Casino & Resort.
Online casinos are also hitting a high growth, according to S. Rose reports. The reason behind the online gambling success in the Philippines lies behind the fact that this form of gambling is prohibited in nearby countries. Therefore, lots of players from South-East Asia, and especially China, go to the Philippines and enjoy playing at the world's top-rated gambling sites. This trend can only indicate that the Philippines can become one of the most popular gaming hubs worldwide.
Although Manila is the gambling hotspot in the Philippines, Cebu is another destination where players can enjoy an extraordinary gaming experience.
Waterfront Cebu City Hotel & Casino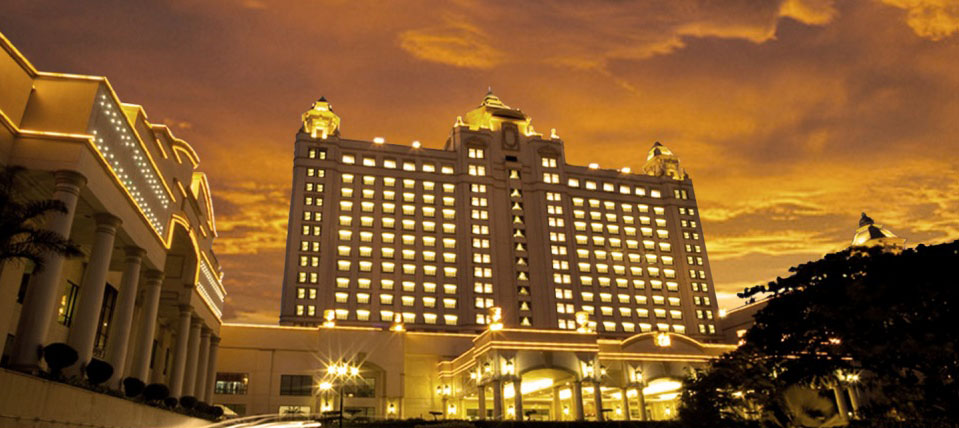 Waterfront Cebu City Hotel & Casino is one of the Philippines' most famous landmarks. It is located at the center of Queen City of the South, and 30 minutes from Mactan International Airport. This location is perfect for a getaway, and lots of tourist attractions are just around the corner. Of course, you can also expect an ultimate gaming experience thanks to the casino it facilitates.
This venue is home to a variety of gaming opportunities. You should be able to find a little bit of everything, and all casino fans can enjoy the type of game they prefer. Of course, slots are dominating the offer with more than 400 titles on offer. Also, players of all budget types can enjoy their games comfortably, thanks to a variety of denominations available. Besides the classic titles, slot fans can find a reasonable choice of the most popular newest games. As a cherry on top, players can expect tons of bonus features like free spins, and try to bring extra value to their winnings.
On the other hand, if you prefer table games, Waterfront Cebu City Hotel & Casino offers 61 different varieties. You can try out your luck at the roulette wheel, blackjack, or baccarat. You will also have access to several live games.
In case you intend to stay at the Waterfront Cebu City Hotel & Casino, you can count on getting spacious, luxurious, and well-equipped rooms. All the necessary amenities are included, such as an excellent Wi-Fi connection, LCD TVs, and lots more. In case you want to relax, you can enjoy the swimming pool as well.
Visitors can also find quite a few restaurants on-site. If you want to taste Chinese cuisine, your first choice should be Tin Gow. In case you prefer international cuisine, then Uno can offer great experience. Those who are looking only for snacks and drinks can go to the Lobby Lounge or Pool Aquarius. There you will find your favorite cocktails and enjoy a business-like atmosphere. Waterfront Cebu City Hotel & Casino truly has a lot to offer to all its visitors and casino players.
Emerald Resort and Casino
Cebu is about to get another five-star resort that is going to facilitate casino as well. Although it was supposed to be opened during 2020, it has been delayed for the Q1 2022. It is going to be located in the Lapu-Lapu City on Mactan Island and will sit on 13.5 hectares of land.
It is planned that the Emerald Resort and Casino will feature a 7.585 square meter casino with a truly astonishing number of different games. Players will be able to pick from more thousand slot machines, that will include all types of titles, from those classic ones to the newest editions. Table game fans will have a vast choice of nearly 150 different games, including blackjack, roulette, baccarat, and many others.
Those who are planning their stay at the Emerald Resort and Casino have more than 800 rooms at their disposal. All of them should be equipped with top-quality amenities. 8.000 square meters are reserved for retail shops, and if you are looking for an excellent place to have a quality meal, you should be able to pick from 18 different restaurants.
Comparison and Conclusion
It is tough to pick which resort of the two we just reviewed is better to choose. It is mostly because the Emerald Resort and Casino still hasn't been opened, and we would need to wait until 2022 for the more thorough comparison.
According to the data we currently have, Emerald Resort and Casino should have a wider choice of games on offer. The number of different games is almost doubled in comparison to the Waterfront Cebu City Hotel & Casino offer. Also, the Emerald Resort and Casino should provide more space for accommodation and other non-gambling related activities.
On the other hand, Waterfront Cebu City Hotel & Casino is excellently located, and if you want to visit some of the Cebu attractions, this resort should be your top choice. Despite fewer number of casino games on offer, you can actually book your visit without having to wait for at least a year and a half. Also, the staff is highly professional, and visitors can enjoy a great experience. Let's check out the summary of the features of both resorts.
| | | |
| --- | --- | --- |
| | Waterfront Cebu City Hotel & Casino | Emerald Resort and Casino |
| Address: | Waterfront Cebu City Hotel 1 Salinas Drive, Lahug, Cebu City, Philippines | Lapu-Lapu City, Cebu, Philippines |
| Number of Slots: | 429 | 1186 |
| Number of Table games: | 61 | 146 |
| Number of rooms | 561 | 838 |
| Number of Restaurants: | 9 | 18 |
We also shouldn't forget that online casinos in the Philippines enjoy increased popularity thanks to the lockdown caused by the Covid-19 pandemic. People needed to stay in their homes, but they still needed a way of having fun. Online casinos are one of the most convenient ways of getting entertained, and since Filipinos are allowed to gamble online at the world's most popular websites, they entirely took advantage of that opportunity.