Have you ever wondered what else you can do in Naga City, aside from a good photoshoot at the boardwalk?
And let's not forget their Olympic-sized pool which was opened last 2016 at the St. Francis Ocean Park in Barangay East Poblacion. Should you wish to take a dip in the pool at daytime, you will have to pay the fee of P50 and at night time for P70.
Organize an exclusive event in Fruitaz Resort
You can rent this entire resort for 5,500 php good for 30 persons (day use only), perfect for birthday parties, weddings or just random outings! Below are beautiful photos of the place during an event:
The resort has a nice swimming pool of decent size where you can take a peaceful dip or turn it into a crazy waterpark during a team building activity. Do as you wish (without damaging any resort property, of course) because this resort is yours for the entire day.
You can also easily turn Fruitaz Resort into a romantic spot for hosting weddings!
Rates
The UPDATED rate as of Feb. 2019 is 5,500 php (which is still very reasonable, right?) inclusive of the pool, gazebo, function hall, and drinkable water. This rate is only for day use. If you wish to host a party with catering services, there is no corkage fee and parking is available! You can also rent a karaoke machine for 1,000 php only. Overnight stay is also available since they have rooms, too.
For more information, please dial 09177216825 or 3168194 or send them an inquiry on Facebook.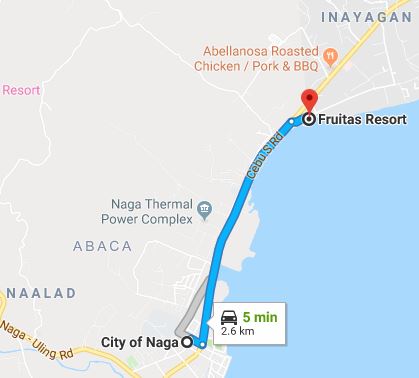 If you are looking for a resort with more things to do, here's one:
Fun slide at Villa Dulce Resort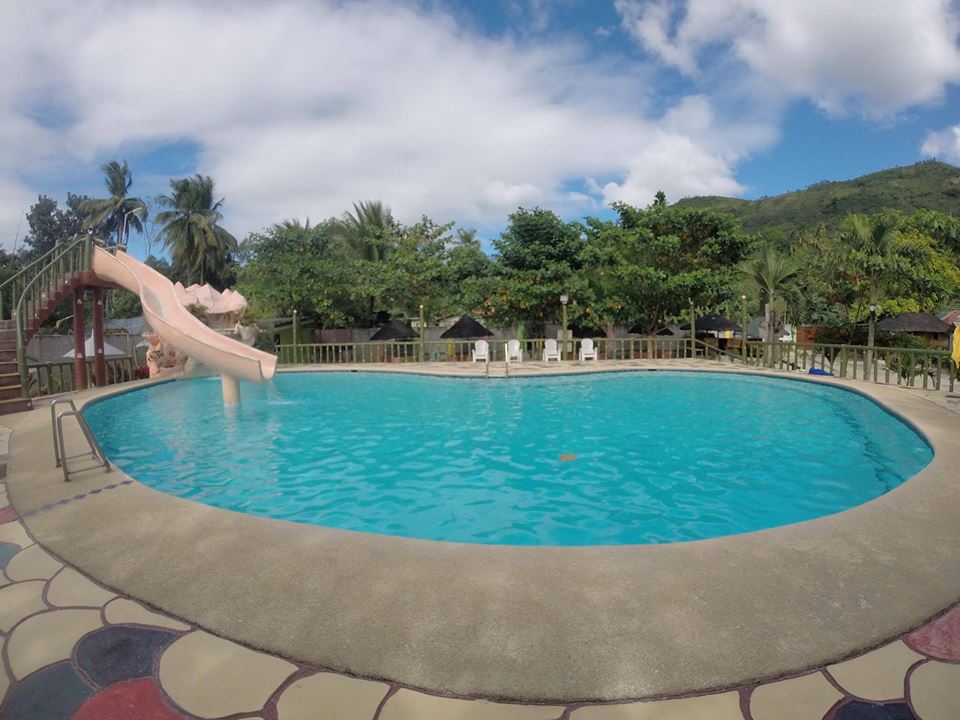 Because every day is a hot day in the Philippines, you can opt to stay in mountain resorts for the cooler temperature and the non-crowded vacation. Similar to Fruitaz, you can celebrate any occasion here in Villa Dulce, which is located in Humayan, Pangdan, Naga City.
This is how the resort looks like on a busy day:
Wedding receptions are also welcome.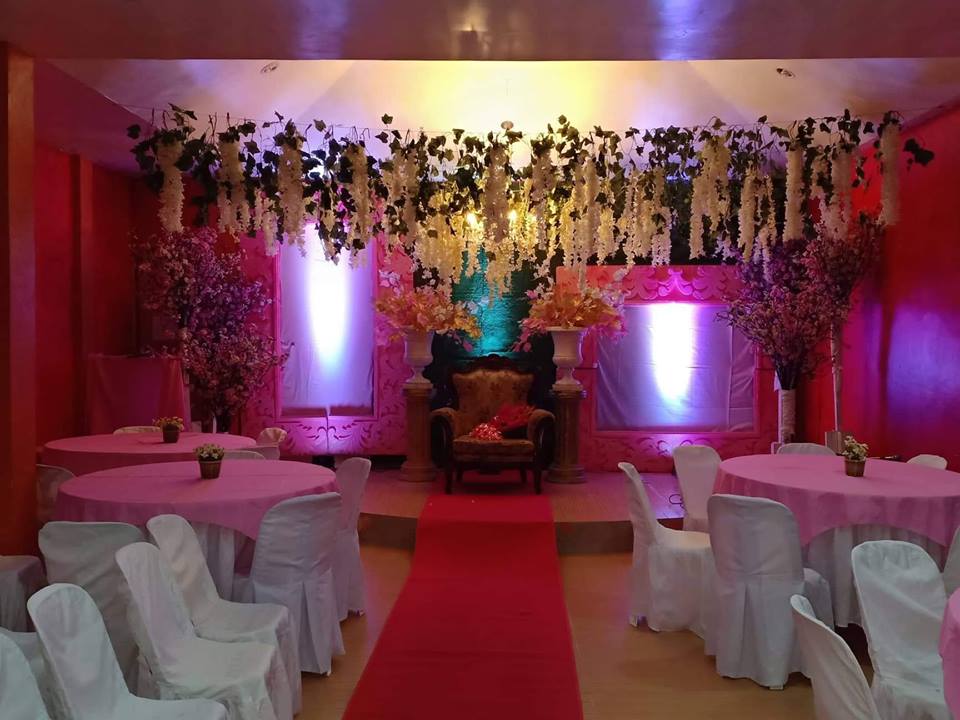 Rates
The rates as of 2016 are as follows:
Entrance fees:
Adult- 100 php, Kids- 80 php (8 AM to 4 PM)
Adult- 120 php, Kids- 80 php (5 PM to 12 MN)
Cottages:
350-600 php (good for 8-15 persons)
Rooms:
2 persons- 1,200-1,500php
4 persons- 1,800 php
6 persons- 2,500 php
10 persons- 4,000 php
All rooms are with aircon and TV except the room for 10 persons.
For more information, please contact 405 6101 or send a message to Villa Dulce Resort via Facebook.
Need more resort options?
Ingko Costan Garden Resort
Another affordable option for a quick swim is Ingko Costan Garden Resort– perfect for kids and the kids at heart who love water slides because this resort has two.
Nothing fancy, but this is the place to be when you need a short break from work or if you just want to have some fun on a lazy Sunday.
Rates
Entrance fees:
Adults- 80 php
Kids- 50 php
Cottages:
200 php – 2,000 php
Ingko is located at Sindulan Brgy. Road, Tinaan, Naga City. Call them at 512 5297 to inquire. Click here to check their Facebook page.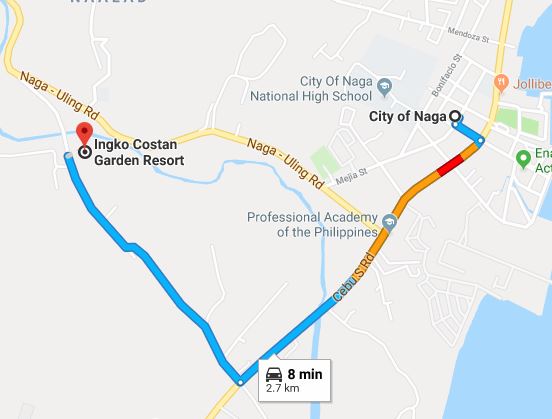 If you want to stay away from comfortable resorts for a change, why not explore a little bit outdoors?
Rainwater Picnic & Camping Resort
As you may have already known by now, Naga is a humble city with no expensive hotels to offer, only priceless memories and calm recreational spots. If camping is your choice of outdoor activity, you can definitely make that happen here in the exclusive Rainwater Picnic & Camping Resort.
Again, this place has nothing fancy to offer, only a backdrop of the green mountains, fresh air and a cool experience of sleeping under the stars, in a sleeping tent.
The camping resort offers a small pool where you can only take a dip and not swim, nor dive. Here is where you can cool off after a long day under the sun. This may not provide you with the superb camping experience that you are looking for, however, this place is perfect to expose your children to the world of camping, away from the comforts of your home.
Other activities that you can do here is a retreat, team building, and even baptism.
Rates (minimum of 10 persons per group, maximum of 30)
Entrance fee: 150 php
Entrance fee and tent: 200 php
Entrance fee, tent and dinner: 400 php
If this is the place that you are looking for, please do contact them to reserve your booking at 0927 916 1877 or send them an inquiry on Facebook.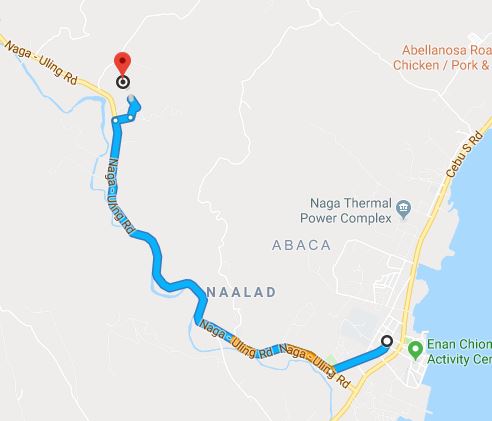 Are you looking for a more adventurous camping experience? Add the next one on your bucket list!
Mt. Naupa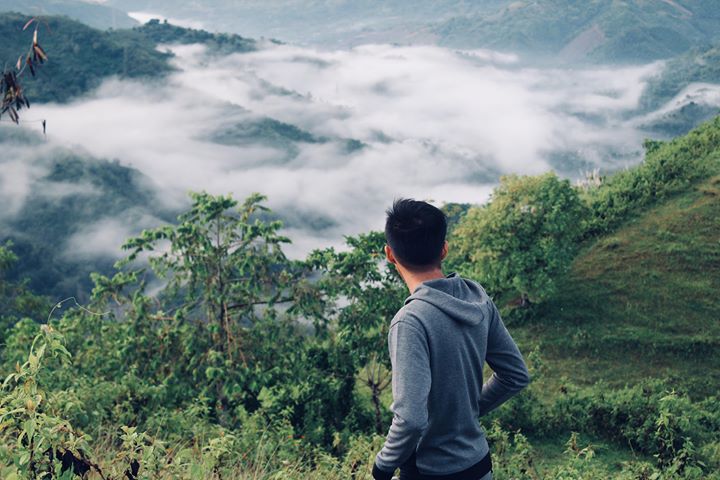 One of Cebu's favorite trekking site is found in Naga City and the famous Mt. Naupa will not disappoint you. Wanting to witness the sea of clouds is almost everybody's dream, but you need not go any further than Naga City because you can definitely almost touch the sky once you are up there!
It's an hour hike, but you can certainly take a bike and ride it to the top. You can also set up a camp so you can rest and watch the wind move the clouds.
You may read our article featuring Mt. Naupa here.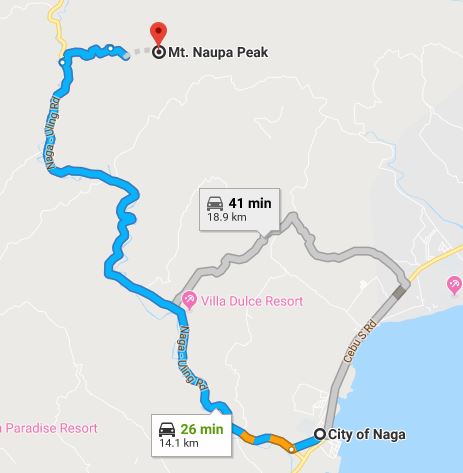 Now for the food! There are a couple of eateries in Naga that you need to try. Here's a list:
Yancy's Balbacuahan
With over 16,000 followers on Facebook, I think Yancy's Balbacuahan is a must-try if you want to have a taste of Naga's delicious dish.
Balbacua is meat cooked in slow fire until soft and tender. Cebuanos love good meat, that's why balbacua is a hit.
Rates
You can order a bowl of freshly cooked balbacua for only 50 pesos, or order a party set for 6,000 pesos only.
For orders, please contact them at 0943 863 2031.
Noy Lecoy STK + BBQ
Noy Lecoy doesn't have as many followers on Facebook but the restaurant is a staple when you are in Naga City.
Barbeque is a universal favorite. How the meat is being marinated and cooked tells so much about the culture and the people in a place, and if it's good, a good barbeque paired with a bottle of cold beer can bring people together.
If you are looking for deliciously flavored barbeque around Naga, the name is Noy Lecoy STK+BBQ.
You may reach them through 0922 458 1848.
How to get there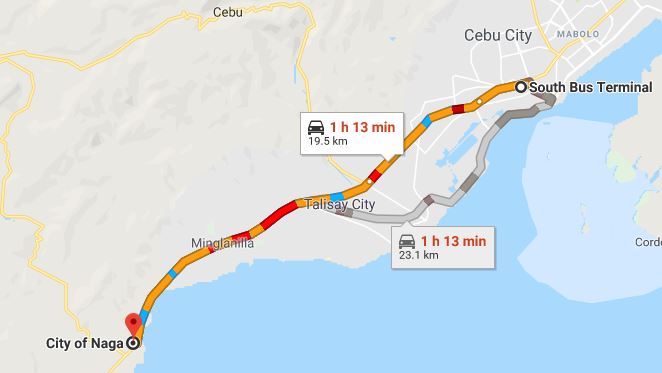 Naga City is only an hour away from South Bus Terminal, on a good day. To reach the city, you will have to go to the SBT, and hail the bus going to Naga. It's a convenient travel destination because it's not too far from the metro. To reach the places mentioned, take a haba-habal.