You must be on a really tight travel budget to be on this page, huh, but you still want to see what Cebu has to offer, don't you?
We got you covered.
We understand that when writing down your travel itinerary, living in a luxurious hotel room is not a priority, especially for millennials like us. We want to spend more money on experiences, and less on having to sleep on a soft bed. Heck, we can even sleep at the airport to save some cash, right?
If you are a tourist of the Queen City of the South, worry no more. Although Cebu may be a little pricey when it comes to accommodations, there are still humble places where you can comfortably and safely tuck in without getting anxious in your sleep. For less than 699 pesos, you get to sleep here:
Friendly's Guesthouse Hotel
Starting at 299 per head only, you will have a nice place to stay in for the night. If you are a solo traveller, or a big group, perhaps, and is on a severely tight budget, getting a fan room–dorm type may be the best solution for you.
Although you will have absolutely zero privacy, renting a crowded place is much better than spending a ton of money and then regret it later.
A Dorm Type with this low price only has a ceiling fan to cool you off during the night.
If you can't sleep without cold air, get an air conditioned Dorm Room instead, for only 375 pesos only. For me, it is a great deal already. You get to sleep soundly during the night. You deserve some proper rest, too.
Moving on, the last thing you can get from Friendly's Guesthouse Hotel with a 699 budget is a fan room good for 2 persons.
Location
Friendly's Guesthouse Hotel is conveniently situated in Gen. Maxilom Ave., in front of USPB Bank and University of San Carlos North Campus. It's a nice location for when you want to visit Cebu during Sinulog so you better reserve a slot right now before it gets fully booked!
Call them at 0933 858 6898 or send them a private message on Facebook.
Mambaling Pension House
Are you visiting someone in Mambaling area, or are you planning a long trip down south? Get yourself a decent place to stay to start your adventure. Mambaling Pension House is just a click away. With clean rooms and great facilities, you get real value for your money.
Here's the only photo I could find on their Facebook page, but it says a lot. It is simple, but the services are great. You get free WiFi, cold AC, telephone, cable flat screen TV, generator, security, and a nearby cafe. You will never get lonely here.
The price? It's as low as 550 pesos only (as of August 2017). Still worth it, if you ask me!
If you are staying with someone, you can share a bed in the Matrimonial Room and Matrimonial Deluxe for 620 and 700 respectively (get this if you have 1 peso to spare). Split the bill and you'll get a really cheap home for a night.
Location
Mambaling Pension House Inc. is in Mambaling, Cebu City, 5 minutes away from Shopwise. To know more, please visit their Facebook page, or reserve a room right away by calling 0933 854 8641.
Capitol Tourist Inn
Capitol is the perfect location if you want to explore Cebu City. It is a busy area; you will love it if you want to take a peek of Cebu's work life. Capitol Tourist Inn will give you your home away from home for only 520 pesos per night. You will get a bed for two and AC, for that cool night in the city.
Surprisingly, more options are available in Capitol Tourist Inn that's cheaper than 699, some are good for 2 persons. This inn is definitely a priority on your list when you are trying to search valuable accommodations in Cebu.
Other offers are as follows:
So aside from the Single Economy, you can rent Single Standard for 550 pesos, or Single Executive for 610. Still below 699 are Double Matrimonial Studio for 630, Double Matrimonial Executive for only 660 per night and lastly, Double Twin Studio for only 680 pesos.
All rooms are fully air conditioned and have a telephone, cable TV, and a generator. What more can you ask for?
Location
Capitol Tourist Inn is at 290 Don Gil Garcia St., Capitol Site. Send them a message on Facebook or call them for a reservation at 253 2850.
Siete Angels Guesthouse Cebu
Still too cheap to book any of the mentioned above? Maybe Siete Angels Guesthouse can solve your housing woes. With only as little as 275 pesos, you will get a single bed space in a double decker, together with 3 other double deck beds. This is convenient if you are a group of 8 because you  won't have to be awkward with your roommates; but it also works well with backbackers who are  trying to keep low expenses.
Still below 699, you have two other options; the Aircon Dorm, 350– which is basically the same, just colder, or a Fan Room which is good for 2, for only 550 pesos.
The guesthouse also offers free WiFi, laundry services if you can't deal with your own laundry anymore, and meals. The area is well-secured and has an ample amount of motorbikes to tour you around the city, convenient for those who are always on the go because transportation is not a problem.
Location
Siete Angels Guesthouse is in a strategic location, and best for those who like partying with the locals. Mango Avenue is that place for that. The prices are not high, there are several restaurants, bars and malls around the area so you won't get bored.
Reserve a bed now at 233 6010. You can check their Facebook page to see more photos.
Cebu Guest Inn
Another affordable option is Cebu Guest Inn. They have a Dormitory Room, a reasonable option if you really wish to spend low on the accommodation. They offer 300 per head for this room type, but if you have a partner, you can take the Private Room for only 650 pesos. That's still a pretty cheap price for two persons.
Cebu Guest Inn is among the guesthouses that are situated in the middle of the busiest areas in Cebu– Lahug. Convenient, if you ask me, because it is near our mountaintops where you can hike, or bike to see more of Cebu. Malls, the I.T. Park, and several restaurants are available in this area as well.
Location
Cebu Guest Inn is located at Holy Family Road, Cebu City, near Marco Polo Hotel and Nivel Hills. Can't wait to book? Dial 0917 819 2258 now to save a spot! Visit their Facebook page here to know more.
Pe're Aristo Guesthouse
Mandaue City is also a big city in Cebu and you might want to stay and explore the city for a while. If you do, we have an option for you– Pe're Aristo Guesthouse.
It is a big house that I believe was a home of the rich back in the days, and was converted into a guesthouse, because it looks like it. Look at the floor, the staircase, the doors, and everything else. Looks like someone spent so much time and money perfecting all corners!
Don't get intimidated though, because the rooms are very affordable! This Fan Room is only 590, good for two, inclusive or a bathroom.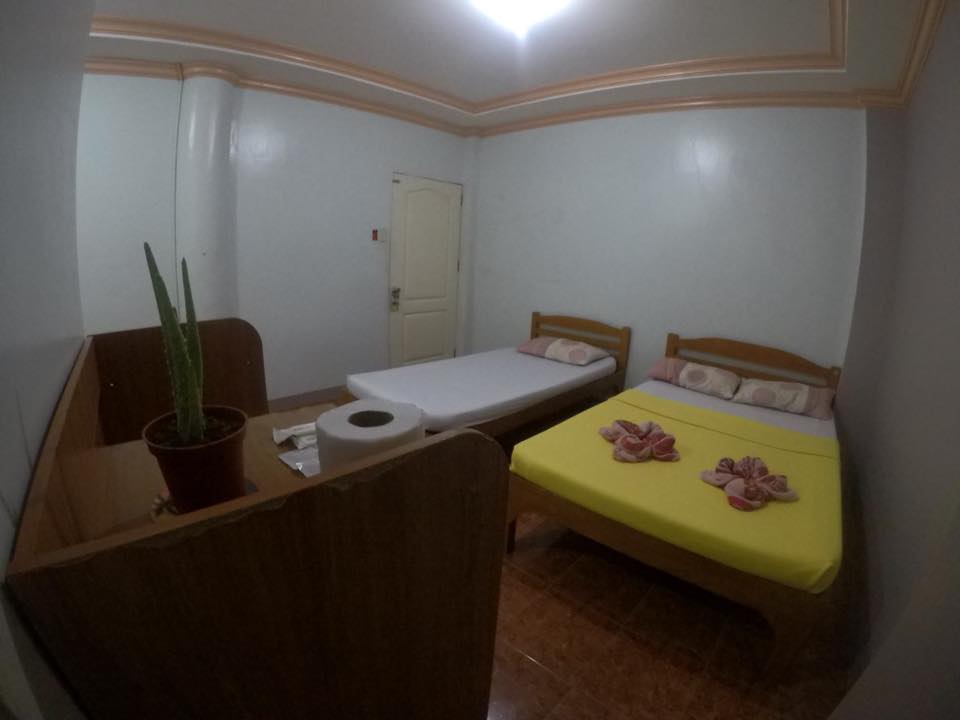 Another room is Standard Room, available for 2 persons, but can accommodate up to 3 (additional 200 pesos), air conditioned and with a bathroom. You can save more if you choose this room, especially if you are a group of 3.
For bigger groups, you can get a room for only 2,100 good for 4 pax but can fit up to 8, with additional 200 per excess person. It's already a great deal if you ask me.
Location
This humble mansion is located at B1 L23 San Jose Village Umapad, Mandaue City. For inquiries, call them at 236 0875 or send them a private message here.
Bunks Hostel
Bunk beds or doubledeck beds are in demand for those who are short in budget; but they are, however, still able to provide comfort and security, just not privacy.
If you are fine with the pros and cons with sleeping on a bunk bed, look no further! Because a nice and warm hostel will keep you comfortable for a night or two, or even longer than a month!
They offer this space for only 400 pesos per head, per night. Another pro to consider Bunks Hostel is its proximity to hospitals, police stations, and all the other important emergency centers. You know, just in case something happens, you know that you will always be safe.
Location
Find this hostel  in Juana Osmeña St., Cebu City, still at the heart of Cebu. It's a perfect place for when you want to explore the mountains, cities, urban areas and beaches for a day and head back to the room where you can find your small personal space waiting for you. It is affordable, clean, homey, and safe.
They also offer tours to their guests so if you are interested, don't think twice about contacting them at 416 0426. Here's a peek at the hostel.