What's so good in Sogod?
Various places will automatically come into your mind when you hear the word Cebu. From white sand beaches, endless waterfalls chase and astounding sights on top of the province's peaks – all requiring a certain amount of adventure. But not all good experiences require adrenaline rush; in fact, sometimes, the best experiences come in slow motion.
Sogod is one of the many laid-back municipalities in the province of Cebu. Not quite a familiar destination for adventure-seekers, but surely offers an interesting experience to those who are willing to take time to discover the place.
What waits for you in Sogod?
Bagatayam Falls
Situated in the southern part of the municipality is a waterfall that is ironically so near to the main road but often disregarded by many – Bagatayam Falls. The abundance of this waterfalls made of great service to the people since it became their main source of water through the Sogod Waterworks System. Given its close proximity to the households of the locals, it is common to see women doing their daily rounds of laundry or children taking a bath.
Binaliw Spring
Following the origin of the current, you'd get to the main source of the waterfalls – Binaliw Spring. About ten to fifteen minutes away from the main road is a cold water spring attracted by many devoted tourists because of its capability to heal any form of sickness. Because of the strong interplay of Christian faith with the traditional beliefs, the grotto of Our Lady of Lourdes was built by authorities where the water springs. People usually fetch water here to drink or to use as ointment to cure wounded parts of the body while others take pleasure in taking a bath in the flowing river.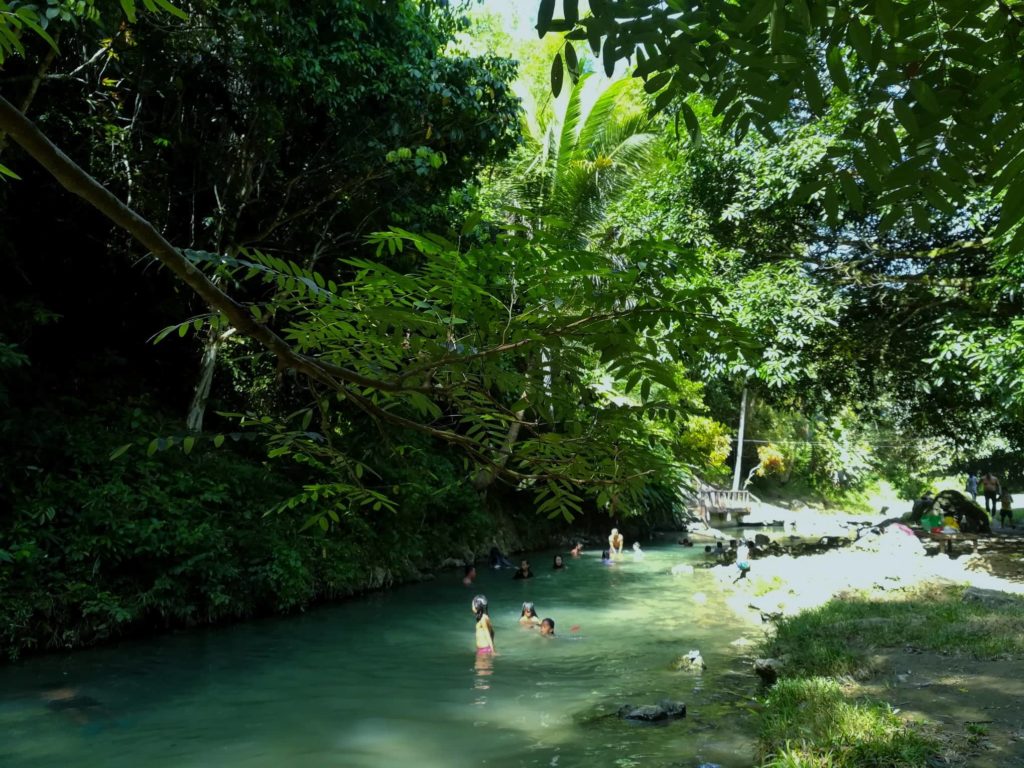 Despite the lack of thrill to offer for adventure-seekers in this municipality, Sogod remains a good destination for those who want connect with nature, in need of healing, and break from this fast-paced world.
In need of break? See how to get there!
From Cebu North Bus Terminal, get on a bus bound for Sogod.
Ask the driver or konduktor to drop you off at Bagatayam Bridge. From the drop off point, you can already see the waterfalls. You easily manage to track the road going to the top of the waterfalls.
From Bagatayam Falls, you can either ride a habal-habal going to the source of the water or take the 10 – 15 minute hike to Binaliw Spring.
Since these places are maximized by the locals for their daily chores – doing laundry and taking a bath – NO ENTRANCE FEE is needed.