So you're new here in Cebu City and you're looking for a place to chow. You only have a couple of hundred pesos budgeted for a meal and you're looking for something authentically Cebuano. Something that you'll only find here in the Queen City of The South.
You might want to try out these food stops and restaurants. They may not be a five star resto, but they will surely fill you up and give you a taste of something authentically Cebuano.


Chinese Ngohiong
Budget : 100 Pesos
Another very Cebuano food, chinese ngohiong is a spring roll that contains heart of palm or ubod, dipped into a light batter and fried to crisp perfection.  This comes with a spicy dipping sauce, and most places have their own special dipping sauce so the taste varies. It's often eaten with puso as a meal. Aside from being really tasty, chinese ngohiong is also inexpensive, so you won't be spending a lot just to enjoy this Cebuano delicacy. You can get these from small stalls like Ngohiong Express, but the best Ngohiong place on Cebu would have to be Chinese Ngohiong by Junquera St, just in front of Philippine Christian Gospel School.


Punko-Punko
Budget : 100 -150 Pesos
Eating Punko-Punko is an experience on its own. You sit on a low bench in front of a huge plastic container filled with a mixture of fried pork innards (liver, spleen, and the ever famous fried mesentery or ginabot), lumpia, longganisa, meat balls, fried chicken and pork chop (just a few common items found in most punko-punko baskets), and pick out whatever you want to eat. Enjoy this paired with puso or hanging rice and a spicy vinegar dipping sauce with lots and lots and lots of white onions. Wash it down with a bottle of ice cold soft drinks. Punko-Punko stands are found all over the city, but the most famous one is the one found near Fuente Osmena, in front of Apple Tree Suites and the ones by Redemptorist Church.


Ekit's Food House
Budget : 100 -200 Pesos
This place doesn't scream fancy, but this hole-in-the-wall food stop offers a great bowl of pochero for just 50 pesos. This tasty, comforting soup is made from beef shanks, cooked until the meat falls off the bone. Corn, pechay, bamboo shoots, and spices are added to make a flavorful soup. The dish is similar to bulalo, but a completely Cebuano taste. Ekit's also serves other dishes that changes day to day. The might have chicken ginamay today, tomorrow it might be grilled fish. But you can bet on that tasty pochero though. Ekit's, also called pocherohan sa Mabolo, is found at the back of Sarrosa Hotel in Mabolo.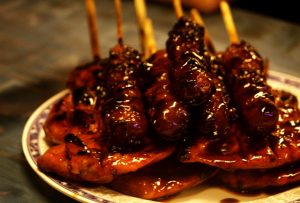 Larsian
Budget : 150 – 200 Pesos
Cebuano barbecue is a league of its own. We love barbecue, and larsian is one of the places to go to if you want to taste Cebuano barbecue without spending a fortune. Larsian is actually a compound found by Fuente Osmena, next to Chong Hua hospital. There are a number of stalls inside that offers a variety of barbecue, ranging from pork, chicken, and seafood. Choose whichever item you want to be cooked and they'll grill it for you. Don't forget to ask for some extra dipping sauce that you can drench you barbecue (or puso) in.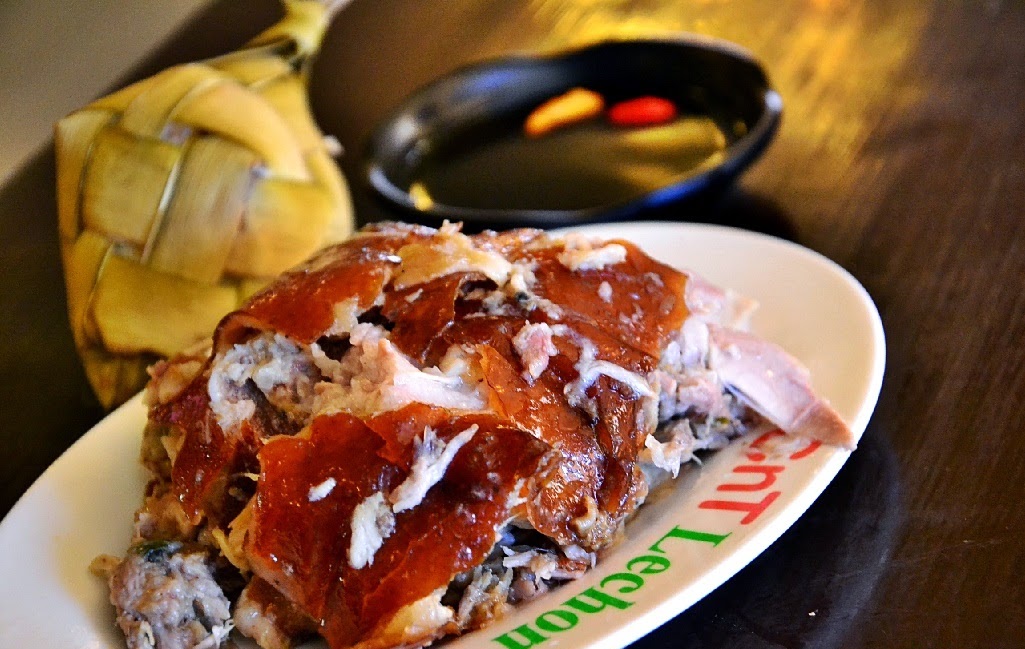 CnT Lechon
Budget : 200 – 250 Pesos
You can ask any Cebuano and they'll tell you that CnT Lechon is one of the best Lechon places in the city. The meat is less fatty, it's super juicy and flavorful, and the price is reasonably cheaper. You can buy ¼ of a kilo of lechon and enjoy it with a friend for less than 200 pesos. Eat it with rice or puso (we recommend puso) and enjoy the taste of cebuano lechon. They also offer other food items that can serve as sides or a meal on their own, like dugo-dugo and chicharon bulaklak. CnT Lechon has a few branches all over Cebu. The most visited one being the one at V. Rama Ave., Guadalupe.


Matias
Budget : 150 – 200 Pesos
Another barbecue spot, Matias is known for their juicy and flavorful barbecue chicken. The restaurant is in an outdoor setting so you'll be seated outside, perfect for one of those warm nights in the city. Other than their famous chicken, they also serve pork barbecue, grilled chicken liver, Cebuano chorizo, and grilled pork belly. Matias is found in A.S. Fortuna St. in Mandaue.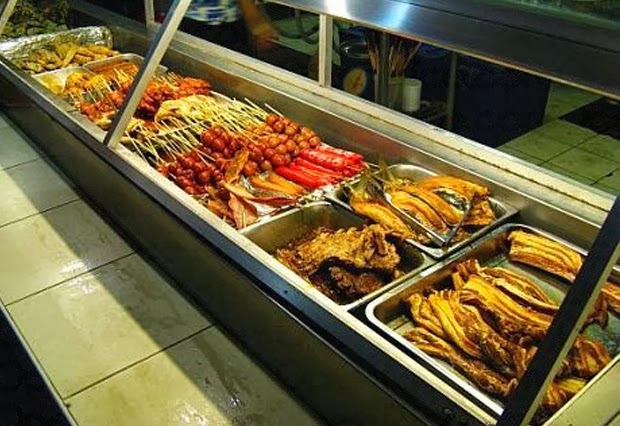 AA BBQ
Budget : 200 – 300 Pesos
If you're looking for a little more than just the usual barbecue, AA BBQ is the perfect choice. Other than barbecue, they also offer a wide variety of freshly cooked meals, from pansit to crispy fried calamaris. You can even choose from a selection of local fishes and other seafood and have them cooked in a soup dish, fried, or grilled. It's a great place to eat in groups since most of the items on their menu can be shared. AA BBQ has a number of branches around the city. The first branch, as well as the most visited one, is the one in Salinas Drive in Lahug.