Cebu getaways won't be complete without Camotes Island on the itinerary. Why? Because this place is simply one of the best islands in the country. White sands and clear waters are what easily comes to my mind when we talk about this beautiful, secluded island in Cebu.
It is far from the chaos in the big cities and is a boat ride away from the mainland. Provincial life at its finest! When the sun's up, it's golden rays will shine through reflecting its glory on your tanned skin. That, with the blue skies and fresh coconut with sum up your summer in no time!
Camotes is a really popular destination in Cebu, but the prices are local friendly! It gives you this pristine piece of nature and the peace in your heart knowing that you won't have to break the bank to afford such a wonderful and well-deserved vacation.
Listing Camotes in your itinerary? Find out the most beautiful beaches, magnificent caves and other sites you can book for you to enjoy every cent of your hard-earned cash. You won't regret a thing!
How to get there
Traveling to Camotes has gotten a lot faster and easier with the help of Jomalia Shipping. Go to Mactan Wharf, in Lapu-Lapu. Your landmarks are Cebu Yacht Club and Island Central Mall right across Marina Mall. The ship travels to Camotes and back daily so there is no need to hurry and worry. The fare ranges from 400-500 pesos and travel time is cut short to 1 hour only! Isn't that convenient?
Beaches
Santiago Bay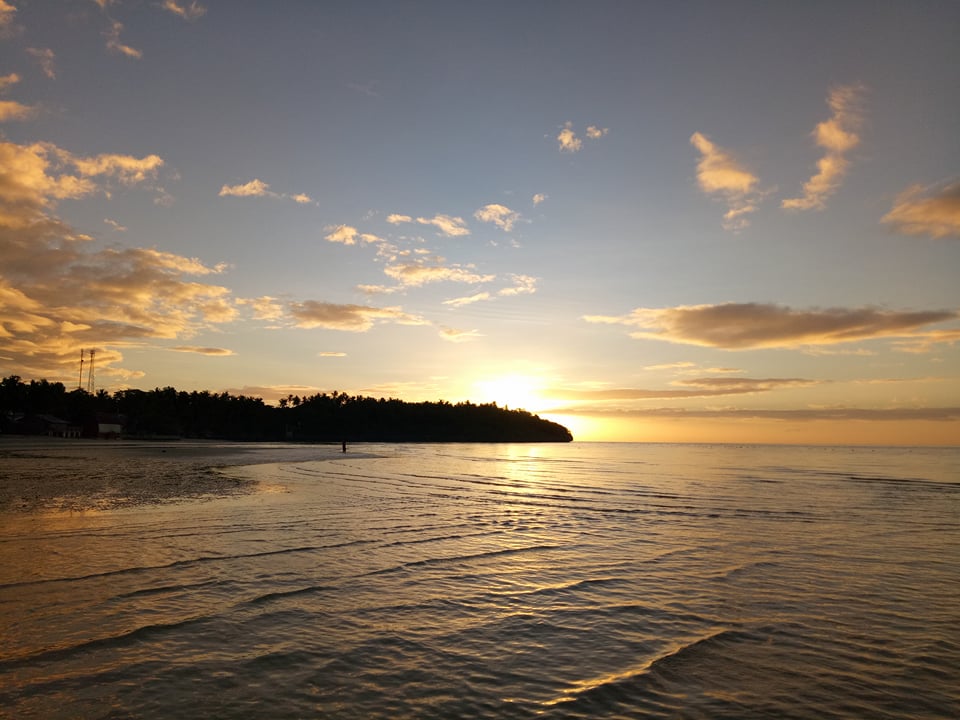 I am in love with the beach but I'll be honest, I can't swim! Yes, I fear the deep, blue sea but not the lovely scene it radiates. The sunrise, though I am not a morning person, gives me chills and makes me fall in love with nature even more. It is an early morning gift from up above, telling us that beginnings are beautiful.
We, Cebuanos, are really blessed with natural resources. We get to enjoy experiences like this without having to sacrifice hundreds of thousands of money! Getting to Camotes may not be a simple bus ride but look at this view, isn't it worth it?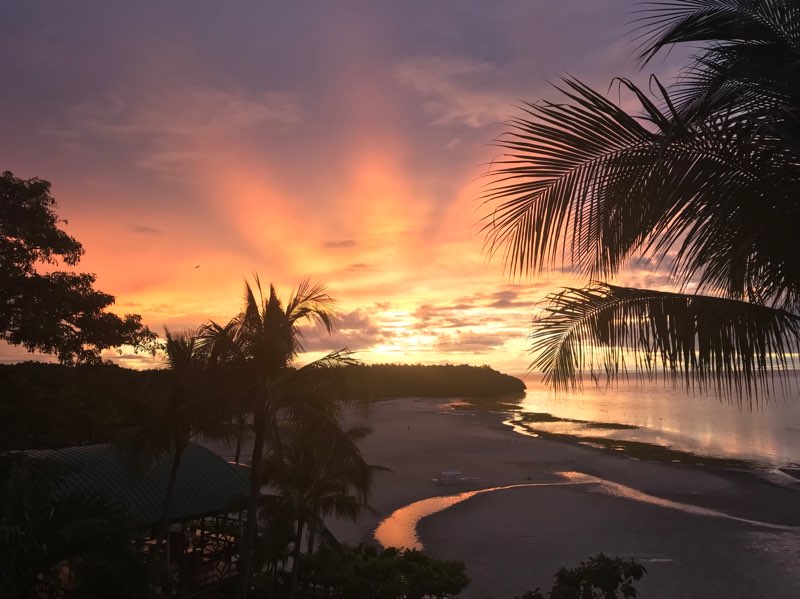 Santiago Bay Beach is the closest place in Cebu to heaven. It is paradise! From there, you will witness the warm, orangey sun rise above the waters, giving light and life to the sleepy yet beautiful island of Camotes. It extends its light to the green leaves of the tall coconut trees to the fine, white sands in the shore.
Why white sand beaches are widely admired is because it brings out the personality of the area. It's like salt to the fish, if I must say!
The rates are pretty high for a cheap person like me but to tell you the truth, they are very reasonable.
How to get there
Santiago Bay Beach is 8.6 km away from Consuelo, San Francisco. It is at the southern part of Camotes, neighboring M. Lhullier and Heminsulan Beach. Riding a motorcycle is the way to go since it is a little too far for walking.
Bakhaw Beach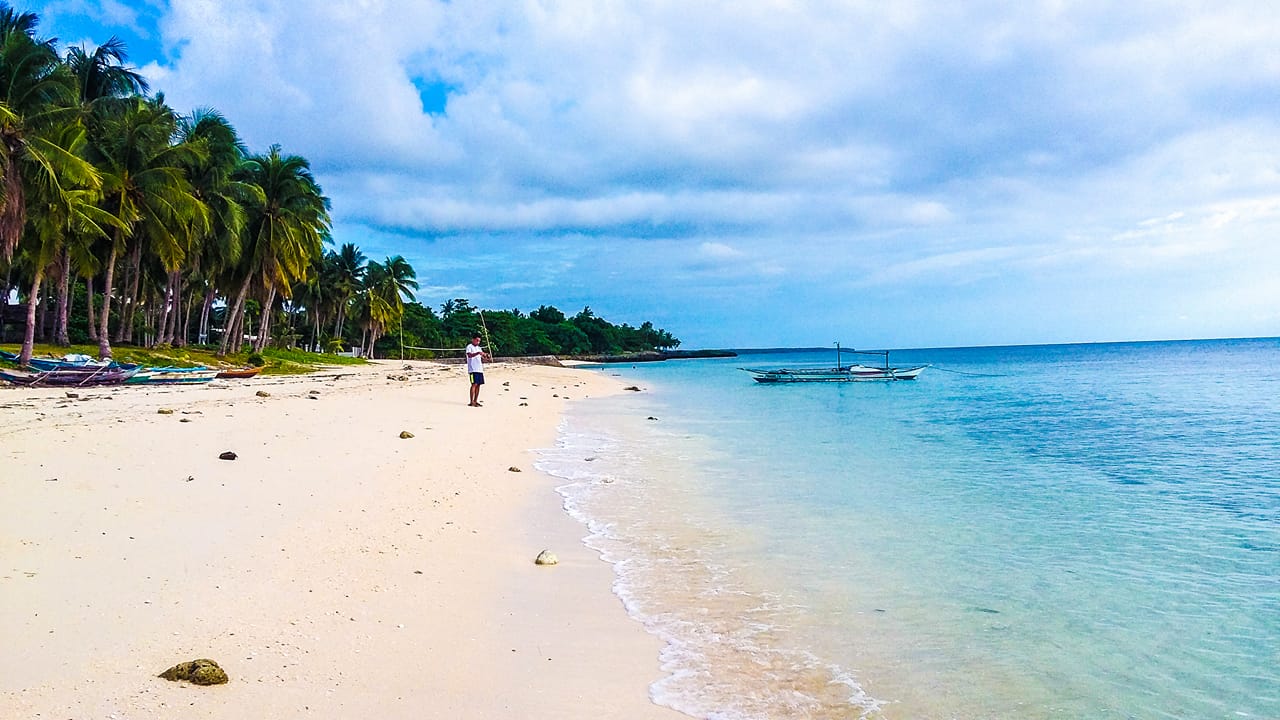 Bakhaw Beach is raw yet it displays the beauty that Camotes is known for. It is unpopular among many tourists, which explains as to why this area is very peaceful. Bakhaw is far from the chaos of the commercialized beaches in Camotes, secluded yet worthy of all praise. This is what makes this beach even more precious.
The shore boasts of its long, white sand and the water is crystal clear. The best thing? It's public! There are not too many inns and hotels in the area which will probably give you a headache as to where to stay but the beach will give you the rest and the relaxation you need. There is a resort nearby, but why pay thousands when you can just hand in 20 pesos as the entrance fee? Cheap, huh?
Bakhaw is connected to Esparaza Beach, where you can enjoy a longer white beach shoreline. There are many resorts available in the area, this means you won't really have to struggle with finding a place to stay should you decide to enjoy the untouched beauty of Bakhaw Beach. This is perfect for barkada trips. This part is legit pristine!
How to get there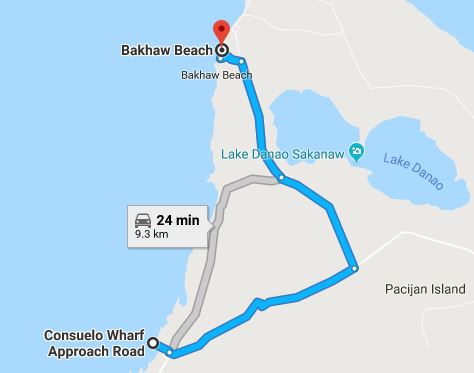 Traveling to Bakhaw from the port or basically to and from anywhere on the island is made possible by hiring a motorcycle. Doing so is the most convenient and efficient way of travelling especially if you plan on moving from one place to another. From the port, you will have to spend around 40 minutes on the road to get to Bakhaw.
M. Lhullier Beach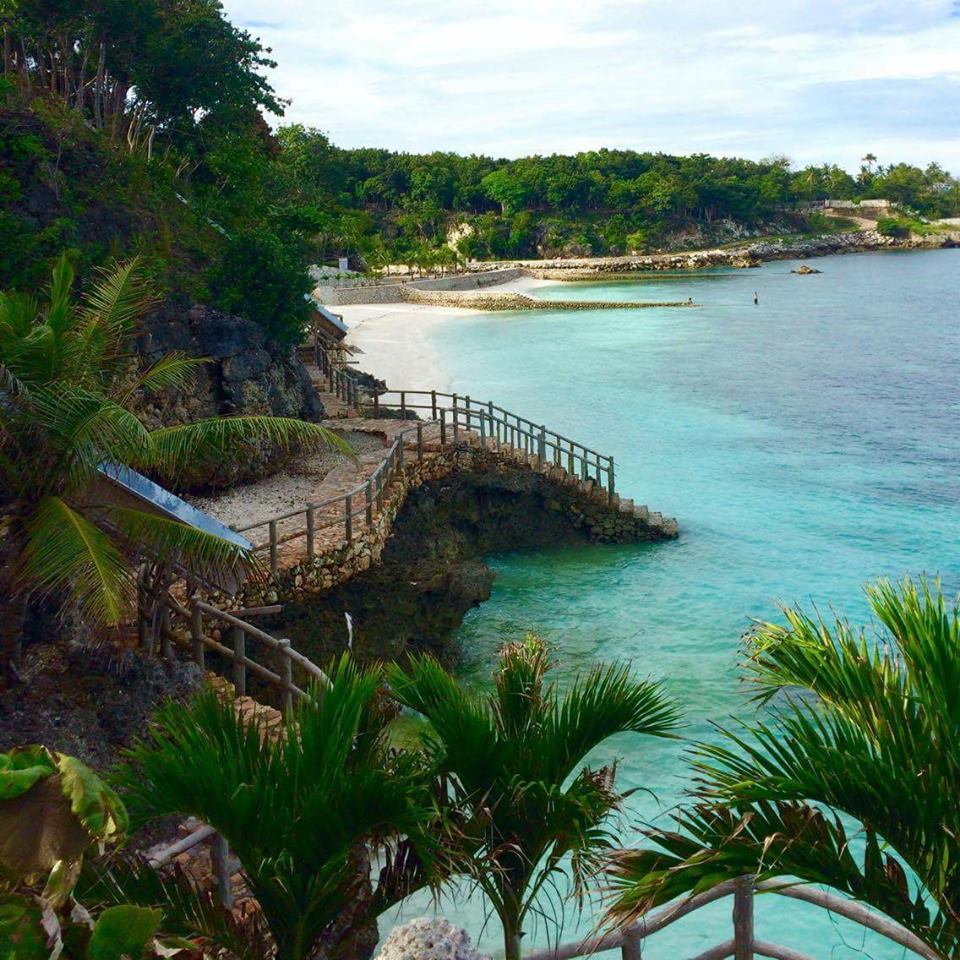 An M. Lhullier Beach in Camotes? Sure! This long, beautiful stretch of white sands is the way to go should you wish to spend days in this grand part of Camotes. The beach is connected to Heminsulan Beach but is bordered by a resort. It might be a bit more commercialized but the beach remains to be very inviting! Camotes is doing it right!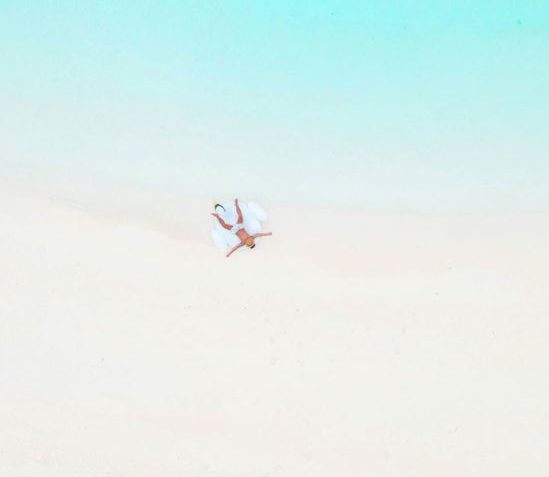 It is surrounded by many resorts but the beach is not scarce with green, healthy trees. Although it is commercialized, Lhullier has kept its natural beauty without harming the island. They added staircases which makes it easier for tourists to enjoy the view from a higher point.
How to get there
M. Lhullier Beach is accessible from the port. Located at the southern part of Camotes lies this private yet commercialized beach. It is 7 km away though, but via motorcycle, you'll be there in no time.
Mangodlong Beach
Mangadlong Beach is a lot smaller than the others mentioned and a lot more crowded too. It is way too commercialized which is why the area is filled with many resorts, stores, and houses. Nevertheless, the beach is clean, refreshing, and just as relaxing.
Don't get discouraged. Businesses around a gem like this is not entirely a bad idea because it allows you to enjoy the beach more knowing that you have a warm place to sleep in nearby and some eateries you can drop by just in case you come to your human senses again.
Among the resorts you can check out are Bano Beach Resort, Mangodlong Beach Resort, Coco Grove Nature Resort, and Mangodlong Paradise Beach Resort. Coco Grove offers the most affordable place to stay, plus they have a swimming pool you can use although their place is a little far from the beach. For me, Mangodlong Rock Resort should be the top choice because it sits along the beach (why come to Camotes to swim in the pool anyway?) and the price is right!
How to get there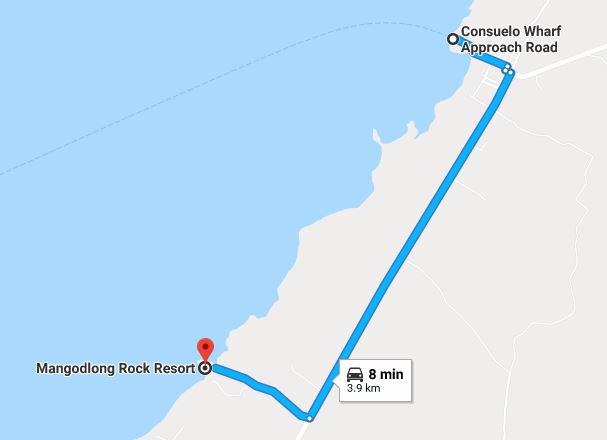 Mangodlong is probably the nearest from the port so it can be easily accessed. If you happen to book a resort, you can ask if they offer a service to pick you up so you can save a little on the fare. Resorts usually offer this service to their customers especially if you come in a group so don't be shy to ask!
Caves
The earth is full of interesting surprises. If you are a fan of stalagmites and stalactites, you will certainly enjoy some local caves on the island. Some are underground caves with crystal clear pools of water while the one is a regular cave with crystal interiors. Find out which caves you can visit when you are in Camotes.
Timubo Cave

Timubo Cave, unlike many caves, sits in the middle of a healthy farm where crops grow. There is no grand entrance to the cave, only a small hole that will guide you to the underground treasure.
Inside the cave, you will immediately notice the mesmerizing stalactites and stalagmites that crown the cave just like jewels. Apart from that, the cave has pools, and its main pool offers 6-ft. deep of water during high tide. The water from the cave provides for the residents in the surrounding area.
How to get there
Timubo Cave is Lake Danao Park so you can opt to go to the cave after you enjoy the park. Take a motorcycle from the port to Timubo Cave. The fare varies depending on your agreement with the driver. There probably no fixed rate for every ride. You will reach the cave in less than 30 minutes.
Paraiso Cave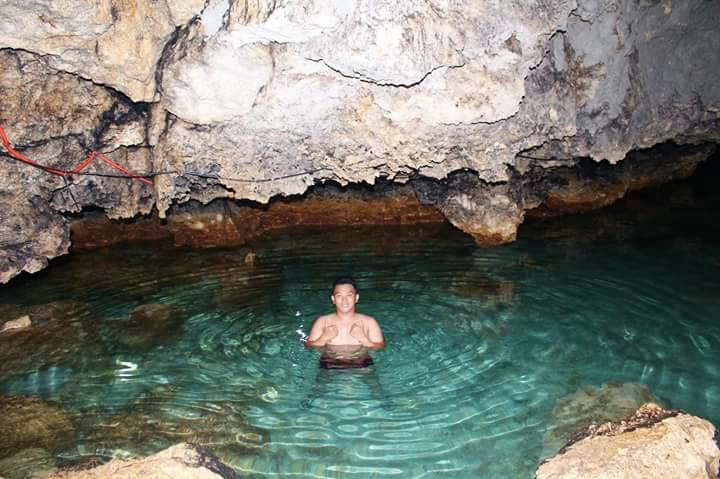 Paraiso Cave is another underground cave but is located in the middle of a private property. You will be asked for a minimal entrance fee and swimming fee. There are way too many fees for a natural cave, huh? That's okay though since the resort is very nice and well-maintained.
The cave also has a nice pool inside where visitors can take a dip. The waters can be chest-level. The pool is small, the water is cold, clean and very clear. The resort has a restaurant and some nipa huts where you can take a rest right after the activity.
How to get there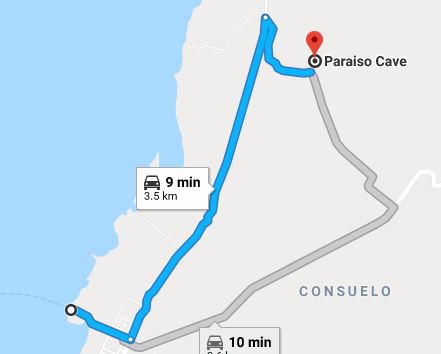 Paraiso Cave should be your first stop because it is very near the Consuelo Wharf. It is 9 minutes away via car but taking a motorcycle would get you there a lot faster.
Holy Crystal Cave
This mysterious cave is located in San Francisco. Yes, the stalagmites and stalactites create such beautiful crystal-like formations which is why the cave is an attraction to many tourists. If you are a little adventurous, you can take more steps to explore the 8 levels of the cave but make sure that you have a guide with you.
The name suggests that the cave is holy because the water is said to have some miraculous properties that can treat skin disorders and other illnesses. There is no entrance fee but donations to maintain the orderliness of the cave are welcome.
How to get there
Holy Crystal is very near Consuelo Wharf and Lake Danao. By taking a motorcycle, you will arrive at the cave in less than 20 minutes.
Bukilat Cave
Bukilat Cave is a picturesque natural spot where you can have 7 natural openings at the top where light can pass through, to give you that instagrammable lighting straight from the sun. The sun beams light the inner part of the cave and gives it life. Other caves look and feel creepy, but this one is very tourist friendly.
There is a little amount to be paid as entrance fee about 10 pesos only. To make the most out of the payment, come during high tide. Morning is low tide.
How to get there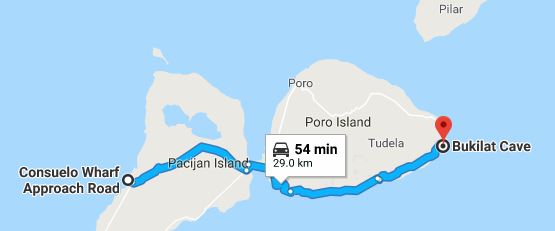 Bukilat Cave is on the other side of the island if you are coming from Consuelo Wharf. It is far so I suggest visiting other sites in between the two places (Busay Falls) to save you time and money.
Others
Busay Falls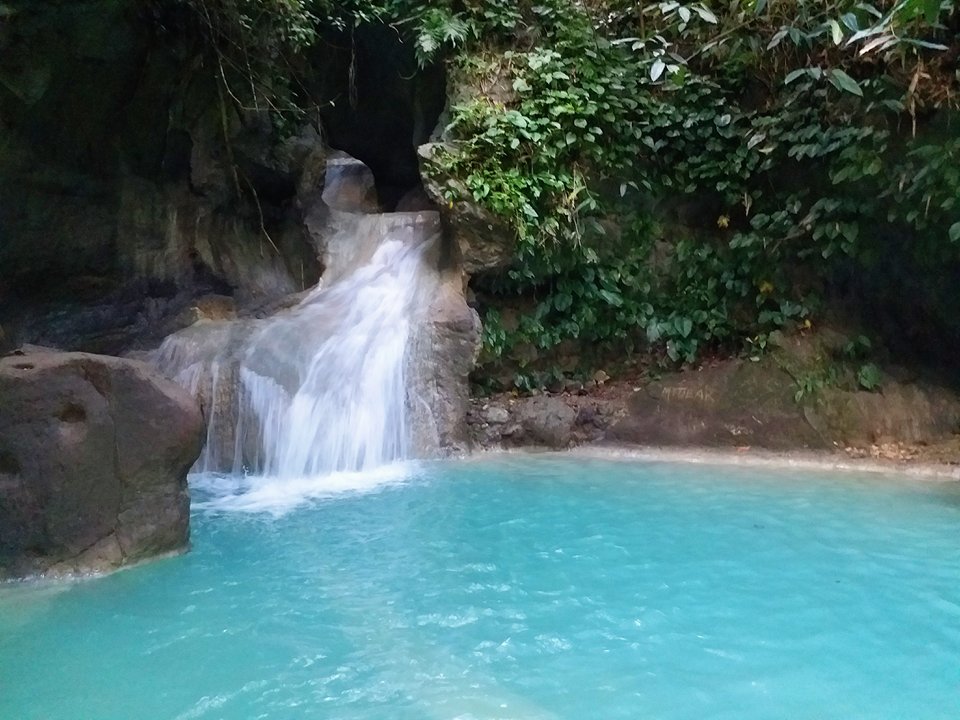 Busay literally means waterfall. In Camotes, we also have waterfalls called Busay but it is a small waterfall and goes deep at 8-10 feet. Its being small allows visitors to enjoy a more private and tranquil time swimming in the clean pool. Diving is allowed and is very safe.
For non-swimmers, you can always enjoy a little picnic around the area while enjoying the relaxing sound of the water rushing to the ground. Water is a natural therapy whether you take a dip or not anyway! There is a small entrance fee of 10 pesos only.
How to get there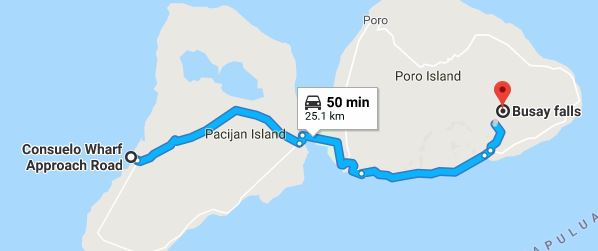 Busay Falls is far from Consuelo. It would be much nearer if you pick a route from Cebu mainland to Camotes via Poro. But anyway, from Consuelo to Busay Falls is only a motorcycle ride away. It is a 50-minute ride if you use a car so I am assuming that taking a motorcycle will get you there around 30 minutes or so.
Lake Danao Park
Lake Danao Park is a very peaceful park where families with small children and lovers who wish to enjoy a romantic time together can stay. There is a nice lake they fondly called as Lover's Lake where visitors can enjoy boating and sakanaw cruise, which uses an electric boat and holds around 10-15 people. They provide chairs, food and drinks during an hour of tour.
Other features of the park are swimming pools for adults and kids, picnic area, green and very healthy plants and animals and an eatery, just in case you run out of food.
How to get there
Getting to Lake Danao from the wharf is only less than 15 minutes given that you will take the very reliable motorcycle.
Tulang Diot Islet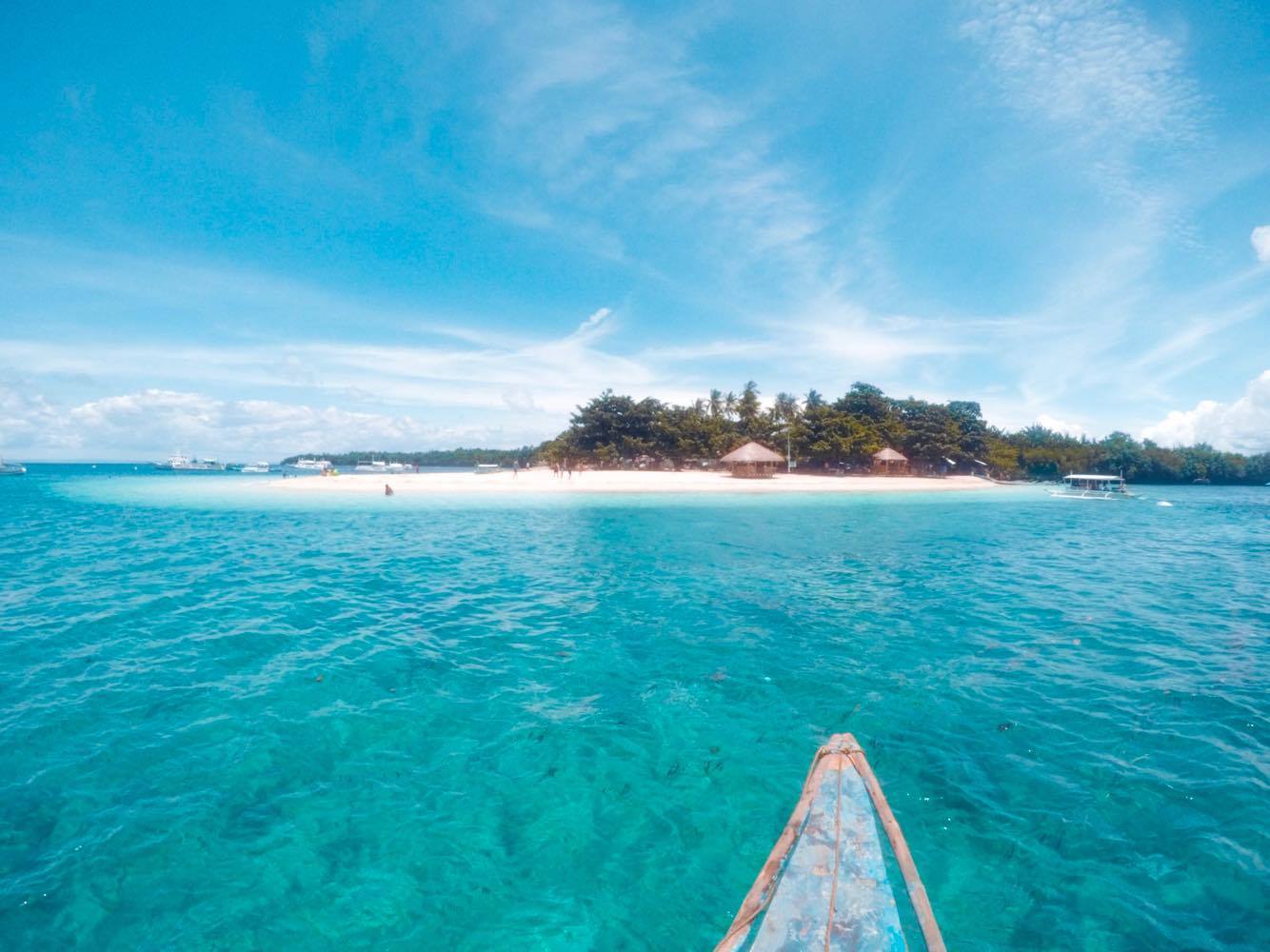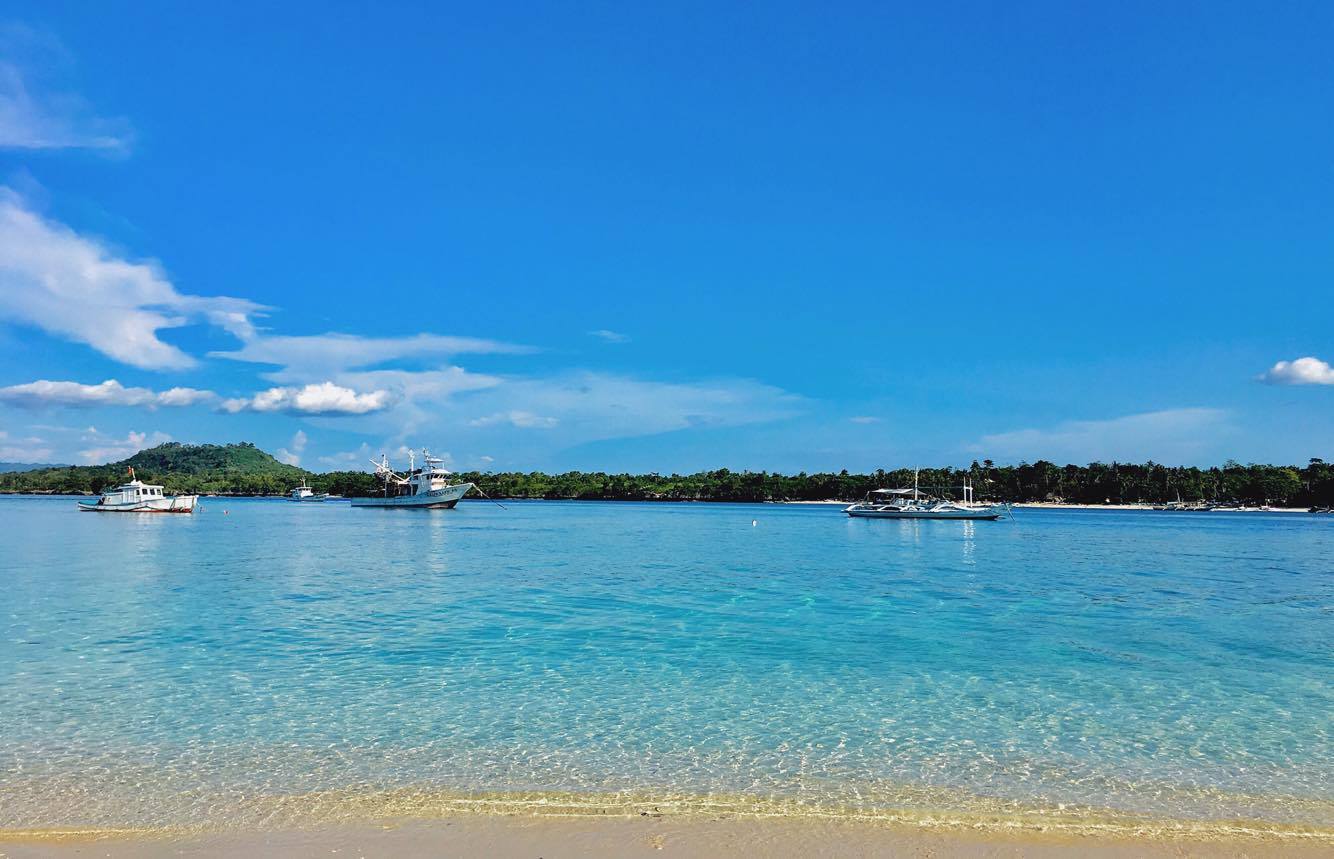 This could have been written under 'beaches' but I want to make this feature special. Tulang Diot is an islet located in the northern part of Camotes Island. The islet offers everything Camotes is known for– white sand beaches, long sandbars, small, colorful fishes, crystal clear waters. It is secluded and you will have to take a boat to get there. No noise, just the beautiful sound of the waves from the sea. You can also camp out on the beach. Just bring your own tent.
How to get there
Wherever you are coming from, take a motorcycle to Tulang Daku. From there, take a boat to Tulang Diot Islet for only less than 10 minutes.
If I had to choose just one, I would prioritize going to Tulang Diot because it is an unspoiled beauty– for now. Years from now, all beaches are probably as crowded and chaotic as Boracay. We don't want to miss the chance of experiencing such rare scene, right?
Before summer ends, book a trip to Camotes together with your friends to enjoy this secluded island with its beautiful, untouched beauty!