Valentine's Day or not, if you're having trouble deciding where to spend a romantic time with him/her, we got you covered. Here's a list of the most romantic places to go to for a date. It's a pretty comprehensive list so you'll definitely find a place that's perfect for your budget as well as status (single, double, even those in a "complicated" status is covered).
Plaza Independencia
Location: M.J. CuencoAvenu, Cebu City
Probably the 1st and most known dating destination of the entire Cebu, Plaza Independencia offers you a lot of space to walk around or benches to sit and talk about anything and everything under the sun. The best part is that you don't have to spend anything. Entrance to the park is free, and you get to enjoy the landscaping and colourful lighting.
Tops
Location: Cebu Transcentral Hwy, Cebu City, Cebu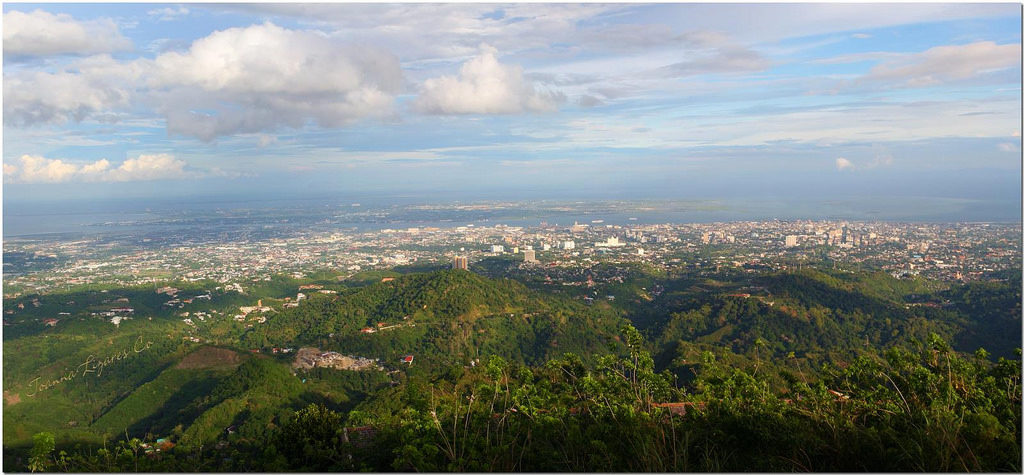 For 100 pesos, you can get a panoramic view of Cebu City, Mandaue City, and the neighbouring island of Mactan. Tops is a real getaway that doesn't really require you to get away from the city. There are stores in the vicinity that sell food and drinks you and your honey can munch on something while you enjoy the city lights.
Did I mention this places feels freezing at nights? That equates to a "huggable partner required" kinda place at nights.
Mountain View Nature's Park
Location: Busay, Cebu City, Cebu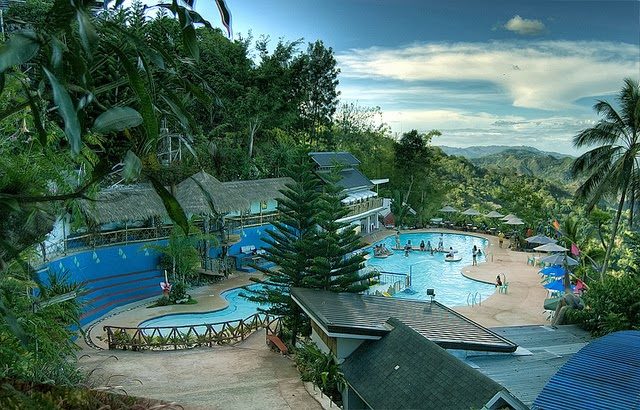 With an entrance fee pegged at only PHP 50.00/head, Mountain View is probably the most "flexible" on this  list. With amenities ranging from cottages, aircon and non-aircon rooms for overnight, pools, and event venues, this is the place to be for families who are looking to unwind and escape the gruelling traffic of the metro.
When the sun goes down however, the huge area the resort covers and the ample benches and sitting places scattered just everywhere can lead to romantic evenings that you and your love one can surely treasure.
Contact: (032) 253 1111
(032) 419 2300
Marco Polo Blu Bar and Grill
Location: Nivel Hills, Cebu Veterans Dr, Cebu City, 6000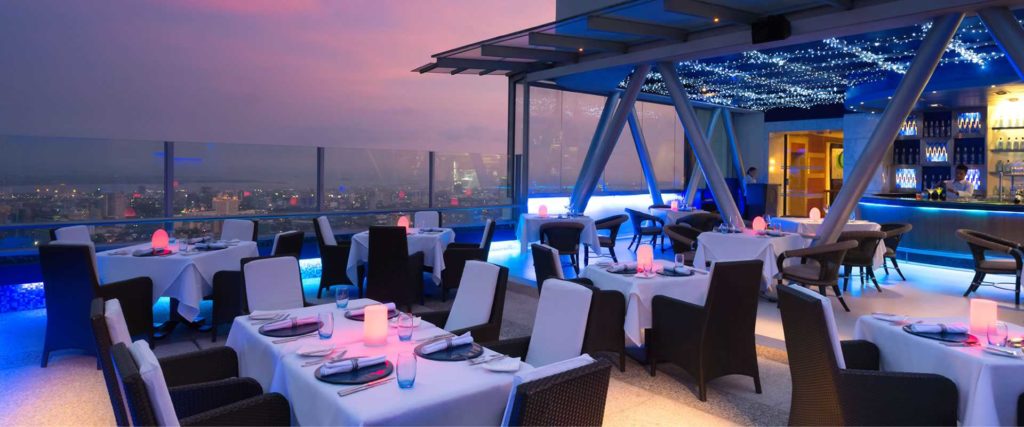 Contact: (032) 253 1111
The Blu Bar is a favourite for romantic dates. You get a breath-taking view of the city, great food and drinks, and an ambiance that's just perfect for a special night out with your partner. Yeah it's pricy, but hey, if you're willing to spend, why not go all out and spend on quality on every aspect?
Mr. A Bar and Restaurant
Location: Lower Busay Heights, Busay, Cebu City
Contact: (032) 232-5200 / (032) 232-5300
Experience Al fresco dining with a clear view of the city. Mr. A is a perfect getaway for couples who don't want to be stuck in the city during Valentine's Day.  What's even better is that their food is pretty affordable too. Enjoy your favourite Filipino dishes while enjoying the view.
10,000 Roses Café
Location: Day-as, Cordova, Cebu (Across Lantaw Floating Restaurant)
One of the newest places on the list, the 10,000 Roses Café is set to officially open its doors to the public this Valentine's day (2017). What makes this place special are the 10,000 white LED roses that you pass along the café's walk-way which looks amazing when lit at night.  The café serves pizzas, pastas, and sandwiches as well as coffee, tea, and frappes.
Anzani
Location: Panorama Heights, Nivel Hills, Lahug, Cebu City
Contact: (032) 232-7375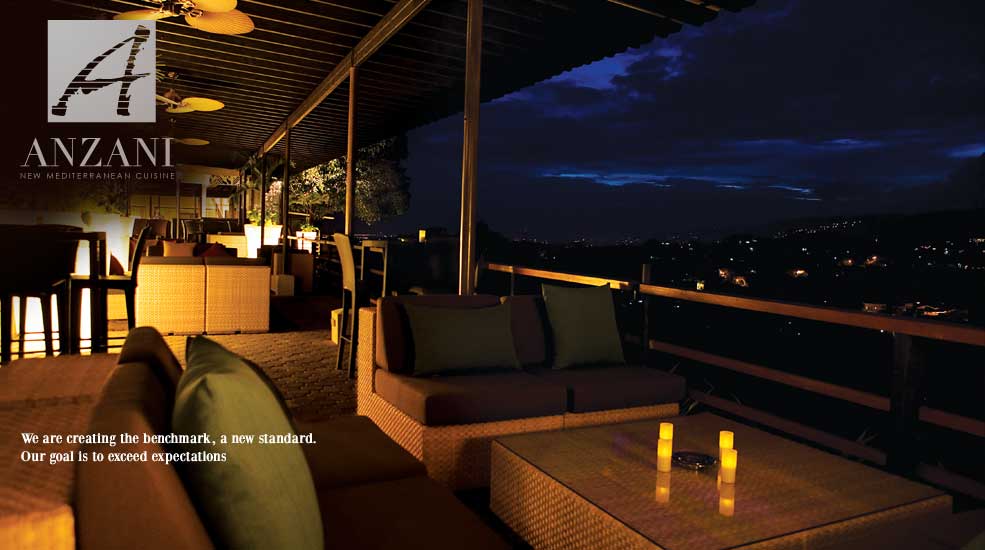 A beautiful city view and world class Mediterranean dishes awaits those who are planning to spend their Valentines dinner (or any other special day) at Anzani. Anzani has been named as one of the best restaurant in Southeast Asia, so you're assured a delicious and memorable meal to go along with the exclusive feel and ambiance.
La Vie Parisienne/La Maison Rose
Location:  371 GorordoAvenuLahug, Cebu City
Contact Number:  (032) 232 1311
So we just grouped these two together since they're in the same compound. If you want a more relaxed, laid-back date with a couple of glasses of wine , pizza, and some freshly baked pastries and bread, go for La Vie Parisienne. For something a bit fancier, indulge in the French cuisine offered at La Maison Rose. Try the escargot to make your night even more memorable.
No. 9
Location: No. 9 E. Benedicto Street, Cebu City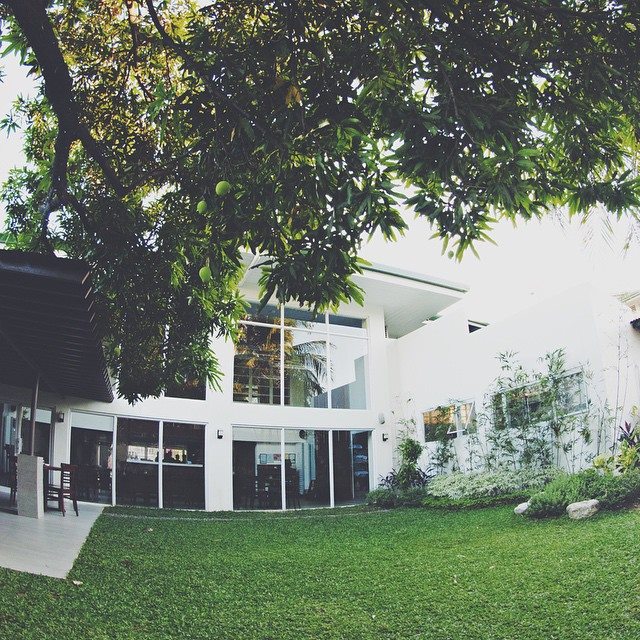 Contact: (032) 253 9518
Mouth-watering Mediterranean, Latin American, and Spanish dishes are served at No. 9. Its cosy, lounge atmosphere also makes it a perfect place for wines and cocktails after dinner. We recommend you try their pasta on squid ink to add a dose of fun with your conversations.
South Road Properties (SRP) Beach View
Location:South Road Properties
It's surprising to find places where you can sit and just spend time with the one you love in this busy city. Drive down to the SRP beach side (you can part in the Sugbu grounds parking lot) and you and your partner can just sit on the benches and look out to the horizon. The cool sea breeze and the relaxing sound of the waves makes the perfect atmosphere for some quality time to talk or just hang out.
Circa 1900
Location: Sanjercasvil Road, Gorordo Avenue, Lahug, Cebu City
Contact: (032) 239 6265
Taking you back through time, Circa 1900 will remind you of old colonial Philippines. Maybe even imagine you are Crisostomo Ibarra and Maria Clara, meeting in secret to speak of your undying love. Circa 1900 offers a variety of Asian and American dishes so there's surely something to please your taste buds.
The Chocolate Chamber
Location: 22 Pres. Quirino St., Barangay Kasambagan, Cebu City
Contact: 0917 628 7661

Quaint and intimate with a whole lot of chocolate, what more could you ask for? Other than their famous chocolates and sweets, The Chocolate Chamber also offers a wide array of dishes to choose from. Don't forget to try their delicious hot chocolate. Lastly, scientists say chocolate is an aphrodisiac so… 🙂
Handuraw Pizza (13) *now closed 🙁
Location:
#460 Gorordo Ave., Brgy. Camputhaw, Cebu City
White Gold Club – Annex Bldg., A. Soriano Ave., North Reclamation Area, Carreta, Cebu City
G/F Mango Square Mall, Juana Osmeña St., Kamputhaw, Cebu City
Phone: (032) 412 2230 Gorordo / (032) 263 5826 White Gold Club / (032) 410 7491 Mango
They have pizzas, pastas, rice meals, and they even have a live band to serenade you while you enjoy your dinner. Handuraw's thin-crust pizzas are definitely a crowd favourite so you best not leave the place without having tasted them. Their branch in Gorordo actually has a romantic feel to it, or you can head down to their branch in White Gold or in Mango.
10 Dove Street Café
Location: Oakridge Business Park, 880 A.S. Fortuna Street, Mandaue City
Contact: (032) 418 1010

Looking for something healthy and filling for your date? 10 Dove Street Café is the place for you. They have salads, sandwiched, and a number of American dishes that will fill you up. They also offer a variety of sweets and cakes to share with your honey.
Abaseria Cafe and Deli
Location: #32 President Quirino Street, Villa Aurora, Kasambagan, Cebu City
Contact: (032) 234-4160
Nested away in the small streets of Kasambagan, this quaint and peaceful restaurant offers sumptuous Filipino dishes that will remind you of your mom's home-cooked meals. The ambiance gives you a very relaxed and homey feeling, which really adds to the whole "home-made" feel.
Simply J's Café & Restaurant
Location: Escario St. cornerApitong St. (at Apitong St), Cebu City
Contact: (032) 505 8315
The perfect place for an intimate dinner with your partner, Simply J's Café & Restaurantserves a variety of dishes that's perfect for any budget. The restaurant itself is actually pretty small, so you might want to call for a reservation.
Casa Verde
Location: 69 Lim Tian Teng, Cebu City
Phone: (032) 253 6472
You can't go wrong with a classic, and you can't say no to their ribs. Their branch in Ramos has a really nice homey feel, making it perfect for a romantic date. Casa Verde will always be a go-to for romantic dates on a budget.
Family Park
Location: Nasipit, Talamban, Cebu City
If you're planning to spend valentines with your family, the family Park is a great option. One of the favourite destinations for picnics and outings. There are swings and slides for the kids, a mini-zoo, and tables and chairs that you can rent out to place your food and belonging. The park's entrance fee is Php15 for adults and Php10 for children.
Top of Cebu Restaurant
Joining our list is the newly opened (opened in August 2017) Top of Cebu restaurant. And as the name suggests, this restaurant is located about 600 meters above sea level, just below one of Cebu City's oldest attractions, Tops Lookout or simply Tops to locals.
Day or night, you and your significant other can enjoy some quiet time, fresh air, and of course a breathtaking view of Metro Cebu together with quality food you'd expect from the Pages group of companies (owners of Lantaw Restaurant, Moon Cafe, etc.).
#  (032) 416 1122
For Singles
Do you really think we'll leave you out on this list? Sure you might not have your heaven sent as of the time of writing but, that doesn't mean you don't deserve to get the chance to meet him/her someday! 🙂
On that regard, here are a couple of recommended places that you might want to spent some time with friends and maybe end the day with someone worthy to get to know better.
On top of our recommended list here would be LIV Super Club. With LIV's amazing crowd that's not too rowdy but still a party no doubt, you can't go wrong getting a few drinks and dancing to the beat accompanied with their state of the art sound and intelligent lighting system.
Others worth checking our Club Lotus and Alchology.
What do you think of our recommendations? Did we miss anything? Please let us know on the comments below!