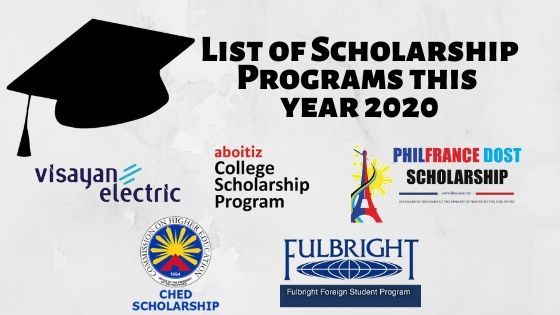 CHED Scholarship
The Commission on Higher Education will be accepting scholarship program application for the Academic Year 2020 – 2021 from March 1 to May 31, 2020. This aims to provide assistance to those students who are financially-incapable to finance their studies – preferably the underprivileged, homeless, PWDs, solo parent, senior citizens, and members of an indigenous group. CHED Scholarship 2020 Financial Assistance will cover the tuition fee and other school fees plus stipend shall be released directly to the scholars or through the Higher Education Institutions per semester of a given academic year until the completion of the degree program.
Full scholarship – P30,000/ semester
Partial Scholarship – P15, 000/ semester
QUALIFICATIONS:
Filipino citizen
Graduating High School or High School Graduate with a General Average of 85
Combine annual gross income not exceeding P400,000 (in case the income exceeds, applicants must present a written certification or medical findings of illness of family members or school certification of two or more dependents.
Applicants who belong to the special group of people – Underprivileged and Homeless Citizens under Republic Act No. 7279, Persons with Disability under RA. No. 7277, Solo Parent and/or dependents under RA 8972, Senior Citizens under RA 9994, and Indigenous People under RA 8371 – must submit certifications and/or Identification Cards issued by the appropriate offices or agencies
HOW TO APPLY:
2. VECO College Scholarship Program in 2020
The Visayan Electric Company Scholarship Grant was created in order to support High School and College Level students who are VECO customers. This is offered to the poor but deserving students who are living within the franchise area from Liloan to San Fernando, Cebu. Moreover, it is granted to high school graduates who want to pursue BS-Electrical Engineering, BS-Industrial Engineering, BS-Accountancy, and AB-Mass Communication in the University of San Carlos, Cebu Institute of Technology, and the University of San Jose-Recoletos. Taking part of this scholarship program also increases the possibility of being hired by the company after completing undergraduate studies.
QUALIFICATIONS:
Submit completed application from to the VECO, Community Relations Department at J. Panis Street, Banilad, Cebu City.
No grade of below 2.5 and a general average of 2.0
No dropped subjects
Participate in Aboitiz and VECO related activities
Dependent of VECO customer with no record of violations of service contract
Income not exceeding P150,000
Willing to pursue BS-Electrical Engineering, BS-Industrial Engineering, BS Accountancy or
AB-Mass Communication
Willing to pursue Willing to enroll in any of our accredited universities (USC, USJ-R, and CIT-U)
HOW TO APPLY
Submit completed application from to the VECO, Community Relations Department at J. Panis Street, Banilad, Cebu City.
Enclose the following requirements in a short brown envelope: complete and sign the application form with current 2×2 colored photo, photocopy of PSA Birth Certificate, certified true copy of Grade 12 report card, photocopy of Income Tax Return from BIR or Certificate of Indigency from the Barangay
DEADLINE: April 12
3. PhilFrance-DOST Scholarships 2020
The PhilFrance DOST Fellowship Program is offered by the Department of Science and Technology-Science Education Institute (DOST-SEI) in order to foster the mobility to France of Filipino professionals working in academic, research, or government institutions. Applicants are selected jointly on the basis of academic excellence to pursue Master's or Doctorate Degree in French Public Higher Education Institutions under the Ministry of National Education, Higher Education, and Research of the French Republic. The scholarship program prioritizes the following fields: agriculture, biological sciences, climate change, forestry, health and medical research, material sciences, natural resources and environment nuclear application on health, and veterinary sciences.
QUALIFICATIONS:
Filipino citizen
Not more than 45 years of age
In good health condition
Holds a higher education diploma recognized by the Philippine government allowing enrolment in host course in the French Republic
Excellent academic level
Pass the admission requirements for graduate studies in any of the public universities in France
Pass the interview and other screening procedures
HOW TO APPLY
Apply online and submit application through the official PhilFrance-DOST Scholarship website.
Shortlisted candidates will be contacted by the scholarship committee regarding results of application.
DEADLINE: March 16, 2020 (12 noon)UAlberta S&T Graduate Scholarship Program
4. UAlberta S&T Graduate Scholarship Program
Good news to those who would like to pursue graduate studies in the fields of Science and Technology because the Department of Science and Technology-Science Education Institute (DOST-SEI) announces the availability of the DOST-SEI-UAlberta S&T Graduate Scholarship Program to the University of Alberta in Alberta, Canada. The program aims to create mechanism for Masters and Doctoral students from the Philippines to study and conduct research at Alberta with support provided jointly through DOST-SEI scholarships and UAlberta. Fields of offered includes Agricultural, Food and Nutritional Science, Biochemistry, Cell Biology, Chemical and Material Engineering, Computing Science, Earth and Atmospheric Science, Electrical and Computer Engineering, Renewal Resources, and Physics.
QUALIFICATION:
Application Form
Birth Certificate (Photocopy)
Certified True Copy of the Official Transcript of Record
Endorsement from the two former professors in college (For MS applicant) or two from professors in the MS Program for applicant pursuing a PhD program
If employed:

Recommendation from Head of Agency

Permission to take a leave of absence (LOA) while on scholarship

Medical Certificate as to health status and fitness to study from a licensed physician with his/her PRC license number indicated
Valid NBI Clearance
Letter of Admission from University of Alberta*
Program of Study
Budgetary Requirements (with supporting document for bases of rates used)
Re-entry Plan, narrative
HOW TO APPLY:
First Screening: Documentary evaluation of the form and other requirements by the DOST-SEI
Second Level Screening: Evaluation of research topic and re-entry plan by the concerned DOST Council
Third Level Screening: Interview by a panel composed of the SEI Director, DOST Councils and other relevant DOST agencies
The applicant must apply to UAlberta for admission to the graduate program of his/her choice – following the normal procedure. All application must be submitted by the normal departmental deadline. For other queries and assistance, contact Ms. Nicole Dewart, UAlberta Coordinator through

[email protected]

/ +1-780-4921579. She will assist all applicants in the process and help identify supervising professors in UAlberta. If the applicant is selected for admission to UAlberta, the letter of admission will be conditional subject to awarding of the scholarship.
4. Aboitiz Scholarship Program in 2020
If you are a student studying undergraduate degree STEM or business-related programs like Accounting, Business/Management/Finance, Information Technology, Engineering, Communication and Social Sciences (Psychology, Economics and Political Science), the Aboitiz Scholarship Program in 2020 will already cater for most of your educational needs! The Aboitiz Equity Ventures, Inc. believes that a good education is a solid foundation on which to which to build exceptional leadership skills. This program was designed in order to help and motivate students to value, appreciate, and make the most of their education. The Aboitiz College Scholarship Program will provide financial support by covering the tuition fee and other school expenses, book requirements, and transportation needs.
QUALIFICATION:
· Final average GPA of at least 85% or its equivalent
· Full-time student of an eligible college or university
· Willing to pursue a degree in Accounting, Business/Management/Finance, Computer Science, Engineering, Communication or Social Sciences (Psychology, Economics and Political Science
· No failing or incomplete grades
· No record of any form of disciplinary action
· Has completed the online application form and submitted the requirements on time
HOW TO APPLY
· Accomplish the online application form
· Certified copy of the full candidate's complete high school report card
· For 2nd to 4th year students: certified copy of the applicant's certificate for all undergraduate courses that end with the last semester grades of the previous section
· Certification by the head teacher or registrar stating the final average grade (for incoming first-year applicants) or the overall cumulative GPA of the applicant (for incoming year 2 to 4 applicants).
· Certifications to support leadership experience, awards received, and community engagement.
· NOTE: Candidates are also asked to provide information about the evaluator of their choice – one from the academe and one from non-academe. You will be sent a link for the recommendation form.
· Deadline of Application: March 24
· For more details, visit their site here: http://careers.aboitiz.com/?s=scholarshipor http://careers.aboitiz.com/
5. 2021 – 2022 Fullbright Foreign Student Program
Dreaming of pursuing your Masters or Doctorate Degree in the United States? Fullbright Foreign Student Program grants a round-trip international travel, monthly maintenance allowance, free tuition and other school fees, book/supplies allowance, and health and accident insurance.
QUALIFICATIONS:
Applicants must be interested to take courses in line with the following fields of study: Study of the United States (American culture, life and society, humanities, law, economics, literature, history, and other social science field with significant study of the US subject matter), Global issues (environment, human rights, governance and public administration, peace studies/conflict resolution/transformation, international relations and transnational issues, international economics, international business, international law, public health, and STEM fields), and other fields not covered as long as it's not in line with Medicine, Nursing, Physical and Occupational Therapy, Clinical Psychology, Medical Technology, and Accountancy.
Filipino citizen
Proficient in the use of the English language
College graduate with major in field of specialization
Must be in good health to pursue graduate work in America
NOTE: Applicants must return to the Philippines immediately upon completion of study.
HOW TO APPLY:
Complete online application here: https://apply.iie.org/ffsp2021
Upload the following documents to the online application portal: Transcript of Records from all colleges/universities attended, Certified True Copy of Diploma, Four letters of Reference, NBI Clearance acquired in the past six months
DEADLINE: March 20, 2020