There is a different feeling you get when you touch and experience for yourself all the wonderful places in the Philippines that you have only seen in print and on television. When I was learning about my country's wonderful richness in school, I couldn't help but appreciate and feel blessed to be living in the Philippines and for being a local in this country.
Having been born and raised in Cebu, there is nothing more tiring than having to live in The Queen City of the South without fully realizing what made Cebu deserve that name.
As I grew older, I realized that Cebu has it all– including the Chocolate Hills!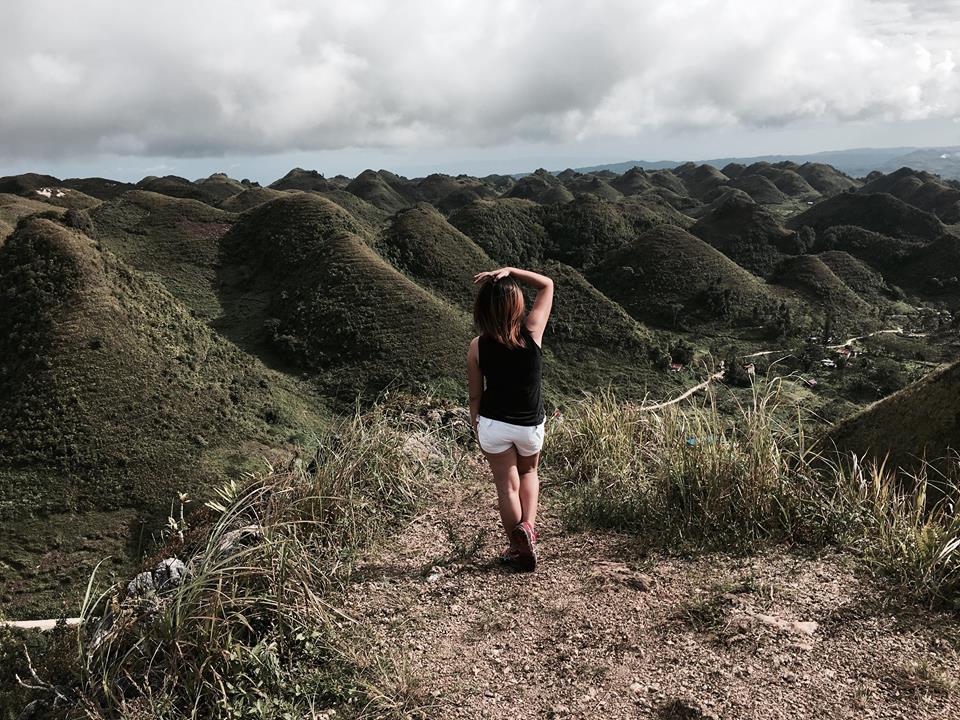 I have been to Bohol but I never got to see what it is famous for– the Chocolate Hills. Chocolate Hills are just regular hills that turn chocolate brown in color during the dry season. Multiply that by a thousand more hills and that is what you will expect in Bohol. Interesting, isn't it?
They are the island's main attraction aside from the tarsiers but guess what, Bohol's hills aren't unique at all.
Did you know? You don't need to travel to Bohol to see the Chocolate Hills because Cebu has its very own version of the famous tourist attraction. Probably not exactly the same but very similar.
If you think you've seen it all, then you haven't been to Dalaguete. Dalaguete holds the most beautiful view of the highlands from the peaks.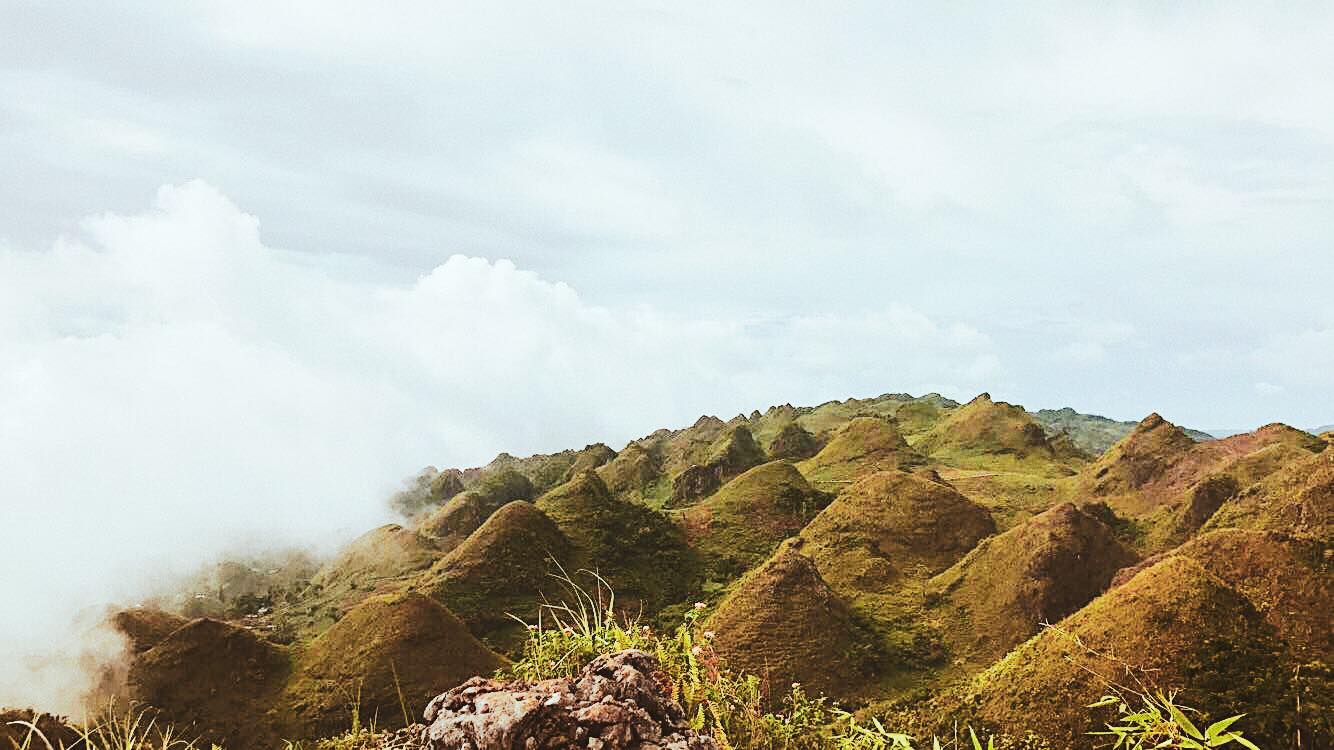 To be able to see this view, you will have to trek up the mountains. There are numerous trails and ways to get to the top. One is by climbing up Casino/Lugsangan Peak and the other is by trekking Osmena Peak.
The hills do ensemble Bohol's Chocolate Hills but honestly, they look more like peanut kisses, what do you think?
Once you get to the registration area, you will be assigned a guide to take you to the peak. The free is 150 but it depends on how many members there are in a group. There probably is no standard rate yet since the peak is new to Cebu's knowledge.
There is no entrance fee. You will only have to pay for the guide. Getting one is recommended because not only will it help you hike safer, it will help the local community whose livelihood is lies on tourism.
The climb is easy enough but the trail is rough– rocky and slippery so wearing the proper footwear is a must. Also, keep in mind that another means of living of the people in Dalaguete is producing vegetation so please avoid stepping on the crops.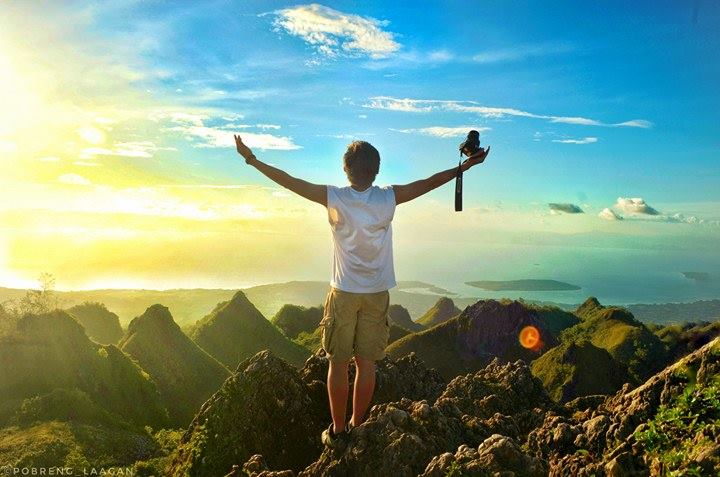 Once you reach the top, the hills will welcome you like this.
How to get to Casino Peak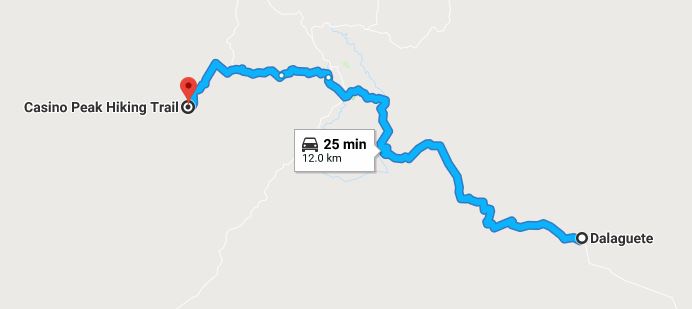 From Cebu City, go to Carbon Public Market and look for a bus that will go directly to Mantalongon, Dalaguete. Once you are already in Dalaguete, tell the driver to drop you off at the town proper near 7/11. The bus ride is about 2.5-3 hours of travel time and will have you spend more or less 120 pesos only.
Another way is by hailing a bus from Cebu South Terminal. Hop on a bus going to Oslob/Bato and tell the driver that you are getting off at Dalaguete.
From 7/11, look for a habal-habal that will bring you to the foot of Casino Peak. Remember to ask for the rate because it ranges from 50 pesos to 300 pesos. Pick a good deal and don't hesitate to haggle unless they already have a standard rate.
I think the same view from the Casino Peak is found from the top of Osmeña Peak since the Mantalongon Highlands is in between the two peaks, so it makes sense. You can, however, use O'Peak, the highest point of Cebu, to view the beautiful rock formations. By the way, the Casino Peak is only an hour (or less) away from Osmeña Peak.
How to get to Osmeña Peak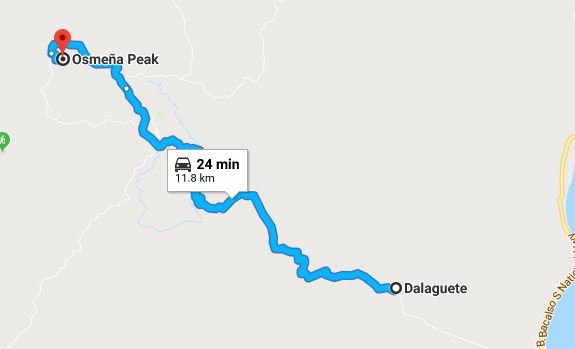 From the South Bus Terminal, hail a bus going to Bato/Oslob because it will pass by Dalaguete. Tell the driver or the assistant that you are heading to Dalaguete and then get off at the Mantalongan-Dalaguete juntion. Technically, the Osmeña Peak is located in Badian, however, going to Dalaguete to access the peak is a lot easier.
Sooner or later, this attraction will gain more visitors and will get crowded so if you can spare a few hours, visit Dalaguete to experience our very own version of Bohol's Chocolate Hills first hand.